November 11, 2015 | No Comments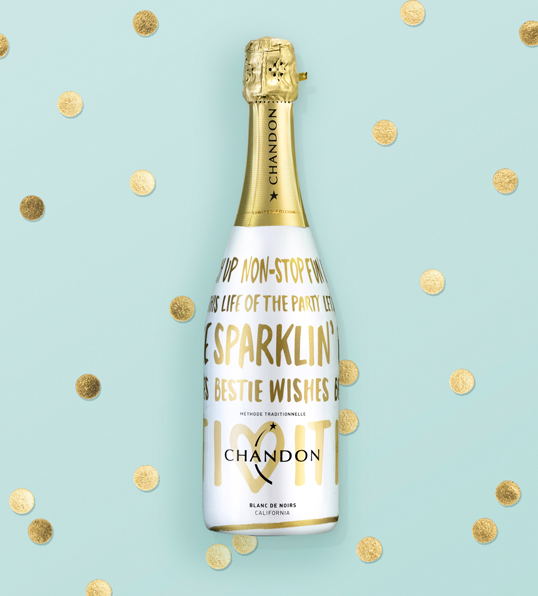 Designed by ButterlyCannon | Country: United Kingdom
"To kick off the 2015 holiday season, Chandon gave ButterflyCannon the opportunity to give their Blanc de Noirs sparkling wine a fresh, festive and shareable new look, that was perfect for parties, gatherings or even nights in with 'besties.'
The bottle is wrapped in a shrink sleeve showcasing a series of playfully festive messages in the same contemporary tone of voice as Chandon's female millennial consumers. Wrapping seamlessly round the bottle and designed to invite and maximise the opportunities for sharing on social media platforms, these messages reflect the fun, spontaneous spirit of the brand and its 2015 festive communication platform, #BestieWishes."
November 10, 2015 | 2 Comments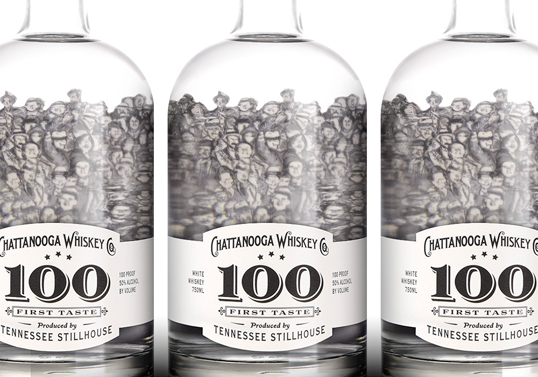 Designed by Tennessee Stillhouse | Country: United States
"Chattanooga Whiskey 100 is the first whiskey to be legally produced in Chattanooga in 100 years, officially ending prohibition in this city – It has been illegal distill spirits in Chattanooga since 1915, a city which was once home to almost 30 distilleries in the downtown area.
This limited edition unaged whiskey, or "First Taste," was made in a 100 gallon still, proofed to 100, which came to a perfect 100 cases.
To celebrate Chattanooga's official end of prohibition, Chattanooga Whiskey has been using the tagline "Whiskey to the People" – So to illustrate this, without literally saying it, we illustrated a scene from the end of prohibition in 1933 – representing Chattanooga's end – And printed the illustration on the back of the bottle, so the people came though the white whiskey."
November 4, 2015 | No Comments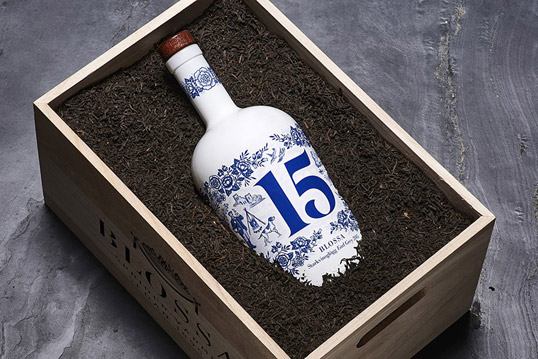 Designed by Scandinavian Design Group | Country: Sweden
"Challenge: since 2003 Blossa has launched an annual limited edition of glögg (mulled wine) with a new flavour and design. The launch is considered one of the prime happenings for Swedish glögg lovers. For many years, Blossa held an unthreatened position in new and innovative mulled wine flavours. Today, this is not the case. Competitors have started to catch up and launch their own versions of unexpected flavours as a means of competition. So what could we do to vitalize the brand further and manifest the position as a market leader?
Solution: when starting working with Blossa for the 2011 edition we created a design concept that could evolve and develop with each new annual release, moving the brand into a larger context beyond the packaging design and the perception of a traditional Christmas drink. The concept is based on new and interesting places where Blossa travels to find inspiration and exciting flavours. Coordinates on the bottle guide us to the exact destination that has inspired this year's flavours.The taste of Blossa 11 is coffee, Arabica. A challenge every year is to find those right ingredients and flavours that goes perfectly with the traditional glögg spices. To find the ultimate coffee beans this year, Blossa went to El Salvador. The coordinates guide us to the plantation Finca las Delicias where the coffee is grown. The bottle is made in a brown matt, opaque finish with the year 11 distinctly printed and integrated in the coordinates."
November 2, 2015 | 2 Comments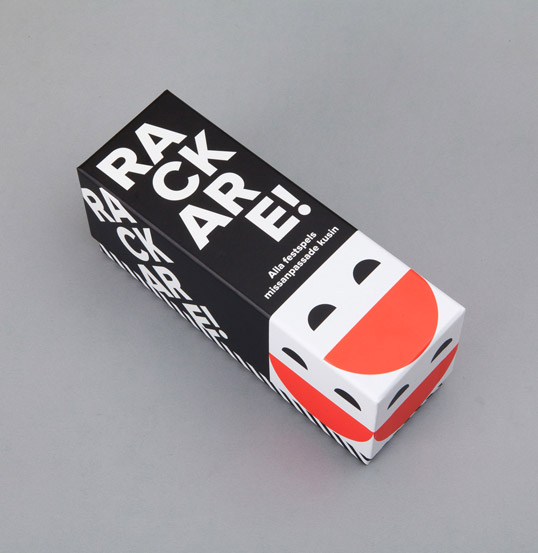 Designed by Ninja Print | Country: Sweden
"Rackare is a Swedish adaptation of the (in)famous party game "Cards Against Humanity". After a few alterations to the gameplay and loads of new cards written and tested the guys over at Ninja Print asked me to give it a look of its own. The very appropriate black-and-white-cards-theme got to stay, since it's simplicity goes well with that of the game. However, I felt the game needed a cheerful vibe so the black-and-white got paired with the big smiling logo in a clean minimalist design based on three colours. A third of the cards are white, two thirds are black and hence the top lid of the box has the same proportions of black and white. Its width is also one third of its length. Both these features create a number of fun ways to display the game in stores."
October 26, 2015 | 1 Comment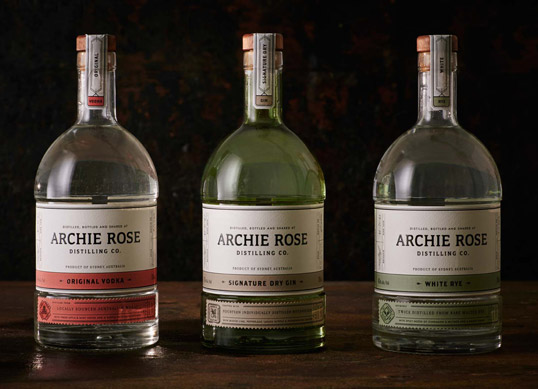 Designed by Squad Ink | Country: Australia
"Archie Rose Distilling Co. is the first independent distillery of craft spirits in the City of Sydney since 1853. Archie Rose honours this rich history while offering Sydney-siders the chance to experience genuine grain-to-glass spirit production onsite with an incredible cocktail bar to boot.
Squad Ink was engaged to brand, package and launch this incredible craft distillery and range of spirits, including a Dry Gin, Original Vodka and a White Rye.
We opted for a heavy-weighted base, bullet style bottle that borrows its shape from the copper pot stills from which the gin, vodka and whisky flow. It's a nod to the classic whisky bottles of the prohibition era in the United States – confident yet completely unpretentious. Of course, the specific bottle we sketched out didn't exist as a stock bottle so we had a custom mould created. This opportunity allowed us to distribute more glass in specific areas, such as the neck and shoulder, making way for an authentic mottled glass appearance and heavy in-hand assertiveness. We also added a 360 degree recessed label indentation across the so that the full-wrapped belly label could be profiled as a hallmark design feature. We also embossed "Archie Rose Distilling Co." out of the base of the bottle in the fashion of a craftsman's mark – subtle and out of plain sight."
October 20, 2015 | No Comments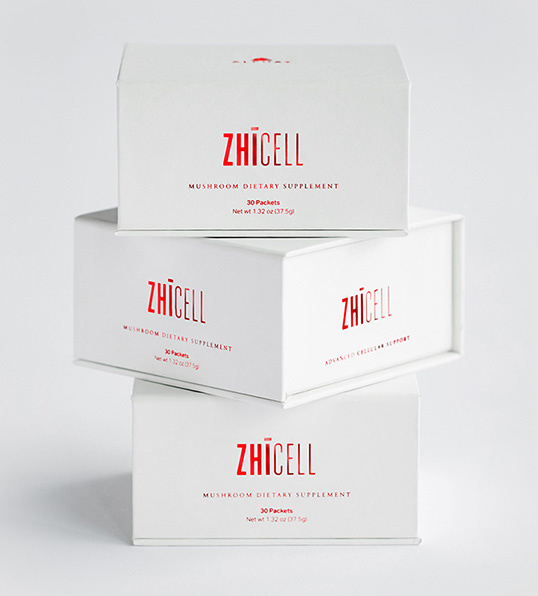 Designed by Shaun Steele | Country: United States
"Premium packaging design for Alphay's Zhi Cell, a nutritional mushroom powder blend that provides enhanced energy, cellular strength, mental focus and physical well-being. This custom clamshell box with a magnet closure has a soft touch white exterior with red foil stamping, a red interior which houses 30, pearl stick packs with gold foil lettering."
October 7, 2015 | No Comments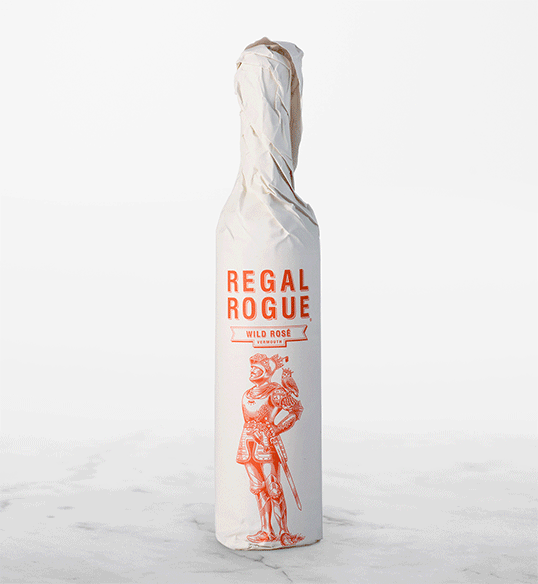 Designed by Squad Ink | Country: Australia
"Regal Rogue is leading the vermouth renaissance by uniquely marrying a daring selection of native Australian aromatics with Hunter Valley wines.
Squad Ink has been proudly shaping the Regal Rogue brand since it's debut in 2011. Four years on and this Australian disruptor is moving into a new and exciting era with the release of the family of Rogues: Lively White, Wild Rosé, Bold Red and Daring Dry.
The Regal Rogue brand has received an amazing response, rejuvenating a dusty alcohol category with a fresh and innovative approach. From the beautifully detailed label to the cleverly crafted launch material, the brand takes shape around a charismatic knight and his devoted owl companion. Achieving the right balance between the old and the new was paramount. The etched illustrative style allowed us to develop the traditional cues and build a credible brand aesthetic, where the bold use of colour and copy allowed us to unleash the youthful spirit of this Australian disruptor.
Squad Ink have created a new and exciting story with a classic tone to introduce an adventurous product to the Australian and international markets."
September 16, 2015 | 1 Comment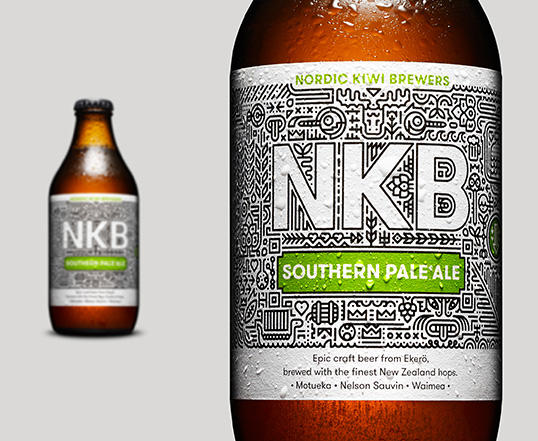 Designed by Nathan Parker | Country: Sweden
"Kerryn and Craig are two guys, born and raised in New Zealand and are now living here in Sweden. In 2014 they established Nordic Kiwi Brewers (NKB) with a very simple goal. Create epic craft beer that showcases the finest New Zealand hops. The brief was to create a unique graphic identity and packaging design that would communicate their journey and the concept of duality. Nordic Heart combined with Southern Soul. The main feature of the design is based on a black and white pattern, this developed using elements from New Zealand, Sweden and the ingredients that go into making beer. The resulting design is clean, fun and has endless possibilities for the future ahead."
August 12, 2015 | No Comments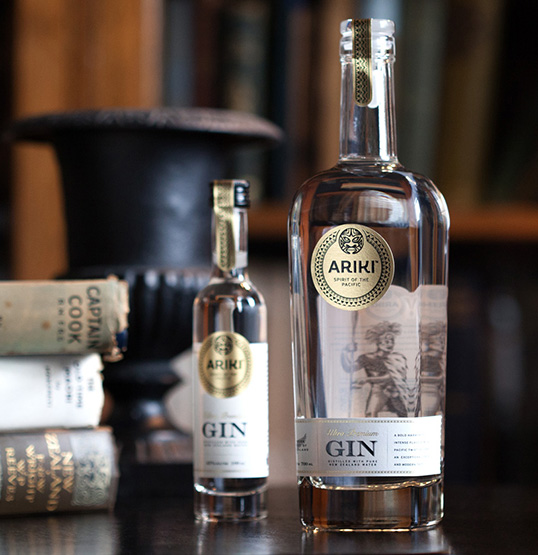 Designed by Redfire Design | Country: New Zealand
"Yes, the Vodka & Gin space is full of competition and dominated by global spirits conglomerates. So if your considering entering this segment you need to go in with your eyes wide open and have a damn good point of difference to carve your niche and get sales.
Enter Ariki. A new player based in New Zealand with a Pacific twist targeting a global audience. Ambitious – Yes! Inspirational – more so.
We loved the challenge to craft this premium spirit brand inspired from Polynesian origins. It was not your stereotypical brand that showcased sun, sea, sand and palm trees ( although we all love that- right) but one that resonated with sophistication, class, taste and flavour profiles that teased and aroused your taste buds."
August 11, 2015 | No Comments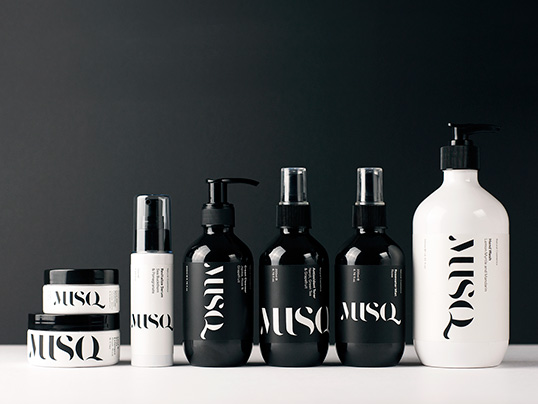 Designed by Black Squid Design | Country: Australia
"MUSQ is an Australian made, natural make up and skin care range. Musq uses real ingredients for real results with no hidden ingredients or hidden agenda. Black Squid Design have created a sleek and upmarket brand for MUSQ Natural Cosmetics, using black and white and creating a strong unified look applied to all products."