March 21, 2015 | 1 Comment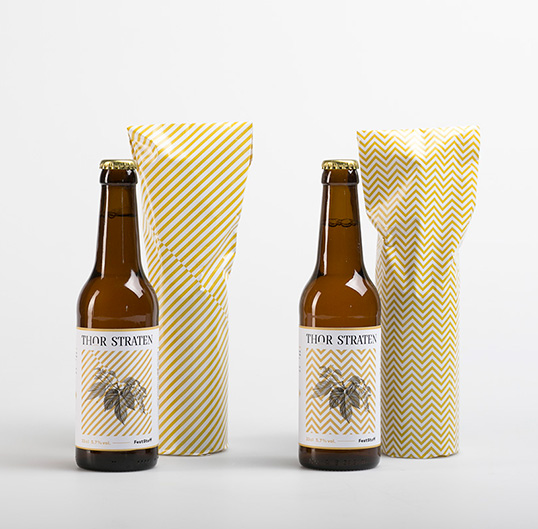 Designed by Yannick zur Strassen | Country: Germany
"Thor Straten, coming from an old family name – meaning gate and street – is a beer that can't be purchased, it is only given away as a present for festive occasions by the family. That is reflected in the identity and packaging. The pattern of the wrapping paper becomes a major element, also on the packaging itself."
March 20, 2015 | No Comments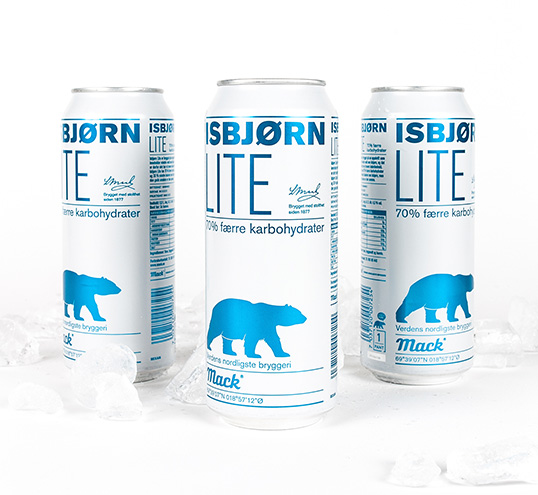 Designed by by north™ | Country: Norway
"After the relaunch of Mack's Isbjørn in February 2014, Mack's Isbjørn beer has been a success, stealing market share from the competition, and is currently Mack's best selling product. It seemed only natural to follow up on the product with a Lite version of the same brew. The design is closely related to the original Isbjørn, and being a calorie-reduced beer it only seemed natural to reverse the colors."
February 15, 2015 | No Comments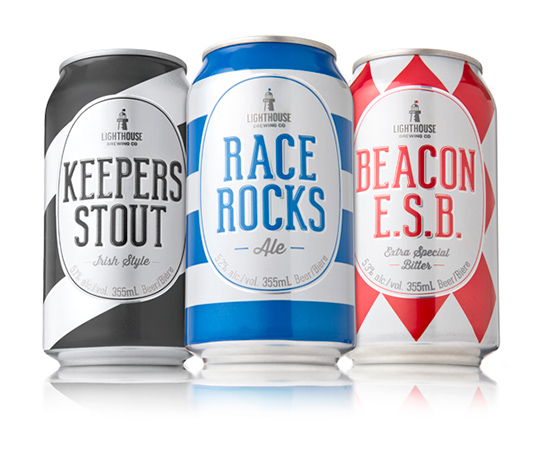 Designed by Saint Bernadine Mission Communications Inc. | Country: Canada
"As part of an entire portfolio rebrand, St. Bernadine was asked to help create a new look for Lighthouse Brewing Co.'s "House Series" family of craft beers.
Aligned with the brand's nautical positioning, and inspired by bold, colourful patterns found on lighthouses around the world, the team at St. Bernadine created striking patterns for the family (Race Rocks Amber Ale: horizontal stripes, Keepers Stout: diagonal bars, Beacon ESB: diamonds, and Bowline Pilsner: checked squares).
The flat white base colour brings family unity to the series as well as echoing the lighthouse namesake, while the colourful patterns allow each flavour to be easily distinguished within the series and contribute to findability and presence in a visually cluttered craft category."
January 21, 2015 | 1 Comment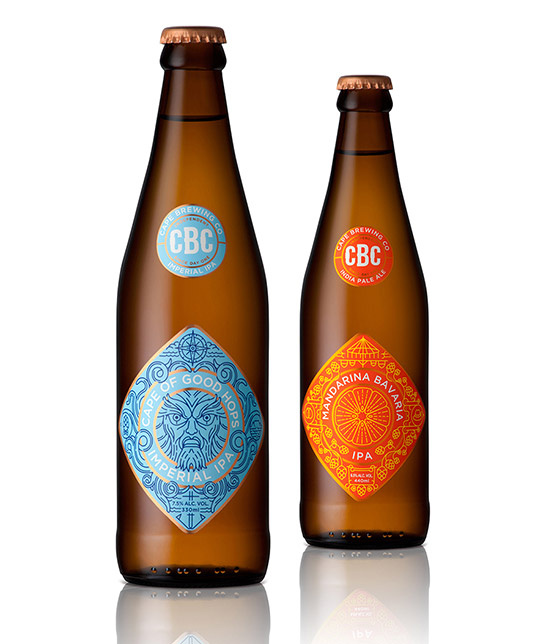 Designed by Jane Says & MUTI | Country: South Africa
"We were commissioned by design studio Jane Says to illustrate two labels for the Cape Brewing Company, a South African producer of craft beer. Both beers have a distinct flavour profile and story behind them which served as inspiration for the designs."
January 18, 2015 | No Comments
Designed by Fivethousand Fingers | Country: Canada
"Dageraad Brewing bottled their first beer in the Spring of 2014, entering a competitive West Coast craft beer market. Despite a saturated market Dageraad had an opportunity to stand out as one of the only breweries in the area focusing exclusively on Belgian-style beer. Dageraad brews two regular beers and a series of limited edition seasonals, all available in single-serve bottles and refillable growlers."
December 28, 2014 | No Comments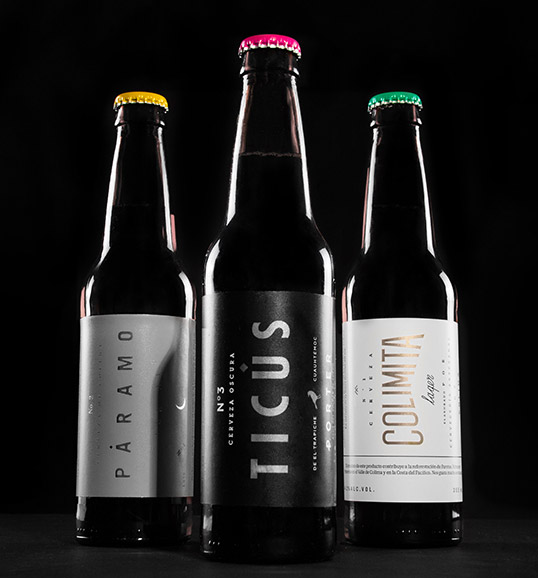 Designed by Anagrama | Country: Mexico
"La Cervecería de Colima" is a new Mexican brewery located in the town of "El Trapiche" in the state of Colima in Mexico. The brewery dedicates all its hard work into perfecting its three unique handcrafted beers for international sale and distribution.
Our branding proposal is a modern visual translation of every distinguished traditional element from Colima and its surroundings, such as its magnificent local Colima volcano. We developed a friendly, simple-looking brand that honours the human touch and workmanship behind every product.
Three craft beers were brewed to mark the beginning of the brand's legacy. First, the main one: Colimita, the beer from the earth and favorite of the sun. Second, Páramo, a Pale Ale inspired by the whisperings in the streets of Comala. And finally, Ticús, relative of the crow, Cervecería de Colima's dark beer. From light to dark labels and bright colored caps, the bottles' design resemble the uniqueness and the hard work behind each individual brew."
December 16, 2014 | No Comments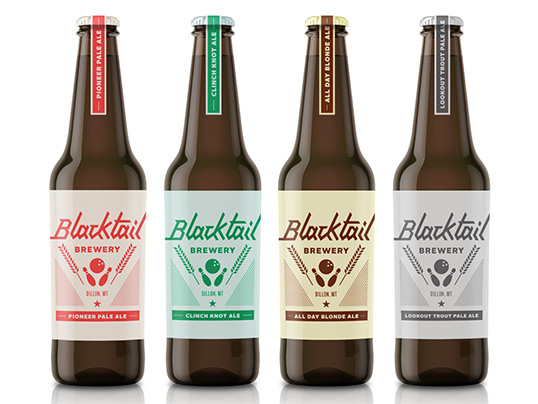 Designed by Glenn Chan | Country: Singapore
"Blacktail Brewery is a concept project for a small microbrewery based in Dillon, Montana. The owners had purchased an old bowling alley as a place to start their business, and needed an identity and packaging that differentiated themselves from the rest of the other microbrews.
A bowling bowl and pins hints to the microbrews' roots, while a bespoke blackletter logotype helps them stand out from other beers. The pastel color palette also works well in contrast to the hard-edged blackletter logotype."
November 24, 2014 | 1 Comment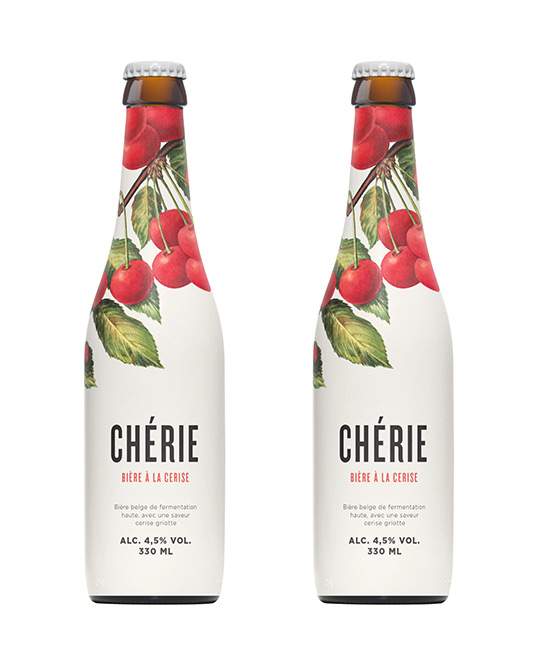 Designed by Atipus | Country: Spain
"Packaging design for Chérie, a new Belgian top fermented cherry-flavoured wheat beer."
November 24, 2014 | 1 Comment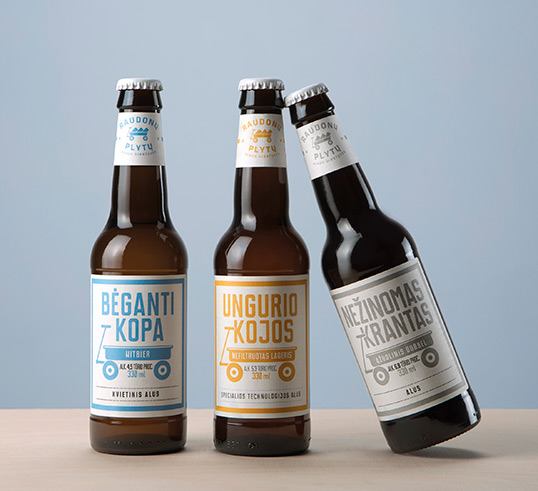 Designed by Not Perfect | Y&R Vilnius | Country: Lithuania
"Task: To create visual identity for experimental Red Brick Beer Workshop, which has been set up in the 230 year-old red brick brewery on the Baltic Sea shore. A place where experiment and play with unconventional raw materials gives birth to small batches of unexpected and amusing sorts and flavours of beer.
Solution: Compelling and natural, over-simplistic design embraces the sea, declining all the décor-enriched beer designs, trying to merge the playful nature of craft beer with the sense of technological simplification, giving the feeling of hand-crafted quality.
Results: Employing vector graphics, we created modern minimalistic package design, conceptual seaside visual identity and a logo of a cart bearing three bricks, which stand for three distinct Red Brick Beer Workshop types of beer. Now every brick dreams of becoming a red brick…"
November 20, 2014 | No Comments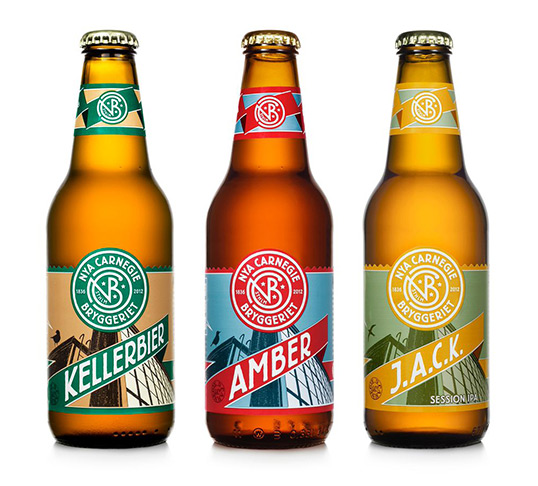 Designed by Pond STHLM | Country: Sweden
"With the challenging task of creating a modern classic, Carlsberg, in collaboration with Pond STHLM has developed a new visual identity, logo and packaging design for the newly opened Nya Carnegiebryggeriet in Hammarby Sjöstad.
"For us it was important to find a balance between the old and the new in both the visual identity and packaging design. Thanks to a flexible and open approach we have landed in an identity, logo and packaging design we are extremely happy and proud of", says Sebastian Tarkowski, marketing manager at Nya Carnegiebryggeriet."