January 18, 2021 | No Comments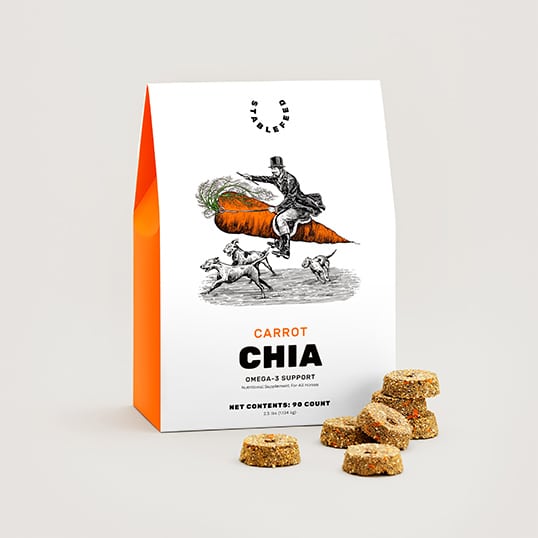 Designed by Full Punch | Country: Canada
Food that's every bit as simple as a hunter on a carrot is… wait, what?
The equine industry is at a tipping point. Horses are no longer viewed as mere livestock but instead held in the same regard as other domesticated pets. Unfortunately, most food producers in the category do not reflect this shift. Many are still producing food that contains processed ingredients with little to no nutritional value. And their packaging reflects this.
StableFeed isn't like most food producers. Creating natural foods and supplements with purpose, they are leading the revolution. The new chia supplement packaging harkens back to the good old days when food was made the way mother nature intended: real, simple, natural. Playful product illustrations reflect this bygone era and the wonder and benefit of each ingredient. Each package is a celebration of the expression, "you are what you eat." Superfoods, for super horses.
February 26, 2018 | No Comments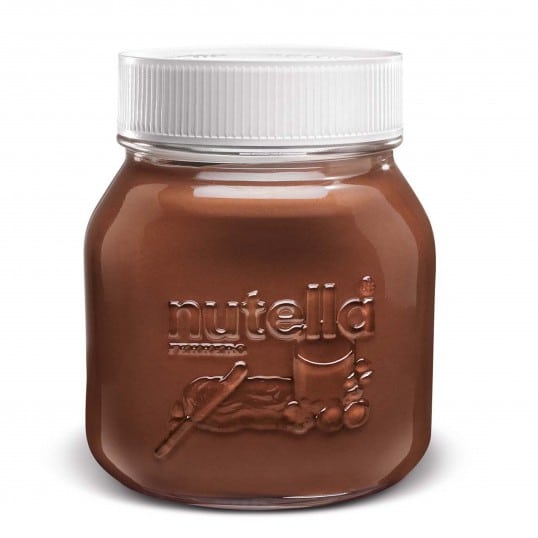 Designed by MrSmith | Country: Italy
"The embossed Nutella jar has been designed to allow it to be reused for food preservation once the cream has been finished. We've designed a new format without losing the iconic shape of the Nutella jar and making it suitable for food preservation, with significant benefits in terms of ecological sustainability. On the front, a raised glass imprint shows the logo with the company's traditional image."
February 19, 2018 | No Comments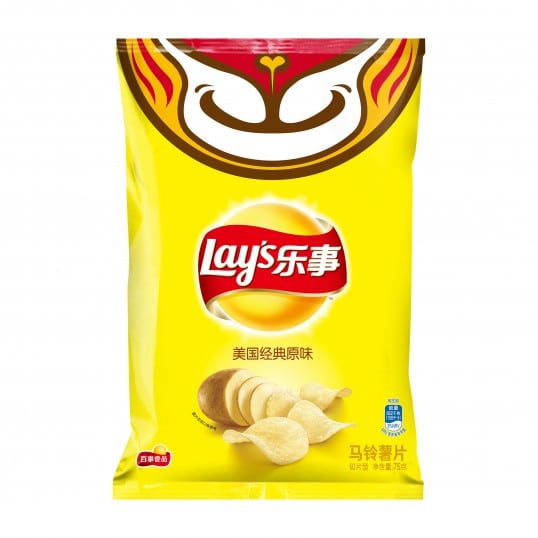 Designed by PepsiCo Design & Innovation | Country: United States
"In the Year of the Monkey, most brands in China celebrate the upcoming zodiac sign with a tailor-made monkey execution. This limited edition Lay's packaging celebrates the Chinese New Year by featuring iconic monkey-faces that reinterpret the legendary zodiac sign in a relevant and youthful way."
February 12, 2018 | No Comments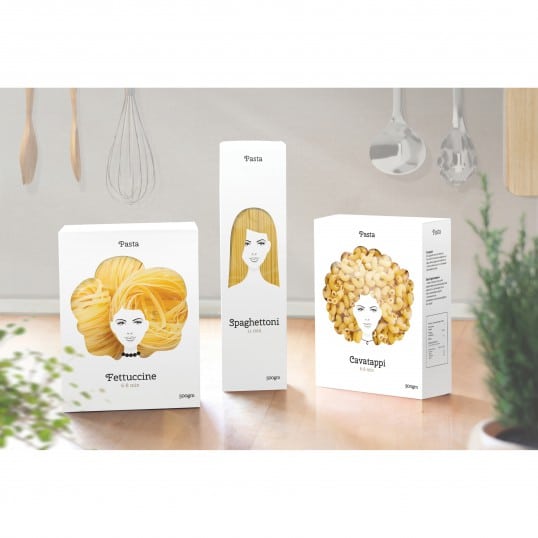 Designed by Nikita Konkin | Country: Italy
"When I was making this packaging I was in love and perhaps this influenced me, though it could be just a coincidence.
I use the strands and shapes of pasta to create an interesting series of packaging that capture attention on the shelves. It emphasizes the high-quality & naturalness of pasta.
An of course It should bring good mood for people with good taste."
January 15, 2018 | No Comments
Designed by NEOM | Country: Italy
"It was needed to find a fil rouge, a unique concept, through a range of flours with very different origins: mais, rice, kamut, durum wheat, common wheat, chickpeas, etc. Our client, Selezione Casillo, part of the biggest wheat company in Italy, was calling this offer simply as Farine Speciali but it was not differentiating and giving value to the richness of the product. We had to find a concept that would keep all the differences in one single rich soul expressing their values and quality."
February 10, 2016 | 1 Comment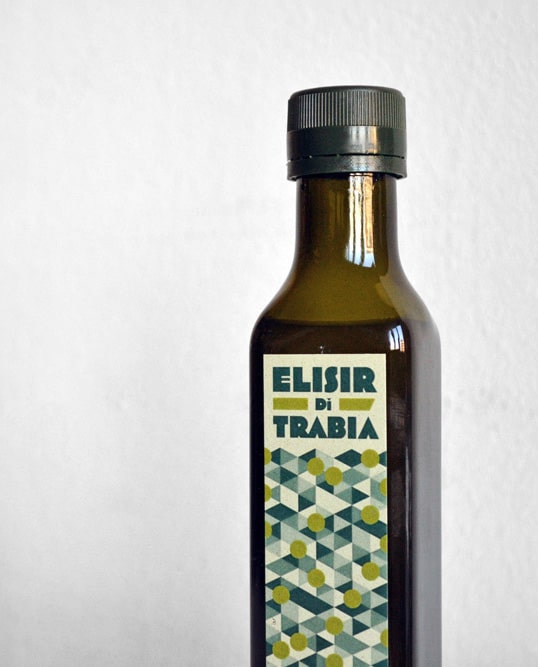 Designed by GBX Studio | Country: Italy
"Elisir di Trabia is an extra-virgin olive oil produced in Trabia, a small town in Sicily. The name is inspired by the well-known opera "L'elisir d'amore" (The elixir of Love) by Gaetano Donizetti. This olive oil is not a love potion, but you will fall in love with it's fragrance and superfine taste. The label is simple with heavy lettering resembling Italian Futurism. The geometric pattern with triangles and circles is represents the olives on the tree, between the leaves. The packaging was artisanally made with care and love: from the choice of the small 25cl glass bottles to the paper for the label (Crush Kiwi 120gr/m2, a unique earth friendly paper made using process residues from organic products including olives). Elisir di Trabia isn't sold anywhere, it was made as a unique gift for friends and relatives, to satiate their appetite with a touch of love."
February 1, 2016 | No Comments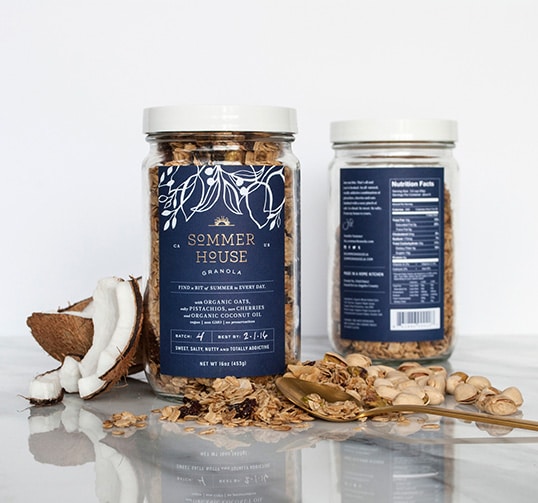 Designed by Project M+ | Country: United States
"Born of love for her self-proclaimed granola connoisseur husband, Jennifer Sommer's granola comes from the heart. This salty, sweet, nutty, crunchy treat is genuinely irresistible.
Originally dubbed Obsessed granola, Sommer House gained an early following of foodie aficionados. Obsessed as people were, the name just didn't ring true. M Plus developed the name and packaging design for Sommer House, synonymous with her own name and her delicious recipe she created in her home kitchen. More than just an epicurean delight, Sommer House embodies a beloved place, the joys summer time, and delights from the inside out."
January 1, 2016 | No Comments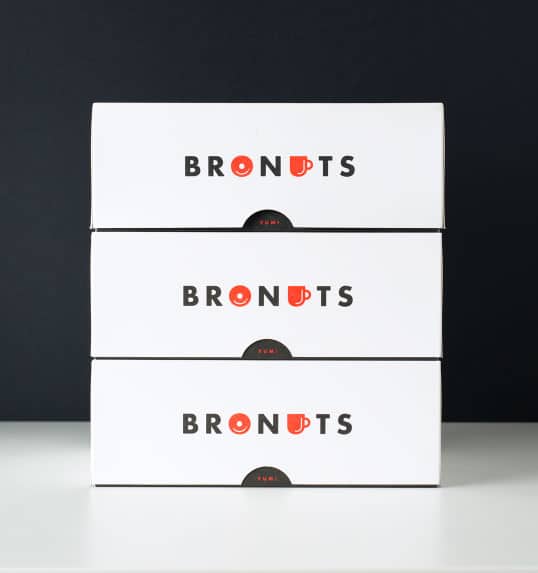 Designed by One Plus One Design | Country: Canada
"Concept: a location in the Exchange District in Winnipeg, Canada, means a wide cross section of clientele. This includes young professionals, corporate offices, and college students, all from a multitude of different industries. With a bold name, the brand needed to give off a vibe landing in between hipness and approachability, attracting customers from all walks of life.
Solution: a simple product offering called for a simple solution. Better yet, a clever solution. Taking a step back from our initial concepts we quickly realized the opportunity the name held, which was not immediately obvious — coffee + donuts are located right in the middle of the company name. Running with this discovery, we engineered a crisp brand identity with a tongue in cheek personality, carefully considering each brand extension. Exterior and interior signage, menu design, individual and group donut packaging were all consistently designed for engaging customer experience."
December 24, 2015 | No Comments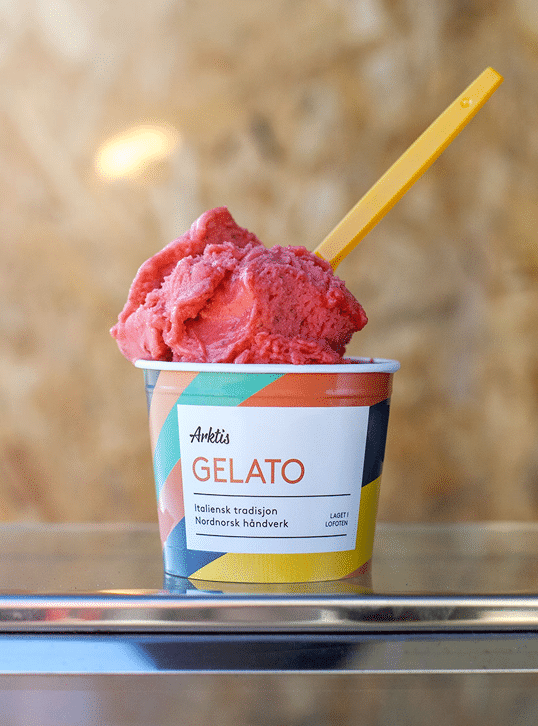 Designed by by north™ | Country: Norway
"Arktis is a artisan gelato company situated in beautiful Svolvær, in the heart of the Lofoten Islands. Arktis produce natural gelato and sorbet with only natural ingredients. The production is done by hand and all the flavours are blended in manually. We wanted to capture the lines and the motion of the ingredients to give the public an association of the product on everything from the stationary to the website. It was a important for us to distance the identity and the products from other competitiors on the Norwegian market."
December 11, 2015 | 2 Comments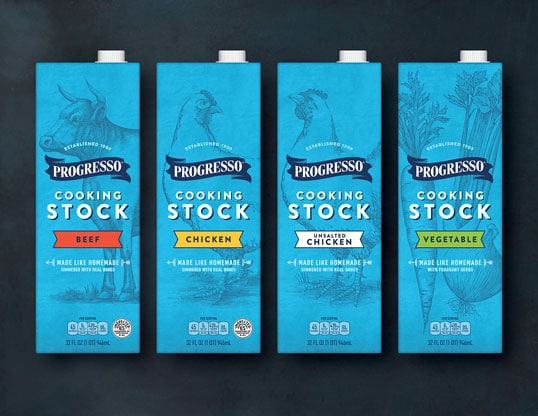 Designed by Hornall Anderson | Country: United States
"Progresso believes that real, quality food makes life better. But, how does a brand with over 100 years of heritage design packaging that speaks to loyal supporters as well as more adventurous cooks looking to try something new? This was the challenge Progresso faced when they partnered with Hornall Anderson to design the packaging for a new line of cooking stocks.
In order to communicate the higher quality of product inside the package, the design needed to appeal to cooks' creative aspirations as well as demonstrate clear superiority over the competition. By understanding that premium brands create trends rather than follow them, the result was a solution that radically broke category conventions—building on years of heritage to create a fresh, new perspective."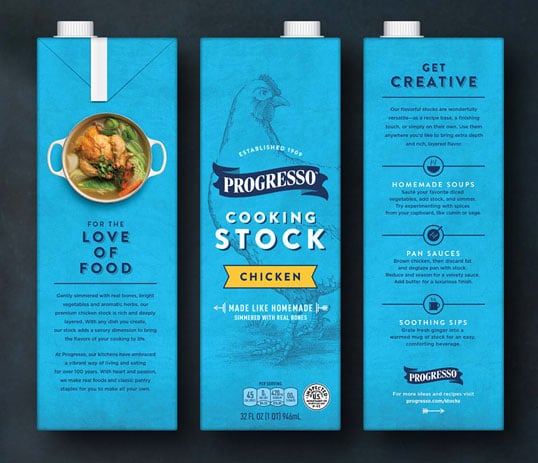 "Using lively, classic illustrations, modern typography, and a fresh color palette, we emphasized craftsmanship and love of the ingredients inside. The side of the packaging touches on Progresso's heritage and love for food, and gives suggestions to inspire our cooks to create their next perfect dish.
Throughout all of the deliverables—from packaging and photography, to a style guide demonstrating best practices for advertising, a microsite, and more—Progresso's passion for real, quality food shines through."