September 27, 2010 | No Comments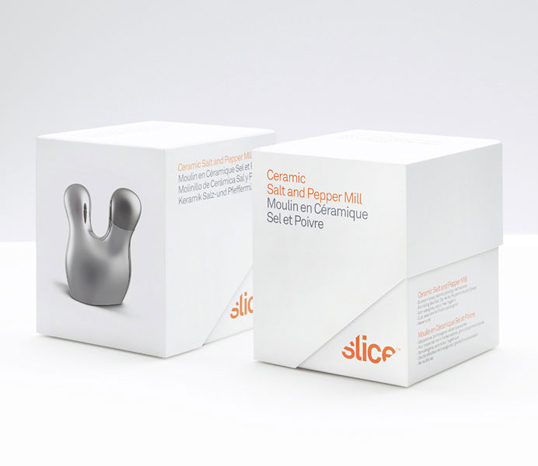 Designed by Manual | Country: United States
"Slice collaborates with world-renowned designers such as Yves Behar and Karim Rashid, to create award-winning ceramic cutting tools for the home and office. Manual created an iconic brand identity to illustrate this cutting edge product. We articulated the brand identity across a packaging system, print literature and exhibition graphics to showcase the angular nature of the logo."
September 26, 2010 | No Comments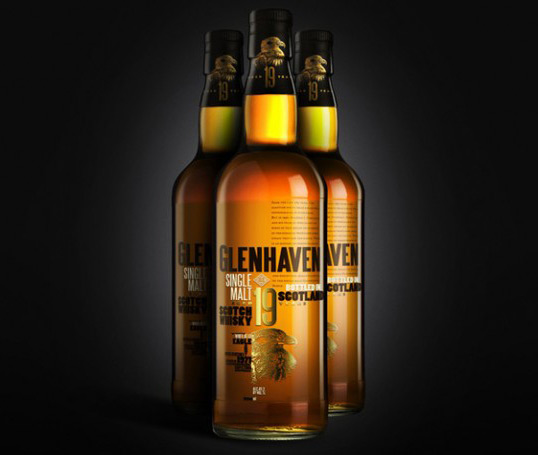 Designed by BridgerConway | Country: United States
"BridgerConway packaging division was in charge of designing the new packaging for Glenhaven Single Malt Scotch Whisky. The labels were developed between our team consisting of: Project Manager, Illustrator, Typographer, Pack Designer, Artwork Production Department."
September 25, 2010 | 8 Comments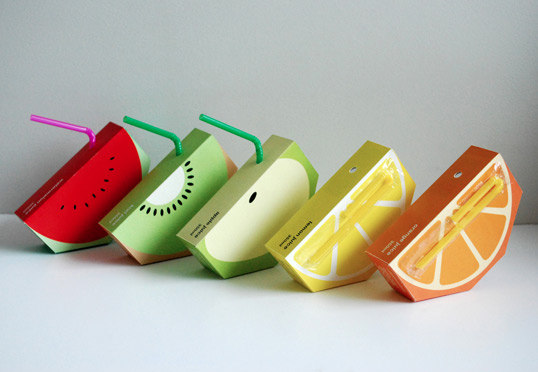 Designed by Yunyeen Yong | Country: Australia
"Jooze is a fictional company that manufactures fresh fruit juices, catered especially to kindergarten and primary school students. It is a company that believes that healthy eating habits should begin at a very young age.
The shape of the logo is inspired by the shape of a sliced fruit, and the handwritten typeface used is to portray a sense of fun, hands-on personality and characteristic that appeals to kids and toddlers. The logo also consists of singular bright colours, which may vary depending on the flavour of the juice. This would hopefully be a recognisable icon whereby children can relate and connect to the brand.
September 24, 2010 | No Comments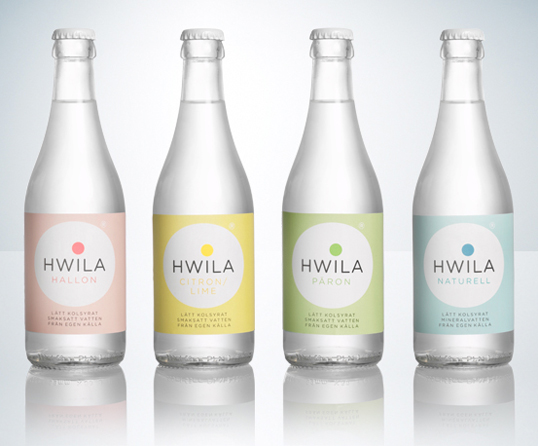 Designed by Neumeister | Country: Sweden
"Input: Hwila is a natural mineral water from Vimmerby, Sweden, a brand owned by one of Sweden's oldest breweries; Åbro. After many years Hwila needed an update — it was time to modernize, for a younger target group, without loosing the positive values connected with the brand.
Output: With this redesign we were concerned to find a formula whereby it was possible to constantly being able to update the design, with out ever loosing contact with its heritage. The simplicity, purity — the restfulness — was the main idea were colours and shapes signal different variations of the mineral water – sparkling, non-sparkling, taste etc. A modern, youthful, design. Easy to apply on either cans, glass or PET-bottles. Large or small.
Outcome: Pure and rigorous, Hwila really makes a point in any store. Creating true shelf impact without screaming. Just released."
September 24, 2010 | No Comments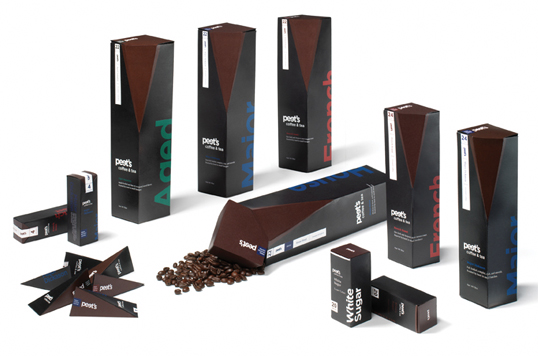 Designed by Chul Lee | Country: United States
"The redesign of Peet's coffee and tea is inspired by the energetic quality of social gatherings. The bold triangles of the package create a focal point redirecting the customers to the type of coffee blend. The elongated packaging stands high from all the competitors keeping the coffee fresh by using a resealable premium grade adhesive that is easy to open and easy to close."
September 23, 2010 | 1 Comment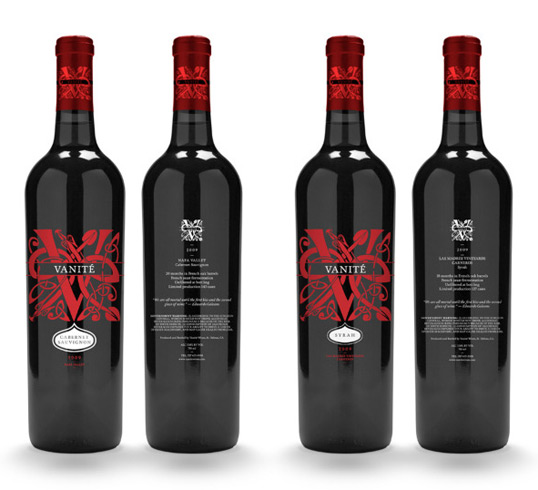 Designed by Hype Type Studio | Country: United Kingdom
"We were approached by Vanité Wines to rejuvenate their wine packaging & brand identity.
Produced in very limited quantities, Vanité Wines are hand-crafted and made from fruit from select, award-winning, small-lot vineyards in Napa and Sonoma Valley, California."
September 23, 2010 | No Comments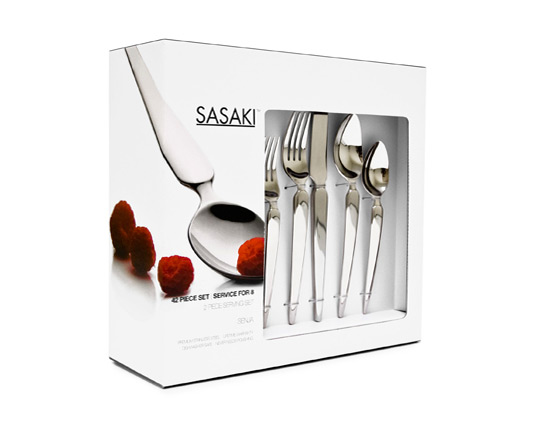 Designed by Rice Malarney | Country: United States
"Sophisticated simplicity in design, Sasaki flatware defines refined contemporary living. With Asian inspiration, the flatware is designed to almost become art, very simple and organic in both shape and style.
In coming up with the design of the packaging I felt that it was important to focus on the shape and style of the flatware and to try and celebrate the designers craft. The packaging is minimal and straight forward while at the same time showcasing a beautiful product. The overall box is black and white with a peppering of a bold colored fruit which enhances the focus onto the product. This becomes important so that the packaging is able to separate the product from all others and put it on a different, more sophisticated level."
September 23, 2010 | No Comments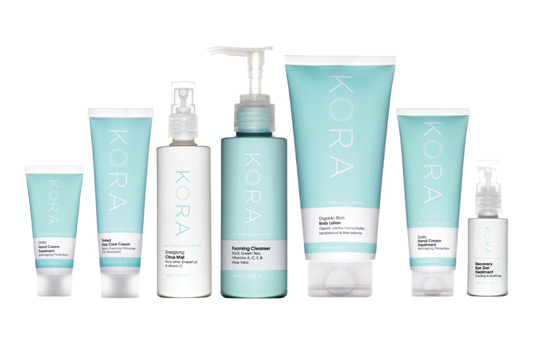 Developed by Jane Abma | Country: Australia
"Packaging design for a new skin care range represented by Australian Super Model, Miranda Kerr. The project involved creating the name KORA, designing the logo and developing concepts for the rest of the branding and website. Although the product is organic skincare and would lend itself to natural and muted tones, we ended up going with an aqua to reflect the purity of the ingredients and to distinguish between it and competing brands."
September 22, 2010 | No Comments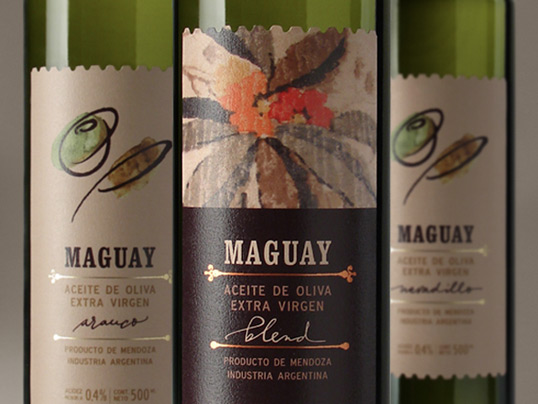 Designed by Campoy Príncipi Domenech | Country: Argentina
"Blend: The design rescues the family history showing its image of its more than 100 year old house. It is the image of an old paper carpet that is still preserved. The small details give it distinction and style.
Varietals (Arauco, Nevadillo, Manzanilla): The design of the varietals brings variety and a more spontaneous and fresh approach and in turn it keeps elements that preserve the unity within the system that goes together with the blend´s label."
September 22, 2010 | No Comments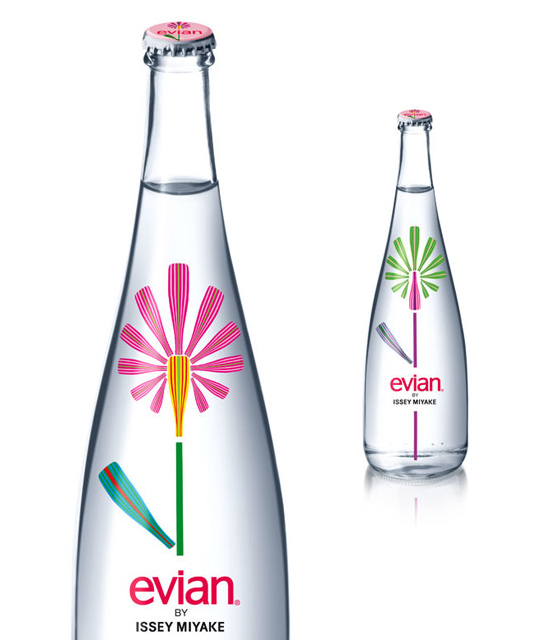 Designed by Issey Miyake | Country: Japan
"Evian has announced its latest designer collaboration. The spring water brand has worked with fashion designer Issey Miyake to create the fourth annual limited edition designer bottle. Miyake joins previous Evian bottle designers Christian Lacroix, Jean Paul Gaultier, and Paul Smith. The cheery bottle is decorated with a bright flower meant to embody the evian signature message, "Live young." The inspiration for the bottle sprung from the Pleats Please line for which Issey Miyake is known."