December 29, 2010 | No Comments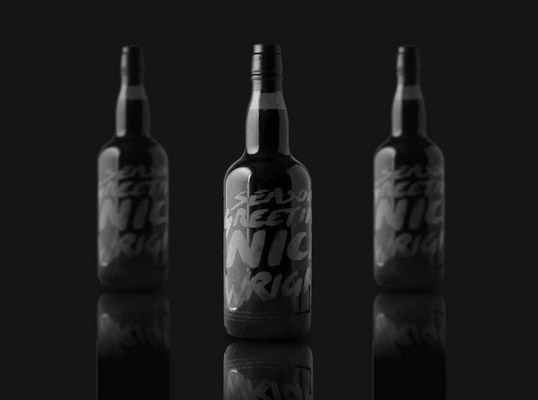 Designed by Organ Studio | Country: Australia
Perth Australia based Organ Studio created these laser etched wine bottles for their 2010 Christmas gift. They also put together a video documenting the process.
December 29, 2010 | No Comments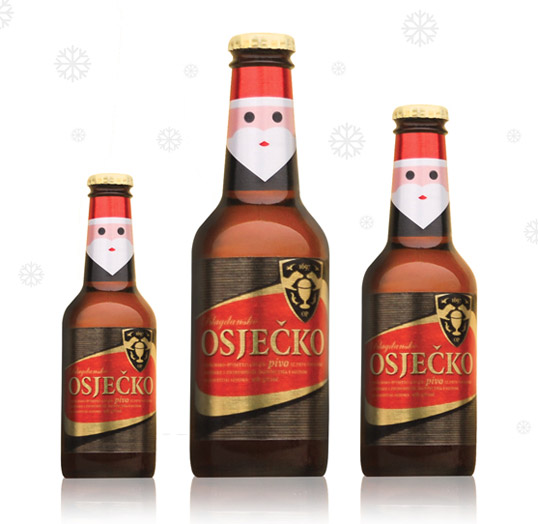 Designed by Manasteriotti and Maric | Country: Croatia
"Osječko pivo (Osječko beer) asked us to design a winter holiday edition of their beer, packaged in small, 0.25l bottles.
We used a simple neck label design to make the bottle resemble a Santa Claus. The usual bottle label was printed in red color. This small intervention retained their identity while adding winter flair.
Osječko pivo is the first beer brewery in Croatia, founded in 1697."
December 29, 2010 | No Comments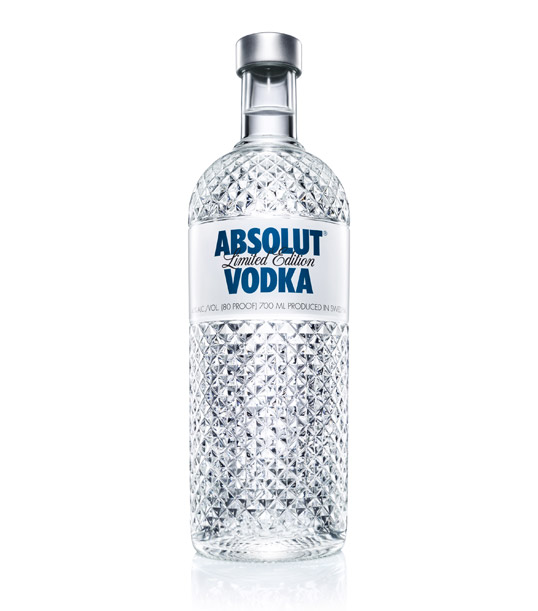 Designed by Cav Con | Country: Australia
"Making a departure from past executions where the famous bottle has been encased in a sleek second skin, AAbsolut Glimmer reworks the actual classic form in a stunning faceted surface of crystal patterned glass. A true collector's item, Absolut Glimmer is an elegant play of light, its stylish design challenging the norm of the traditional gift pack."
December 26, 2010 | No Comments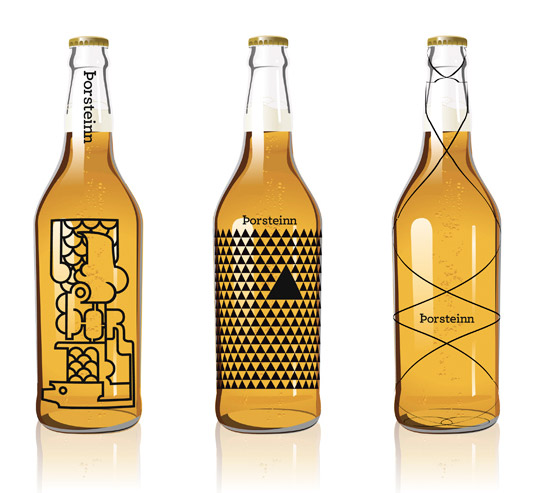 Designed by Thorleifur Gunnar Gíslason | Country: Iceland
"This beer brand concept was born on a sunday night at school where we were supposed to make a brand for a micro-brewery. The name is traditional Icelandic name that could be loosely translated into "thirsty one".
The concept is a simple one. One beer, 10 different bottle designs by 10 different designers. The design would be changed annually. The design could be put on beer glasses as well. The design is limited to black graphics on a 33cl glass bottle.
This was the result from collaboration between three graphic design students at the Iceland Academy of the Arts, Thorleifur Gunnar Gíslason, Geir Olafsson and Hlynur Ingolfsson."
December 22, 2010 | No Comments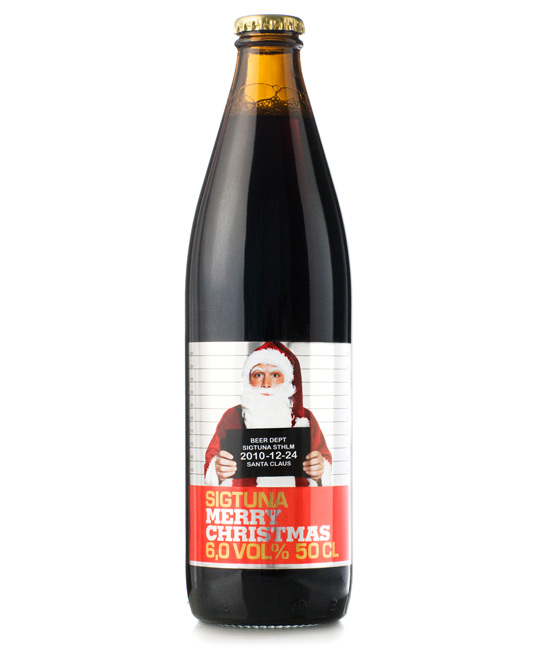 Designed by Morkman Reklambyrå | Country: Sweden
"Sigtuna is an up and coming micro brewery just outside of Stockholm, Sweden. They have recently received numberous awards for their beers and continue to reap success within the beer communities. This years christmas lager needed a design that highlighted the premium characteristics of the beverage, while adding a new twist to the symbolism of the holidays."
December 22, 2010 | 1 Comment
Designed by Christopher David Thompson | Country: New Zealand
"This was my response to an open brief from my client, to create a brand for a series of wines that would link their Marlborough (NZ) vineyard to the proprietor's pirate ancestors from Lundy Island (UK).
After being helicoptered out to the island to photograph and research my client's ancestral history, I returned to New Zealand and came up with the name for each – relating to a specific story discovered in that research. The names were then also matched to the characteristics of a specific wine variety. A top NZ calligrapher, Peter Gilderdale was then invited to create the stunning calligraphy that features on the labels (authentic to the relevant 12th &13thC period of history, but with bit of a modern twist).
December 20, 2010 | No Comments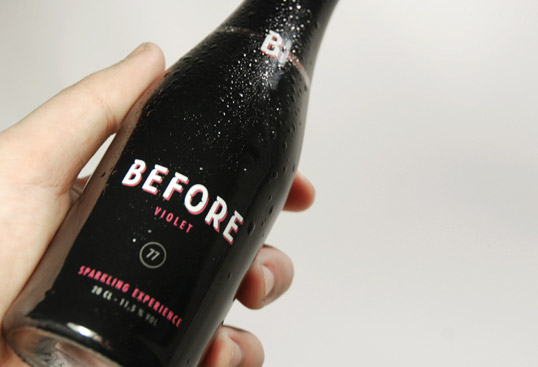 Designed by Stoëmp Studio | Country: Belgium
Brussels based Stoëmp Studio designed the brand identity, custom typography and packaging for Before.
December 17, 2010 | 9 Comments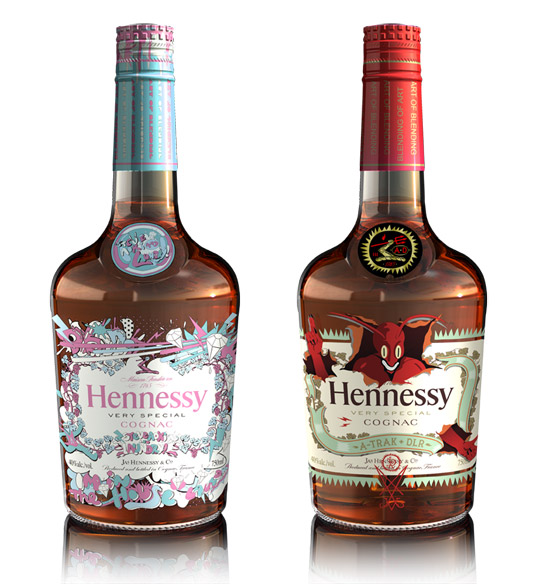 Country: United States
"Hennessy V.S Blending of Art celebrates the two as one, in a collaborative project that aligns the visually arresting with the sonically bold; the musically adventurous with the artistically free. An exclusive series of future thinking artworks that connect some of music's most vibrant revolutionaries with visual artists and graphic designers that dance to the same beat.
Inspired by the Hennessy Artistry curation process, Hennessy has invited a posse of artists to express themselves around the iconic Hennessy V.S bottle with true creative freedom creating five new iconic bottle designs.
December 16, 2010 | No Comments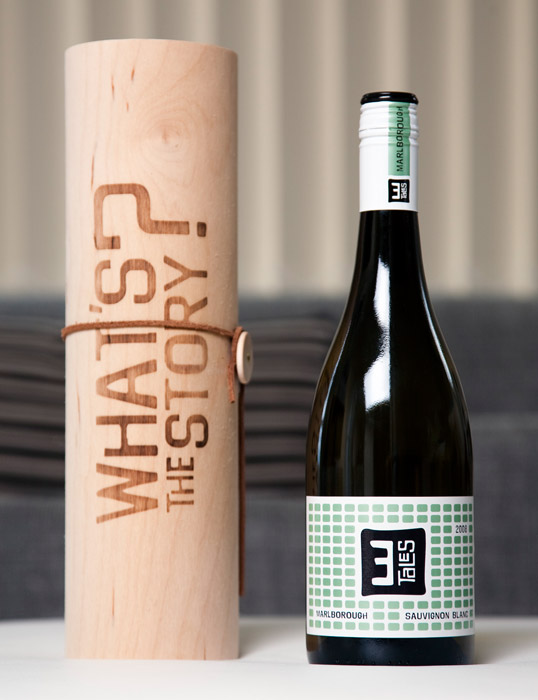 Designed by Christopher David Thompson | Country: New Zealand
"Wine brand created for Marisco Vineyards – in partnership with DeBortoli Wines of Australia. Two winemakers who went through Roseworthy College oenological studies together later become hugely respected winemakers in their own respective rights, and got together to create a wine brand for the Australian market – utilising New Zealand's premium Sauvignon Blanc.
First things first was to come up with a name to represent the partnership and the brand – 3 Tales was the solution – meaning the 3 stories involved;  Brent Marris (NZ Winemaker) + Darren DeBortoli (Aust Winemaker) + the wine itself = 3 Tales.
December 14, 2010 | No Comments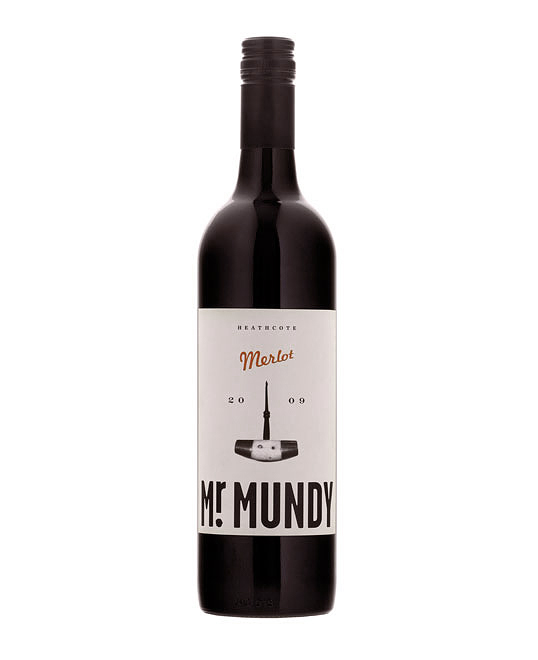 Designed by Swear Words | Country: Australia
"Not too far from Tooborac village (across the gully and beyond the ridge), a Mr Mundy had a plan: a quest for gold to feed his clan. But one fateful day there was a terrible brawl, that challenged the propriety of his sparkling haul. For Mr Mundy there was no doubt, that golden bounty was his to tout. So amongst the scuffle and vicious dissent, he unloaded a weapon that made clear his intent. He put it to use and maimed his foe, then plunged it in the cork of a delicious merlot. Vibrant fruit, chocolate, spice, and a wonderful hue, it enveloped his palate as he savoured his coup."