August 25, 2010 | 1 Comment
Designed by brainCELLS | Country: Australia
"The Killerby family were the owners of a general store in the Margaret River region in the 1970s. It was around this time that the area became populated with boutique wineries. The general store was this inspiration for this traditional wine label, with its scraperboard illustration and structured typographic treatment. The Merchant trader forms part of the Killerby range of wines that will launch in 2010."
August 24, 2010 | 3 Comments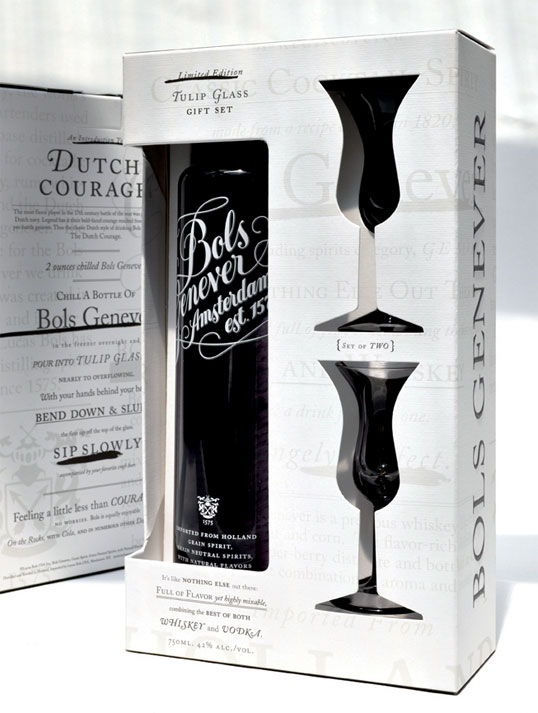 Designed by BMB NYC | Country: United States
"This holiday gift pack for Bols Genever is designed as an introduction to the Dutch drinking ritual known as Kipstootje. Or, translated to English, "a little head butt."  Because of genever's unique taste profile, the retail placement of our package is in the brown spirits section where gift packaging is generally black or dark in color. As a result, the crisp whiteness of our package stands out.
The package has an outer sleeve that slides over a complex inner structure. This structure supports the weight of the bottle and a die-cut panel which holds two small tulip glasses in place. We resisted the convention of using plastic as a protective covering, therefore, the glasses are recessed behind the wrap and their distinctive shape is used as a die-cut window. A printed piece containing recipes and brand messaging is inserted in a small compartment behind the glasses. This piece is also used as a bottle wrap for retail point of sale."
August 24, 2010 | 1 Comment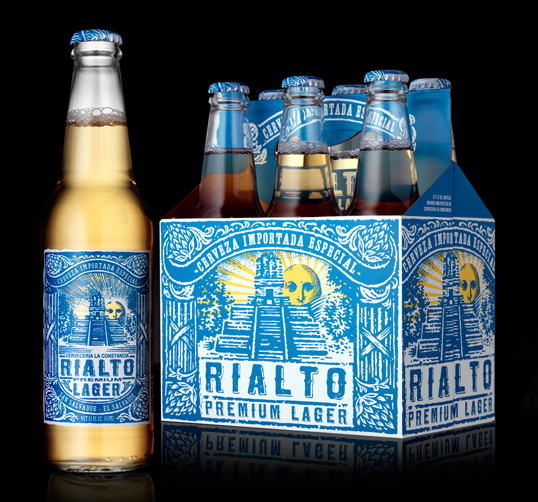 Designed by STRANGER & STRANGER | Country: United Kingdom
"Rialto is a beer from El Salvador, a place famous for Mayan temples and sun worship."
August 23, 2010 | 7 Comments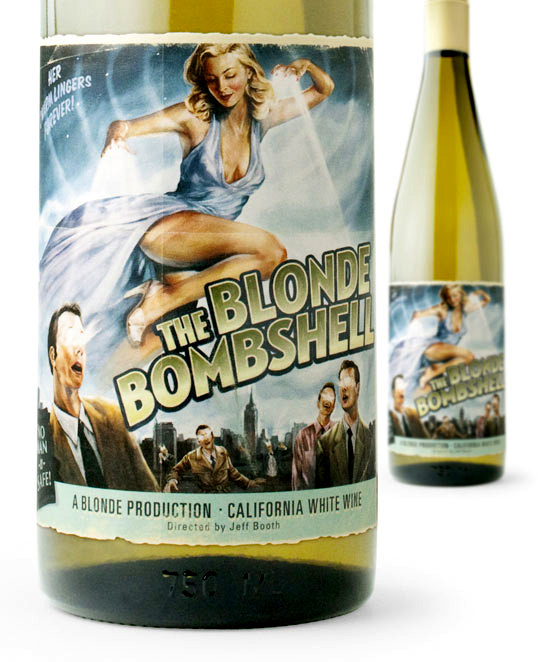 Designed by Hook | Country: United States
"The idea was to create a pulp-movie like look and feel for the wine. We needed to create a fun design to complement the fruity, floral flavor of the wine and give it a look that stands out in crowded wine shops."
August 23, 2010 | 3 Comments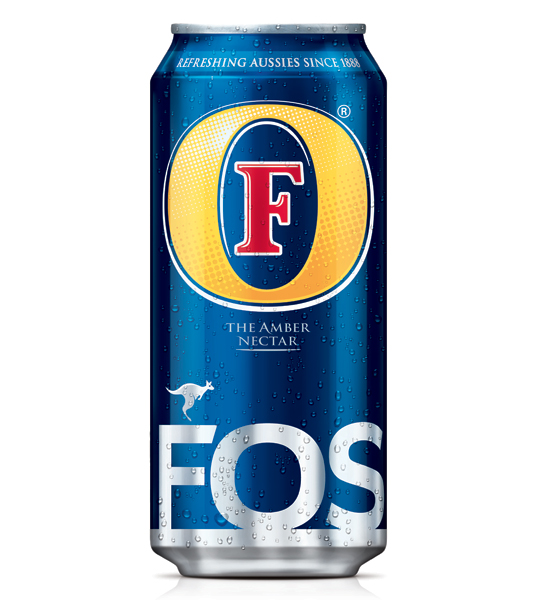 Designed by BrandMe | Country: United Kingdom
"Heineken UK's leading lager Foster's has unveiled a radical branding redesign that emphasises its Australian personality and accentuates the quality and modernity of the brand.
The new look will be introduced to all brand 'touch-points' including packaging design, POS, customer and consumer marketing. All the new brand elements and packaging designs have been created by FMCG brand designers BrandMe and will be available in UK supermarkets and off-licences nationally from August.
August 20, 2010 | 3 Comments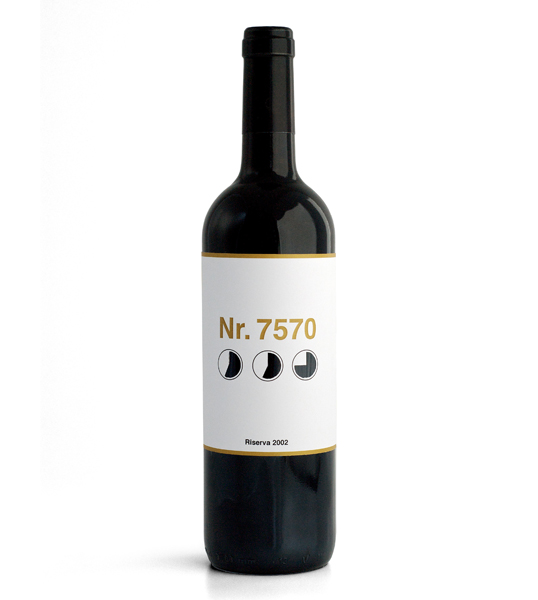 Designed by Sara Böttiger | Country: Sweden
"Redesign of an Italian wine called Salice Salentino. In Sweden it costs approximately 7€, which is fairly cheap. When I did the research I realized that many people don't always remember the name of the wine. They remember the taste, the design of the label, etc, but not the name. In Sweden you can only buy alcohol in places called 'Systembolaget'. Systembolaget uses numbers on all of their bottles to identify different wines. Sometimes it easier to remember numbers than names. I wanted to use that in my design and I wanted the design to be simple and clean. The three circles are symbols that 'Systembolaget' uses to tell customers how the wines taste, if it's round, rough, etc. The symbols on the label are diecut."
August 20, 2010 | 4 Comments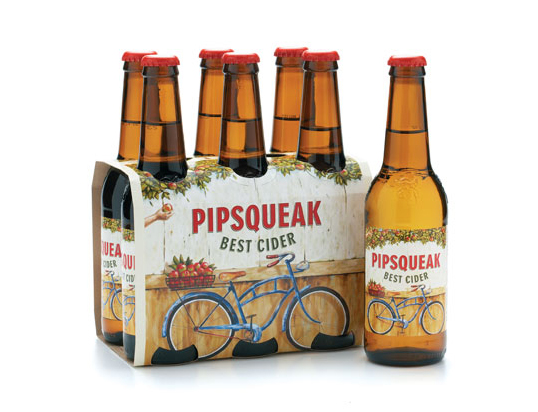 Designed by brainCELLS | Country: Australia
"As one of Australia's must successful craft breweries, Little Creatures need to keep their packaging fresh. BrainCELLS redesigned the packaging for the boutique cider, Pipsqeak in early 2010. The Pipsqueak weightlifter has made way for a vintage pushbike and apple tree. The re-vitalised packaging is brighter and bolder increasing the standout of the product on the shelf."
August 19, 2010 | 3 Comments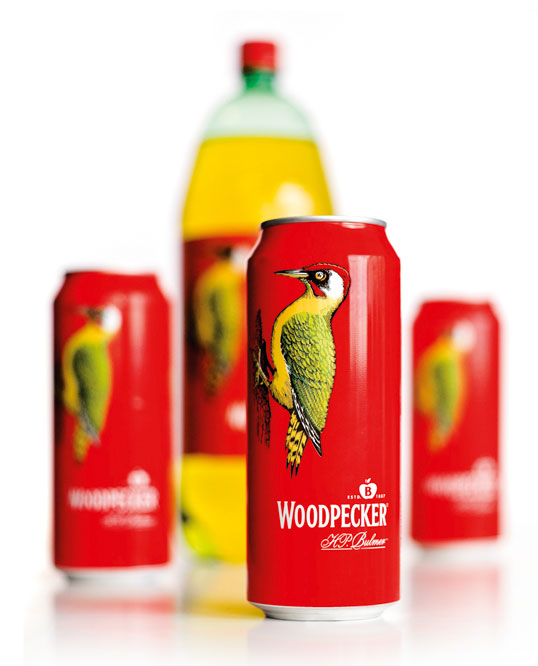 Designed by Smith & Milton | Country: United Kingdom
This simple design has a lovely vintage feel thanks to its flat red coloration and the beautiful line-art style woodpecker in a complementary hue.
August 18, 2010 | 1 Comment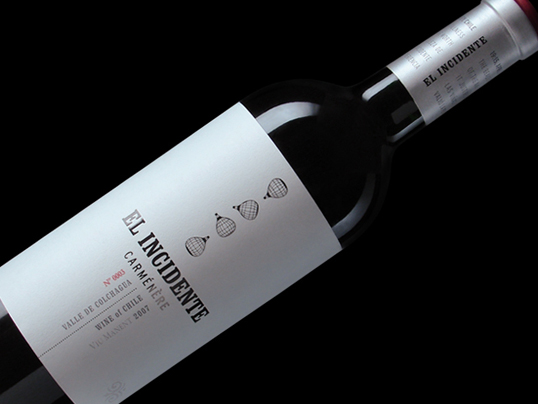 Designed by Campoy Príncipi Domenech | Country: Argentina
El Incidente (The Incident) is a graphic portrayal of Don José Miguel Viu's ill-fated hot-air balloon ride over his vineyards in Colchagua Chile.
August 17, 2010 | 2 Comments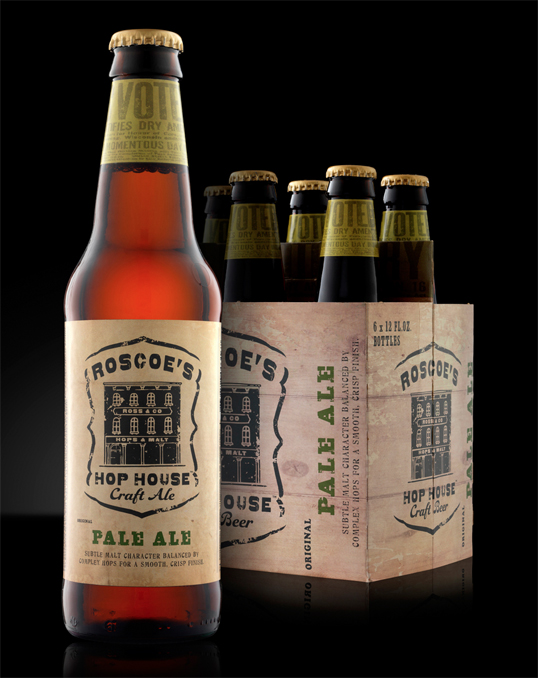 Designed by STRANGER & STRANGER | Country: United Kingdom
"Roscoe's is a backroom craft beer that pays homage to a speakeasy. The famous prohibition headlines fit on the necker."