April 30, 2010 | 2 Comments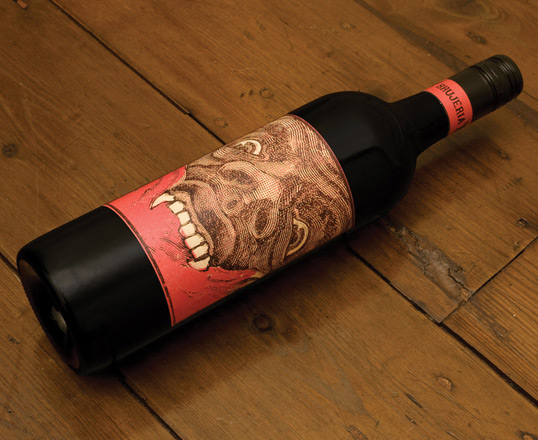 Designed by Mash | Country: Australia
"This is Brujeria (the Spanish word for  witchcraft) from Misfits Wine Co. A Soul Retrieval Nostrum. Ancient arts and dark fruits forged through toil to respond to clichéd and lifeless marketing department wines. Formed whole in light and dark to strike fear into drones and hex the elitist wine types.
Inspiration draws from Latin witchcraft posters. This release from Misfits Wine Co has been created to stand out and tie into their ethos; the rejection of the conventional. For our client testimonial; one of the Misfits owners had the branding tattooed (where we don't know). Timeless!"
April 29, 2010 | 5 Comments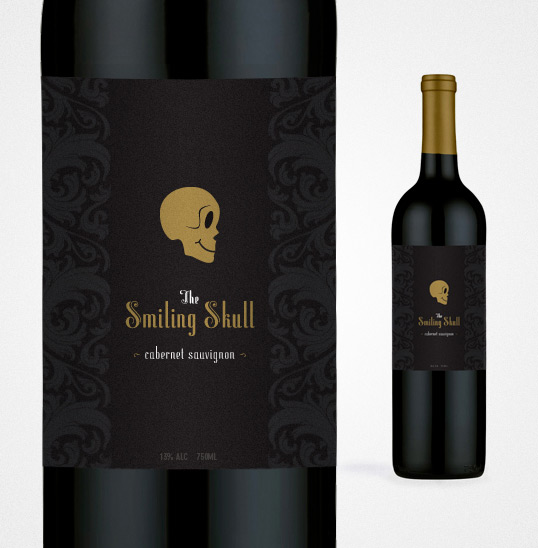 Designed by Rhinocerosred Design | Country: United States
"The Smiling Skull cabernet sauvignon. A retail direct private label designed to compete with California wines that have a similar quirky yet dark look and feel. Utilizes clear varnish and metallic inks."
April 29, 2010 | 9 Comments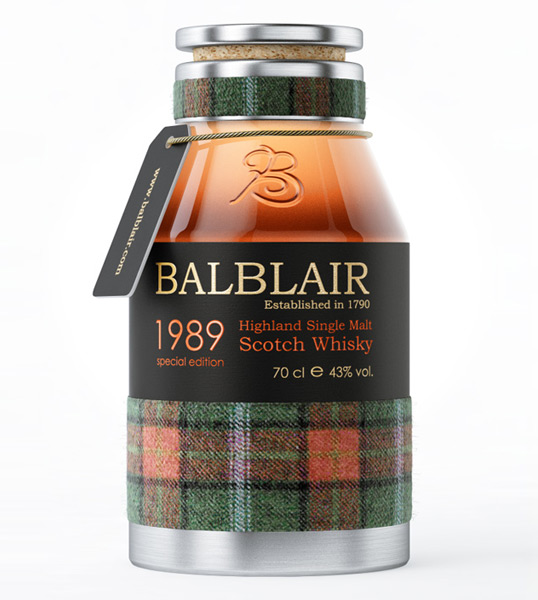 Designed by NTGJ | Country: Portugal
"This is a concept for the restyling of the Balblair Whisky bottle. The main goal was to give a taste of Scotland to the costumer, from the bottle to the taste of the whisky. We wanted to create a mix of tradition and modernity, so we mixed old traditional materials such as cork and wool with some new hi-tech look materials like aluminum details."
April 28, 2010 | 3 Comments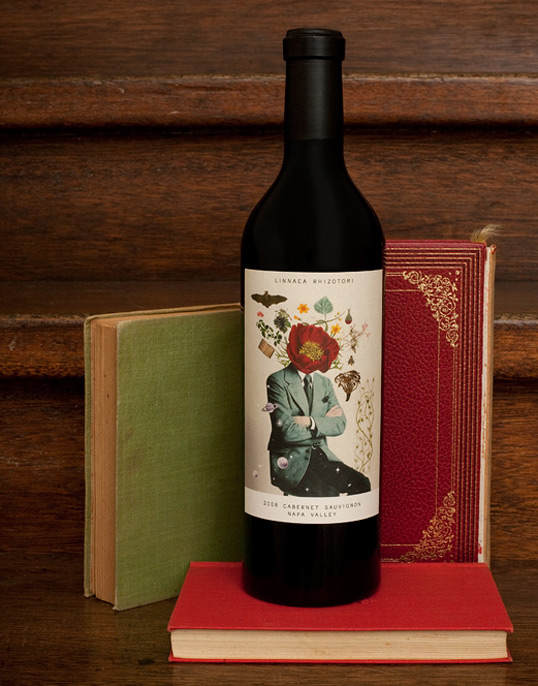 Designed by Mash | Country: Australia
"2 winemakers of the Napa Valley are now on their way to creating their own boutique winery, Linnaea. The founders both have backgrounds in medical anthropology and plant biochemistry. They are also the face of the brand, doing most of the sales/customer relations work themselves. It made sense to design wine packaging that reflected the personalities of the brand owners, albeit in an unconventional way so that the wine consumer, spoilt for choice, would take notice.
Wine names were created using the Linnaean Binomial system. 'Linnaea Rhizotomi', being the 1st release wine. Rhizotomis were the forefathers of chemists and medics, they had knowledge of the plants, when to collect, season, medicinal effects etc. A modern day, slightly twisted and beautiful interpretation of a Rhizotomi was created. A character with knowledge of plant-life, nature and the workings of the universe. This reflected the backgrounds of the brand founders and creates a unique and surreal package standing out amongst the crowd."
April 27, 2010 | 2 Comments
Designed by Laura Berglund | Country: United States
A charming collection of packaging design from this Kansas City Art Institute graduate of May 2010.
April 26, 2010 | 2 Comments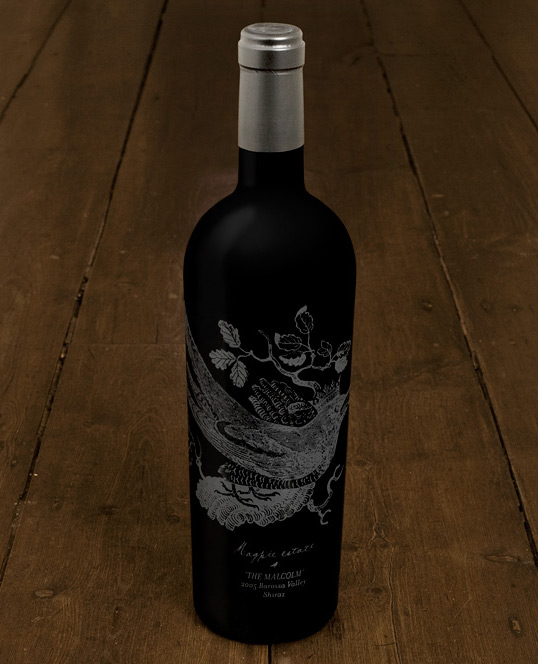 Designed by Mash | Country: Australia
"The Malcolm represents the super premium product under the Magpie Estate Brand. This product needed to sit separately from the other wines in the range. The logo type remains consistent as a secondary element, however the bottle design and printing methods depart from the other Magpie Estate wines. A beautiful imported French bottle was chosen, the bird illustration and text details were screen printed. No paper labels were used, even the back label details are screen printed."
April 26, 2010 | 9 Comments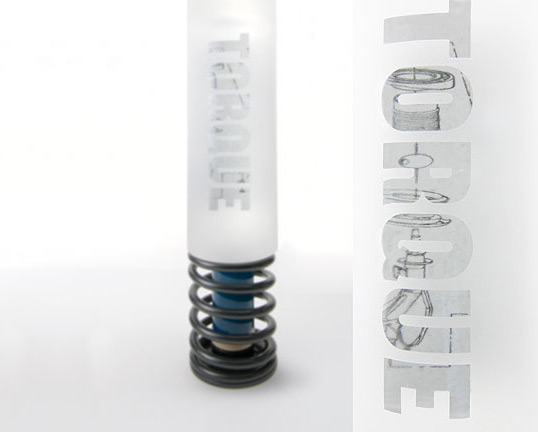 Designed by Honest Bros. | Country: United States
"This past christmas we created a packaging of locally distilled vodka for our clients to show them some other work we are capable of (outside of traditional print/web work). The bottle design is based on our branding and overall look and feel. We have titled ourselves as "Concept Mechanics", which speaks to our handwork and conceptual thinking. The spring top is a metal spring that serves as a cap. Additionally, we put together a video to show how the bottle came to be from a production standpoint."
April 25, 2010 | 8 Comments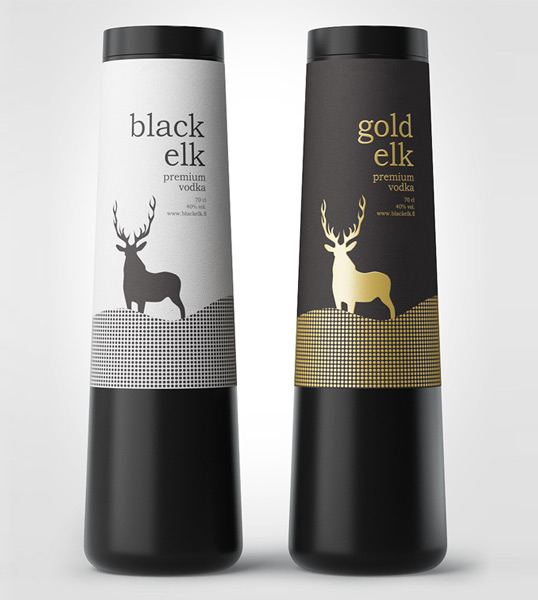 Designed by NTGJ | Country: Portugal
"Black Elk is a premium vodka from the Finnish Lapland. The goal was to create a young looking and innovative brand. The shape of the bottle is simple but elegant and the graphics really modern style. Gold Elk is the ultra premium version of Black Elk."
April 23, 2010 | 3 Comments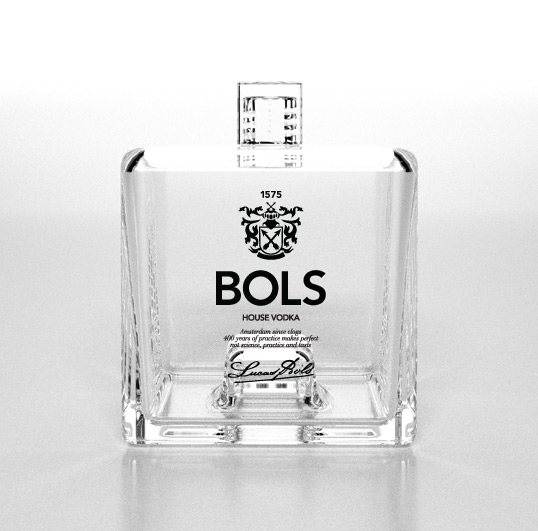 Designed by Mash | Country: Australia
"Bols 1575 Amsterdam (aka the inventors of gin and the oldest distillery brand in the world!) asked Mash to assist them in revamping their Bols Vodka Bottle. The packaging needed to have respect for the heritage behind the Lucas Bols brand which has been around since clogs. Mash designed a series of classic and elegant bottles based on vintage French perfume packaging."
April 22, 2010 | 7 Comments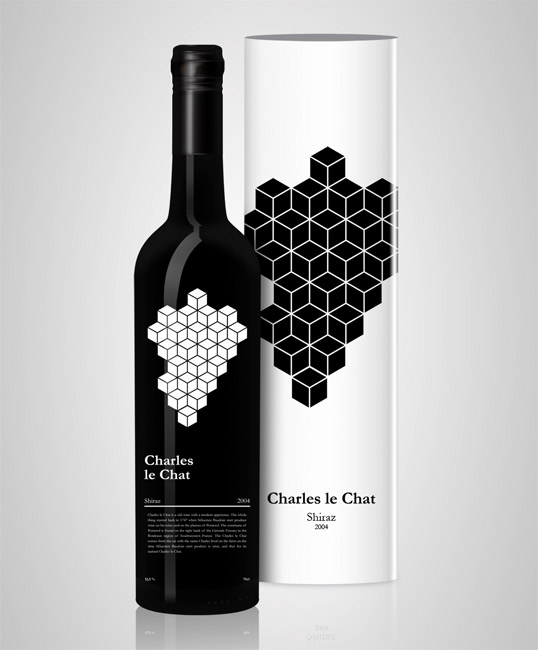 Designed by Victor Eide | Country: Sweden
"The target lines were to make an expensive premium wine. My idea was to make a modern and simple wine instead of the usual old wine bottles."