March 15, 2010 | No Comments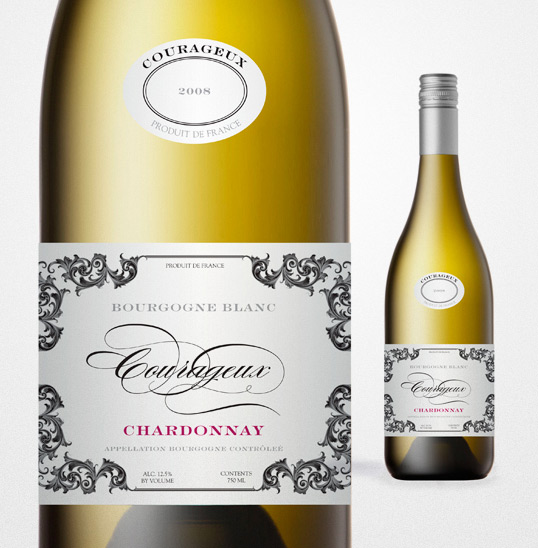 Designed by Rhinocerosred Design | Country: United States
"Courageux was designed as a private label wine for a retailer and ts visual language speaks to the traditional higher cost wines of the Burgundy Region of France utilizing high quality print techniques and materials, yet this bourgogne blanc is at an entry level price point."
March 15, 2010 | 1 Comment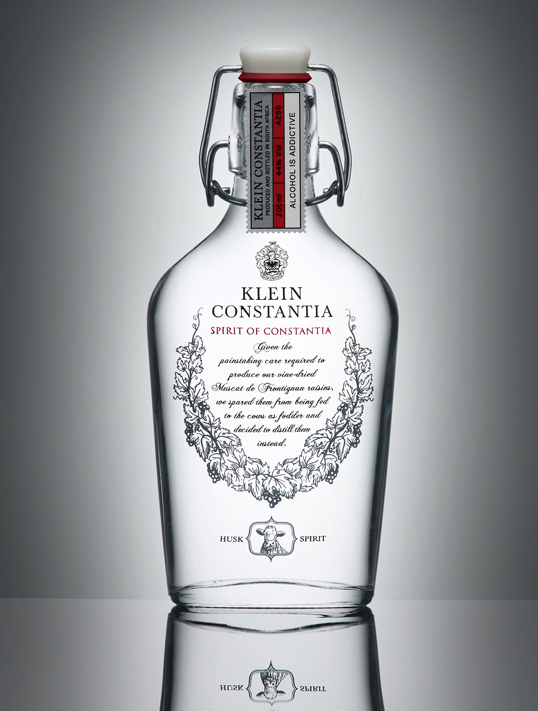 Designed by AT PACE | Country: South Africa
"Klein Constantia didn't know what to do with the grape skins that were left over from the production of their award winning wines. In the past they had fed the skins to their cows, but they decided to produce a limited edition grappa, as a gift to the people that were important to their business.
Because the Grappa wasn't intended for sale, Klein Constantia proposed a "half-jack" bottle with a screw cap, but AT PACE was able to source 4000 beautiful bottles with a unique porcelain wire stopper. It wasn't the type of bottle Grappa was usually sold in, since it wouldn't have to compete with other products in the category, instead it felt unique and special. The design was simple and told the story of how the Grappa had come into being, but also made the product feel premium and important, more befitting of an artisanal gift.
Which made everyone happy, everyone except the cows that is. Which is why we included the illustration of the grumpy cow. A playful nod, to the cows who would no longer be able to enjoy their post-harvest treat."
March 15, 2010 | 3 Comments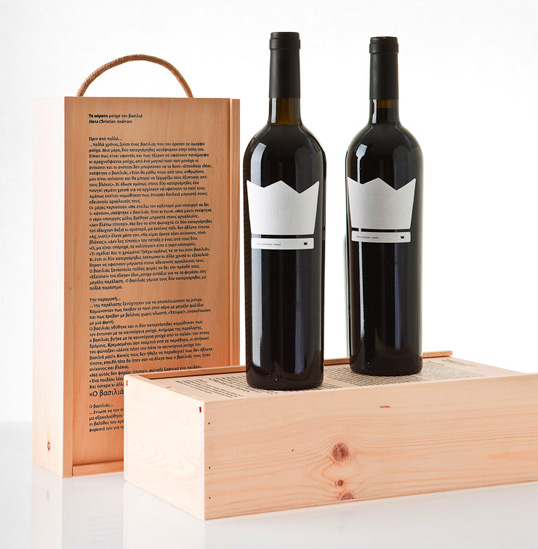 Designed by BeetRoot Design Group | Country: Greece
"Brief: a new winemaker contacted us in order to provide a visual identity to their new wine. The wine is of extremely high quality, but free from any filtering or chemical treatments So it sits there exposed, without any chemical aid for the consumer to taste it.
Continue…
March 13, 2010 | 2 Comments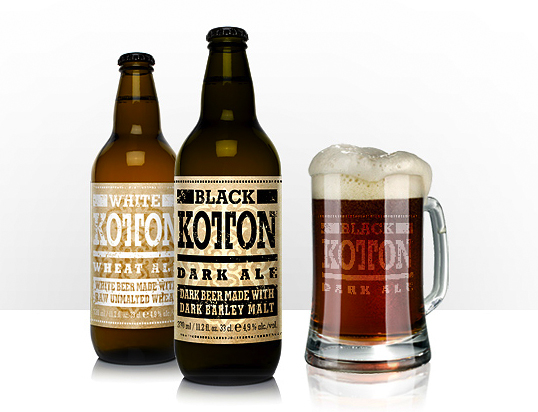 Designed by Dreamerworx | Country: Bulgaria
"Beer for the hard working tough guy. With no doodles, gold platings, any insignificent items whatsoever. Tough as an army boot."
March 12, 2010 | No Comments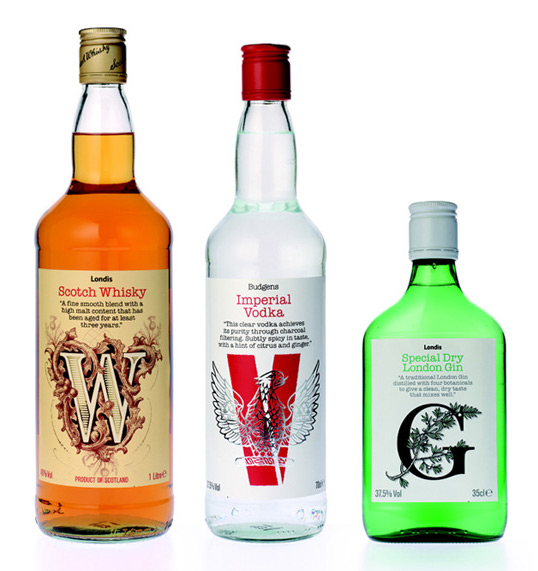 Designed by Pentagram | Country: United Kingdom
"Harry Pearce and his team have been commissioned to redesign the complete own brand range for Budgens and Londis stores.
The own brand range has three levels, Good, Better, and Best, and many of the redesigned Good Value range have already hit the shelves with Pentagram's designs for Good Value Jaffa Cakes and Good Value Assorted Crisps winning the Quality Food Awards 2009.
March 7, 2010 | 2 Comments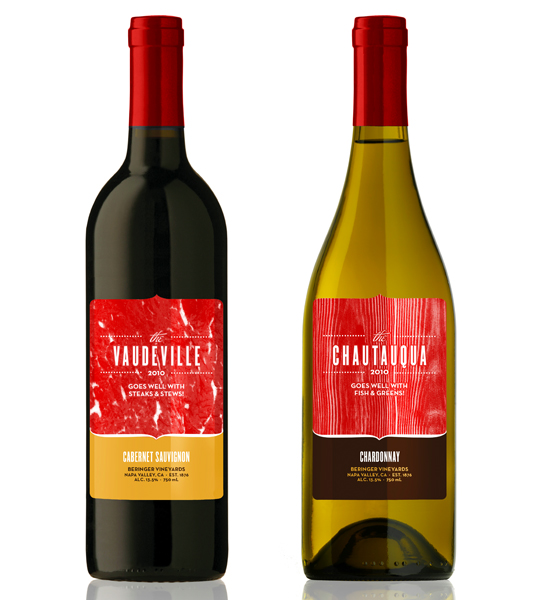 Designed by Drew Hamlet | Country: United States
"Beringer Vineyards – line of wines targeting 21-30 year olds. Used humor to show easy food pairings, sparking interest in the possibilities of dinner options."
March 5, 2010 | 1 Comment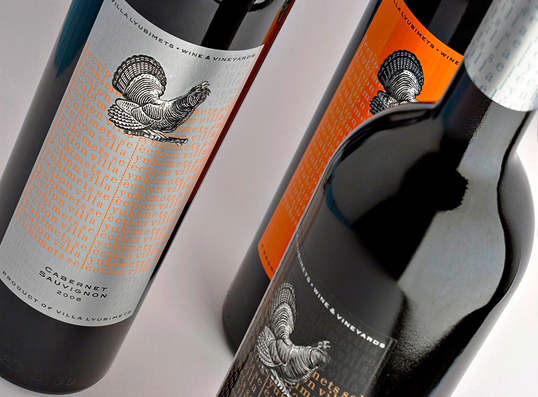 Designed by Jordan Jelev | Country: Bulgaria
The client wanted to use a simple labelform and some sort of typographic pattern as a background image. I did it by simply repeating the text "villa lyubimets selection". In the colour background of the label the pattern was printed with selective UV matte varnish against the glossy background inks. The bird at the top of the labels has puf-up transparent varnish overprinted and the whole image there has a really sensible relief. Because of using metal coated paper, the whole bird looked like metal tin.
March 5, 2010 | 2 Comments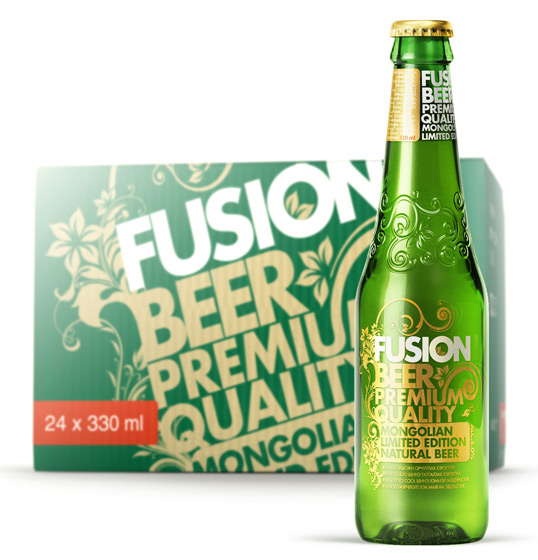 Designed by Depot WPF | Country: Russia
"The purpose: to create a visual image of a new beer for the young target audience of the local premium market. To develop a packaging design and unique form of the bottle (taking into account specific features of Chinese production). Not to try making so-called Mongolian design. The solution had to be worldwide.
March 4, 2010 | 1 Comment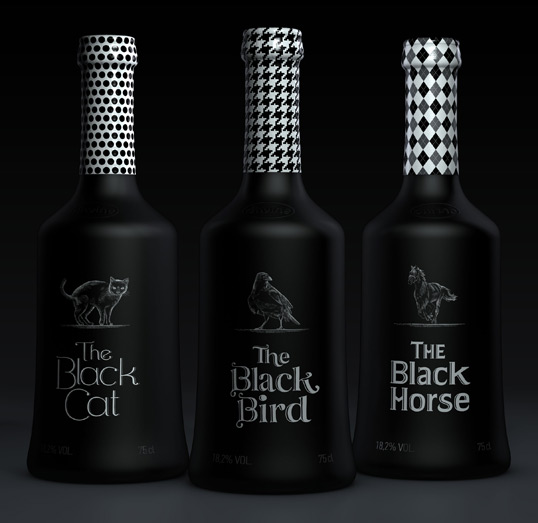 Designed by Samy Halim | Country: France
Concept work from designer Samy Halim.
"The black edition is a special edition of a fake brand that I imagined, black because of its intense tone, the illustrations are drawn as if they were scratched on a slate. The typography is a painting style with some intended errors, I didn't want to design it perfectly, this kind of cooked wine is designated to bars, cocktails and other opportunities. These three bottles can be exposed without a shame in a living room too."
March 4, 2010 | 2 Comments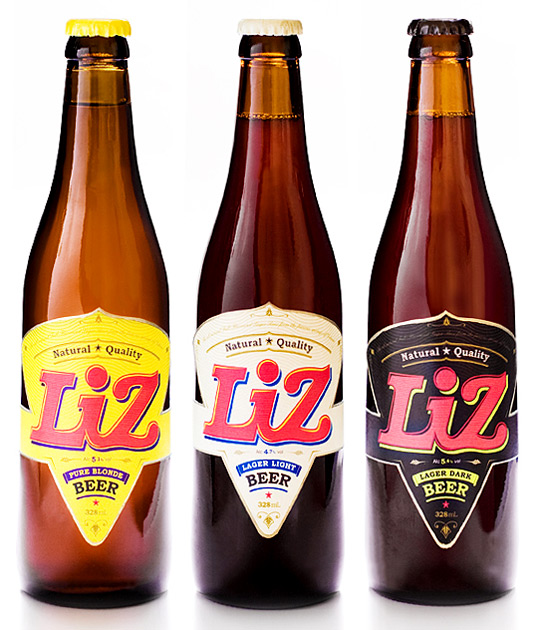 Designed by Avraham Cornfeld | Country: Israel
"Packaging design and brand identity for Liz Beer Company. The beer comes in three types: Light, Dark and Blonde."