October 22, 2015 | No Comments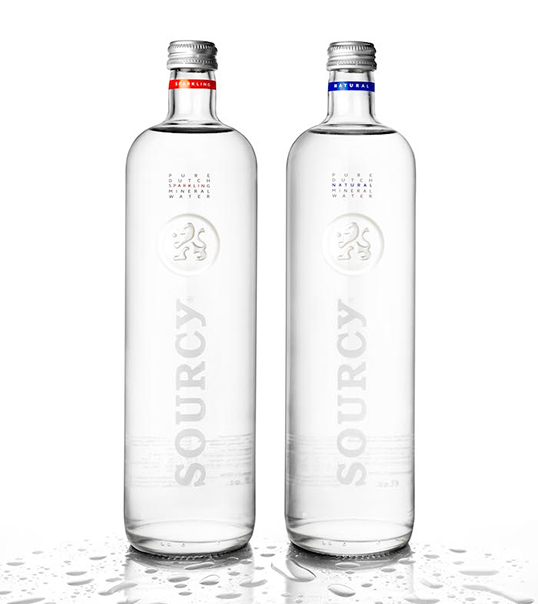 Designed by VBAT | Country: Netherlands
"Brief: due to its strong position in the restaurant segment, Sourcy is one of the most well known mineral water brands in the Netherlands. In recent years the brand's packaging strategy has been to develop separate bottle designs for high quality and mainstream restaurants. Aside from high production and logistical costs, this has not helped maintain a clear brand image for Sourcy. As such the design agency was briefed to develop a new iconic glass bottle – a clear reflection of the brand's core values befitting of every dinner occasion, whether a high quality restaurant or mainstream outlet.
Technical and market requirements:
– The bottle design must be suitable for carbonated mineral water and fitting within Sourcy's current standard bottling lines.
– 0,75L  glass bottle
– Respect market colour codes – blue for non-carbonated and red for carbonated water.
– Visible colour coding at the top of bottle to avoid restaurant personnel serving the wrong water.
Creative solution: as a strong established brand coming from one source the creative solution was to develop one iconic bottle. A bottle that supports the quality of Sourcy mineral water and respects the quality of it's customers. The new stylish outer shape is enriched with a deep embossed lens that serves as a podium for the brand's lion emblem and symbolises the purity of the mineral water. The lion emblem, together with the higher shoulders of this new bottle, reflect the proud character of the brand. "Sourcy Pure Dutch" goes back to the essence, iconic without fuss, elegant yet understated.
Pure Dutch design."
October 13, 2015 | No Comments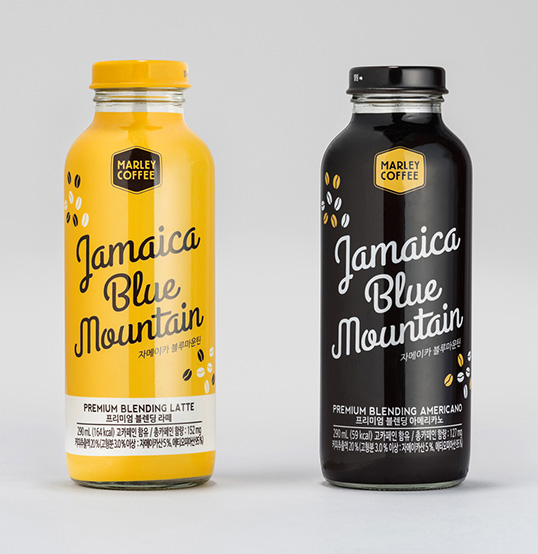 Designed by YANG:RIPOL | Country: United Kingdom
"These are the first RTD (ready-to-drink) products launched in Asia by Marley C&V International. The initial range includes Jamaica Blue Mountain premium blend Americano, Latte, and a special edition single origin Americano.
The design is contained and essential in its element distribution, but the font and bean motif suggests a hint of exuberance.Most of the consumers in the RTD coffee market in Asia are young female, and the design is gently geared towards this demographic.
Marley Coffee is a brand established by Rohan Marley which provides Jamaican coffee with a social conscience, responsibly farmed and respectful with its community. Marley C&V Int. brings this high quality product and social ethos to Asia."
October 10, 2015 | 2 Comments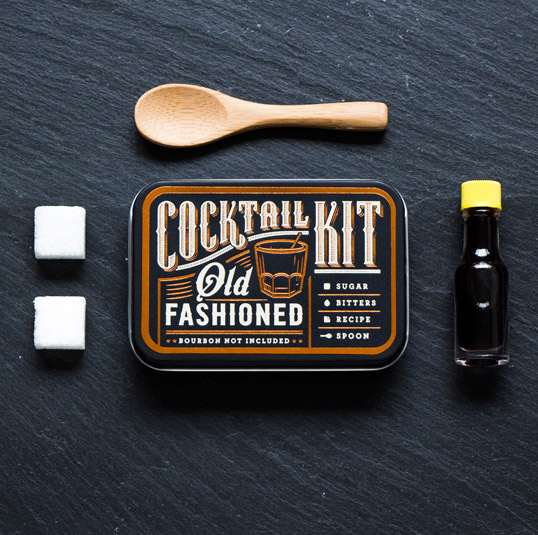 Designed by Cody Petts | Country: United States
"Our vision for this project was to merge together styles of vintage & modern to create a new/fresh design with callouts to rustic design heritage and old fashioned techniques. The kits themselves are pocket sized and can be transported anywhere. They include two main ingredients alongside a recipe instruction card and a muddler spoon. Just add your own favorite spirit and enjoy."
September 18, 2015 | No Comments
Designed by Karsh Hagan | Country: United States
"To coincide with their brand launch and opening of their first tea lounge, Platform T needed packaging that embodied their fresh take on the tradition of tea. The custom copper tin with stamped logomark was designed to be sophisticated yet modern. The topographic pattern invites the drinker to dream of travel while the icons and typefaces show the brand's playful nature. The smooth metallic tin contrasts the rustic wood and stone textures of the lounge's interior. To further bring to life the lure of travel and the global story of tea, the packaging for their high-end reserve line was inspired by the ornate iron archways that frame train stations all over the globe."
August 31, 2015 | No Comments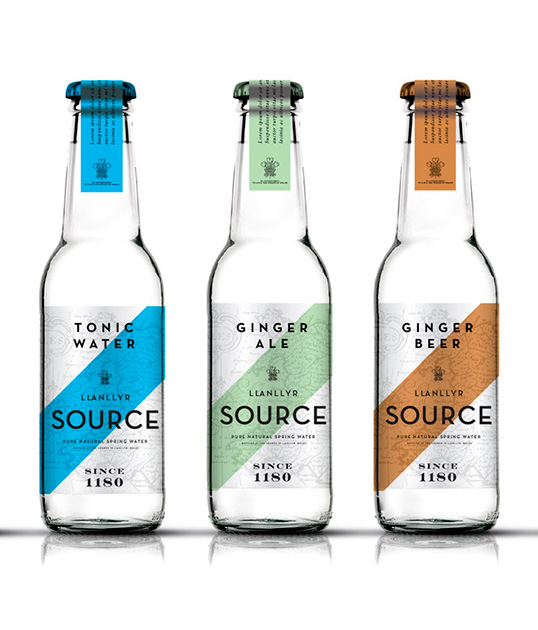 Designed by Adam&Co | Country: United Kingdom
"Since 1180, the organically farmed fields of Llanllyr, Wales has been producing near perfect natural spring water. In 1999, a member of the same family who had been farming the land for over 300 years started bottling and distributing the water under the brand name Llanllyr Source. Source quickly became recognized by the world's leading hotels, sommeliers, and chefs as one of the most perfectly balanced, purist tasting natural spring waters.
"Source hired Adam&Co., in partnership with Adned, to contemporize the brand. Our goal was to better tell the brand's rich history to a modern audience, re-establish the brand's luxury positioning, and to introduce a new line of flavored mixers based on the same brand name. This came to life through a new brand strategy, brand identity, messaging and packaging. The location and history are key to the brand's story which we communicated through the use of a map texture and consistent use of the words "Since 1180."
August 27, 2015 | No Comments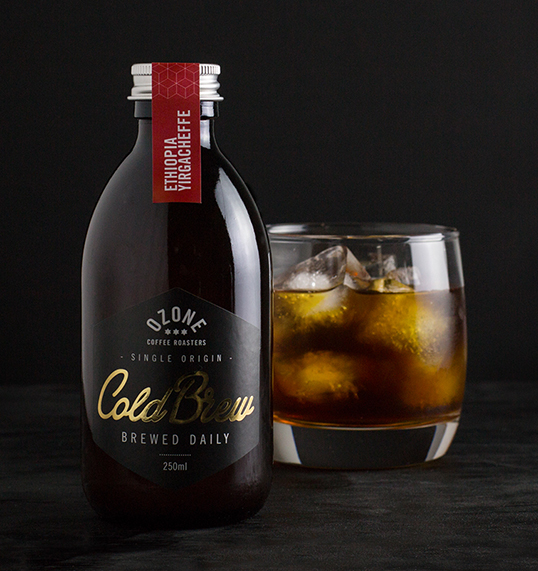 Designed by Macfarlanes Assist | Country: New Zealand
"The Ozone Coffee Cold Brew were designed to serve both New Zealand and United Kingdom specialty coffee markets. The cap labels provide a proof of seal and indicate the origin of the single brewed coffee. The brown bottle is a nod to the days of old – vessels for rejuvenating elixirs and home-brewed beer. Presented on a hexagonal label, the gold foiling of the product label captures the eye and reinforces the attention to detail and craft that goes into making each brew by hand."
August 14, 2015 | No Comments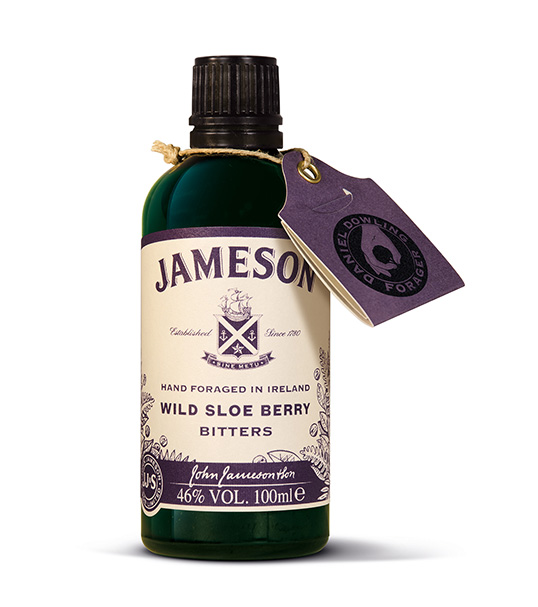 Designed by Pearlfisher | Country: United Kingdom
"Pearlfisher has created the brand and packaging design for the new Wild Sloe Berry Bitters, byJameson. This is a new, beautifully crafted and locally sourced Bitters brand from Jameson thatdelves into the brand's Irish roots and flavours, and is designed to give influential bartenders anddrink enthusiasts new ways to enjoy and experience the iconic whiskey brand.
With the rapid growth in Bitters brands, a certain "type" of Bitters language is quickly saturatingthe category. Pearlfisher's task was to create a visually distinctive look and feel for JamesonBitters, whilst ensuring we complement, respect and become a great companion to the Jamesonmaster brand."
July 29, 2015 | No Comments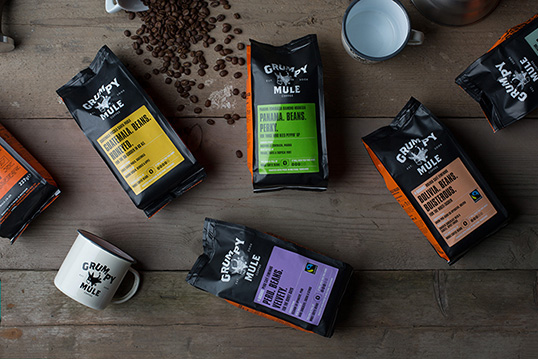 Designed by Manifest Communications | Country: United Kingdom
"Grumpy Mule was a coffee brand in need of some love. And a bit of sass.
Not only did Manifest develop a butt-kicking logo, we also developed a tone of voice that challenged what the rest of the market was doing. Full of cultural references and tongue in cheek comments, the new Grumpy Mule brand has been receiving amazing feedback since it's launch last month."
July 24, 2015 | 3 Comments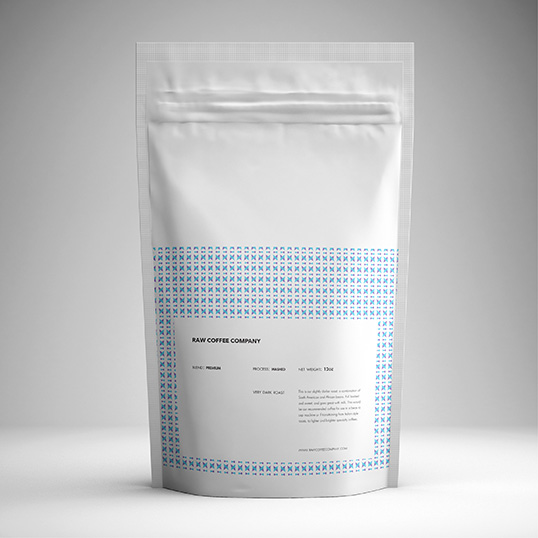 Designed by Sawsan Al Qasimi | Country: Dubai
"Package redesign of a speciality coffee company based in Dubai, that provides freshly roasted single origin beans, and hand picked blends."
July 9, 2015 | 1 Comment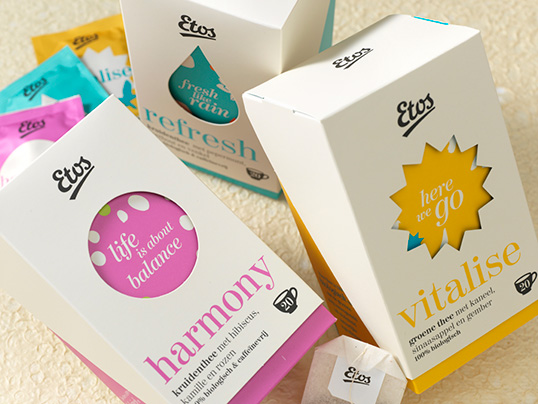 Designed by Milford | Country: The Netherlands
"Etos is the Netherlands' best-known drugstore. It comes with a very wide range and lots of store brands. This is how Etos provides a perfect alternative to primary brands, always on the lookout for categories that will take the entire product range to the next level.
The team's attention was drawn to the category tea that perfectly blends in with today's consumers: a high-quality product that matches a natural, healthy lifestyle and which has every right to be among the store's wellness products."