September 18, 2015 | No Comments
Designed by Karsh Hagan | Country: United States
"To coincide with their brand launch and opening of their first tea lounge, Platform T needed packaging that embodied their fresh take on the tradition of tea. The custom copper tin with stamped logomark was designed to be sophisticated yet modern. The topographic pattern invites the drinker to dream of travel while the icons and typefaces show the brand's playful nature. The smooth metallic tin contrasts the rustic wood and stone textures of the lounge's interior. To further bring to life the lure of travel and the global story of tea, the packaging for their high-end reserve line was inspired by the ornate iron archways that frame train stations all over the globe."
August 31, 2015 | No Comments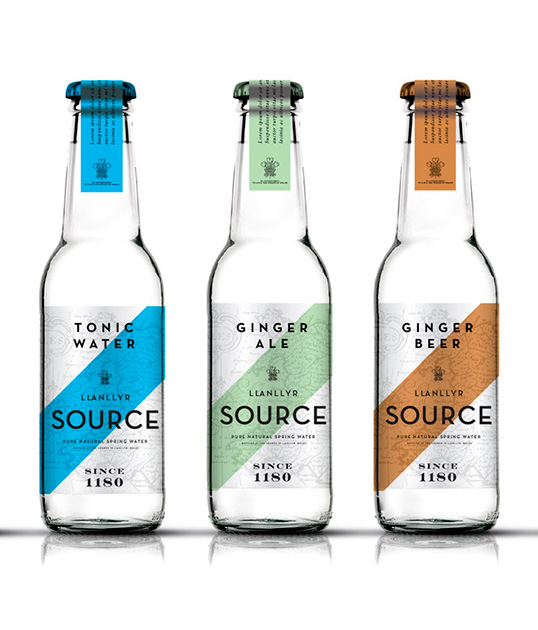 Designed by Adam&Co | Country: United Kingdom
"Since 1180, the organically farmed fields of Llanllyr, Wales has been producing near perfect natural spring water. In 1999, a member of the same family who had been farming the land for over 300 years started bottling and distributing the water under the brand name Llanllyr Source. Source quickly became recognized by the world's leading hotels, sommeliers, and chefs as one of the most perfectly balanced, purist tasting natural spring waters.
"Source hired Adam&Co., in partnership with Adned, to contemporize the brand. Our goal was to better tell the brand's rich history to a modern audience, re-establish the brand's luxury positioning, and to introduce a new line of flavored mixers based on the same brand name. This came to life through a new brand strategy, brand identity, messaging and packaging. The location and history are key to the brand's story which we communicated through the use of a map texture and consistent use of the words "Since 1180."
August 27, 2015 | No Comments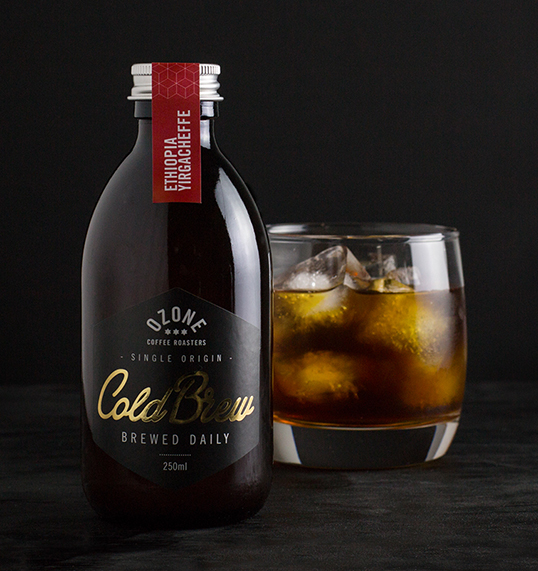 Designed by Macfarlanes Assist | Country: New Zealand
"The Ozone Coffee Cold Brew were designed to serve both New Zealand and United Kingdom specialty coffee markets. The cap labels provide a proof of seal and indicate the origin of the single brewed coffee. The brown bottle is a nod to the days of old – vessels for rejuvenating elixirs and home-brewed beer. Presented on a hexagonal label, the gold foiling of the product label captures the eye and reinforces the attention to detail and craft that goes into making each brew by hand."
August 14, 2015 | No Comments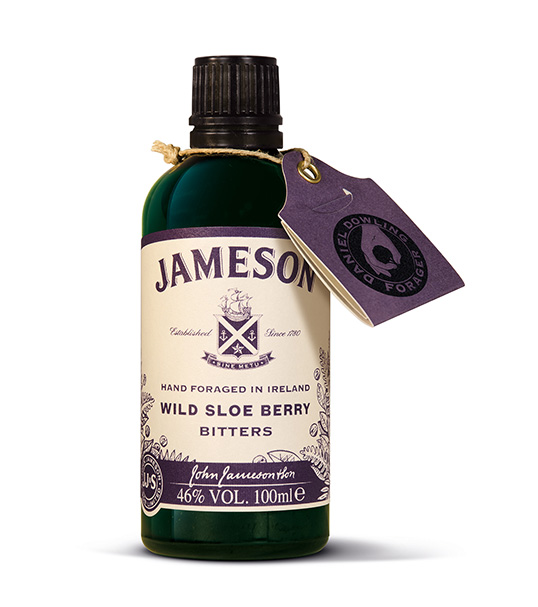 Designed by Pearlfisher | Country: United Kingdom
"Pearlfisher has created the brand and packaging design for the new Wild Sloe Berry Bitters, byJameson. This is a new, beautifully crafted and locally sourced Bitters brand from Jameson thatdelves into the brand's Irish roots and flavours, and is designed to give influential bartenders anddrink enthusiasts new ways to enjoy and experience the iconic whiskey brand.
With the rapid growth in Bitters brands, a certain "type" of Bitters language is quickly saturatingthe category. Pearlfisher's task was to create a visually distinctive look and feel for JamesonBitters, whilst ensuring we complement, respect and become a great companion to the Jamesonmaster brand."
July 29, 2015 | No Comments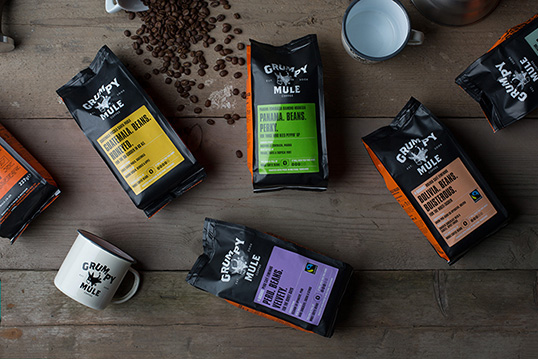 Designed by Manifest Communications | Country: United Kingdom
"Grumpy Mule was a coffee brand in need of some love. And a bit of sass.
Not only did Manifest develop a butt-kicking logo, we also developed a tone of voice that challenged what the rest of the market was doing. Full of cultural references and tongue in cheek comments, the new Grumpy Mule brand has been receiving amazing feedback since it's launch last month."
July 24, 2015 | 3 Comments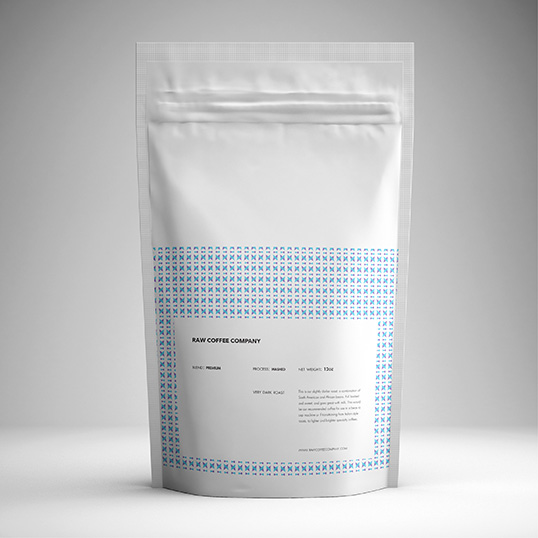 Designed by Sawsan Al Qasimi | Country: Dubai
"Package redesign of a speciality coffee company based in Dubai, that provides freshly roasted single origin beans, and hand picked blends."
July 9, 2015 | 1 Comment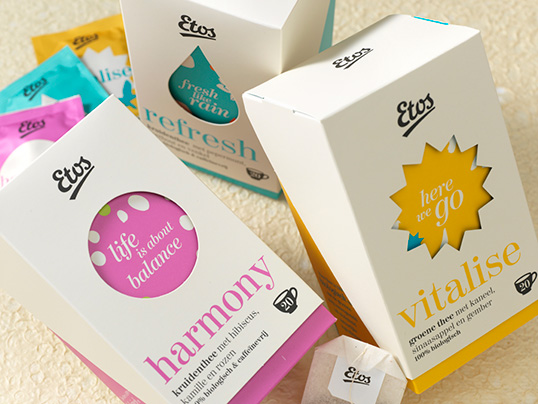 Designed by Milford | Country: The Netherlands
"Etos is the Netherlands' best-known drugstore. It comes with a very wide range and lots of store brands. This is how Etos provides a perfect alternative to primary brands, always on the lookout for categories that will take the entire product range to the next level.
The team's attention was drawn to the category tea that perfectly blends in with today's consumers: a high-quality product that matches a natural, healthy lifestyle and which has every right to be among the store's wellness products."
July 6, 2015 | 1 Comment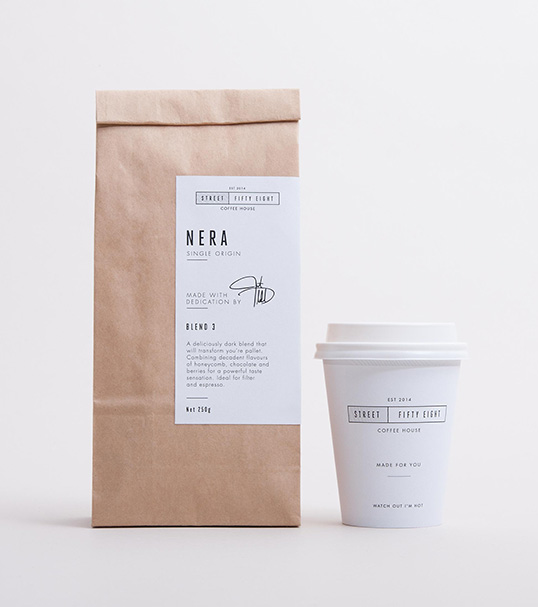 Designed by Made Somewhere | Country: Australia
"Taking on the prestigious nature of the Upper East Side – Street Fifty Eight embodies the finest coffee inspired by the qualities and sophistication of this renowned New York Street. The brand and packaging is minimal and sharp, preserving the qualities and refinement of its contents, each holding a Signature Blend – 'House' and Single Origin 'Nera' and 'Araé'."
July 1, 2015 | 1 Comment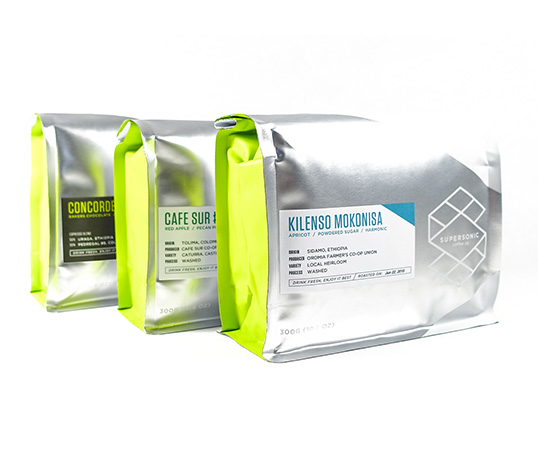 Designed by Brian W. Jones | Country: Sweden
"Supersonic was born with the mission to create a world class specialty coffee company. Apart from enjoying delicious coffee, the founders of the company also believe in the value of design and its power to differentiate, so it has been integral to the company from the very start. From the name itself, to the packaging and future coffee shops, the brand has positioned itself to stand apart from the bespoke aesthetic that is all too common in the industry."
June 30, 2015 | 3 Comments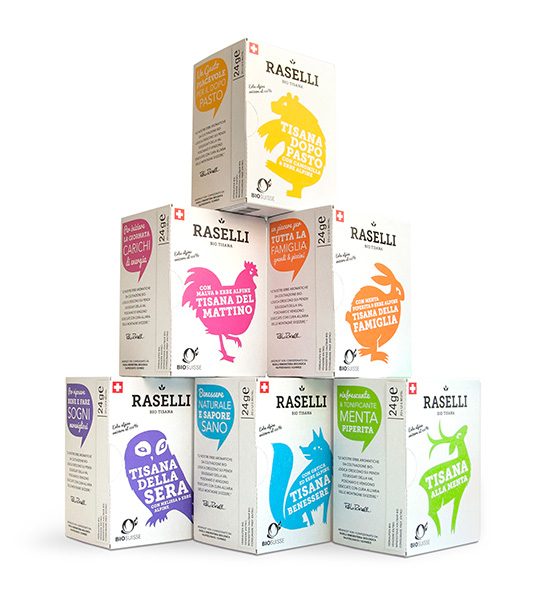 Designed by Plasmadesign | Country: Switzerland
"Raselli tea blends are made of organic herbs from the Swiss Alps. Protective aroma sachets preserve the precious scents and flavors of the natural ingredients. Each blend comes in a unique design featuring a signature color and an animal that is characteristic for the alpine area where the organic herbs are grown. The cardboard surface of the box stands for the naturalness of the product while the bright colors and playful illustrations are a promise of joy and pleasure associated with each cup of this marvelous tea. The design was created by Plasmadesign Studio, a multidisciplinary design agency based in Zurich."