May 17, 2015 | 2 Comments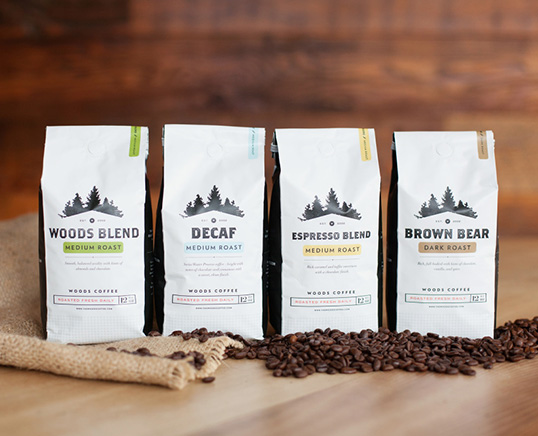 Designed by Man Man Van | Country: Unites States
"Woods Coffee is a family run company in Northern Washington.  They recently started their own roasting operation and it was our job to come up with a good face for the bags.  We created several variations for each individual blend, along with a few additional elements such as a cold brew bottle and illustrations for mugs."
May 5, 2015 | 1 Comment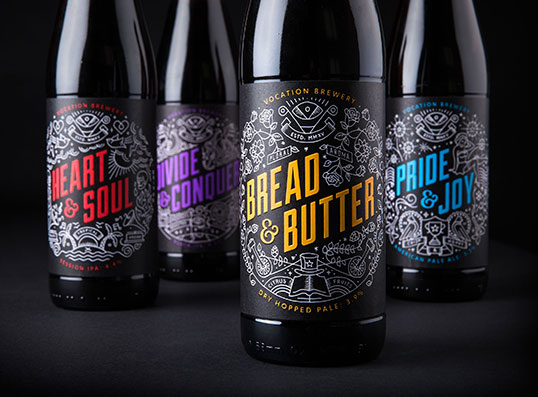 Designed by Robot Food | Country: United Kingdom
"Craft beer is riding the crest of a wave, and as microbreweries gain in popularity, brand identities are getting more expressive and creative. Robot Food's identity for new microbrewery, Vocation, is as daring as the beer it crafts.
John Hickling brews beer with distinctive, punchy flavour. Each hop forward beer stands out from the norm and names such as 'Heart & Soul' and 'Divide & Conquer' fly the flag for the brewery's fearless attitude. Vocation's beers are bold, brave and uncompromising and like beer, like brewer, they all epitomise Hickling's passion for his trade. John originally left his job in a bank, sold his house and set up his first brewery, Blue Monkey. After selling up to explore new ventures John realised he only had one vocation. He's now back where he belongs, brewing the types of beer he wants to drink."
April 27, 2015 | No Comments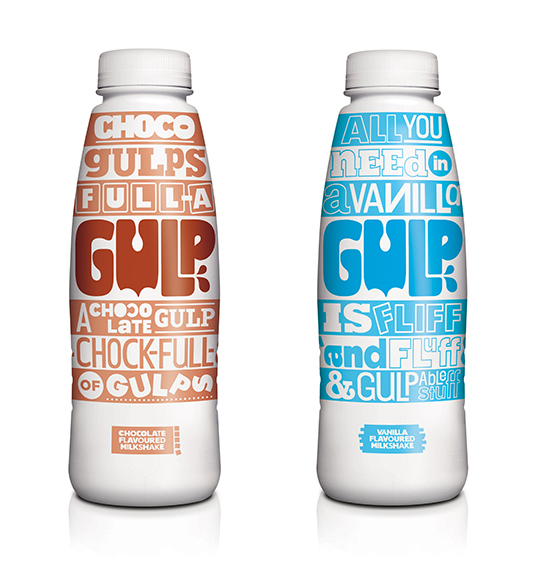 Designed by Wieden + Kennedy London | Country: United Kingdom
"Our role was to create the brand tone of voice and from that devise the package design for a new-to-market ready-to-drink milkshake, Gulp. We've made a bespoke wrapping for each of the vanilla, chocolate, strawberry and banana flavours.
Gulp isn't just a name; it's an attitude. It's a way of behaving. The design is born from the fact that milkshakes need be to shaken to be enjoyed to the max. The typography literally shakes things up expressing Gulp's cheery personality. The stripes running through the design bring to life the stages at which you should enjoy the drink to full effect – in big, bold gulps."
April 24, 2015 | 1 Comment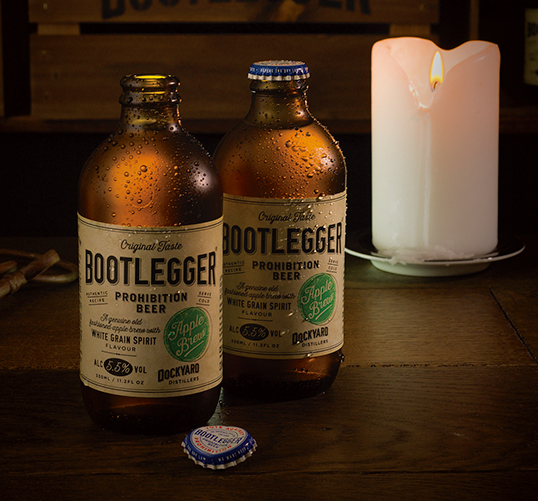 Designed by Halewood International | Country: United Kingdom
"In the years of Prohibition, Moonshiners used fruit juice to sweeten their raw, illicit booze before transporting it in used spirit bottles. Inspired by these lawless rebels, independent drinks company Halewood International created Bootlegger Apple Brew – an old fashioned apple beer that's flavoured with White Grain Spirit.
The packaging is inspired by American Prohibition and vintage drink labels and has a raw, hand made feel, featuring simple black typography on an old paper background. The variant is communicated using a green stamp which adds a pop of colour and reflects the apple flavour. A 330ml stubby bottle was chosen to give the brand a point of difference from the rest of the spirit beer category and reflects the uniquely distinctive liquid.
To complete the look the bottle features a red, white and blue crown inspired by the anti Prohibition badges of the era."
April 20, 2015 | No Comments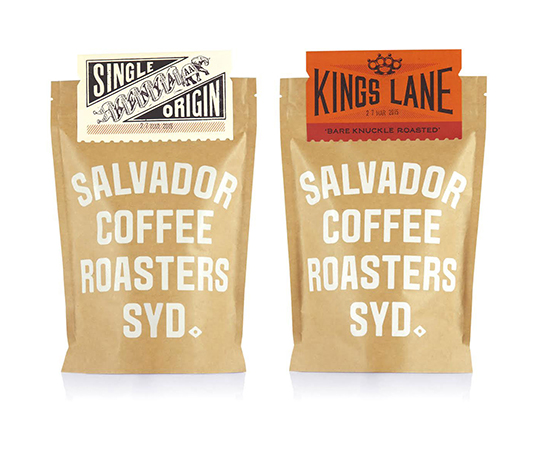 Designed by Co Partnership | Country: Australia
"Salvador are roasters of fine imported coffee beans from around the world. Their high-grade roasts have long been prized amongst Sydney's inner city crowd, however their previous branding had failed to attract new wholesale clients.
Marcio the owner of Salvador is a friendly expressive and very Brazilian character. He meticulously crafts each roast to perfect its own unique character and flavour, with a reputation among his peers in the trade for his artisan approach to roasting. With this hands on style, he retains the romantic Brazilian flair learnt from his grandfather Quintana Salvador, his inspiration for the brand.
Co Partnership have brought new life to the brand, strengthening its brand story with a confident authentic look to capture the wonderful brand story. The core logo design works in harmony with the different roast labels and on its own to provide a strong stand alone identity for everything from signage to merchandise."
April 15, 2015 | 2 Comments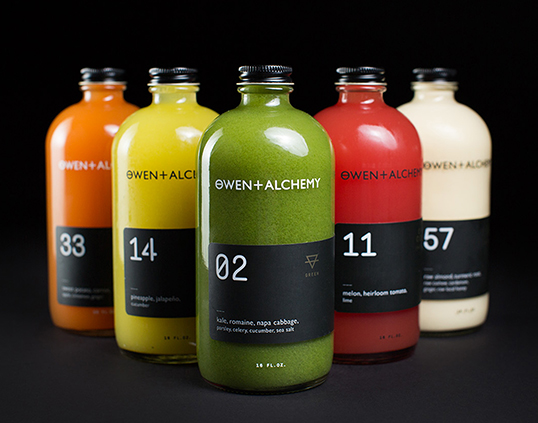 Designed by Jack Muldowney & Potluck Creative | Country: United States
"Owen + Alchemy is a small 'juice apothecary' in Chicago's Logan Square neighborhood, a very trendy and flourishing part of town. The owner, Anne Owen, has a background in fashion publications in Miami and wanted to bring that simple, stark and fashion-forward look to her juice bar. Her name, paired with the alchemic approach of their juice and food concoctions led us to create this brand inspired by old alchemic symbology, with a modern twist."
March 21, 2015 | 1 Comment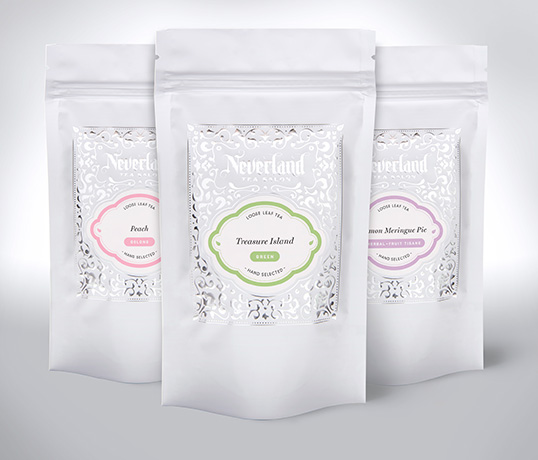 Designed by Saint Bernadine Mission Communications Inc. | Country: Canada
"Neverland Tea Salon partnered with Saint Bernadine Mission Communications to help them with the packaging for their proprietary branded line of hand-selected blended teas. With well over 75 flavours, in over 10 sub groups, the solution required a design system that was flexible, scaleable, and easily navigable. 
The solution resulted in a universal bag (for each net weight size) complete with silver foil branding and ornate detailing. A colour coded system of multiple stickers was developed to allow for a cost effective, yet easy to distinguish system, while easily accommodating a diverse range of sku's with different volume requirements."
March 21, 2015 | No Comments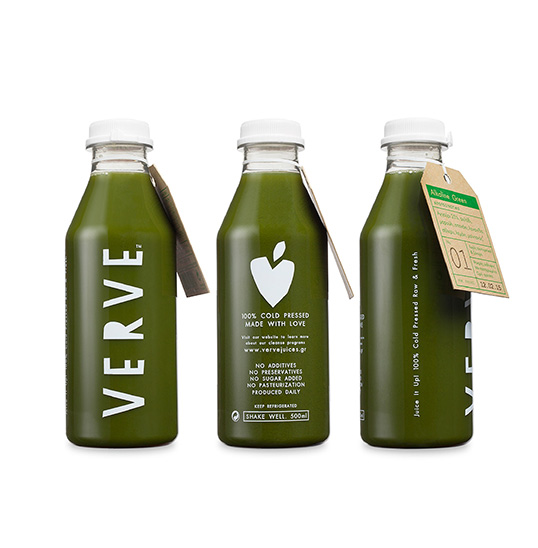 Designed by BOB STUDIO | Country: Greece
"Naming, logo design, branding and packaging for Verve, the first cold pressed juice and cleanse company in Greece, established in 2014. They offer a variety of 6 juices and 2 milks made with raw and fresh ingredients using only the cold pressed method.
Their identity is simple and clean, using a strong logo and the vivid colors of the juices themselves, revealing the freshness and purity of the brand. Logo typography is simple and primitive made by strong cut letters, inspired in a way on how we cut fruits and vegetables everyday at home.
Each juice is identified firstly by its color and secondly by a paper label on top, where you can find all information on the specific juice like ingredients, nutrition facts, series number on a cleansing program etc. Having a generic bottle and different labels reduces bottle production costs a lot and eases the way of everyday hand bottling. All applications follow the same branding rules and the strong identity of Verve."
March 15, 2015 | 1 Comment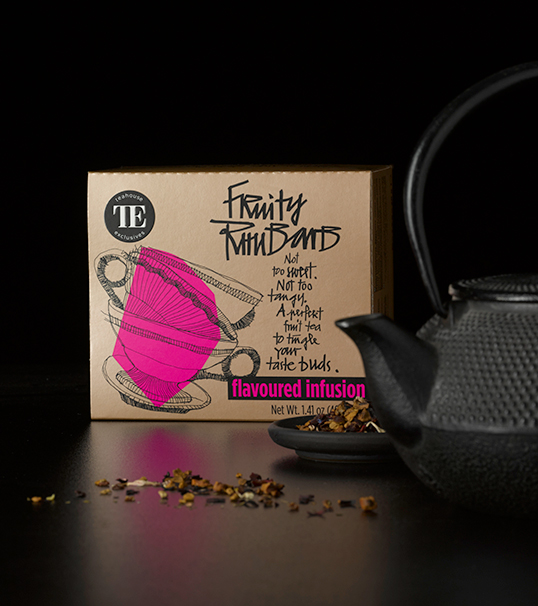 Designed by Peter Schmidt Group | Country: Germany
"Tea drinkers are individuals of strong character, people who like to indulge in a moment of deceleration in their daily lives, and this is the target group of Teahouse Exclusive's "Everyday Line". The packaging is of a bronze, shimmering quality and adorned with loosely drawn images of different cups and teapots, while thanks to a bold, colour coding approach, each tea variety immediately catches the eye. The typography has also been 100% handpicked, just like the teas themselves, with individual writing styles that promote their originality. This is as personal as it gets."
March 8, 2015 | 1 Comment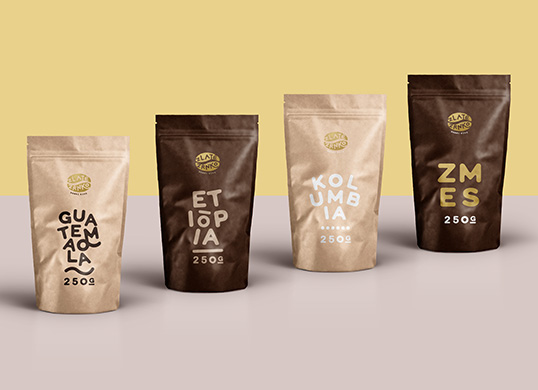 Designed by Michal Slovák | Country: Slovakia
"Zlaté Zrnko is premium arabica coffee roasted in Slovakia. The name Zlaté Zrnko means Golden Bean."