March 18, 2009 | 1 Comment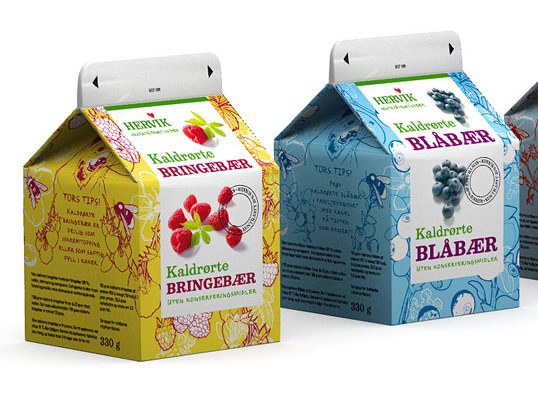 Designed by SDG | Country: Norway | Fonts used: Belizio
"Rogaland Konservefabrikk is a small-scale producer that has been attracting devotees in gradually increasing numbers ever since its humble beginnings in 1952, which saw the start of mail order sales of Hervik's concentrated juices and jams. Our packaging designs aim to capture the spirit of Hervik's cheerful, grounded core values."
March 16, 2009 | 9 Comments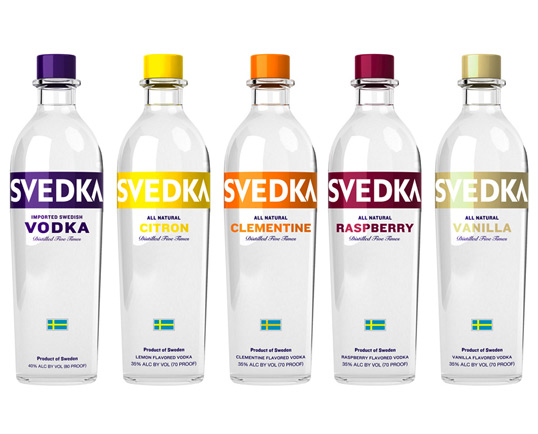 Designed by ESTABLISHED | Country: United States | Fonts used: custom type, Snell Roundhand.
"The new bottle for Svedka imported Swedish vodka had to be bilingual: It needed to speak  to younger scenesters who consider themselves "in the know" and hang out at trendy nightspots as well as an older, more affluent consumer who likes to have a drink at home. This meant the packaging had to look equally attractive lit up on the back-bar of a hip club as well as lining a club store's shelf, said Marina Hahn, svp, marketing for Spirits Marque One, Svedka's U.S. importer."
March 16, 2009 | 15 Comments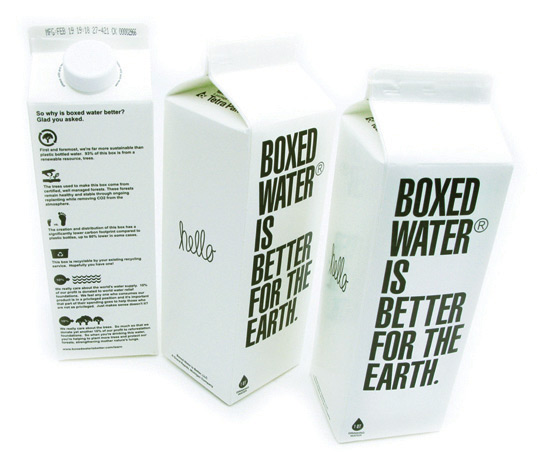 Country: United States | Fonts used: Smart Sans.
Kevin Hockin from Boxed Water sent us some photos of their newly launched product. With a package that is more sustainable than plastic bottles, they'll be giving away 20% of all profits. 10% to world water relief and 10% to reforestation foundations.
"Started with the simple idea of creating a new bottled water brand that is kinder to the environment and gives back a bit – we found that it shouldn't be bottled at all, but instead, boxed. So we looked to the past for inspiration in the century old beverage container and decided to keep things simple, sustainable, and beautiful.
March 14, 2009 | 23 Comments
Designed by David Fung | Country: United States | Fonts used: Archer
"This was a personal experiment in form, function, and fun. The goal of this redesign was to use a standard milk carton as the canvas to create a clean, modern, and functional design yet still approachable for the average consumer."
March 13, 2009 | 1 Comment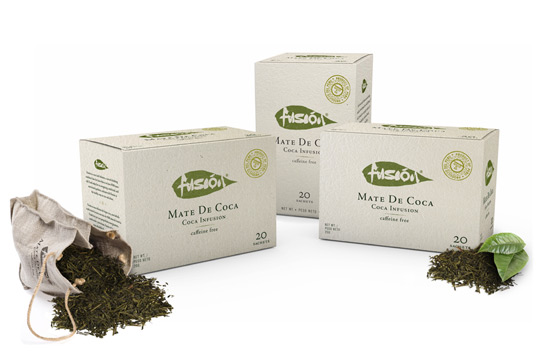 Designed by Christian Hanson | Country: Canada | Fonts used: Adobe Jenson, FF Confidential, Trade Gothic
"In Peru, there are three national drinks: 'Coffee', 'Tea', and 'Mate De Coca'. Fusión Mate De Coca is a herbal energizing tea for the South American market. Made using the leaves of the coca plant it has been enjoyed for centuries by the people of Peru for its healing and energizing properties."
March 13, 2009 | No Comments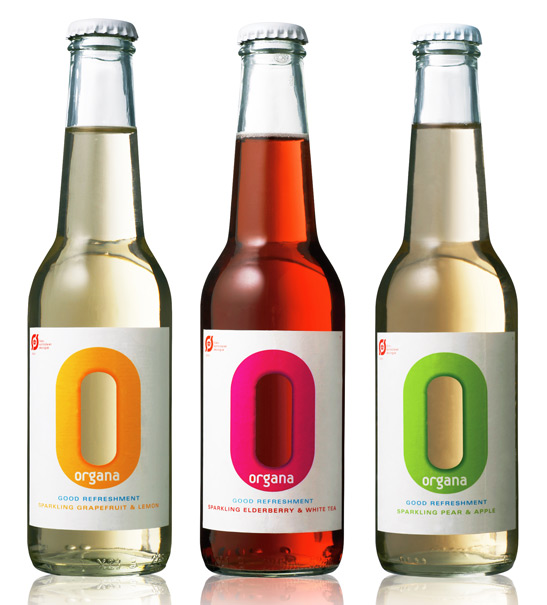 Designed by Rosenstand & Co. | Country: Denmark
"We could use some fancy marketing speak to describe our drink. But we believe that's not necessary as it's all in the name. Organa is made from only natural, organic ingredients and sparkling water. We leave the judgement up to the most important person – you. If you enjoy Organa and like your friends to have some good refreshment too – tell them about it. Enjoy cold."
March 12, 2009 | 5 Comments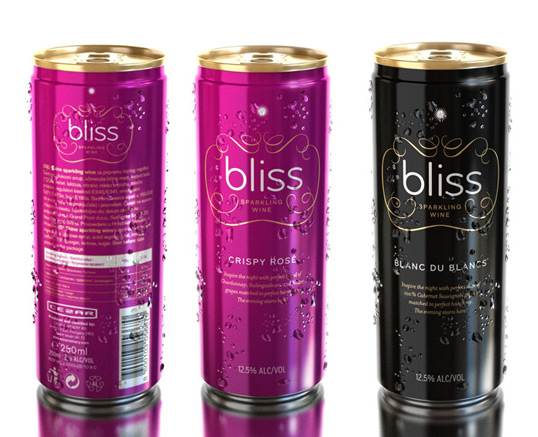 Designed by 360 Unibrand | Country: Serbia | Font used: Bryant
"Unibrand Belgrade proposed two designs including the naming for Cezar Winery from Germany – sparkling wines, both red and white (crispy rose and blanc du blanc) as the answer to growing market segment specialy in HORECA.
This type of drink is gaining popularity across Europe predominantly among female consumers as early-night drink. Girls ought to love it!"
March 10, 2009 | 2 Comments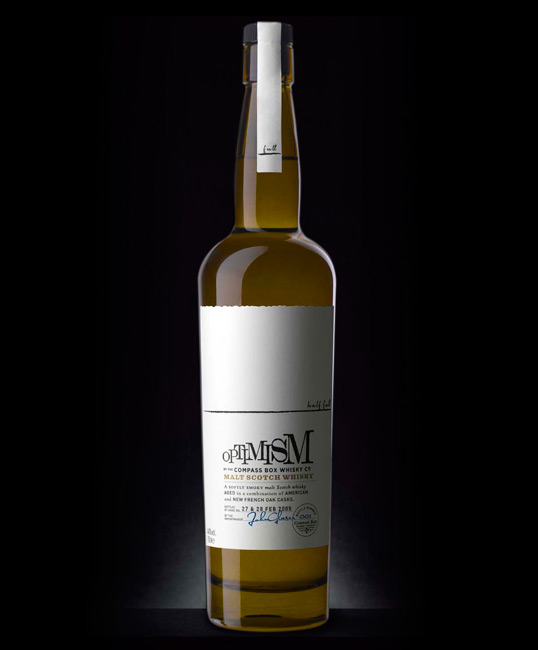 Designed by STRANGER & STRANGER | Country: United Kingdom | Fonts used: Old Times American, Sacre Bleu
STRANGER & STRANGER sent us their latest work. Be sure to check out the detail after the jump.
"Our client, John Glaser, is hoping to help people think more positively about the economic situation with his fin hand bottled blended scotch. To the optimist the glass (bottle) is half full…"
March 10, 2009 | 1 Comment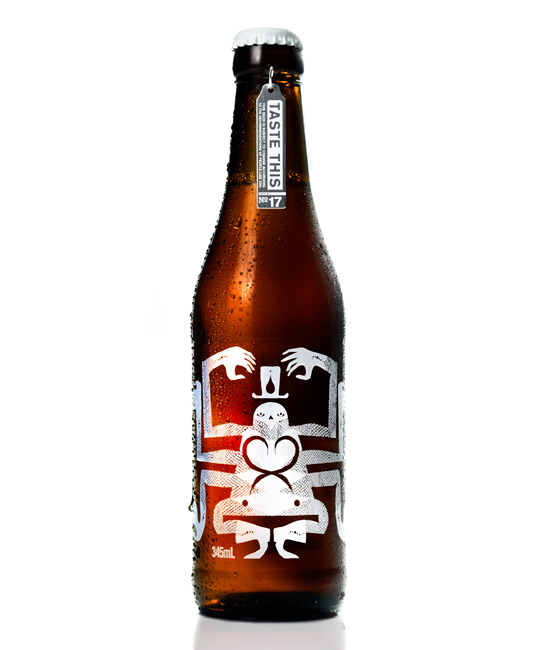 Designed by The Taboo Group | Country: Australia
"On the 110th day we said ʻlet it be named'. And from that day forward it would be called Nelson.
It's been a long time coming, but the Trial Brew, also known as Batch #15, has finally been dubbed and
officially launched.
Trial Brew began its life in a plain bottle appearing as a silent sponsor of music, fashion, and art events
during the latter months of 2008. At these events, as well as through a website and special information
postcard, we gathered feedback from creative types (approximately 1,000 of them) regarding the look, taste,
and possible names for the beer.
March 9, 2009 | 2 Comments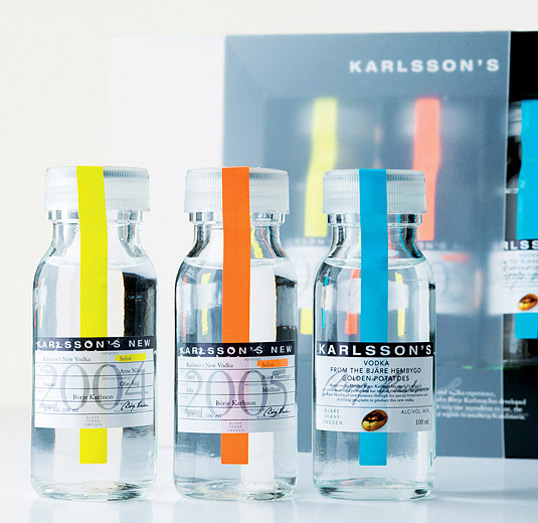 Designed by The Brand Union | Country: Sweden |  Fonts used: Helvetica, ITC Garamond, Trade Gothic
"Most people would probably have been satisfied with such an outstanding career, and rested on their laurels – but not Hans. On the contrary! Instead, he left the ad agency and started Brindfors Design, from 1999 part of Enterprise IG Group. And with his creative direction for Karlsson's vodka perhaps starting a new chapter in the Swedish vodka story."