November 14, 2015 | No Comments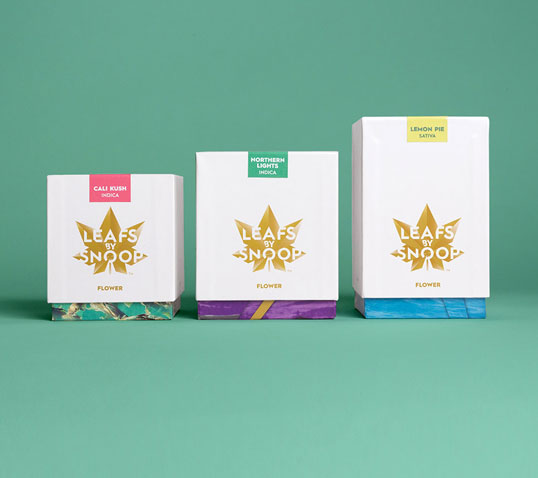 Designed by Pentagram | Country: United States
"Laid-back California cool inspires the branding for a line of marijuana-based products from hip-hop legend Snoop Dogg.
With songs like "Smoke the Weed," "This Weed Iz Mine," and "California Roll," it's no secret the rapper Snoop Dogg has long been a cannabis connoisseur. Now he's sharing this passion with the public—at least in Colorado, where consumption is legal—with a new line of marijuana-based products called Leafs By Snoop. Pentagram's Emily Oberman and team have designed the brand identity and packaging for the line, which includes both flower and edibles ("Dogg Treats") such as chocolate bars, chews, drops and gummies."
October 28, 2015 | No Comments
Designed by Anagraphic | Country: Budapest
"We care about bean origins, fair trade, and we care about each process that leads up to placing our chocolates in your hands. Our concierge service will match you with the right combination of chocolate for your unique occasion from a collection that is thoughtfully curated."
August 24, 2015 | No Comments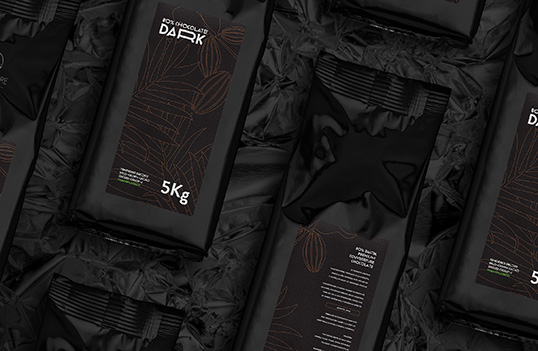 Designed by Michal Slovák | Country: Slovakia
"Around 99.99% of world cacao tree production is growing on plantations. The rest, 0.01% of world production features very rare wild-grown cacao.
Biosphere – Fine Honduran Cacao comes from Wampusirpi, location immediately adjacent to Río Plátano Biosphere Reserve in Honduras which has been a World Heritage site and biosphere reserve since 1982. In 2011, UNESCO placed the reserve on the List of World Heritage. This premium couverture chocolate has exceptional quality and single origin.
It was important not to follow Aztec or Mayan motifs, which are very common on many chocolate labels from this region. Exceptional quality product needed exceptional design. The aim was to illustrate the atmosphere of the jungle where the cacao grows. Therefore the label for 80% dark chocolate was illustrated as rainforest at night. Tempered chocolate drops are packed in 5kg bags and are sold only to trade."
August 19, 2015 | No Comments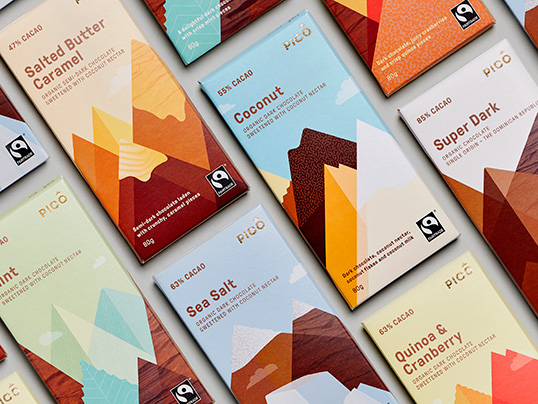 Designed by Swear Words | Country: Australia
"PICO is a premium gluten-free, vegan, fair trade certified, Swiss chocolate range conceived and designed in Melbourne.
A premium chocolate range launching in an already visually busy environment, Pico required impactful, contemporary branding and packaging whilst giving a nod to its Swiss chocolate-making heritage. Our solution is inspired by Swiss poster art and its bold geometric forms reinterpreted as flavour and texture cues in the context of an abstract mountain range designed to lend strong shelf impact."
July 3, 2015 | No Comments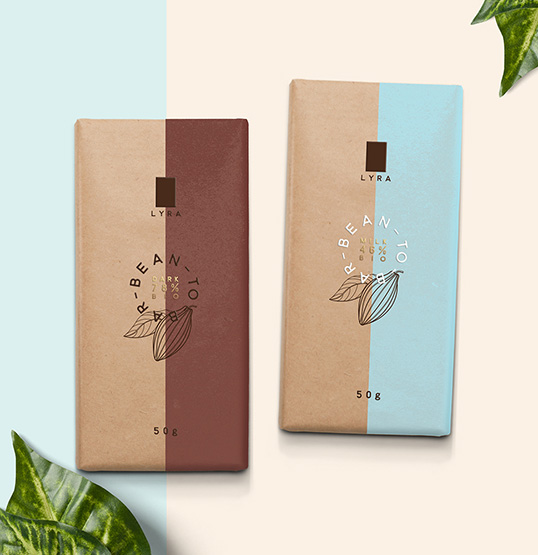 Designed by Michal Slovák | Country: Slovakia
"Since 2012 LYRA has stood for the highest quality handmade chocolate made in Slovakia. Lyra chocolate made of the finest cocoa beans, criollo and trinitario, grown on the plantations in the Middle and South America, was granted an international award Great Taste 2014.
This year they decided to place a new line of their own recipe premium products on the market. The aim was to create new packages for the premium products. Simple, playful and extraordinary just like the products themselves and this way distinguishable from the other chocolate. As a result, there are two new coated products LYRA BEAN-TO-BAR chocolate – 78% DARK BIO and 46% MILK BIO.
The bars feature a small, centered graphic of a cocoa pod, indicative of the pure ingredients used to create it and golden stamping in the middle to distinguish. The new design goes hand in hand with the essence, the taste itself. As the Lyra chocolate flavors are well tuned so do the design of new packages."
April 15, 2015 | No Comments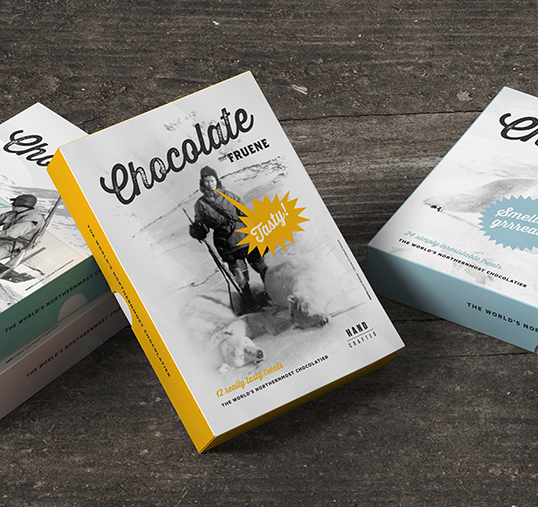 Designed by Tank Design Tromsø | Country: Norway
"The brief was to create a full range identity for a popular café in Longyearbyen on Svalbard. The client had recently started up the world's northernmost chocolaterie, and were producing a wide range of handmade quality chocolate that needed packaging for the tourist market. The clients name Fruene means «The Ladies» and refers to strong female characters who during the last century made their mark in a male dominated and extremely rough hunter and trapper society. The end result is an homage to those women and to the unique stories of both the people and the animals that inhabit Svalbard. We have worked closely with both the client, writers and the Svalbard Museum in order to find the best stories and pictures. Simple color coding and clean typography distinguishes the different boxes from each other and leave the story in focus."
February 15, 2015 | 2 Comments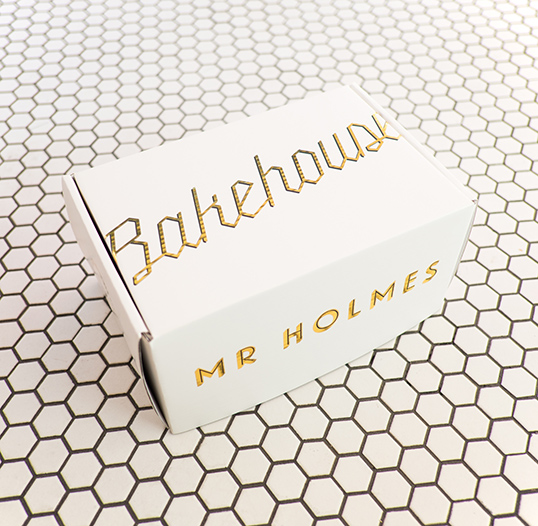 Designed by Aron Tzimas | Country: Australia
"Mr Holmes Bakehouse's Identity, Interior & Packaging was designed by Co-Owner Aron Tzimas. For the baked goods box, the idea was simple: make everyone who bought or received baked goods from Mr Holmes feel special. We wanted our packaging to represent the quality that was inside. Too often you see bakeries just stamp a plain craft paper box, and even though we know this was the (much) more expensive option, we knew that we wanted it to feel like you were receiving a birthday present."
January 28, 2015 | No Comments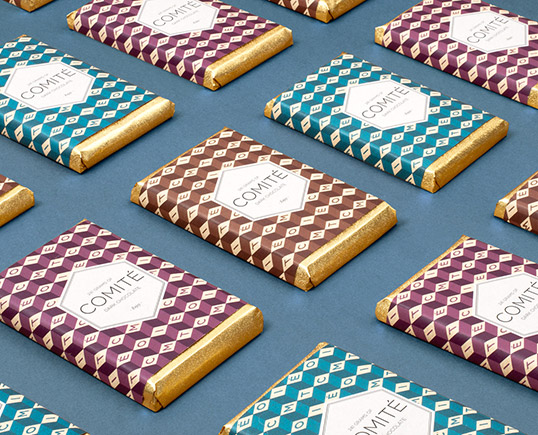 Designed by COMITÉ | Country: Spain
"We made a limited edition of chocolates to thank our customers and friends for their confidence in us. Our work began with the design of the chocolate and finished in its packaging.We wanted to make a design that conveys our philosophy and methodology, taking care of the details and the elegance to the end, playing with geometries, a range of colors, serigraphy and diferent suports. For the production of the chocolate bars we collaborated with La Campana."
January 21, 2015 | No Comments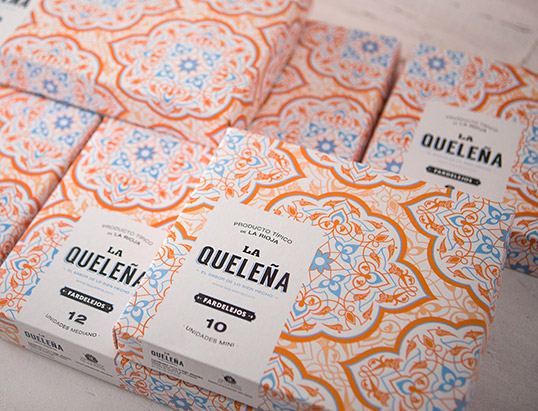 Designed by TSMGO | Country: Spain
"Using a graphic code that reminds us of the Arabian value of the origin of the dessert (the use of almonds is important in all Arabian desserts) a frame was created in which each of the packaging models reinforces the visual coherence of the whole range, making the provenance and birth of the recipe more understandable."
January 18, 2015 | No Comments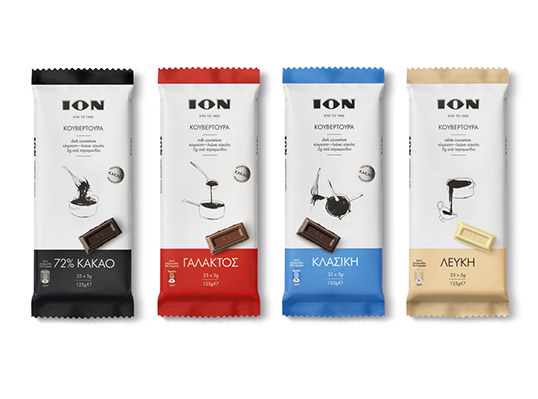 Designed by mousegraphics | Country: Greece
"Τhe briefing (in brief): We would like to renew the image of our line of couverture chocolates. We need a contemporary look for a popular product.
Τhe target consumer: A middle – upper class group of various ages, faithful to the ION quality and also younger generations of prospective clients.
The design: This is a client with whom we have cooperated successfully in other rebranding projects. In this case we had to change the couverture packaging in a way that would update the product identity and pleasantly surprise consumers while strengthening loyalty to the brand. We opted for a design drastically different to the visually overcharged one that already existed: the packaging surface was cleared so that the basic product attributes could emerge in favour of the consumer. Zones of colour were limited to surface edges so as to denote the 4 different chocolate types-flavors (classic, milk, dark cocoa and white chocolate). Emphasis was given to the 5 gr. couverture piece which is the functional basis of the chocolate-cooking process; its sharp 'snap' is actually a sign of quality and the first element that memory recalls in relation to couverture handling. Cooking ritual was further invoked by the hand-drawn designs of pots where chocolate pieces are melted. The selected typography added to an overall feeling of a neat kitchen diary where notes and recipes are kept and valued."