October 7, 2014 | 2 Comments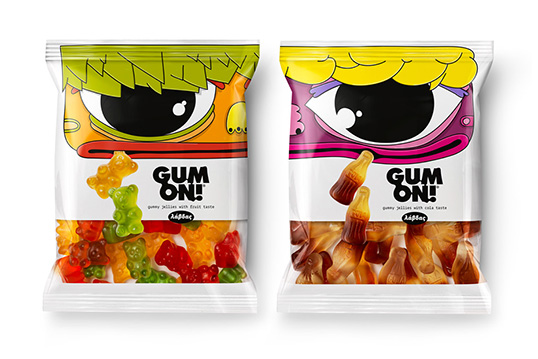 Designed by mousegraphics | Country: Greece
"The briefing (in brief): We are looking for a fun packaging to introduce our gummy jellies.
The target consumer: Children, teenagers and even adults with a sweet tooth. 
The design: The product's name served as an inspirational starting point: we opted for a strong and funky illustration which would reference the "GUM ON" word play and also allude to the chewy, gummy texture of the jellies. Our specialized designer devised a new 'character' who covers most of the package in a way calculated to work very well on the shelves and is color-transformed according to taste specifics (fruits, cola etc.). The front and back of each package allows for funny combinations of pop bright faces with its neighboring package, big cartoon lips snatch the jellies from the transparent part of the container and the whole lot speaks of a sweet, happy and colorful experience."
August 18, 2014 | 2 Comments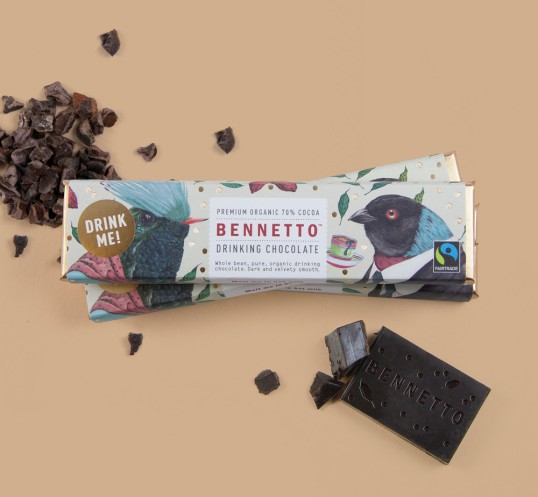 Designed by One Design | Country: New Zealand | Illustration: Henrietta Harris
"Overview: Bennetto Natural Foods Company launched its flagship product this year 'Bennetto Drinking Chocolate'. It is positioned within its market as a luxury confectionery brand, with cacao sourced from a certified Fairtrade cooperative in Peru. 
The two key demographics are business to business and direct to consumer. Within the business to business sector the primary categories targeted are large luxury hotels and international airlines. For our direct to consumer market (via local cafés) is skewed towards health conscious women who enjoy current health food trends and have an adventurous and sophisticated palate. 
In response the product needs to deliver packaging that looks intriguing, imaginative and luxurious while showing quirky, ethical and traditional characteristics."
June 12, 2014 | No Comments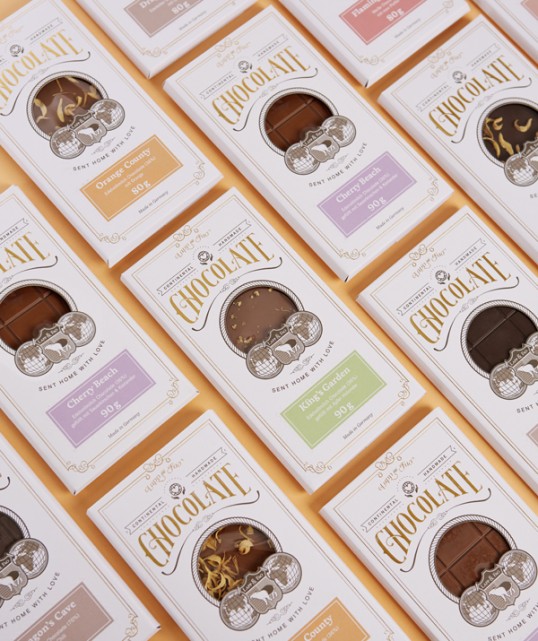 Designed by Studio Chapeaux | Country: Germany
"The two gourmet cosmopolitans Lapp & Fao send home sweet chocolate greetings from the most far away places you could possibly imagine. Taking you on a journey of chocolate discoveries. Pure and totally handmade. They are crafted from the finest chocolate filled with a selection of the freshest ingredients. Lapp & Fao Chocolate Postcards are an ode to high quality, attention to detail and the love for adventures."
May 30, 2014 | No Comments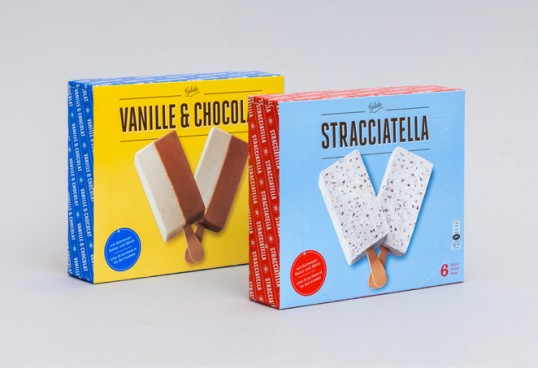 Designed by allink | Country: Switzerland
May 24, 2014 | No Comments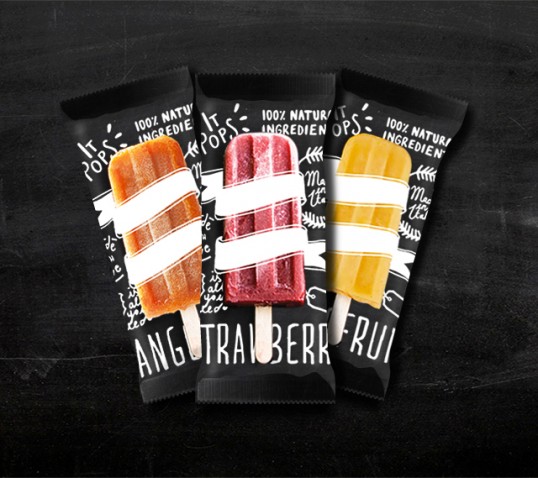 Designed by Beatrice Menis | Country: Sweden
"The goal was to communicate the tradition and the natural ingredients used for in the popsicles; this is the reason why we chose to combine handmade typography with the popsicle image. Here you can see the first three flavours but It Pops will be launching new flavours soon. At the same time we're working with the brand identity and we will be uploading soon the visual communication and the stationery. Have a sneak peak at the packaging design for now!"
April 21, 2014 | No Comments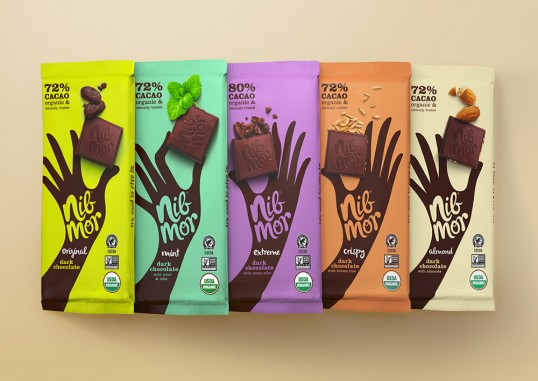 Designed by Pearlfisher | Country: United States
"Pearlfisher New York has created the new brand strategy, tone of voice, brand identity, and packaging for organic chocolate brand, NibMor.
A premium snack brand that does things differently, NibMor was founded by two nutritionists with a love for dark chocolate, eager to share the health benefits of chocolate as part of an active lifestyle. The challenge for NibMor was how to create a cohesive brand message that was enticing to consumers, expressing their healthy point of difference in a desirable way on the crowded confectionary shelf."
March 24, 2014 | 1 Comment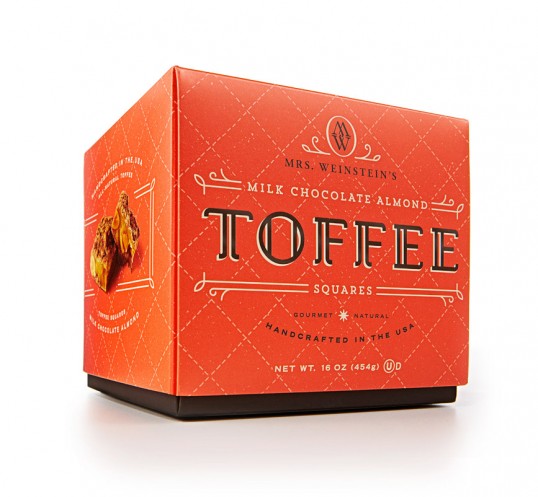 Designed by Studio MPLS | Country: United States
"Mrs. Weinstein's has been making some of the best handmade toffee in America for over forty years. Their recipe goes back for generations, but their packaging design desperately needed modernization. Studio MPLS's packaging redesign covered a variety of flavors, products, and packages, offering Mrs. Weinstein's a coherent design system going forward."
February 12, 2014 | No Comments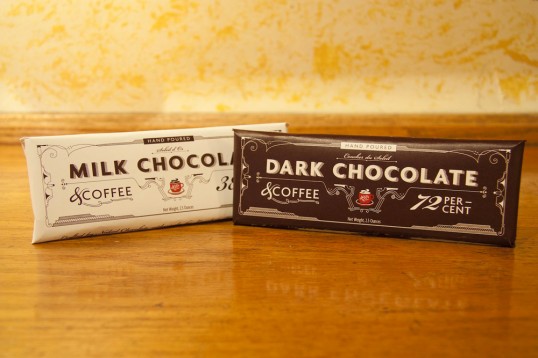 Designed by Physical Pixel | Country: United States
"Looking to expand their specialty offerings, I worked with Lambertville Trading Company to create a new product that incorporated two varieties of their delicious coffee with chocolate from Bucks County, Pennsylvania's Naked Chocolate. Influenced by the historical use of LTC's location as a pharmacy/soda fountain in the late 1800's, my goal was to make these chocolates feel special, considered, and unique, and in keeping, each bar is made by hand in small batches and individually wrapped.
The chocolate is available in two styles, a 38% milk with a light roasted coffee and a 72% dark with a dark roasted coffee, each lending their unique flavor characteristics to the bars."
December 28, 2013 | 2 Comments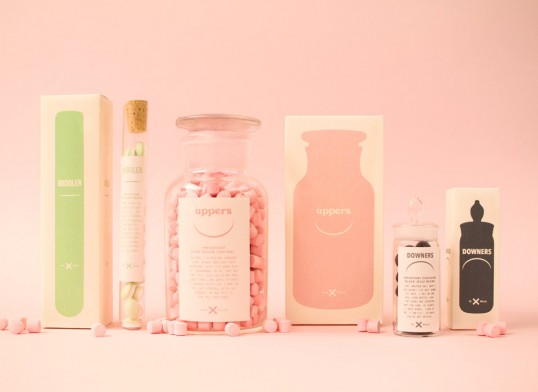 Designed by Marx Design | Country: New Zealand
"A little while ago Marx Design issued a promotional piece so daring that some lawyers representing a certain 80s popstar sent us a letter politely asking us to cease and desist. We're scared of lawyers, so we obliged and then promptly went into hiding waiting for the heat to die down. Fast forward a few years, and the dust has settled: it's time for a new Marx Design Promotional Gift.
Balance is a tenet of good graphic design, but life with its ups and downs is a bit of a balancing act too. We decided to visually represent this idea in our new promo gift. With a cheeky nod to the pharmaceutical industry, we developed a selection of pill-like balancing aids."
September 17, 2013 | 3 Comments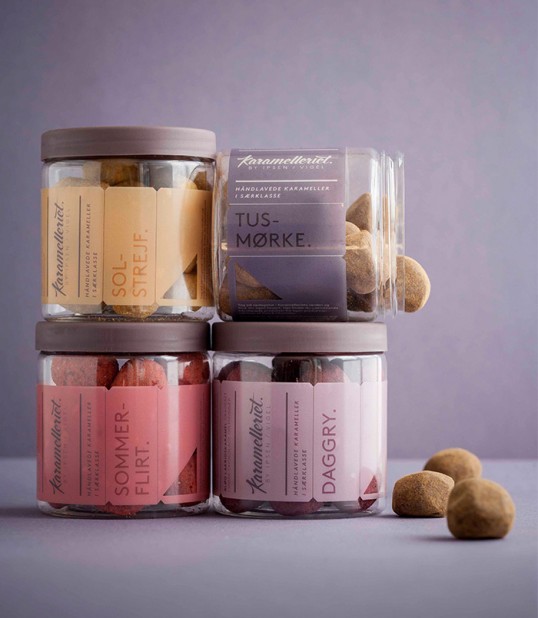 Designed by Bessermachen | Country: Denmark
"Karamelleriet is the result of two enthusiasts, a common dream, and a respect for old handcraft. This is reflected in their completely handmade products and personal production. 
The new visual identity had to reflect these values while at the same time being innovative, and daring to be different. With this Karamelleriet has achieved an expression that their caramel production is the best. 
The design was developed by Bessermachen design studio in close collaboration with Karamelleriet."