April 15, 2015 | No Comments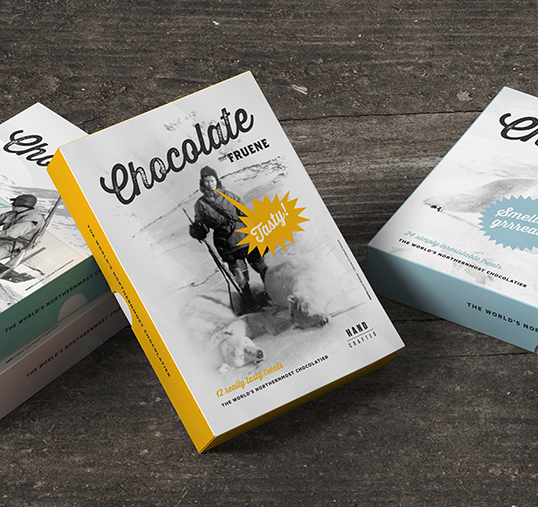 Designed by Tank Design Tromsø | Country: Norway
"The brief was to create a full range identity for a popular café in Longyearbyen on Svalbard. The client had recently started up the world's northernmost chocolaterie, and were producing a wide range of handmade quality chocolate that needed packaging for the tourist market. The clients name Fruene means «The Ladies» and refers to strong female characters who during the last century made their mark in a male dominated and extremely rough hunter and trapper society. The end result is an homage to those women and to the unique stories of both the people and the animals that inhabit Svalbard. We have worked closely with both the client, writers and the Svalbard Museum in order to find the best stories and pictures. Simple color coding and clean typography distinguishes the different boxes from each other and leave the story in focus."
February 15, 2015 | 2 Comments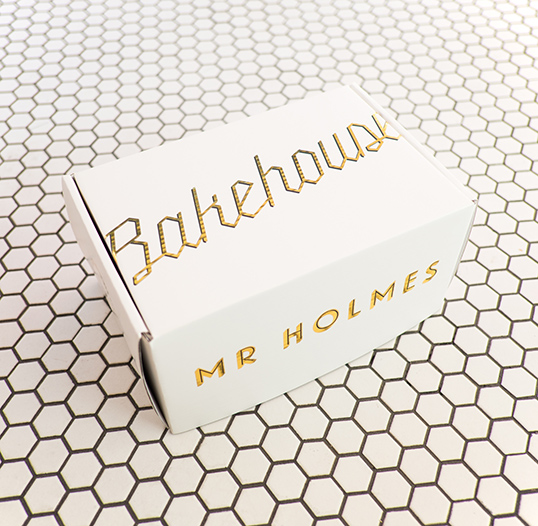 Designed by Aron Tzimas | Country: Australia
"Mr Holmes Bakehouse's Identity, Interior & Packaging was designed by Co-Owner Aron Tzimas. For the baked goods box, the idea was simple: make everyone who bought or received baked goods from Mr Holmes feel special. We wanted our packaging to represent the quality that was inside. Too often you see bakeries just stamp a plain craft paper box, and even though we know this was the (much) more expensive option, we knew that we wanted it to feel like you were receiving a birthday present."
January 28, 2015 | No Comments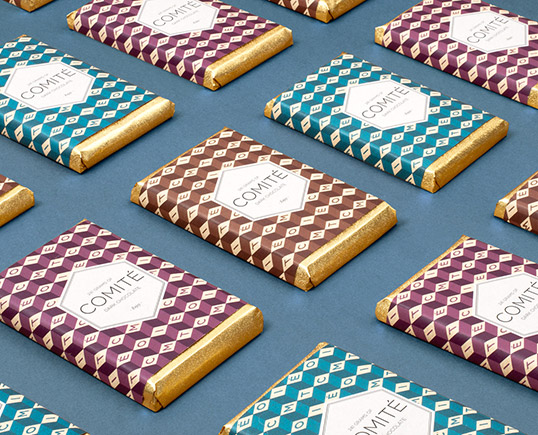 Designed by COMITÉ | Country: Spain
"We made a limited edition of chocolates to thank our customers and friends for their confidence in us. Our work began with the design of the chocolate and finished in its packaging.We wanted to make a design that conveys our philosophy and methodology, taking care of the details and the elegance to the end, playing with geometries, a range of colors, serigraphy and diferent suports. For the production of the chocolate bars we collaborated with La Campana."
January 21, 2015 | No Comments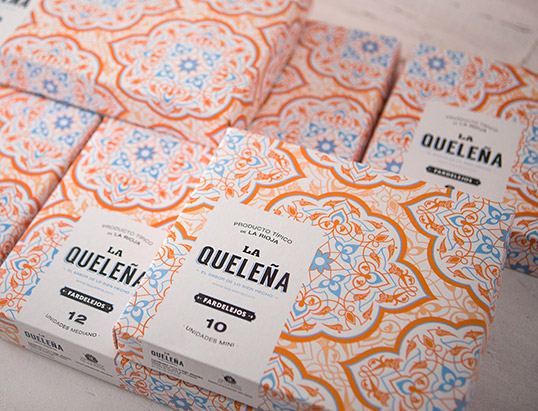 Designed by TSMGO | Country: Spain
"Using a graphic code that reminds us of the Arabian value of the origin of the dessert (the use of almonds is important in all Arabian desserts) a frame was created in which each of the packaging models reinforces the visual coherence of the whole range, making the provenance and birth of the recipe more understandable."
January 18, 2015 | No Comments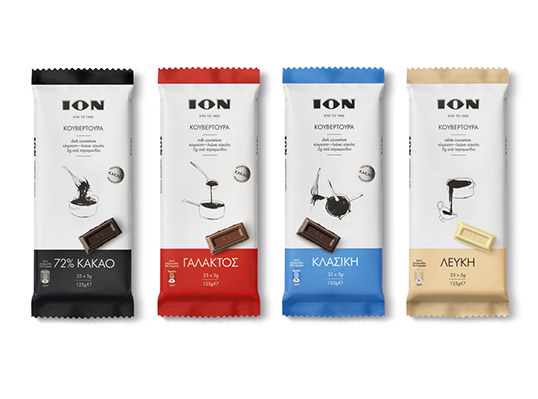 Designed by mousegraphics | Country: Greece
"Τhe briefing (in brief): We would like to renew the image of our line of couverture chocolates. We need a contemporary look for a popular product.
Τhe target consumer: A middle – upper class group of various ages, faithful to the ION quality and also younger generations of prospective clients.
The design: This is a client with whom we have cooperated successfully in other rebranding projects. In this case we had to change the couverture packaging in a way that would update the product identity and pleasantly surprise consumers while strengthening loyalty to the brand. We opted for a design drastically different to the visually overcharged one that already existed: the packaging surface was cleared so that the basic product attributes could emerge in favour of the consumer. Zones of colour were limited to surface edges so as to denote the 4 different chocolate types-flavors (classic, milk, dark cocoa and white chocolate). Emphasis was given to the 5 gr. couverture piece which is the functional basis of the chocolate-cooking process; its sharp 'snap' is actually a sign of quality and the first element that memory recalls in relation to couverture handling. Cooking ritual was further invoked by the hand-drawn designs of pots where chocolate pieces are melted. The selected typography added to an overall feeling of a neat kitchen diary where notes and recipes are kept and valued."
December 26, 2014 | 1 Comment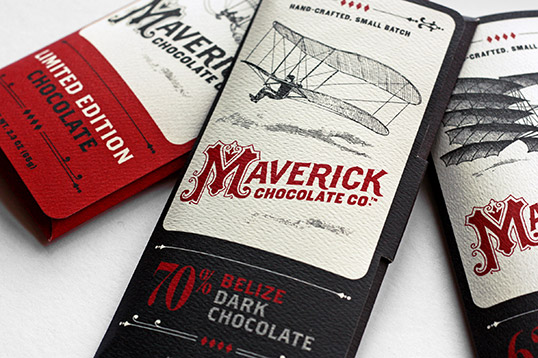 Designed by Jessica Jones | Country: United States
"Maverick Chocolate Co. is a startup company that hand crafts finished bar in their shop at historic Findlay Market in Cincinnati, Ohio chocolate in small batches from the bean to the.Beans are ethically sourced from smallholder farmers; ingredients are organic.
Maverick's brand salutes gentleman adventurers of yesteryear — those who did things a little differently, just like the company itself. Packages feature vintage engravings of "mavericks" and their whimsical flying machines, a nod to the company owner's prior career in the aviation industry. The wine-bottle inspired color palette is dramatic and bold. A different flying contraption is pictured on each flavor of bar along with the tagline, "Bean-to-bar chocolate for the adventurous palate."
Packages for Maverick chocolate bars are die-cut recloseable wallets, printed in 2 colors on textured paper."
October 7, 2014 | 2 Comments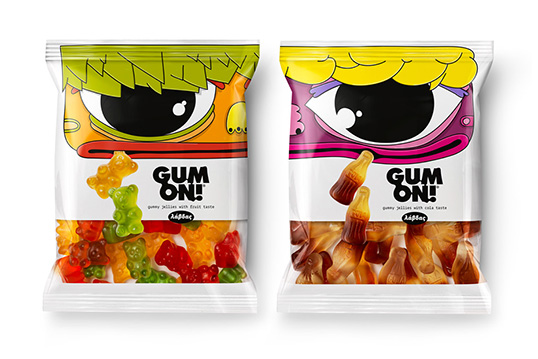 Designed by mousegraphics | Country: Greece
"The briefing (in brief): We are looking for a fun packaging to introduce our gummy jellies.
The target consumer: Children, teenagers and even adults with a sweet tooth. 
The design: The product's name served as an inspirational starting point: we opted for a strong and funky illustration which would reference the "GUM ON" word play and also allude to the chewy, gummy texture of the jellies. Our specialized designer devised a new 'character' who covers most of the package in a way calculated to work very well on the shelves and is color-transformed according to taste specifics (fruits, cola etc.). The front and back of each package allows for funny combinations of pop bright faces with its neighboring package, big cartoon lips snatch the jellies from the transparent part of the container and the whole lot speaks of a sweet, happy and colorful experience."
August 18, 2014 | 3 Comments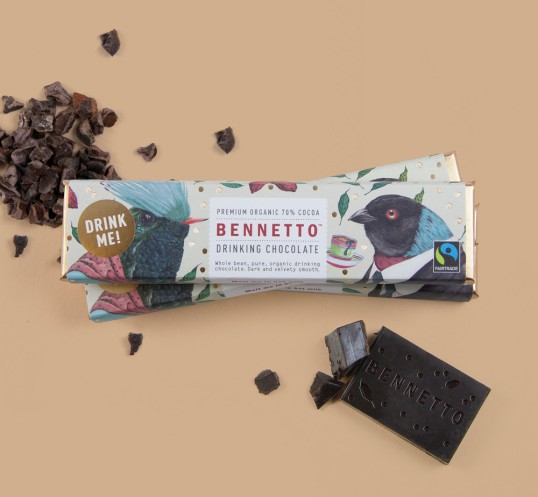 Designed by One Design | Country: New Zealand | Illustration: Henrietta Harris
"Overview: Bennetto Natural Foods Company launched its flagship product this year 'Bennetto Drinking Chocolate'. It is positioned within its market as a luxury confectionery brand, with cacao sourced from a certified Fairtrade cooperative in Peru. 
The two key demographics are business to business and direct to consumer. Within the business to business sector the primary categories targeted are large luxury hotels and international airlines. For our direct to consumer market (via local cafés) is skewed towards health conscious women who enjoy current health food trends and have an adventurous and sophisticated palate. 
In response the product needs to deliver packaging that looks intriguing, imaginative and luxurious while showing quirky, ethical and traditional characteristics."
June 12, 2014 | No Comments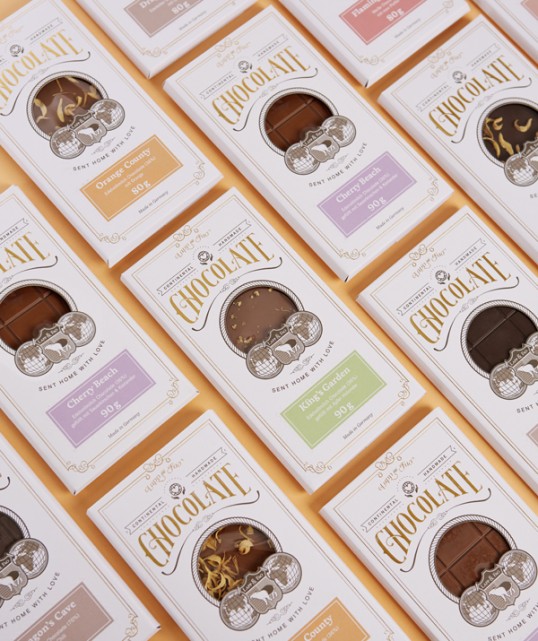 Designed by Studio Chapeaux | Country: Germany
"The two gourmet cosmopolitans Lapp & Fao send home sweet chocolate greetings from the most far away places you could possibly imagine. Taking you on a journey of chocolate discoveries. Pure and totally handmade. They are crafted from the finest chocolate filled with a selection of the freshest ingredients. Lapp & Fao Chocolate Postcards are an ode to high quality, attention to detail and the love for adventures."
May 30, 2014 | No Comments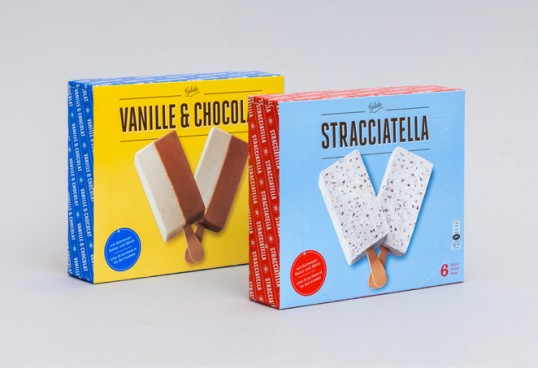 Designed by allink | Country: Switzerland