November 9, 2012 | 1 Comment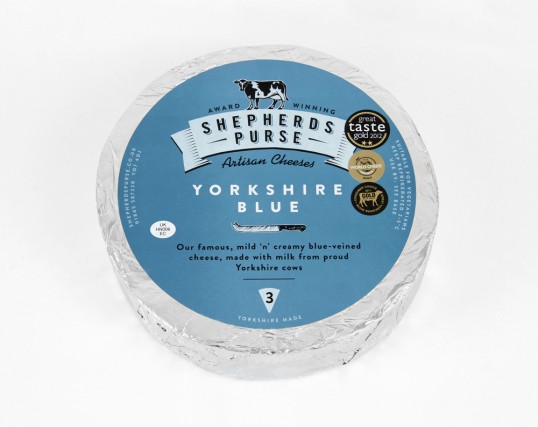 Designed by Robot Food | Country: United Kingdom
"Award Winning Artisan Yorkshire cheese producer, Shepherds Purse has embarked upon a full rebrand and packaging redesign.
Famous for Yorkshire Blue and their range of specialist cheeses made from ewe's milk, cow's milk and buffalo milk, Shepherds Purse has timed the rebrand to coincide with the launch of 'Harrogate Blue', adding an irresistible, soft, golden-bodied continental blue cheese to it's current line up.
Yorkshire Branding specialist Robot Food was appointed earlier this year to develop a strong new identity and range of packaging for the company's specialist cheese range. Working closely with the Shepherds Purse team, which has been bolstered by the return of youngest daughter Caroline from Apple, the consultancy has capitalized on the traditional values of the brand to produce an identity, which they say "heroes provenance and premium cues, while injecting the character of the company and the values behind it"."
November 8, 2012 | 5 Comments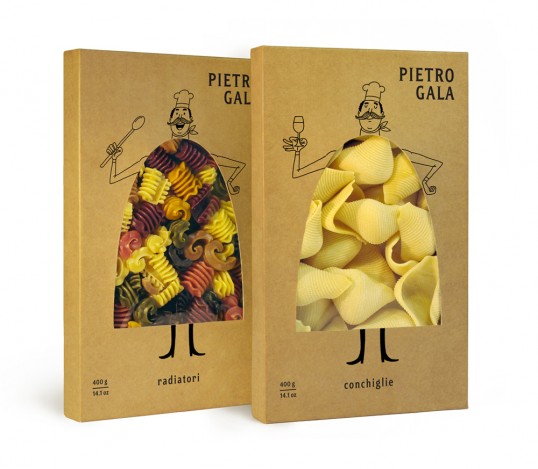 Designed by Fresh Chicken | Country: Russia
"Pietro Gala" is a new premium pasta brand, distinguished by handcraft manufacturing and high quality ingredients. Fresh chicken agency developed the brand name, character and designed production package. Pietro Gala is an italian chief cook, whose image features different kinds of pasta. Cardboard texture and one-colour print emphasize naturalness of pasta and generate positive emotions."
November 5, 2012 | No Comments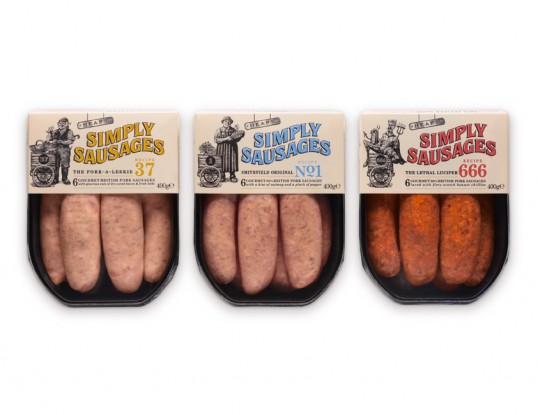 Designed by Pearlfisher | Country: United Kingdom
"As part of an ongoing relationship with UK food producer Cranswick, Pearlfisher has designed the new identity, tone of voice and packaging for Simply Sausages – a range of gourmet sausages recently launched in Waitrose."
November 2, 2012 | 3 Comments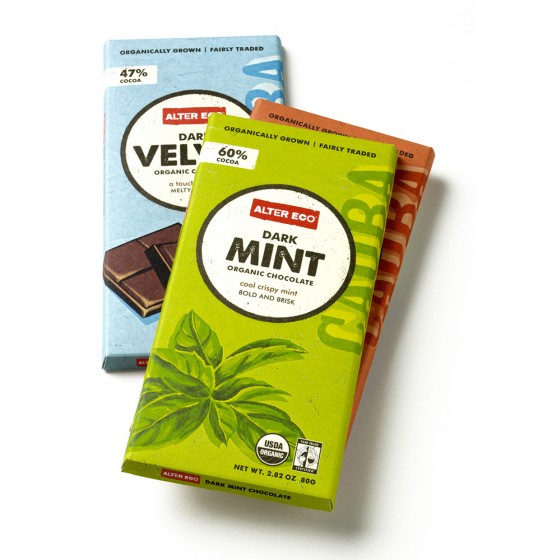 Designed by Tomorrow | Country: United States
"Alter Eco is a brand on a mission. Based in San Francisco with roots in France, this intrepid band of activists is wielding the food business as a weapon against poverty and inequality in developing nations: their offering of chocolate, rice, quinoa and sugar is certified Fair Trade, Organic and on its way to Carbon Zero.
An opportunity to expand their distribution also meant expanding the brand promise – adding a heaping spoonful of taste appeal to their values-driven enterprise. We worked with the Alter Eco team to create a shelf experience that transports mainstream foodies to an exotic, delicious and sustainable place."
October 26, 2012 | 7 Comments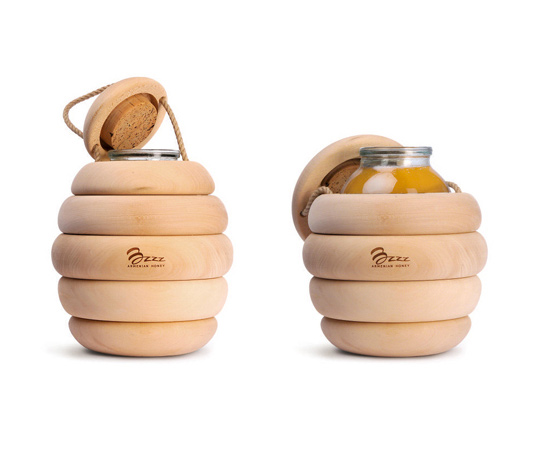 Designed by Backbone Studio | Country: Armenia
"The most tasty honey is in the beehive. But it is impossible to buy it in a market –  it was impossible. Designers of Backbone Studio have made it out of wood and hid the can with honey into the improvised beehive.  Simple but simultaneously original wooden wrapper is the message to the nature, ecology and pure taste. You immediately want to open and taste it. And there are no bees!"
October 24, 2012 | 4 Comments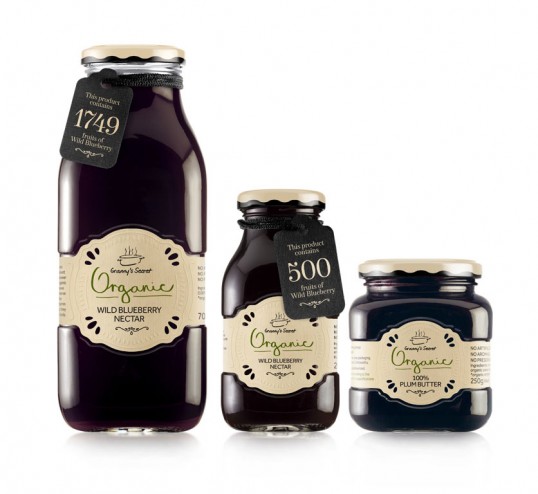 Designed by Peter Gregson | Country: Serbia
"Peter Gregson cooperation with Serbian home-style food brand Granny's Secret® continued with their line of organic products. We designed the label and cap and gave a fresh look to Granny's Secret® Organic."
October 23, 2012 | No Comments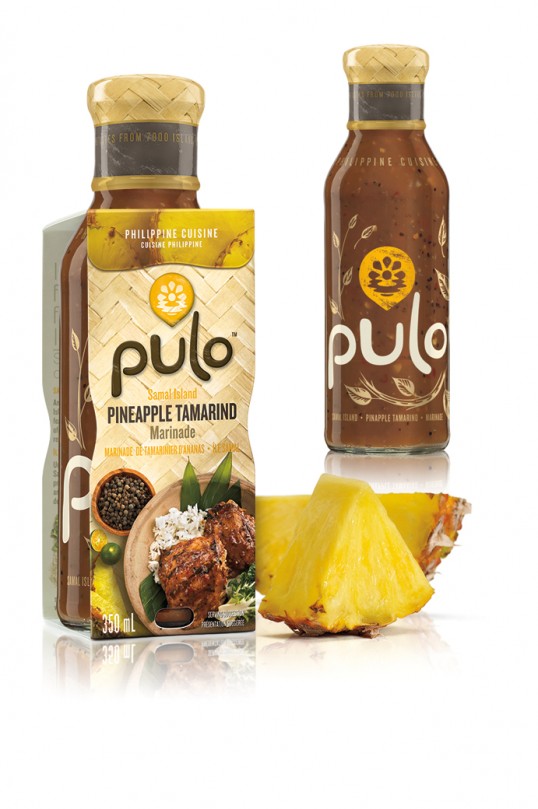 Designed by Dossier Creative | Country: Canada
Pulo is an authentic collection of cooking sauces and marinades inspired by the diverse cuisines of the Philippines. The name Pulo is a Philippine word for 'island' – the country comprises over 7000 islands – and was chosen as the brand name to represent the rich cultural mosaic found there. The packaging was designed to invite consumers to explore the country's culinary delights and learn more about its vibrant heritage.
October 17, 2012 | 2 Comments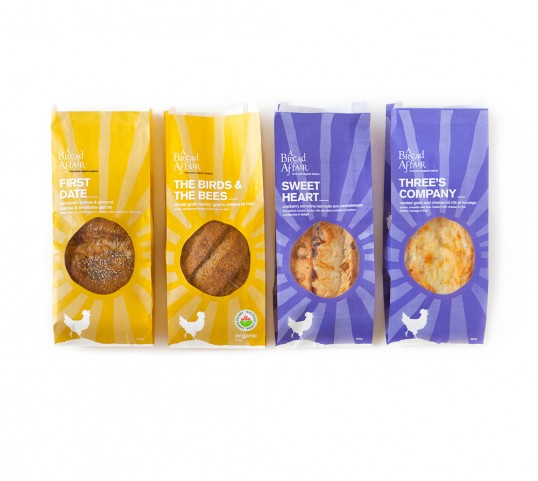 Designed by arithmetic creative | Country: Canada
"A Bread Affair approached arithmetic to redesign their packaging to more clearly reflect their sense of humour and to re-position their artisan loaves in the organic market place. Arithmetic engaged in consumer research, industry research, consumer testing and produced a positioning strategy that highlighted the distinguishing shopping habits of their consumers."
October 12, 2012 | No Comments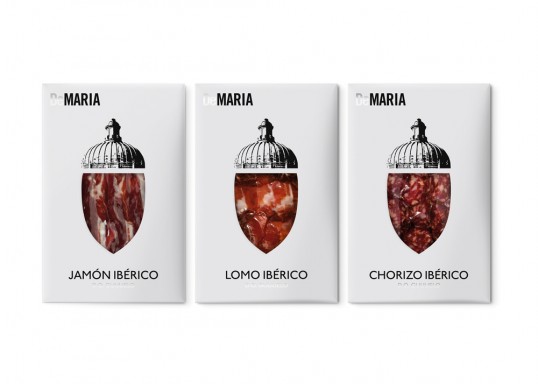 Designed by Enric Aguilera & Asociados | Country: Spain
"Cold Meat packs for DeMaría. Logo is a mixture between Salamanca Cathedral (place where the company it's based) and acorn-fed Iberian ham. This shape is also used for the packs."
October 10, 2012 | 1 Comment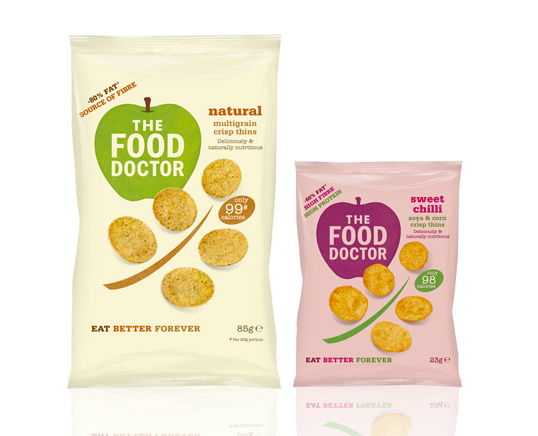 Designed by Falcon | Country: United Kingdom
"London agency, Falcon, has designed packaging for The Food Doctor's new range of Wholesome Crisp Thins – an exciting range of Soya and Corn Crisps available in four sophisticated flavours (Hot Wasabi, Mild Korma, Spicy Chipotle, and Sweet Chilli), along with a Natural Multigrain variety pressed from 5 different cereals.
The packs answer the challenge to clearly communicate the health benefits of the crisps (they deliver high protein and fibre, along with 50% lower levels of fat than typical crisps) without compromising taste appeal, and compete effectively on shelf against other gourmet snacks."