September 27, 2012 | 1 Comment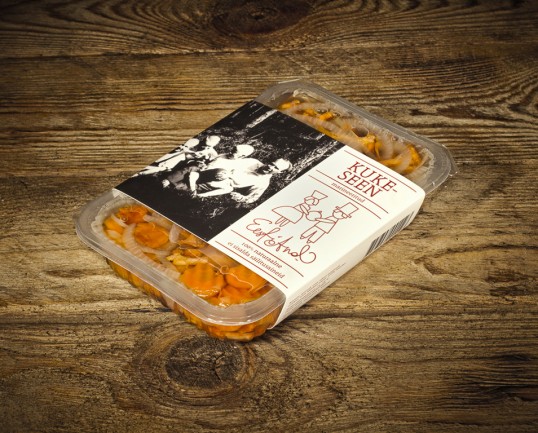 Designed by TBWA\GUVATRAK | Country: Estonia
"Eesti And (Estonian Gift) is a gift to everyone who values delicious meals and Estonian aesthetics. The packages integrate original vintage photos with a neo-romantic logo, the latter highlighting the beautiful moment of giving. Additionally, quick & easy recipes for creative cooking with the product are found inside the cover. Eesti And is the best example of nouveau nostalgie and the perfect combination of Estonia's quality products and outstanding packaging design."
September 27, 2012 | No Comments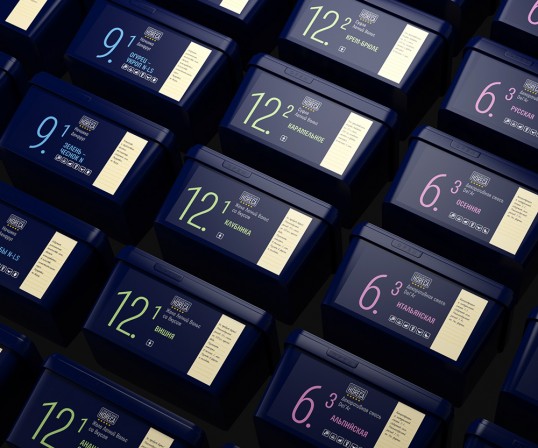 Designed by Soyuzsnab Horeca | Country: Russia
"As a part of launching a new trademark of high-quality finished ingredients forcafe and restaurant chefs, a large-scale design concept was developed for morethan 250 items of products of Soyuzsnab Horeca. The packaging designtackles the tasks of simplicity and clarity at the same time: the product shouldbe noticeable on professional kitchen, and its inner content should be clearfrom the look of it, at first glance. It was also necessary to develop the systemof visual differentiation of ingredients – their purpose for various dishes andcorrespondence to this or that group of products."
September 25, 2012 | No Comments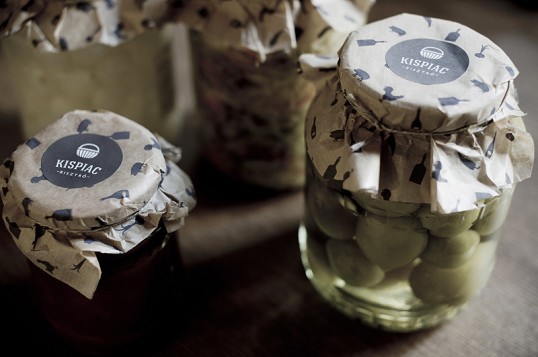 Designed by Eszter Laki | Country: Hungary
"Kispiac is a small, affable bistro nested just in the neighbourhood of one of the most famous markets of Budapest. Drop by for a nice coffee in the morning, taste the delicious grilled duck, chicken, pork with fresh salad or have a cold prosecco in the evening. The name "Kispiac" means "Small Market", which refers to the market next door."
September 23, 2012 | 1 Comment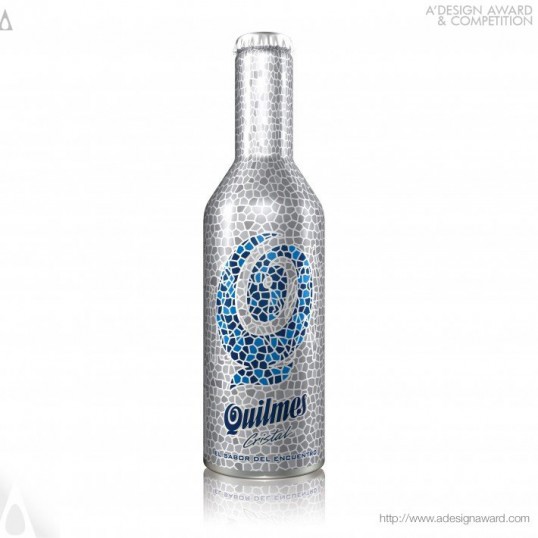 Quilmes Metal Bottle Design by Adrián Gustavo Pierini
Lovely Package presents the winners of worldwide A' Design Award & Competitions' Packaging Design Award Category which is devoted exclusively to the art of brand packaging. Each year packaging designers, manufacturers and creative agencies compete at the A' Design Award & Competition's Package Design Category for honor, prestige and international recognition. Here are a few of the projects that we chose to highlight, and for the rest be sure to check out all of the award winners at designmag.org which also displays the winners of other competition categories. Learn more about A' Design Award & Competitions at whatisadesigncompetition.com
September 20, 2012 | 1 Comment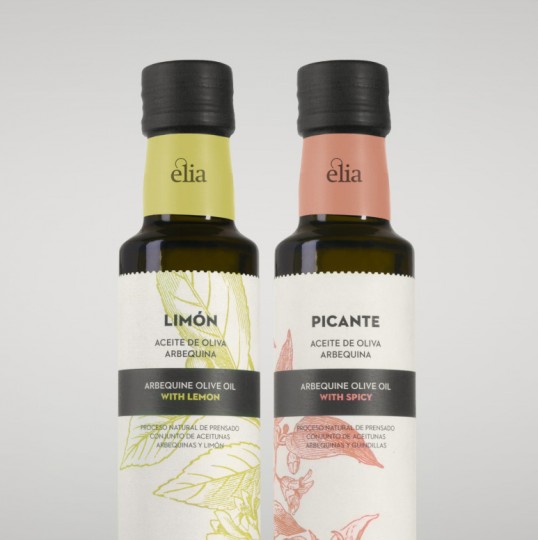 Designed by Atipus | Country: Spain
"Èlia is a feminine name, from the Greek word "ελιά" (olive). In accordance with its name, a subtle feminine touch has been given to both the brand (with the typographic game of the logotype) and the packaging itself. 
Èlia's first product is a selection of aromatic oils."
September 17, 2012 | No Comments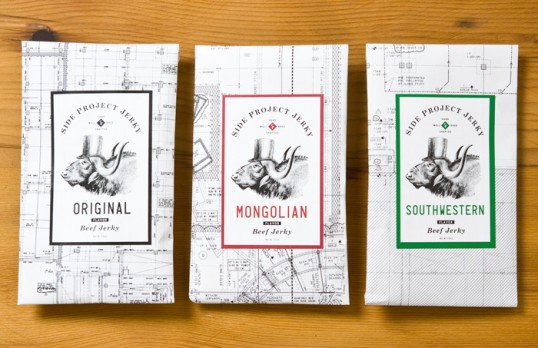 Designed by A Well Respected Man | Country: United States
"Side Project Jerky is the result of countless hours spent testing marinades and drying times for perfectly flavored and textured jerky. Born in the kitchens of work colleagues Marcos Espinoza and Mark Novasack and ultimately conceptualized over a few pints with the help of brand strategist Daniel Olsovsky, Side Project offers its customers a pause from the demanding life of a gentleman. Each flavor is first vacuum sealed and individually hand wrapped in its own (unique) re-purposed mechanical drawing that would otherwise be tossed in the trashcan (we hate wasting paper) The packaging also references Marcos's primary occupation as a construction manager."
September 16, 2012 | No Comments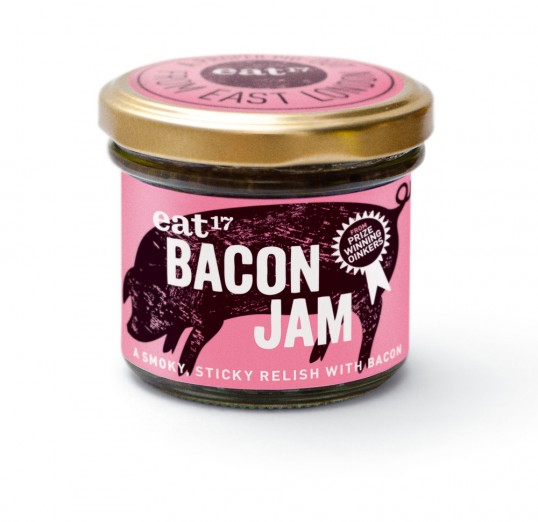 Designed by Together Design | Country: United Kingdom
"Together Design has created new packaging, point of sale and web design for quirky artisan condiment Bacon Jam.  Concocted by independent bistro Eat17 in Walthamstow Bacon Jam started out as a local phenomenon but newly launched with branding by Together Design, has now secured shelf space at Tesco. 
Together Design worked with the artisan producer to develop distinctive labels and messages that stand out on shelf and celebrate its meaty and modern credentials. 
"Katja Thielen, Creative Director at Together Design says "Bacon Jam is an unusual product and that sense of creativity was the starting point for the branding. Relishes don't usually contain meat, so we needed to convey that strongly on pack. The other task was to develop a quirky tone of voice to bring out its artisan character".
September 5, 2012 | 6 Comments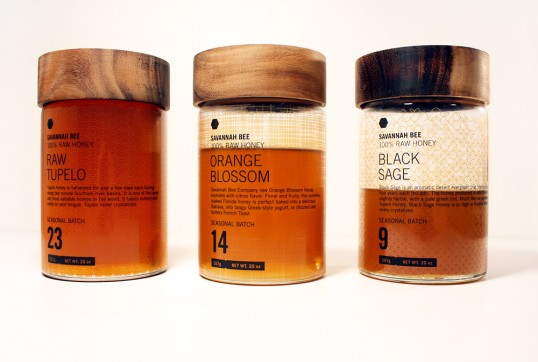 Designed by Collin Cummings | Country: United States
"I fell in love with the idea of repackaging honey because of the timelessness of honey production. The process employed by honey bees hasn't changed. To reference this highly industrial procedure, I chose a typographic direction that felt sterile. To counterbalance the type, I designed a few complicated and emergent patterns that hide behind the color of the honey when the bottle is full. As you use the product, the elegant patterns are revealed in a second layer as a homage to the beauty and timelessness of such a refined and perfected practice such as honey production."
August 29, 2012 | 2 Comments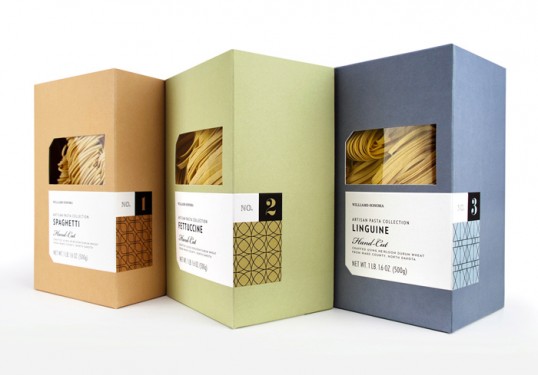 Designed by Williams-Sonoma Brand Packaging Dept. | Country: United States
"As part of the new 'pantry essentials' line of products within the Williams-Sonoma stores, this package was meant to be a modern interpretation of simple and classic pasta packaging.  The intention was for it to feel high-end and artisanally crafted to highlight the single origin nature of the semolina flour used to made this hand-cut pasta."
August 27, 2012 | 4 Comments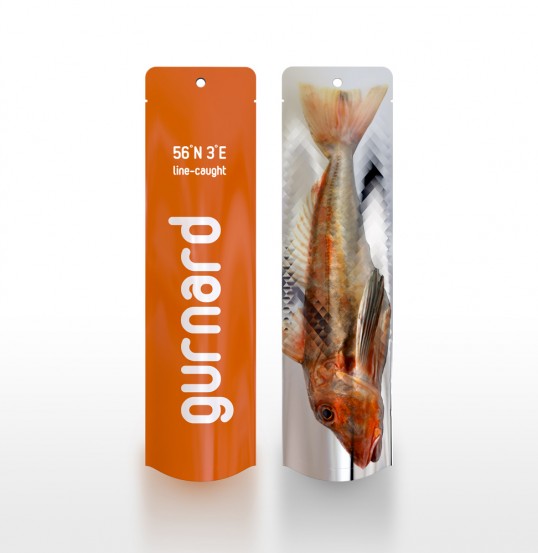 Designed by PostlerFerguson | Country: United Kingdom
"Supermarkets are expanding their fresh fish offerings to include more sustainable species like gurnard, mackerel and skate. These fish are cheaper and just as tasty, but customers often shy away from them because they are unfamiliar and occasionally just plain ugly.
This fish packaging proposal helps put these fish back on equal standing with their more recognized brethren by placing them in an attractive and highly recognizable packaging solution. The packages are intended for use at fresh fish counters. Constructed from a double layered polyethylene, they are airtight, resealable and can be filled with ice for transport to keep your fish fresh until it hits the pan!"