July 10, 2011 | 2 Comments
Designed by Victoria Balducci & Alejandro Ramirez | Country: Argentina
July 8, 2011 | 1 Comment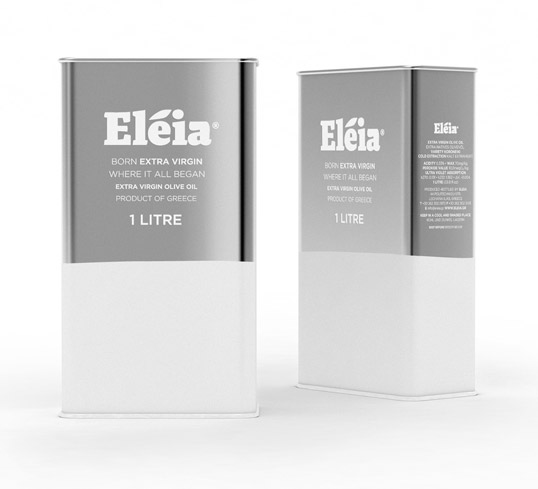 Designed by Bob Studio | Country: Greece
"Company's identity and olive oil packaging applications' design, including glass bottles, metallic tins, wooden box and press presentation material design.
The concept of the design idea comes from the process of protecting olive trees from insects by applying a protective white coating on the bottom part of their trunks."
July 6, 2011 | 5 Comments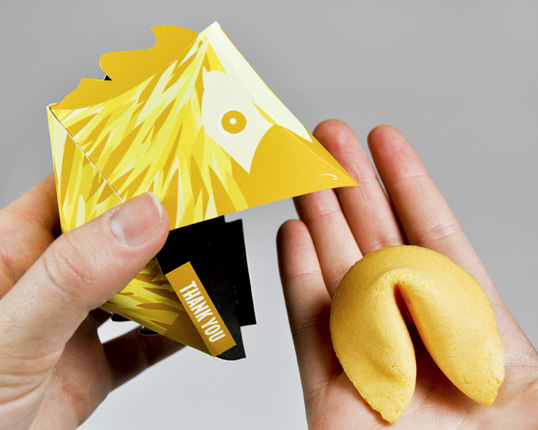 Designed by Caroline Brickell | Country: United States
"Beijing Buffet Fortunes are a cheeky take on an assignment to design packaging for a product native to the United States. (Many Americans are unaware that the fortune cookie originated in San Francisco!)
Each animal represents one of the twelve parts of the Chinese Zodiac. Squeeze their cheeks and voilà! Out pops your fortune. The innovative shape, cut from a single piece of cardstock for easy assembly, protects the cookie inside from breaking. Collecting the entire set is a challenge that's sure to encourage repeat customers!"
July 4, 2011 | 2 Comments
Designed by Salad Creative | Country: United Kingdom
Colourful, fun packaging for Dorset-based Olives Et Al olive oil.
July 1, 2011 | 4 Comments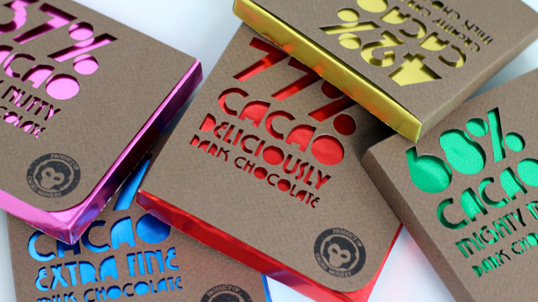 Designed by Niamh Richardson | Country: Ireland
"The project was self-directed and the students were invited to write their own brief on whatever interested them the most. I chose to create an identity and packaging design for a fictional chocolate company called 'Cacao Monkey'. The text on the front of the packaging was die-cut by hand into rough brown paper, chosen to suggest the organic chocolate. This reveals the bright aluminum foil beneath, which distinguishes each flavour of chocolate. The minimal design reflects the simple, honest ethics of the brand: organic, fairtrade and eco-friendly."
July 1, 2011 | 3 Comments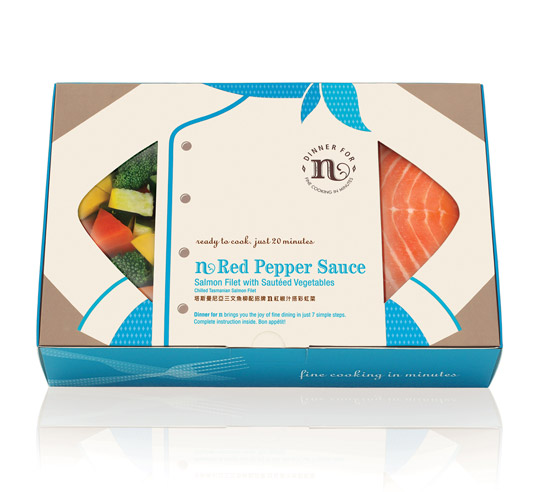 Designed by Dragon Rouge | Country: Hong Kong
"Dinner for N is a new brand targeting high end supermarkets. 'N' communicates the uniqueness and variety product lines for every individual, who is pursuing high quality in house cuisine with no time consuming.
From brand identity, packaging structure to packaging design, we use the chef concept to convey culinary delights, the promise of premium food and "fine cooking in minutes". The two transparent shapes show the freshness of their finest ingredients featuring the main course and the salad. Bright turquoise color adds value to its shelf impact while visualizing the sensation of taste and the enjoyment of modern premium dinner."
July 1, 2011 | No Comments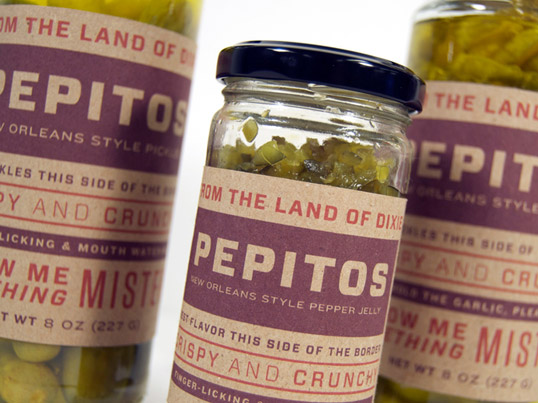 Designed by Dever Thomas | Country: United States
Package design for a local client specializing in New Orleans inspired pickles.
July 1, 2011 | 1 Comment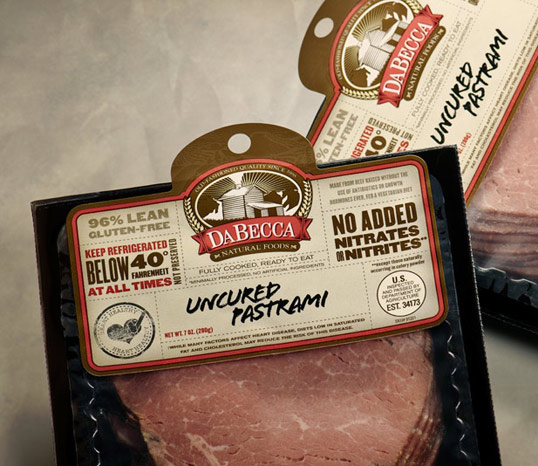 Designed by Version-X Design | Country: United States
"DaBecca does things the old fashioned way making high quality, naturally smoked meat products without all the preservatives.  While their products are exceptional, they had a dated brand image that didn't reflect Dabecca's quality or values. Version-X created a brand that reflected the honest appeal of of their product, and positioned it in a way that would make it stand out from competitors and grab consumer attention."
June 30, 2011 | 1 Comment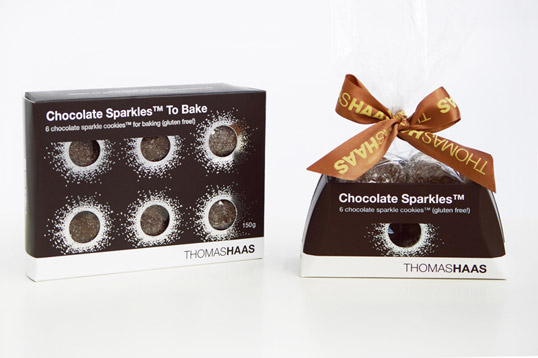 Designed by Cameron Snelgar | Country: Canada
"What started as a label replacement project, gained momentum and we soon found ourselves responsible for delivering two packages for the "The World's Best Cookie" (Vancouver Sun, Feb 2003).
Initially, Thomas Haas' freshly baked Chocolate Sparkle Cookies were presented in a cellophane wrapping with a sticky label attached. The refrigerated home bake cookies were in stock paper with a sticky label attached.
I knew that the Chocolate Sparkle Cookies as with most of Thomas' creations were innovative and unique. The challenge was to communicate the "Sparkle" within, while simultaneously preserving the carefully crafted Thomas Haas brand.
The package for the home bake set of six Chocolate Sparkle Cookies came first. Wrapped in Thomas' signature ribbon branding and logo, it includes angled sides. Earlier in the design process all of the sides were angled, naturally conforming to the spacer tray within. However, the option for additional front display and stacking was needed, hence the flat top and bottom.
June 28, 2011 | 2 Comments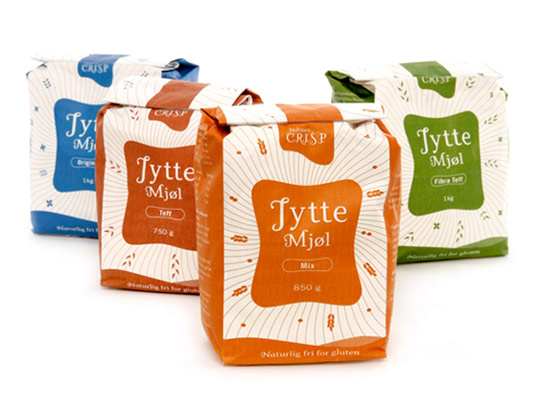 Designed by M8 Design | Country: Norway
"Jytte flour is a new line of gluten free flour. Being a small business the marketing budget was limited so we had to create a design with real stopping effect. This colourful range of flour bags was awarded Silver in the European Design Awards."