September 7, 2010 | 1 Comment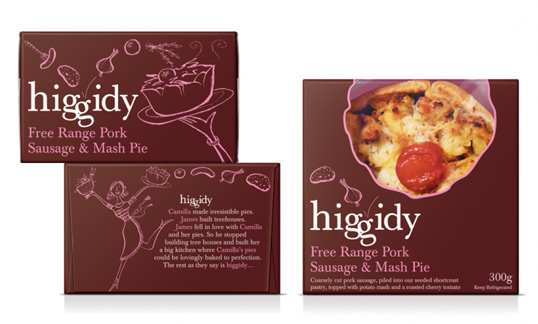 Designed by Ziggurat Brands | Country: United Kingdom
"Camilla Stephens is passionate about pies. She makes really yummy hand-made pies with high-quality ingredients. Uncommon pies, in fact. We loved her pies too and saw the opportunity to open up a market appealing less to your hungry man in a van and more to a discerning female audience. 'Too nice for the price' someone called them – probably with a big mouthful of pie."
September 3, 2010 | 8 Comments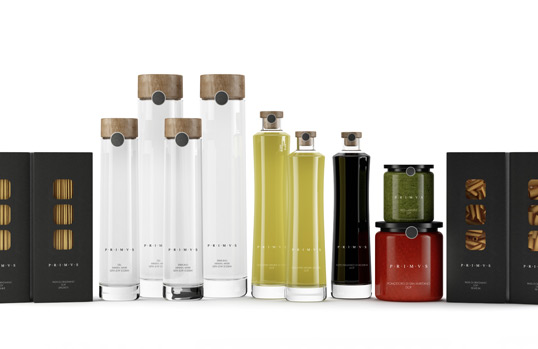 Designed by NTGJ | Country: Portugal
"PRIMVS is a brand that has decided to up the ante in a number of consumer sectors. It has initially turned its attention to food, a sector that has, for too long, been look upon as merely a necessity of life and requires limited in-depth packaging design.
PRIMVS feels that design and form have been neglected in the way food packaging is presented and our PRIMVS FOOD brand aims to attract those who appreciate premium quality food and design. PRIMVS FOOD sets out to prove that it is possible to achieve both the above objectives without compromising in either aspects. PRIMVS has merged quality food, with a minimalist stylised packaging that is both visual attractive and appealing.
August 31, 2010 | 7 Comments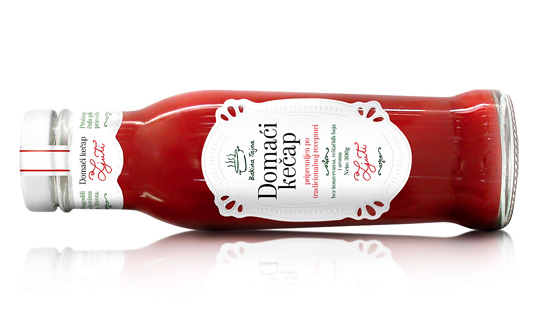 Designed by Peter Gregson | Country: Serbia
"Serbian food company Foodland manufactured an excellent new product within its famous brand 'Bakina Tajna' (Granny's Secret) – home made country ketchup. Foodland's production plant is situated at the foot of mountain Kopaonik, in a nearby and ecologically clean, uncontaminated environment of BRUS municipality, village Kobilje. PGS designed the label for ketchup. It is the first in the line of designed products and it announced the re-branding of Granny's Secret old packaging design, which shall soon be replaced by the new one."
August 31, 2010 | 1 Comment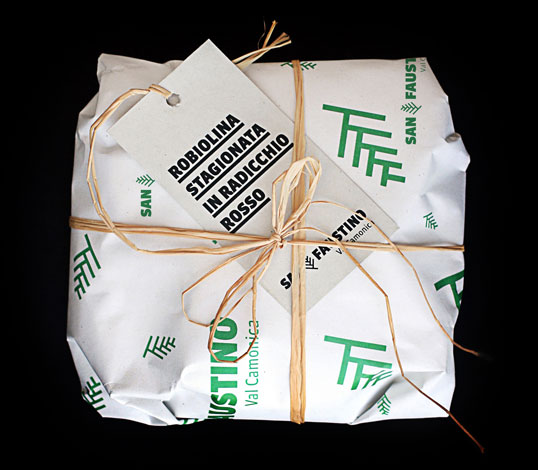 Designed by Gianluca Camillini | Country: Italy
"The logo that I've designed is from a primitive sign found in a paleolitic cavern in Val Camonica (Italy). I've created a texture with my logo to cover all of SAN FAUSTINO's products."
August 30, 2010 | 6 Comments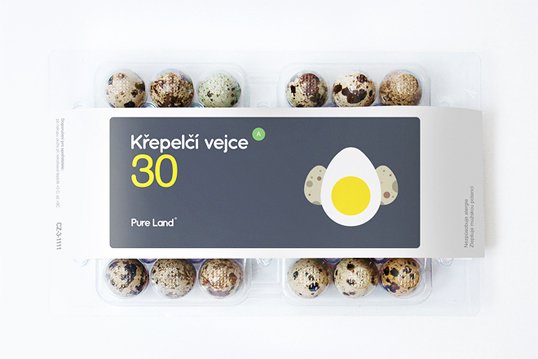 Designed by Creasence | Country: Czech Republic
"Quail eggs are safe to eat and even considered a delicacy in many countries. We designed the egg packaging and logo for the Czech brand Pure Land"
August 27, 2010 | No Comments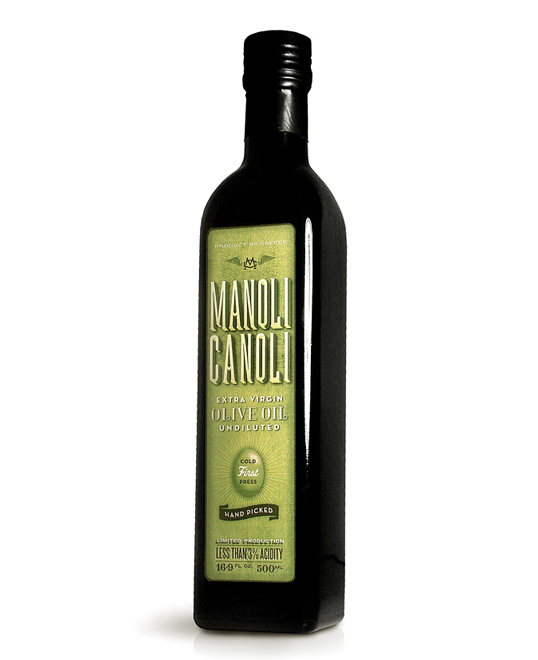 Designed by Ryan McCullah | Country: United States
"Authentic Greek olive oil press Manoli Canoli presses both its own olives along with those of the local Greek community and family groves. The label design delivers on this authenticity with texture, color, type and art that bring out the honest and pure old world character of this ancient craft."
August 27, 2010 | 6 Comments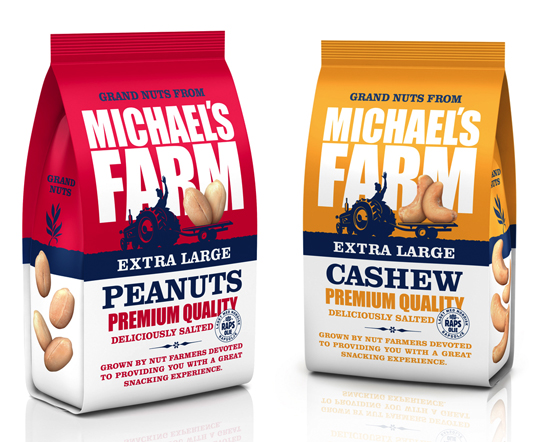 Designed by Strømme Throndsen Design | Country: Norway
"This is the redesign of Michael's Farm extra large nuts, designed by Strømme Throndsen Design in Norway. I've also attached the old one so you can see the difference."
August 26, 2010 | 6 Comments
Designed by Nathaniel Cooper & Brent Anderson | Country: United States
"Kansas City-based Glace (say it this way, "Gla-say") Artisan Ice Cream is a more grown-up sweet treat expression, rich in texture and inventive flavors like Venezuelan dark chocolate, fleur de sel caramel and pineapple-cilantro sorbet. The corresponding brand expression is clean, sophisticated and a nod to the owner's love of modern minimalism. At the same time, copy and color palette make it feel fun and approachable. The logo also incorporates a sly tie to ice cream with circles that look like melting "drips" hitting the floor, while tailored graphic elements make the identity feel fashionable and unexpected in the category."
August 24, 2010 | 1 Comment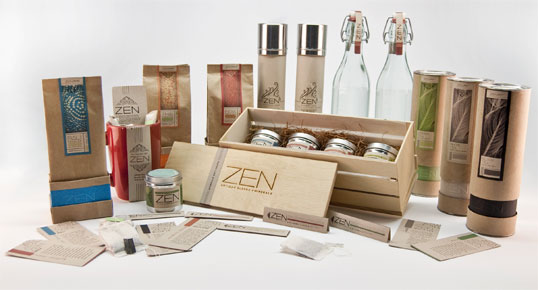 Designed by Kristen Nethen | Country: United States
"Zen Artisan Blends & Minerals is a cultural brand that expands in the coffeehouse and tea market. Its a brand that places its emphasis on using culture as a foundation for its products and uses organic materials to emphasize sustainability. A classic alternative to the organic coffee brands, Zen accentuates the Asian background without being cliche. Zen offers everything from coffee to home products to enhance the experience of drinking great coffee or tea within great ambiance."
August 23, 2010 | 3 Comments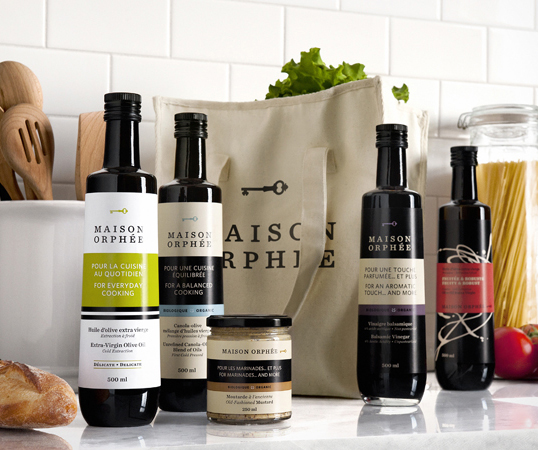 Designed by lg2boutique | Country: Canada
"Innovation on the shelves while quenching a thrist for consumer experimentation.
Plan a brand strategy that rests on the juxtaposition of the tradition of European master oils with the modern, dynamic approach of the company's leaders. The packaging capitalizes on the growing trend amongst consumers to use certain products for cooking and others for tasting. Two very distinct lines were created under the same umbrella brand: one line for daily use in the kitchen (functional) and another for tasting (aspirational).
Create the entire packaging of 24 products from the choice of the bottle to the labels of each line."