September 7, 2013 | No Comments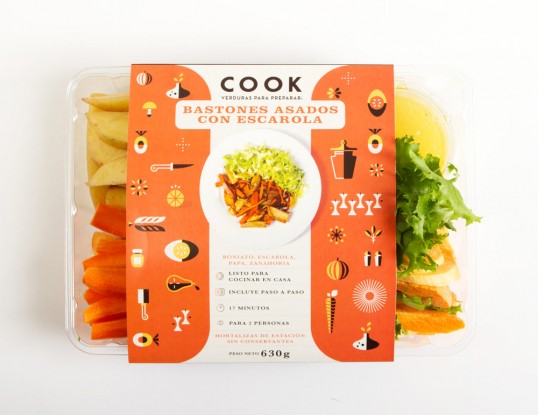 Designed by Mundial | Country: Uruguay
"Based in Montevideo, Uruguay, COOK creates meal kits that are healthy and easy to cook. Each kit takes only a few minutes to prepare. You don't need to be an expert in the kitchen because each kit has step-by-step of instructions, ingredients, and a video detailing preparation.
We worked with COOK to create an unique identity with illustrations and colors that represent the freshness of the product."
August 28, 2013 | No Comments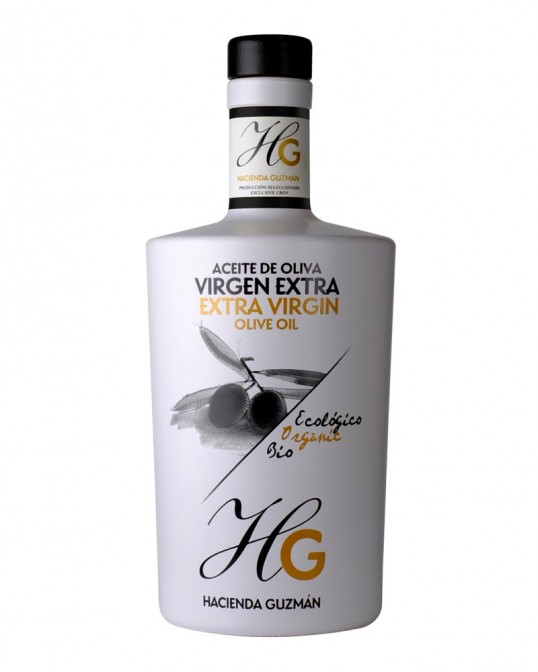 Designed by Centralpack | Country: Spain
"Exquisite design. Termination lace printing on ceramics. Hacienda Guzmán represents the history of the Andalusian Extra Virgin Olive Oil. In the 16th century, it became the biggest and most important Estate in Spain.
This healthy and high quality product has been produced according to strict organic standards, without the use of artificial fertilizers or chemicals.  The entire production process is controlled yielding a product that enriches our diet and benefits the environment."
August 19, 2013 | No Comments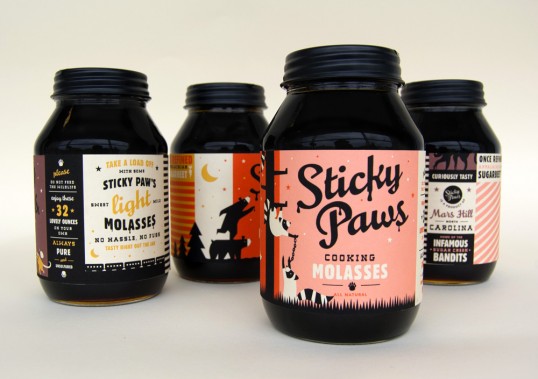 Designed by Caleb Heisey Design | Country: United States
"Often thought as old-fashioned, molasses is a quickly vanishing condiment, mostly only found in grandma's dusty recipes. To make molasses more appealing to a younger audience, I designed the labels for Sticky Paws to capture the trend of the 1930's dustbowl aesthetic while giving it a modern spin. For each type of molasses, a different mischievous animal is attempting to steal the ooey goodness."
August 18, 2013 | 3 Comments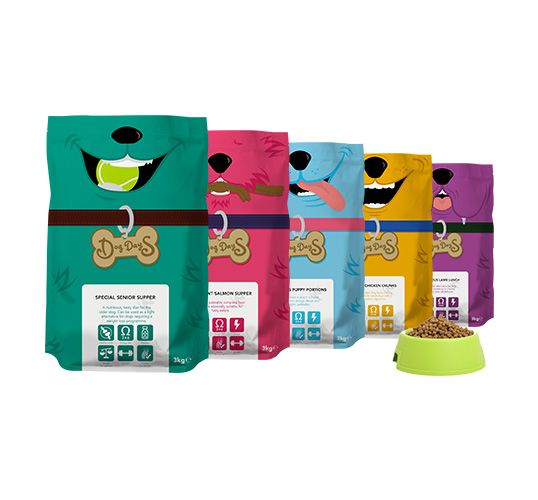 Designed by Epoch Design | Country: United Kingdom
"In 2012, a local 19-year-old entrepreneur approached us in need of a brand, visual identity and packaging for his startup, a Prince's Trust-funded dog food and pet accessories company. Epoch developed the brand name and created a bright, fun identity with heaps of tail-wagging personality. The new packaging designs sure stand out from the litter – no more rrruff dinnertime for me! (Sorry, couldn't resist.) This brought a fun new brand to the pet food aisle, sure to secure our client a truly loyal consumer fan base for the affluent urban demographic he wanted his products to appeal to."
August 16, 2013 | 1 Comment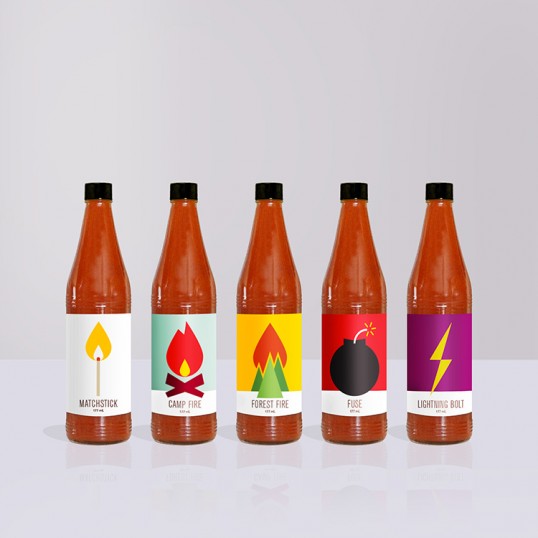 Designed by Jag Nagra | Country: Canada
"I began this self-initiated project recently, to develop a line of hot sauce: Hugo's Hot Sauce.  I took on a metaphorical approach to the label illustrations.  Starting with a matchstick to represent the mildest one, they increase in spiciness continuing on to: camp fire, forest fire, fuse and lightning bolt."
August 13, 2013 | 1 Comment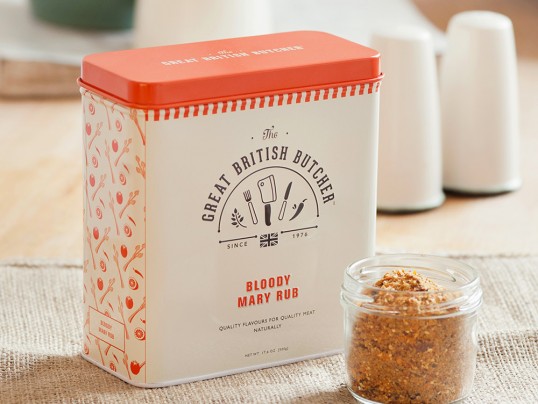 Designed by Design by Day | Country: United Kingdom
"The Great British Butcher is a new range of British-inspired rubs and seasonings prepared by MRC Flava, a third generation family owned company that started out in the butcher trade back in 1976.
With the rising popularity of farm shops and gourmet butchers, the brief was to come up with a brand identity and packaging that built on the company's genuine British heritage, celebrates the tradition of the British butcher, and communicates good, honest quality.
Like the product, the packaging is simple, robust and wholesome, balancing both traditional and modern elements. The product's British heritage is communicated subtly through the logo, and vintage-style typography gives a nod to the past. Playful illustrations on the side of each tin highlight the importance of the carefully selected, quality ingredients. Quality flavours for quality meat!"
August 9, 2013 | 3 Comments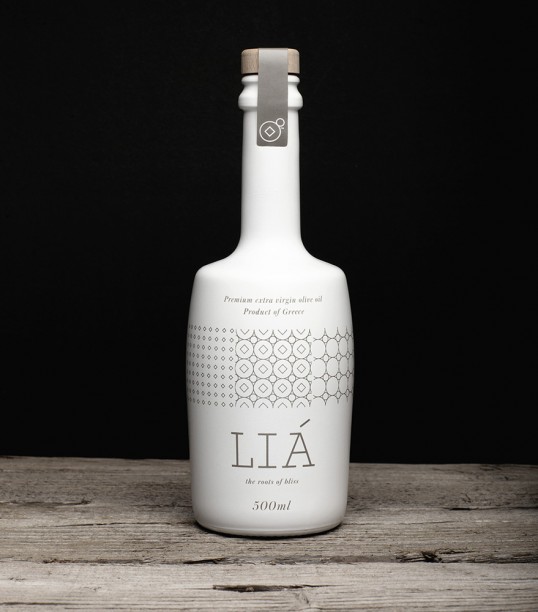 Designed by Bob Studio | Country: Greece
"Brand and packaging design for LIA extra virgin olive oil producing company.
The logo refers to the traditional way and means used to produce olive oil. Multiplying the logo creates a pattern, also used to decorate the packaging, that resembles ways used to decorate objects in older eras, bringing out the place's great cultural history."
July 24, 2013 | 1 Comment
Designed by Marios Karystios | Country: Cyprus
"Alexandra Manousakis left the U.S. back in 2007 to manage her family winery in the island of Crete. Her admiration for Crete, a magical place, rich in history and natural beauty, made her conceive a selection of local products under the name of Terroir, a line of products that serves as a showcase of Cretan nature as well as its unique and unforgettable terroir.
The approach on the design was influenced by Alexandra's simplicity  in character and her love for supporting local communities and charities. Each bottle of the olive oil and sea salt jar, is handmade by a local ceramist, and a percentage of the profits is donated to ELEPAP, a very special school for children with disabilities."
July 23, 2013 | 2 Comments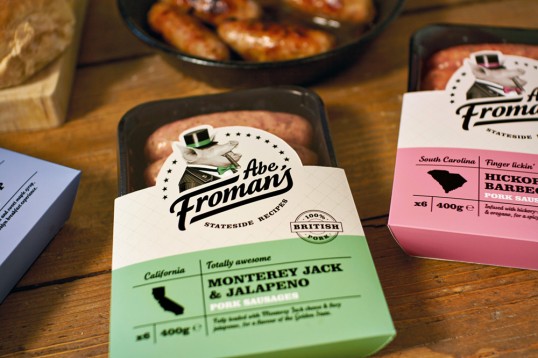 Designed by Robot Food | Country: United Kingdom
"Anyone who saw the 1986 coming of age movie Ferris Bueller's Day Off, will know just how important Abe Froman was to the sausage producing industry of Chicago.
Although a private man, Abe was a tenacious and powerful food industry magnate. From humble beginnings as a butcher shop apprentice, he went on to dominate sausage production in the northern states. Often referred to as "the sausage king of Chicago" he foolishly diverted attention, investing heavily on the stock market, losing most of his fortune in a one day 1987 market crash, known as Black Monday."
July 21, 2013 | No Comments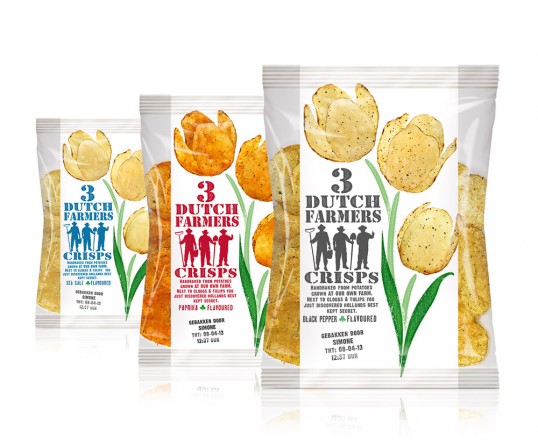 Designed by Sogood | Country: The Netherlands
"Sold and developed exclusively for Schiphol (Amsterdam) Airport, these crisps are hand-baked from potatoes grown at the farm of three real Dutch farmers. They started in 2004 to cook crisps from their farm grown potatoes. The special taste is not only due to the good quality of the soil in the Dutch national landscape "the Hoeksche Waard", also the skin of the potato contributes to the fine potato flavour, that is characteristic for the Dutch Farm Crisps. The most naturally delicious potato chips you have ever tasted!
The name was developed for the international traveller. The typical Dutch theme is visualised by a tulip of crisps. It underscores the authentic and natural character. The product itself is seen through the transparent foil."