June 19, 2012 | 1 Comment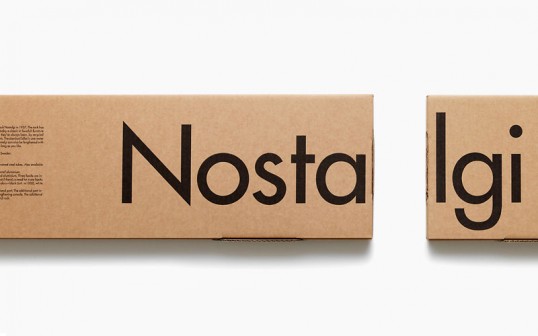 Designed by Bedow | Country: Sweden
"Packaging for the rack Nostalgi by Essem Design. The classic rack, which was designed in 1937 by Gunnar Bolin, comes in several different materials and lengths. The standard rack measures 1,000 mm, but can with an additional console be extended into infinity."
June 14, 2012 | 2 Comments
Designed by The Bakery | Country: Russia
"Oxford is a new tissue paper brand that we developed from scratch. 
The idea was to create a completely new look for such a mundane product. We started with a name to give it some character, a matching logo and a stricking uniform. 
Though constrained with the packaging format we found an original way to brand not only the existing product, but the new ones as well."
May 14, 2012 | 1 Comment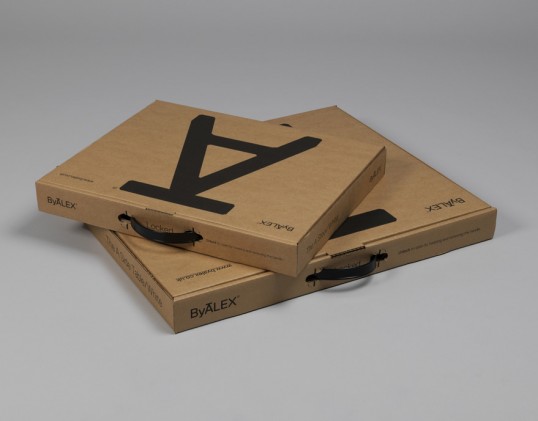 Designed by Company | Country: United Kingdom
'The A Range is a simple furniture based on two interlocking letter As shapes. The range includes a stool, side table, coat stand.
Made from accredited birch plywood and available in white and grey, the A Stool and A Table come in a simple box with a carry-away handle. This is the first flat-pack, carry away furniture sold at John Lewis stores."
April 11, 2012 | 3 Comments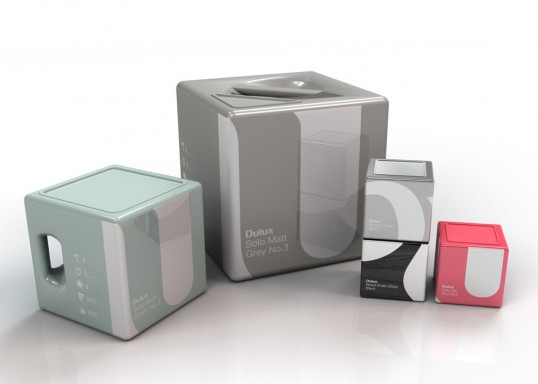 Designed by Founded | Country: United Kingdom
"This work is something which we recently produced for Icon Magazine's Rethink project. We were tasked with rethinking something we felt was in need of an overhaul. We focussed our attention up paint tins, and specifically the Dulux brand. Below is an excerpt from the interview for Icon Magazine:
Having recently braved the turmoil that is home decorating, the pain of standing in front of rows of souless tins of paint with no personality was fresh in the mind like a newly glossed skirting board. Therefore, when Icon's ReThink brief landed, that feeling of being a frustrated paint consumer became the focus of our attention. When everyone thinks of paint (certainly in the UK) I'm sure they think of Dulux."
April 10, 2012 | 1 Comment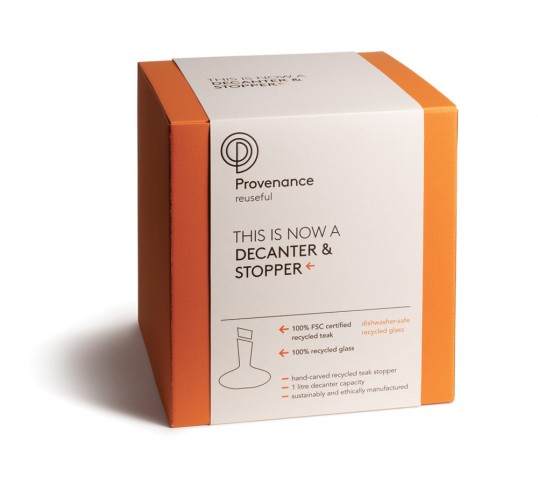 Designed by Jog Limited | Country: United Kingdom
"Provenance makes high-quality homeware products from recycled, reclaimed and renewable materials.
As the packaging has to sell the story of the materials as much as the product, the brand language of 'this is now' and 'this was' is used across products to introduce the story of each item's provenance. For example, 'this was once bottles and part of a building' to the reverse and 'this is now an antipasti platter set' on the front."
April 4, 2012 | 2 Comments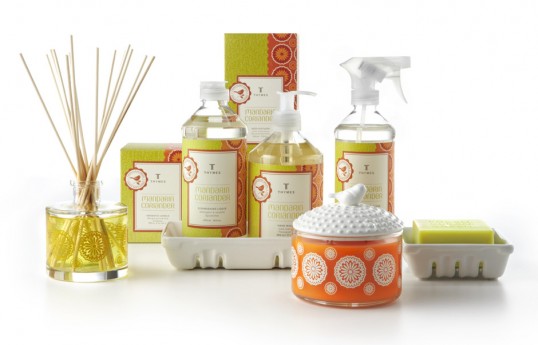 Designed by Zeus Jones | Country: United States
"Thymes is a company rooted in the Midwest – it's a part of their heritage. That's why we decided to look to the textures and images of our region when designing the Mandarin Coriander fragrance line. Our goal was to match the fresh, clean feeling of spring with the nostalgia of a warm afternoon in the kitchen. We worked closely with the Thymes team, drawing inspiration from vintage patterns, authentic packaging forms and hobnail glass. This led us down a creative path that includes an eclectic mix of custom ceramic pieces, tea towels and aprons that compliment the ever evolving mix of home fragrance products. For the color palette, we opted for bright colors that reflect the scent's vibrant, citrusy nature."
March 19, 2012 | 6 Comments
Designed by Nik and Carole | Country: United Kingdom
"Expertly crafted from layers of luxurious damascus steel, this super premium range had to appeal to chefs and home cooks who take their cooking uber seriously. Midori, the Japanese word for green reflects the subtle tints of colour in the micarta handle and we commissioned an elegant wooden case, the traditional way to present something of such value."
February 22, 2012 | 8 Comments
Designed by Grupo Habermas Comunicación | Country: Spain
"A simple and elegant design, where information and ornamental details determine the final outcome. This is exemplified in the illustrations, blind emboss with silver ink, and the paper used."
February 21, 2012 | 2 Comments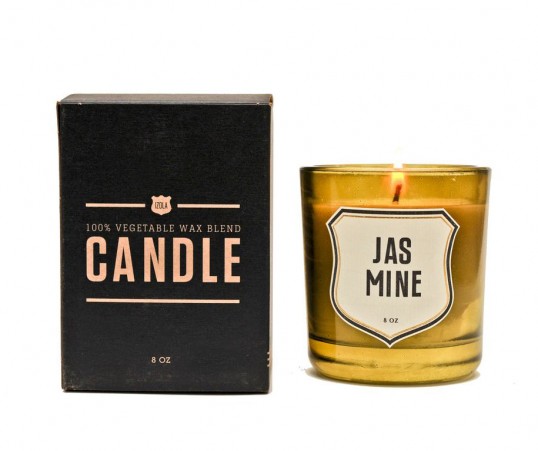 Designed by Aesthetic Movement | Country: United States
"Inspired by the old world utilitarian ideal of making something that is "built to last," Izola and Aesthetic Movement have curated a collection of whimsical objects with a masculine sense of antiquity.  Made with great care and attention to detail, this series of functional every day staples are designed to be perfect men's gifts. The products include flasks, soaps, candles, laundry bags, bamboo toothbrushes, handkerchiefs, brass desk objects, shower rings, ceramics and shower curtains.
While the collaboration with Aesthetic Movement began in 2009, Izola was originally founded in 2007 by Neil Rasmus and Richard Brandt as a company that produced innovative shower curtains for big box stores, such as Bed Bath and Beyond.  In 2008 when Jesse James and Diane Shaw formed Aesthetic Movement, a design consultancy and showroom for upper echelon housewares and accessories brands, a partnership with Izola was formed.  Since then, Izola has continued to evolve beyond the bathroom category into barware, desk, travel and other categories."
January 26, 2012 | 9 Comments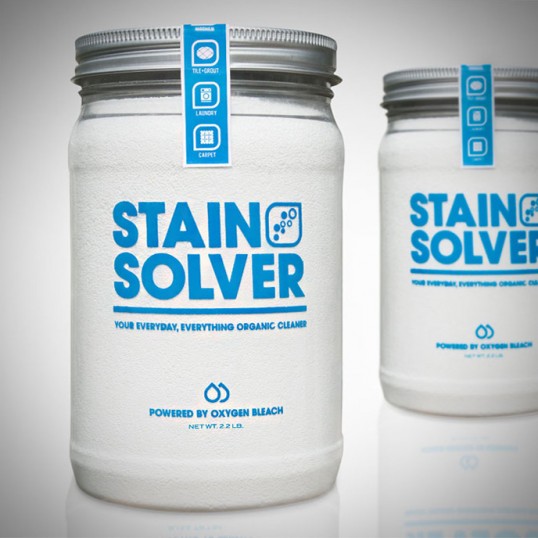 Designed by Labor | Country: United States
"Stain Solver is a true original. For the last 15 years (long before the "trendy" green cleaning product revolution), Stain Solver has been a leader in the "human friendly" Oxygen Bleach category. We endeavored to create a minimal identity system that sets Stain Solver apart from the typical heavy-handed cleaning product approach. It was a joy to redesign the 50lb bulk bucket that is often associated with nasty chemicals or Home Depot shopping. Now you can simply look through the new translucent square pail to see your Stain Solver like freshly fallen snow."