November 5, 2010 | No Comments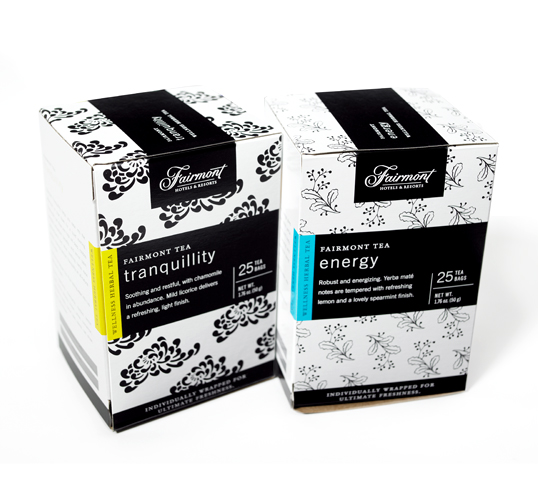 Designed by Up Inc. | Country: Canada
"Packaging for Fairmont's signature teas had to communicate the luxury messaging of the brand, as well as the health-promoting ingredients of the teas. Bursts of colour were added to Fairmont's corporate black to differentiate the flavours and to add an element of cheerfulness. A sparse, illustrated pattern allows for bilingual copy (French and English) and adds welcome texture."
November 5, 2010 | No Comments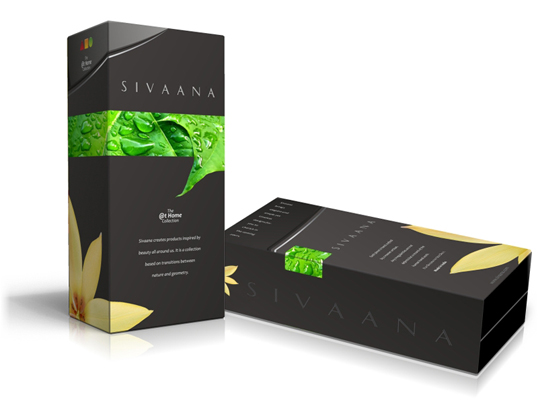 Designed by Harpreet Singh | Country: India
"Slide-in box packing for Sivaana. This particular series of 3 box sizes is for show piece items consisting of a wide range of marble, brass and crystal items. This series is called the @Home collection and the focus is on nature and geometrical figures."
November 4, 2010 | No Comments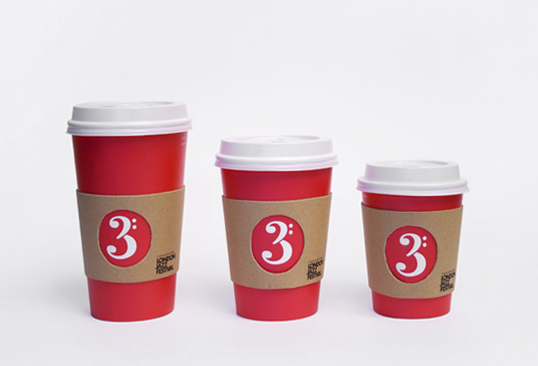 Designed by Jason Nye | Country: United Kingdom
"The aim was to create a visual presence for Radio 3 at the London Jazz Festival venues and promote it's award winning coverage of the event.
This was done through disposable coffee cups, clutches, and novelty instrument stirrers which would be seen at places like the Southbank Centre, inside, outside, on the street, in cafes, and on benches. The campaign was to have an 'elitist' edge and hit the right demographic whilst remaining fun, interesting and informative."
November 4, 2010 | No Comments
Designed by HUB Collective Ltd. | Country: United States
HUB Collective designed and produced these letterpress beer labels for an avid home brewer who longed for his very own labels.  The label allows him to hand write type of beer brewed, its bottling date, and alcohol by volume.
November 4, 2010 | No Comments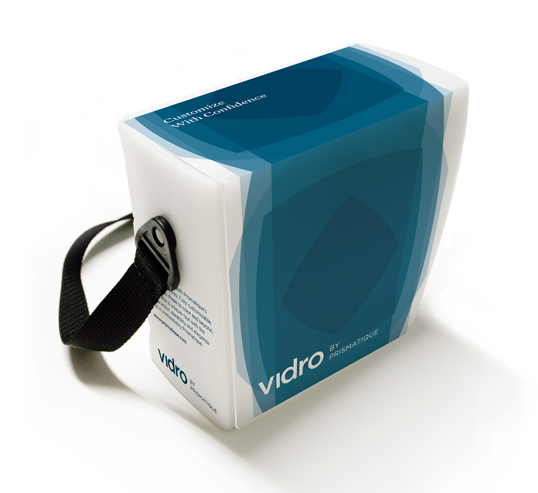 Designed by Up Inc. | Country: Canada
"Prismatique launched a new line of its Vidro glass-topped tables. This kit for sales reps houses samples that illustrate the range of glass finishes, colours and designs for these tables. Sturdy plastic and blue tones reference high-quality glass, while a variety of shapes hint at the countless table shapes and designs that can be used."
November 3, 2010 | 3 Comments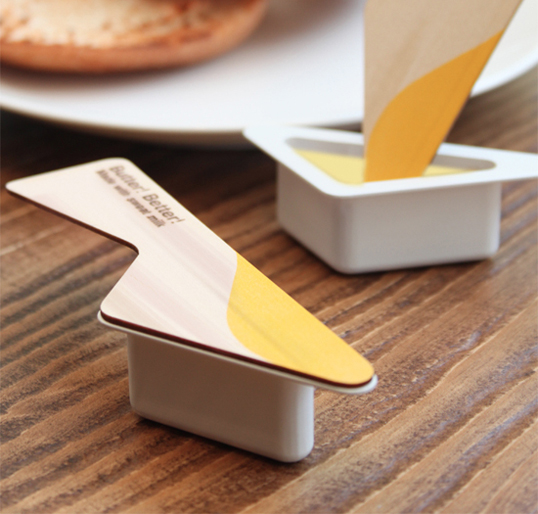 Designed by Yeongkeun | Country: South Korea
"Whenever we eat bread, at the picnic, in the cafe or airplane, we usually use disposable butter. I replaced its ordinary container lid with a wooden, knife shaped one. This way butter can be easily and quickly spread. Butter has 4 flavors which allow the user to make a choice, just as he would chose his favorite ice-cream. This container is not only easy and fast to use but also it makes daily routine of spreading butter more fun and exciting."
November 3, 2010 | No Comments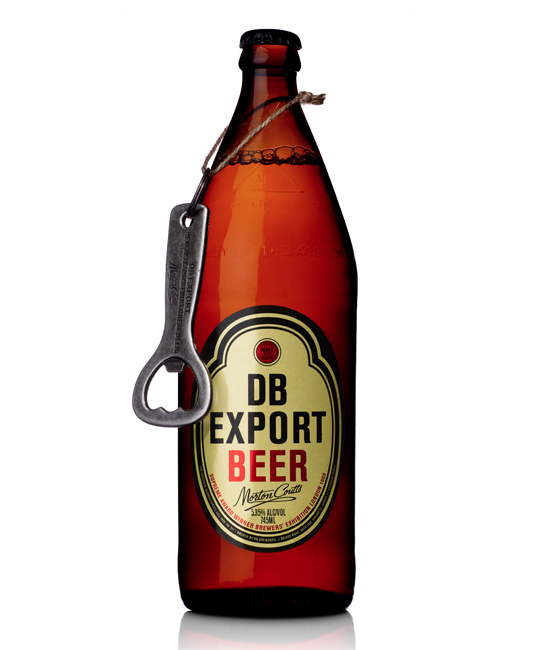 Designed by Dow Design | Country: New Zealand
"The DB Export range has a fresh and contemporary new look, that also pays homage to the brand's history. In addition, the original DB Export beer returns for a limited time to celebrate the landmark, revisiting its 1960s look and feel.
"Our aim was to rediscover the truths behind the DB Export family of beers, while also bringing the range up to date with the expectations of the modern consumer," says Dow Design Senior Creative, Will Fletcher. "To properly engage consumers, we have layered the Export packaging with classic beer cues, injecting masculinity and authenticity."
November 3, 2010 | No Comments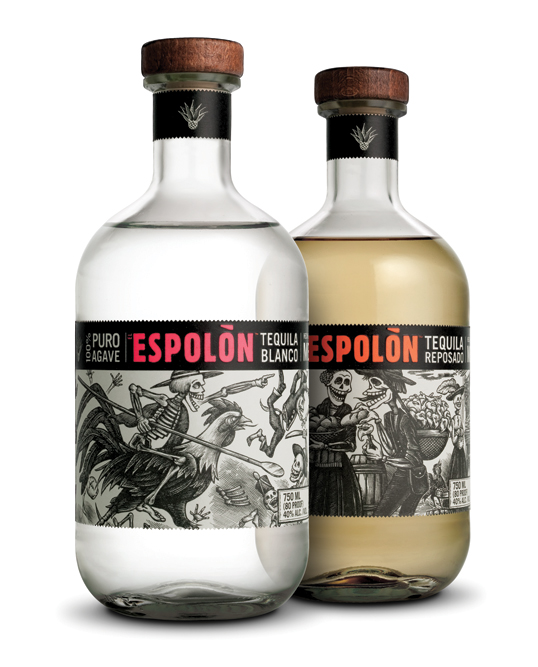 Designed by Landor | Country: United States
"Just in time to celebrate the 200th anniversary of Mexico's independence from Spain, Espolón™ Tequila returns to the United States with the same award-winning liquid but with a whole new look. The new packaging of this cult-favorite tequila pays homage to the brave men and women who fiercely fought to establish what is known as today's "Real Mexico," a country steeped in authenticity, history and tradition. Rich in iconic imagery, Espolón Tequila's unique labels celebrate Mexico's storied culture as well as the iconic rooster – a symbol of national pride.
Illustrated in traditional 19th Century "Dia de los Muertos" (Day of the Dead)-style images, the labels illustrate the fictitious journey of characters Rosarita and Guadalupe, with their inspirational companion, Ramón the Rooster, depicting the struggles of the Mexican people during pivotal moments in history.
November 2, 2010 | No Comments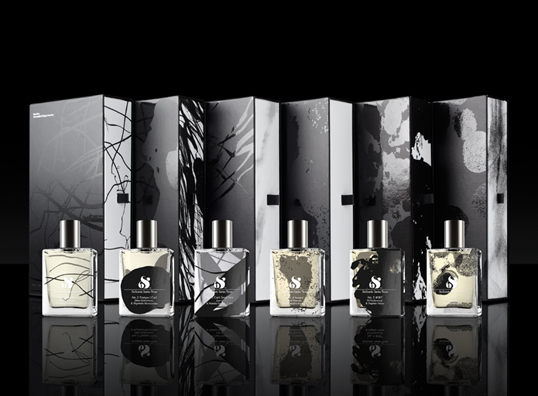 Designed by 3 Deep Design | Country: Australia
"Smells like modern art. At their most compelling the creative arts go deeper than the aesthetic brilliance of a beautiful painting or the auditory indulgence of sa superb sonata. They explore the boundaries of our perception and the intersection of our senses, our emotions and our intellect. And we do not normally think of fragrance or the olfactory world as a typical playground of such ambitious art. But experimental project Six Scents is working hard to challenge this assumption" – Mavia Popova, Editor. brainpickings.org
Six Scents: Series Three is the third year that 3 Deep has collaborated with Six Scents Parfums. Series Three is an exploration into the nature of childhood memories and the influence of adolescence on identity. Six designers from six different parts of the world were invited to remember the most definitive experiences of their youth that led to their sense of identity today and to recall some of their most intimate childhood memories involving the sense of smell. Exploring the stories from one through six, innocence begins to fade and rebellion, reality and mischief kick in.
November 2, 2010 | 2 Comments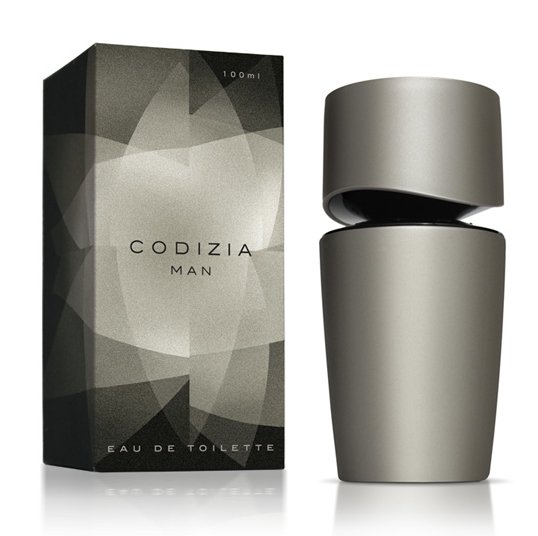 Designed by Lavernia & Cienfuegos | Country: Spain
Codizia for Men is a male fragrance from the same brand which was launched three years ago the female market. It shares the quality product positioning, differential, and has a much lower price than high-end colognes. The packaging communicates similar attributes: sensuality, elegance, dynamism, etc. It does this following the same language and some of the characteristics of its female predecessor, as in the solution for the join between body and cap, but with changes that reaffirm their male personality: the colors and the volume, which moves from the horizontal to a vertical position for Codizia for Men. Is also distributed exclusively in the MERCADONA chain of supermarkets.