September 25, 2011 | 1 Comment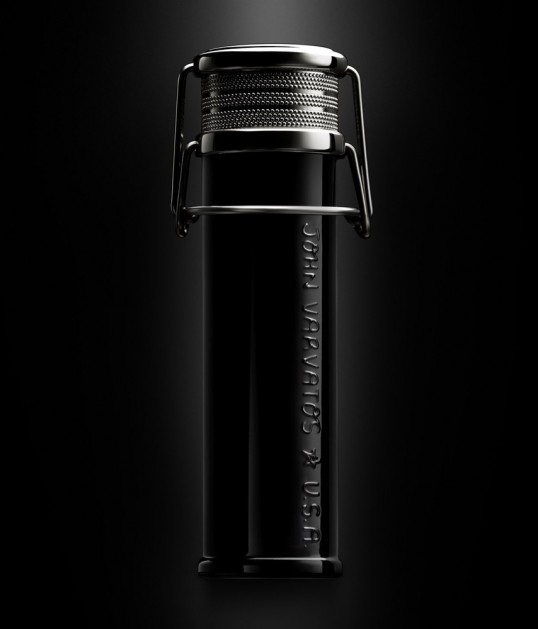 Designed by YARD | Country: United States
"Following in the incredible success of his Collection scents, John Varvatos debuts the first ever fragrance under John Varvatos Star USA. The concept and designs for the bottle, packaging and campaign were created by New York agency YARD—led by Executive Creative Director, Stephen Niedzwiecki. YARD has partnered with John Varvatos and all of his brands for over 7 years.
September 24, 2011 | 4 Comments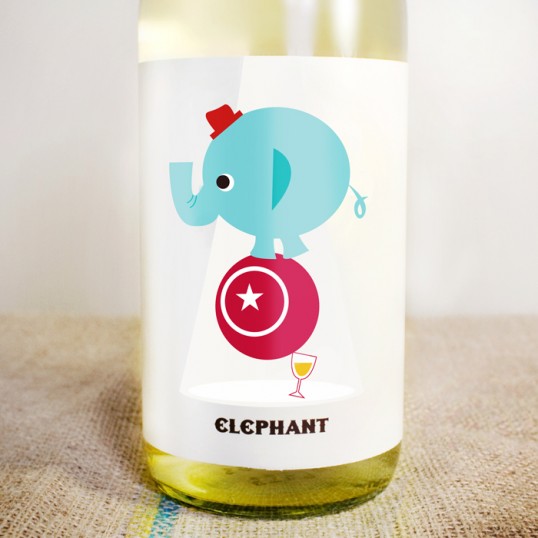 Designed by Jag Nagra | Country: Canada
"My friend, Angela Stephen-Dewhurst, and I organized a Depression-Era Circus Tea Party for our friends. For the 11×17 invitation poster, I illustrated 3 characters: the World's Strongest Man, the Ringmaster, and the World's Tallest Woman. These characters also made appearances on the wine bottles, along with a few other characters, including a fairly accurate self-portrait of myself and Angela on the Clown Label. Labels were printed on glossy 80LB text, and to add to the quirkiness of the event were adhered onto mismatched wine labels."
September 24, 2011 | 2 Comments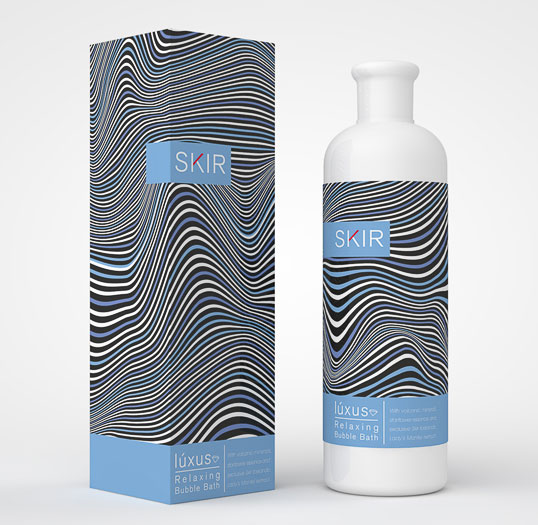 Designed by Denis Carroll | Country: Ireland
"A range of organic beauty products with volcanic minerals and aromatic essences.
The pattern I created is representative of volcanic sedimentary layers. It is used with variations of colour across the range. In turn, the product colour is representative of the aromatic essence inside."
September 23, 2011 | 3 Comments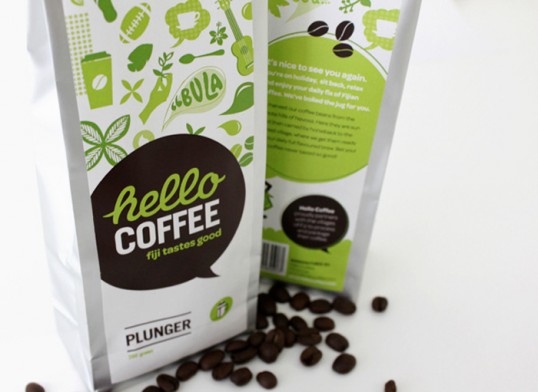 Designed by Family Design Co. | Country: New Zealand
"Family was approached by a not-for-profit organisation that is helping the villages of Fiji to produce and package their coffee from local Fijian villages. Targeted at the tourism market in Fiji, the brief was to come up with the complete package. Brand name and story, positioning, point of difference, unique look and feel, cultural cues and personality. Our concept "Hello Coffee" came to life with the idea that a real coffee drinker loves their daily brew so much they could almost speak to it! This is currently on the market as Hello Coffee but will change to Bula Coffee to relate directly to the Fijian community within the coming months."
September 23, 2011 | 6 Comments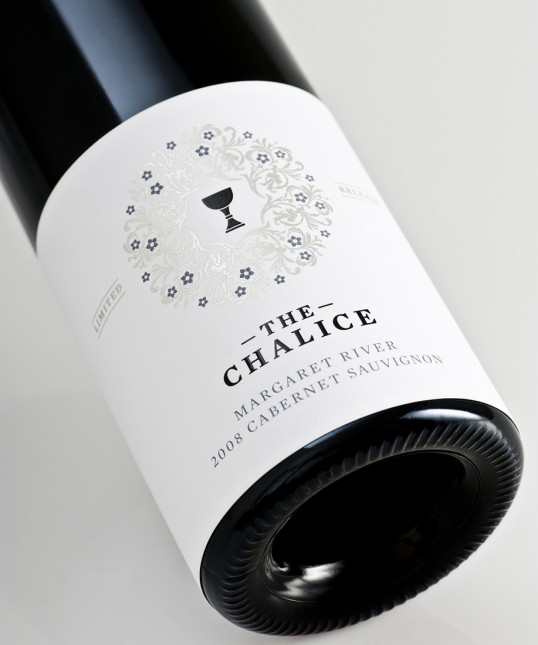 Designed by Studio Lost & Found | Country: Australia
"The Chalice wine labels were designed for Margaret River producer Chalice Bridge Estate.
The Chalice is an icon range of prestige and perfection. These limited release wines represent the Holy Grail of winemaking, and incorporate select parcels of the finest fruit from the Chalice Bridge single vineyard estate in Southern Margaret River. The wine is barrel-fermented and left for fourteen months in new French oak barriques to develop its superior flavours.
The elegance and simplicity of the design reflects the premium positioning of this product.
Printed 4x PMS on Fasson Antarctic White uncoated vellum paper, with matt gold and silver foil, sequential bottle numbering, and a high-build clear silkscreen varnish.
The label printers Supa Stik won Gold in the Offset Roll Fed Label – Wine & Beverage Category at the 2011 Print Industry Craftsmanship Awards WA."
September 22, 2011 | 1 Comment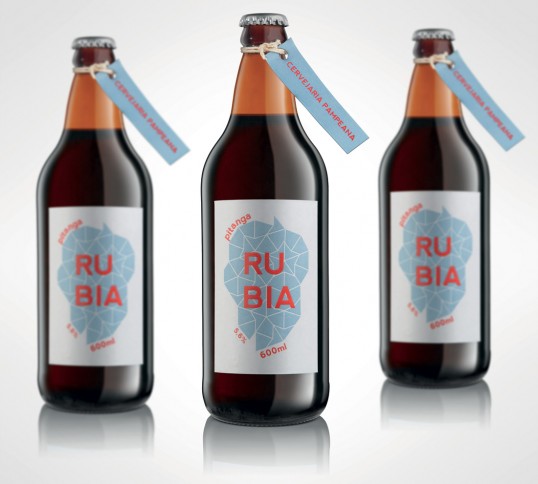 Designed by Roberta Zanette | Country: Brazil
"I recently developed packaging for a Gastronomy graduate.
The objective of his final project was to create a fictitious brewery, Cervejaria Pampeana, and it's beer, Rubia – a beer made of Pitanga, a little summer fruit from Brazil.
The concept of the project is that Rubia – a name that refers to the color of the fruit was a different beer, lighter than the others, to be consumed only during the summer months."
September 22, 2011 | 4 Comments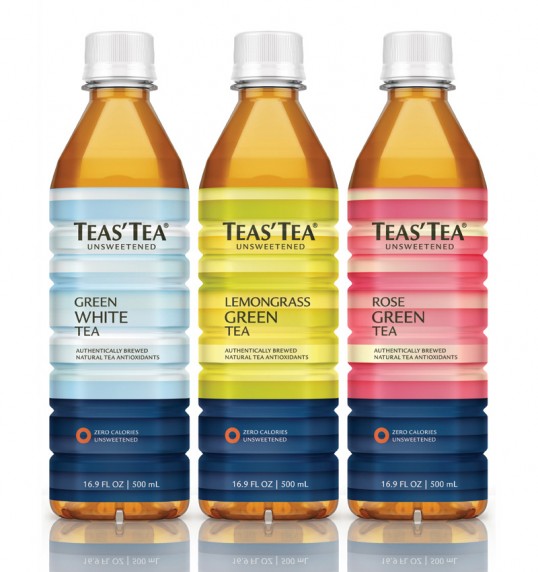 Designed by Gooder Companies | Country: United States
"After 10 years of success within the retail marketplace, and much appreciated recognition from the design world, ITO EN engaged Gooder Companies to update the Teas' Tea Unsweetened lineup we created back in the day. With lessons learned from shelf placement to overseas print production, we fine tuned and tweaked the new design to answer retail challenges without loosing the essence, freshness and power of the original."
September 21, 2011 | 4 Comments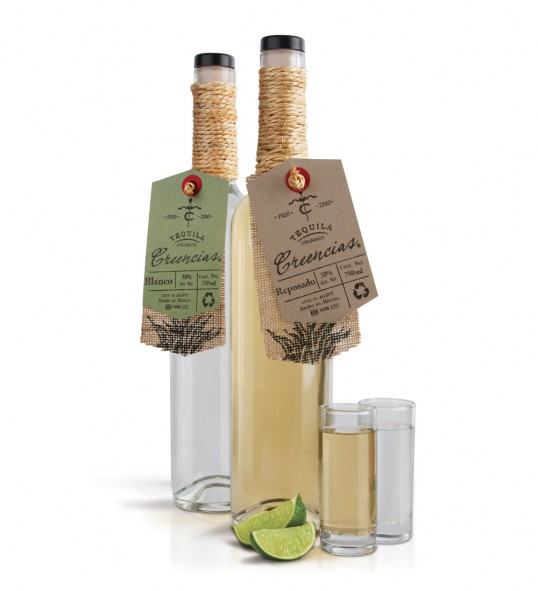 Designed by YuJo! Creatividad Aplicada & Rodrigo Mercado | Country: Mexico
"Creencias is tequila distilled with respect to its history, its original process and yourself. Just as it was made in 1920. By not using any chemicals to grow it, distill it or aging it, we manage to bottle an all organic tequila, which unlike the rest, is kind to you and to the planet. Made timeless at Rancho El Mirador, Jalisco, Creencias Organic Tequila seems like an unlikely product today. Time cannot be stopped, but it sure can be bottled."
September 21, 2011 | 1 Comment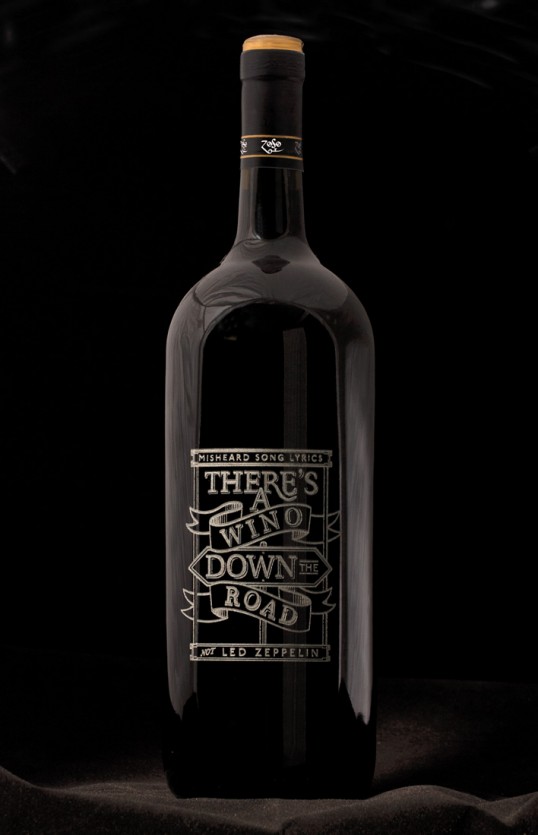 Designed by Dominique Falla | Country: Australia
"This is my entry into AGDA's Poster Annual. The theme this year is music, so I've made a wine bottle devoted to my favourite misheard song lyric from Led Zepplelin's "Stairway to Heaven". The real lyric is "as we wind on down the road" but it often gets misheard as "there's a wino down the road." Led Zeppelin fans will also notice something else special on the bottle. I had the label laser etched onto a giant flagon of red wine and shot it against black for the final poster."
September 20, 2011 | 4 Comments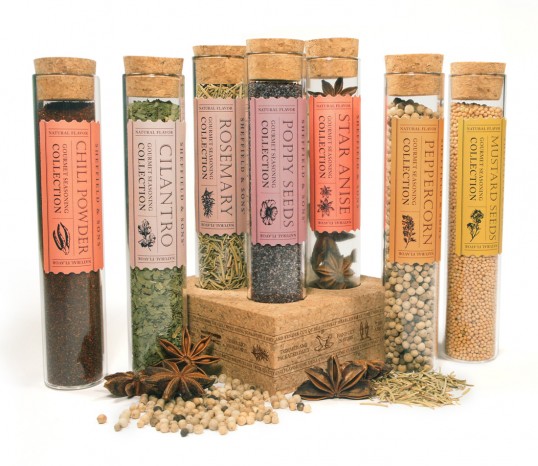 Designed by Birdsong Gregory | Country: United States
"To help Bloom Grocery develop a memorable private label for it's premium angus beef program, birdsong gregory created Sheffield & Sons: a sophisticated but friendly brand that evokes the distinction and personal service of a small friendly neighborhood butcher shop. As part of that campaign, we created this concept for a beautiful line of spices which would exist as part of the labels product offering. The packaging embodies the well crafted and gourmet feel of Sheffield & Sons with its sophisticated palette, illustrative but clean labels, unique material choices, and textures that are relevant to the existing brand."