August 7, 2012 | No Comments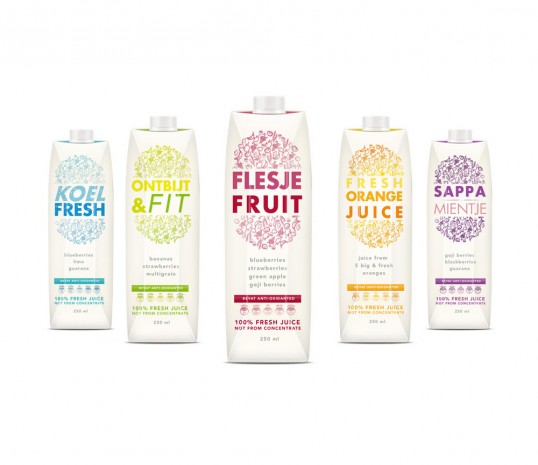 Designed by Dot Kite | Country: The Netherlands
"Koel Fresh is a new brand based in The Netherlands. Dot Kite | Lab developed several concepts for the new packaging of the fresh juices. The final design be distributed in The Netherlands, Belgium and Luxembourg."
August 6, 2012 | 5 Comments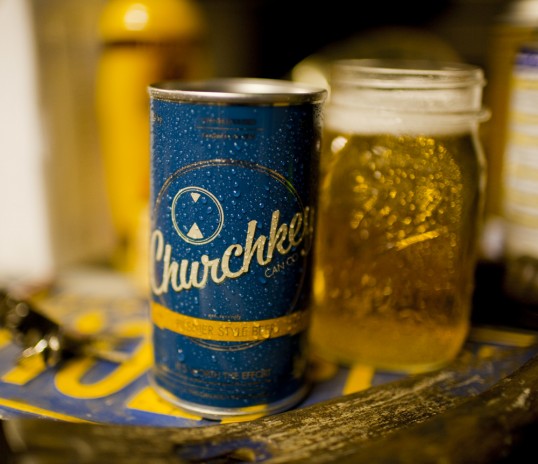 Designed by Justin Hawkins | Country: United States | Fonts: BistroScript, Futura
"Justin Hawkins is the co-founder and creative director of Churchkey Can Co. Churchkey Can Co. began as the desire to experience a great beer in a simple can as the generations before had. Quickly realizing the flat top can – introduced in 1935 and a standard in the beer industry until the pull-tab came to market in the mid-1960s – was all but a memory, Hawkins and co-founder Adrian Grenier set the wheels in motion to found Churchkey Can Co. We strive to bring you the most original beer can experience you have ever had by making a quality craft beer in the original flat top beer can. Justin designed the graphics for the flat top can and logo, as well as the six-pack packaging. Additional company info attached."
August 6, 2012 | 4 Comments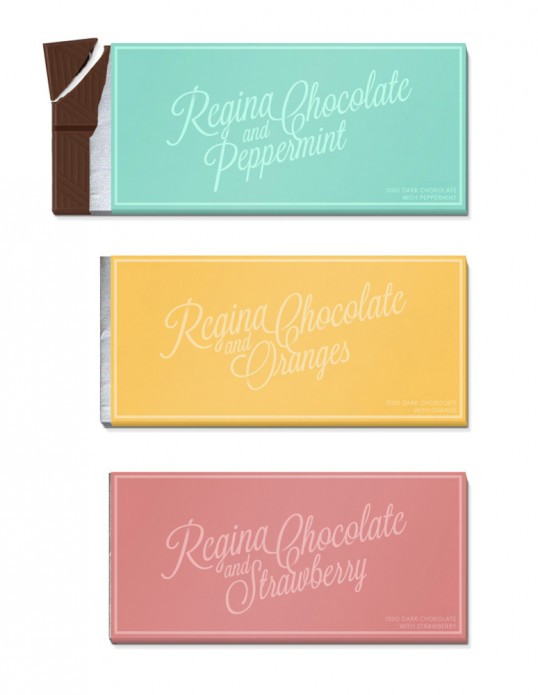 Designed by Jonathan Faust | Country: Denmark
"Regina is a Portuguese chocolate brand founded in 1928. Their products are delicious but their identity really needs some love. 
I have focused on the logo and packaging.The logo is combined with the flavour. As you see every flavour has it's own unique logo. Combined with the colours you get a new product which stands out. Logo and flavour-text is hand drawn. The rounded corners and swashes is a reference to their history and what it's all about – chocolate."
August 5, 2012 | 15 Comments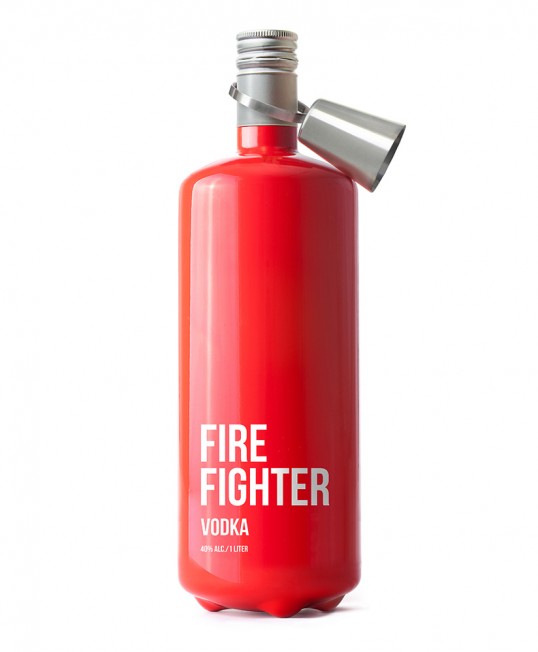 Designed by Timur Salikhov | Country: Russia
"The task at hand was to create a striking visual concept for a vodka bottle. The brand name Fire Fighter, the bottle design, and the slogan "Use in case of party" were created by myself to serve a very clear purpose – people want to have this product."
August 4, 2012 | No Comments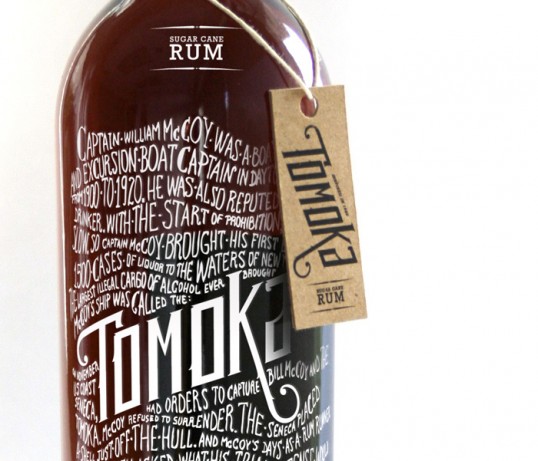 Designed by Arcadebox | Country: United States
"Tomoka is the legendary schooner Captain Bill McCoy used for rum-running, also known as bootlegging, during the time of prohibition. Tomoka was one of the most famous rum-runners and as McCoy became famous for never watering his booze and only selling top brands, Tomoka is often associated with the term "The Real McCoy". The bottle label tells the story of Captain McCoy and the inspiration behind Tomoka."
August 3, 2012 | 1 Comment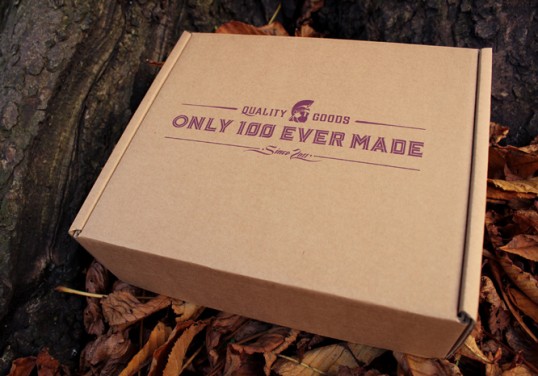 Designed by Ginger Monkey | Country: United Kingdom
"1hundred is a project that's been in development over the last 2.5 years. It's a brand founded by Tom Lane to encourage collaboration with other artists, craftsman, and creators of 'things' to produce and sell our own quality products. The idea is based on the premise that less is more. Small production numbers means you get the benefit of limited edition products not every Dom, Dick, and Harry will have and we get to focus our attention on making products with soul, that aren't just mass-produced. Time and effort is being spent on the details, taking special care to make the products the best they can be. It's not about making a quick buck, but to produce something really worth having.
August 3, 2012 | No Comments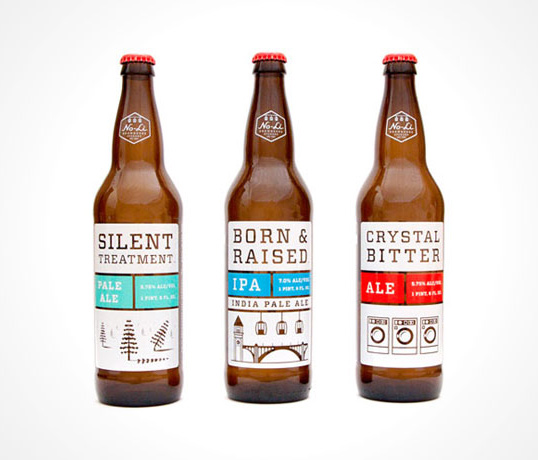 Designed by Riley Cran | Country: United States
"Founded in Spokane Washington in 1993 by Mark Irvin, No-Li Brewhouse is a craft brewery which expanded to bottling in early 2012.
Originally named Northern Lights, I was contacted in Winter 2012 by former Fat Tire strategist Greg Owlsley and former Deschutes Brewery (and craft beer guru) John Bryant, about re-naming the brewery 'No-Li', rebranding the company completely, and creating its first bottled brews.
This main company mark references the Spokane Gondola, a series of Tram cars installed for the 1974 World's Fair, an event of lasting esteem in the city, and something we took much inspiration from."
August 3, 2012 | 2 Comments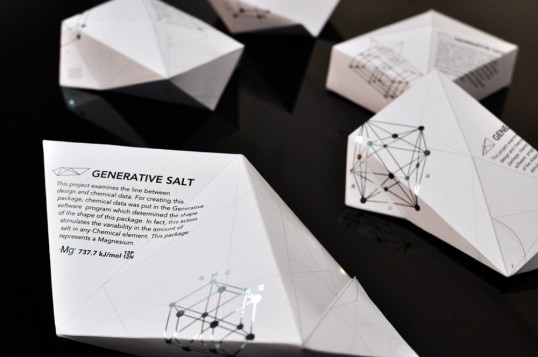 Designed by Dan Moukatel | Country: Israel
"This project tests the boundaries between designing and chemical data. During my research on salt, I discovered that the salt that we all are familiar with and use for cooking purposes, actually plays a much bigger and important role in our lives. It turns out that salt is found in almost any chemical element around us in different amounts and dosages.
During the production procedure of table salt in Dead Sea Works, four other chemical elements are being refined: potassium, aluminum, bromine and magnesium, from which we produce all sorts of materials that are of use to us in daily living. In my project, I decided to focus on the four chemical elements and to visualize the changing of the salt in each one of them."
August 2, 2012 | 25 Comments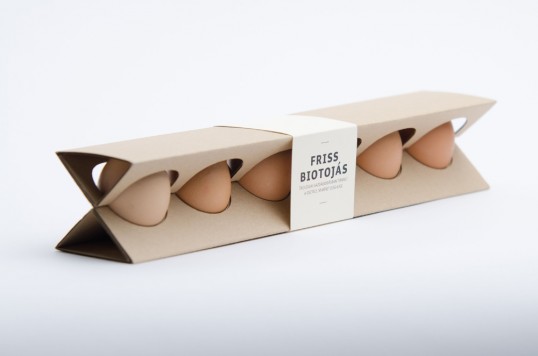 Designed by Otília Erdélyi | Country: Hungary
"My goal was to design an innovative package using a small amount of material. It's made of natural microwaved carton and consists of one piece. The eggs are placed into ellipse-shaped cuts. The eggs are removed by turning the topside."
August 2, 2012 | 1 Comment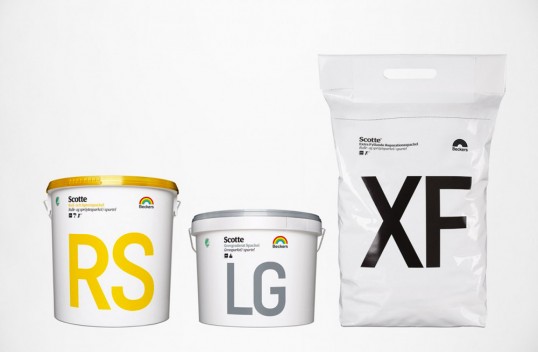 Designed by BVD | Country: Sweden
"Do you speak Scotte? A pro­fes­sional painter uses expres­sions like "Wall 7″ and "Car­pen­try 70″. We have brought their lan­guage into the design concept, mak­ing each and every pack­ag­ing easy to find and use."