March 9, 2009 | 19 Comments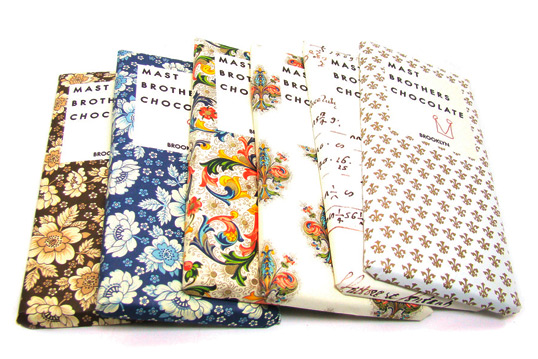 Designed by Mast Brothers | Country: United States | Fonts used: Metro
Beautiful detailed packaging for Brooklyn based artisan chocolate brand, Mast Brothers Chocolate.
March 9, 2009 | 2 Comments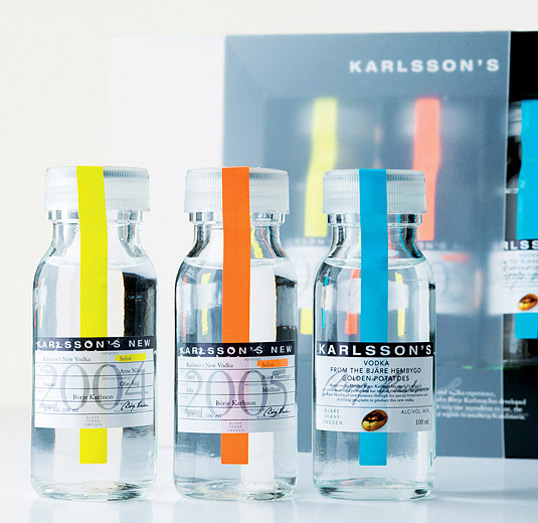 Designed by The Brand Union | Country: Sweden |  Fonts used: Helvetica, ITC Garamond, Trade Gothic
"Most people would probably have been satisfied with such an outstanding career, and rested on their laurels – but not Hans. On the contrary! Instead, he left the ad agency and started Brindfors Design, from 1999 part of Enterprise IG Group. And with his creative direction for Karlsson's vodka perhaps starting a new chapter in the Swedish vodka story."
March 9, 2009 | 1 Comment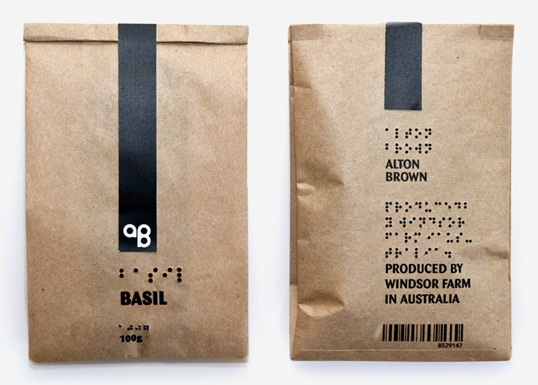 Designed by Hampus Jageland | Country: Australia | Fonts used: FF Sari
"Alton Brown is a spice range for blind and visually impaired people. The range also includes olive oil and balsamic vinegar. Together with these liquids a special spoon is provided which makes it easier to pour and measure them, it's the measure of a tablespoon. The text is placed on the exact same place on all the products and all the braille is embossed. The tubes are made out of PLA to make them sustainable and the refill bags are made out of recycled paper. The logo is communicating the exact same thing for blind as for the non blind since A is one dot and B is two."
March 8, 2009 | 10 Comments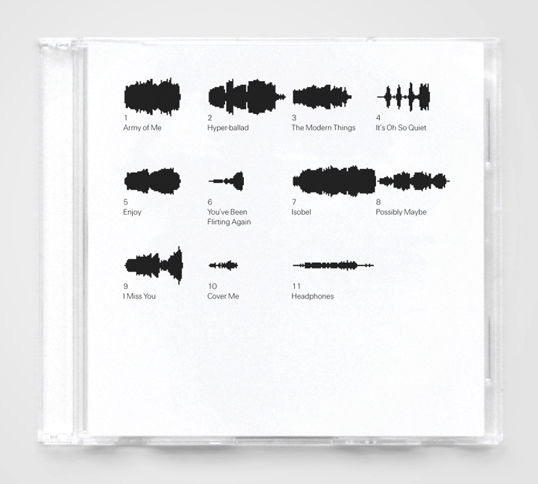 Designed by Joshua Distler | Country: United States | Font used: Helvetica
"Compact disc labeling concept. Each waveform accurately depicts a complete song in a 1-inch square."
March 7, 2009 | No Comments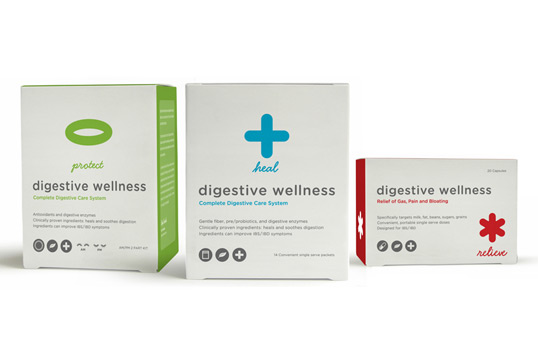 Designed by Christian Hanson | Country: Canada | Fonts used: Gotham Rounded, Handsome
Thanks to Canadian designer Christian Hanson for sending us this lovely work he did for Digestive Wellness.
"Digestive Wellness is a complete system of all-natural digestive care products. I designed the identity and package design to differentiate the brand in a crowded retail environment. The aim was to simplify the visual vocabulary to provide clarity and enhance brand recognition. The logo components function as individual signposts -the same principle of reduction and consistancy used in traffic signs- flexible enough to be used across a wide range of dynamic applications. Digestive Wellness is available GNC stores and at Loblaw stores."
March 7, 2009 | No Comments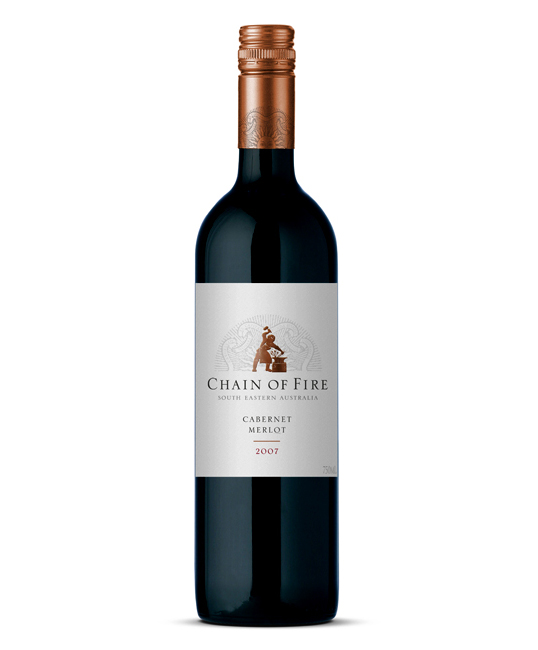 Designed by Public Creative | Country: Australia | Font used: Serlio
"The new brand from Robert Oatley Vineyards features Vulcan (the Greek god of volcanoes) representing an extinct chain of volcanic mountains located in the regions from which the wines are sourced."
March 7, 2009 | 3 Comments
Designed by Avi Cornfeld | Country: Israel | Fonts used: Helvetica
"The packaging design for Moiré were created from the world of the moiré effect phenom – a visual perception that occurs when viewing a set of lines or dots that is superimposed on another set of lines or dots."
March 6, 2009 | 3 Comments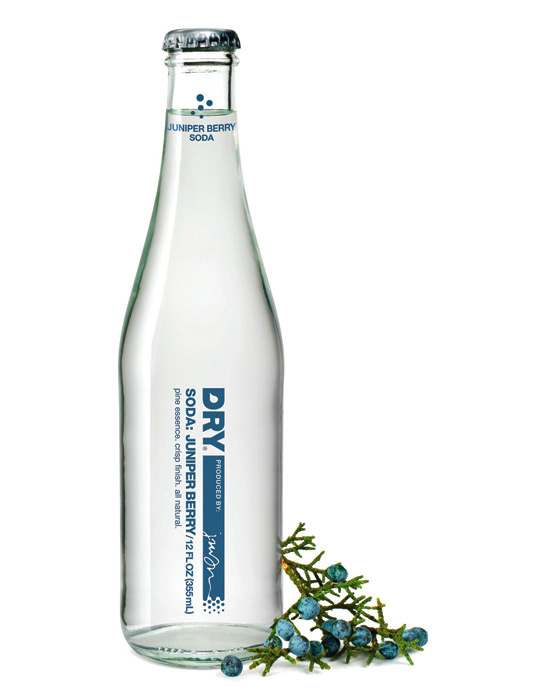 Designed by Turnstyle | Country: United States | Fonts used: Helvetica
BreeAnna over at Dry Soda sent us some updated packaging. The Vanilla Bean and Juniper Berry packaging houses the signature of DRY's first two employees, while the original four flavors showcase our Founder's signature.
"Designed for those seeking a sophisticated, non-alcoholic beverage option, DRY Soda Co. produces lightly sweet, all-natural, culinary sodas. The sodas were developed specifically to be paired with great foods. To this end, DRY wanted the bottles to look at home in an upscale restaurant or at a five star hotel. Our design solution was intentionally minimalist. Wr endeavored to make the bottle sophisticated, but still fresh and inviting. Minimal graphics on clear bottles allow the purity of the product to show through. The owner's signature on each bottle denotes a sense of craft behind each flavor's recipe."
March 6, 2009 | 7 Comments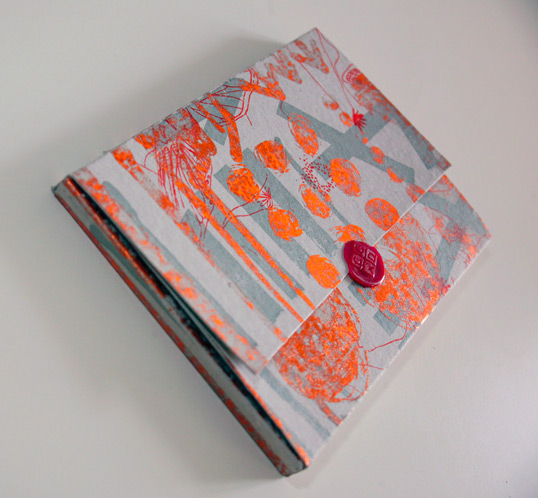 Designed by Tubbyphunk | Country: United States
Thanks to Robert at Tubbyphunk for sending this in.
"Robert Page has had the pleasure of working alongside Cleveland College of Art & Design's prestigious Surface Design department, to create a promotional document which would enable the department to promote 36 students and two course, and create a 'wow' factor amongst its recipients.
The process involved a number of complex sourcing and research methods which led to a unique and tactile product to distribute to selected key industry figures at at the high profile Indigo event in Paris."
March 6, 2009 | 1 Comment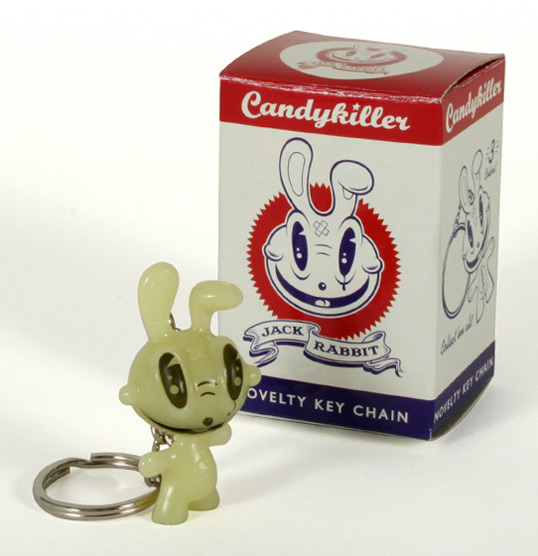 Designed by Brian Taylor | Country: United Kingdom | Buy it