April 15, 2009 | 1 Comment
Designed by Pentagram | Country: United States
"Kit Hinrichs and Erica Wilcott worked with the San Francisco Symphony to design the identity and promotional materials for the city's famous bi-annual Black and White Ball—a 5,000 person black-tie block party that took place on May 31 and featured over a dozen performers including Seal, Blues Traveler and Afrika Bambaataa performing in six venues arrayed in front of City Hall.
The mark suggests the evening's various entertainment venues at the same time as it references a modern city block. Its modular form allowed for a high degree of design flexibility and visibility across a range of communications from invitations to street banners while presenting an updated look and feel for this traditional city event that began back in 1956."
April 14, 2009 | No Comments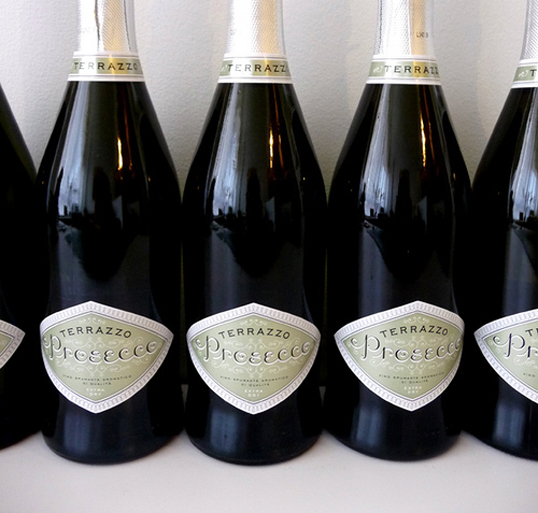 Art Direction: Louise Fili, Design & Lettering: Jessica Hische for Louise Fili Ltd. | Country: United States | Font: Copperplate
Beautiful wine label design with great care to the finer details.
April 13, 2009 | No Comments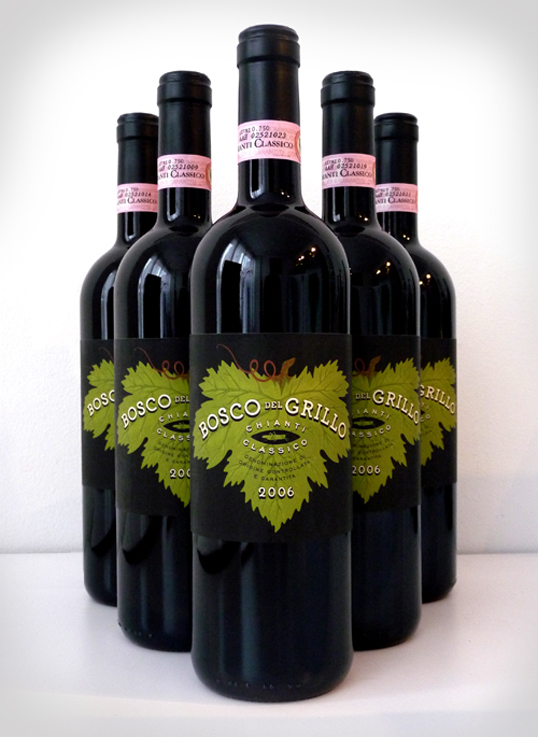 Art Direction: Louise Fili, Design & Lettering: Jessica Hische | Country: United States | Font: Archer
Bosco del Grillo is a very limited production Chianti Classico–fewer than 1000 cases were produced for this inaugural bottling. It is a blend of the finest Chianti Classico vinified by Geografico (80%) and a portion of the Merlot (20%) otherwise reserved for one of the winery's two "super-Tuscan" reds. Distinctive lots of Sangiovese and Canaiolo grapes are the result of year-round collaboration between a small group of Geografico's member growers, Geografico's staff vineyard manager, and Lorenzo Landi, Geografico's consulting enologist.
April 7, 2009 | 4 Comments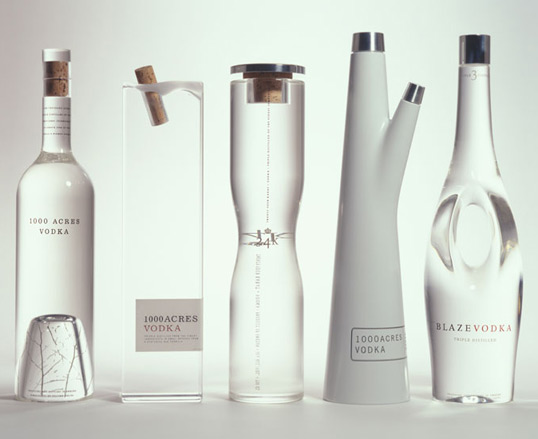 Designed by Arnell | Country: United States
Beautiful, unique and creative packaging from Arnell for 1000 Acres Vodka. This really demonstrates that there are no limits to custom glass manufacturing.
Via Daily Icon
April 7, 2009 | No Comments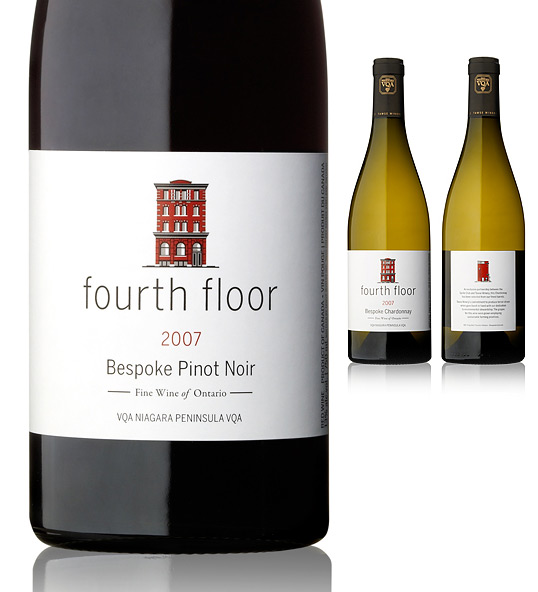 Designed by Brand & Tonic | Country: Canada
"Private members only! The Spoke Club, Toronto's not so secret exclusive hub-club for media, arts and entertainment folks just launched Fourth Floor, a select barrel bespoke wine series made by Tawse Winery. The label was awarded by contest open to club members only. Brand boutiquer's Brand & Tonic took the honors and a case of wine to boot."
April 3, 2009 | 2 Comments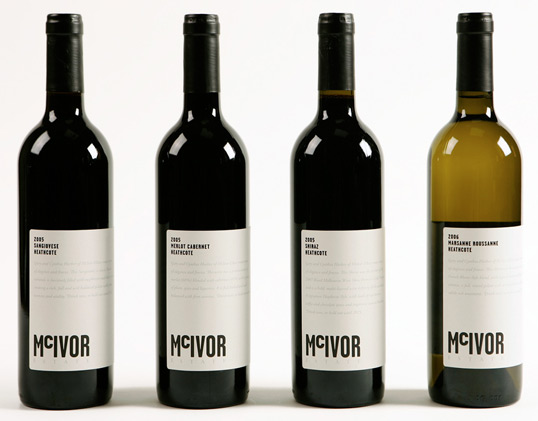 Designed by Swear Words | Country: Australia
"The true story of the man McIvor remains a mystery. Surveyor? Bushie? Local pioneer? Whatever the legend, his notoriety named a region, upon which the McIvor Estate vineyard now thrives. Located in Heathcote Victoria, the vines grow in the sought-after granitic soil amongst dramatic scenery of large granite boulders, majestic rolling hills and imposing gullies framed by the Great Dividing Range.
After many tasting sessions Swear Words came up with a bold, elegant identity and complementary packaging to communicate the essence of the vineyard and the legend."
April 2, 2009 | 1 Comment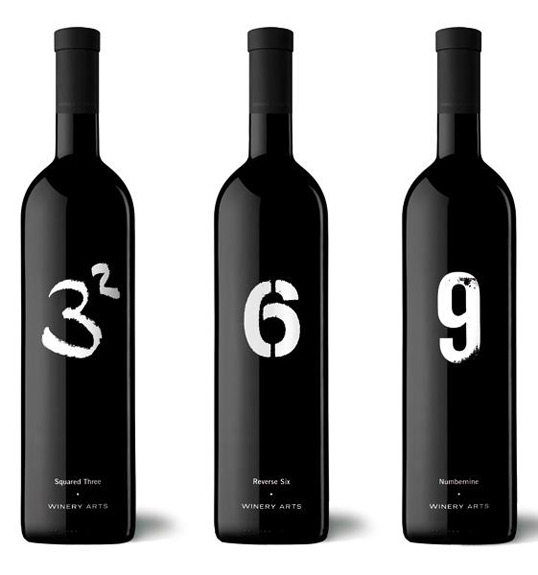 Designed by Moruba | Country: Spain
Moruba produced these simple yet very clever designs for Winery Arts. Based on the sum of nine, each bottle represents this number in a unique and minimal way.
March 31, 2009 | 2 Comments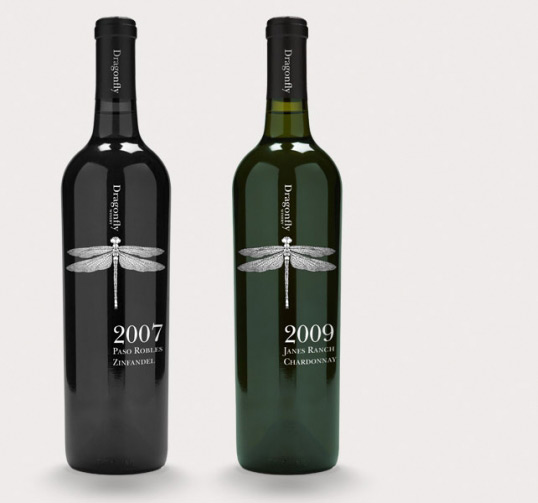 Designed by Hype Type Studio | Country: United Kingdom | Font: Baskerville
"A boutique label from California, Dragonfly Winery is focused on producing small quantities of ultra premium terrior driven wines, paired with a unique winemaking style.
We were approached by Dragonfly to rejuvenated their wine packaging & brand identity. Our solution was a simple, clean typographic approach alongside a Dragonfly illustration creating a strong, modern visual identity.
The application takes the form of a 1 colour screen to the bottle. The logotype on the neck label is silver foiled onto black, making for easy identification when the bottle is stored amongst other wines."
March 29, 2009 | 3 Comments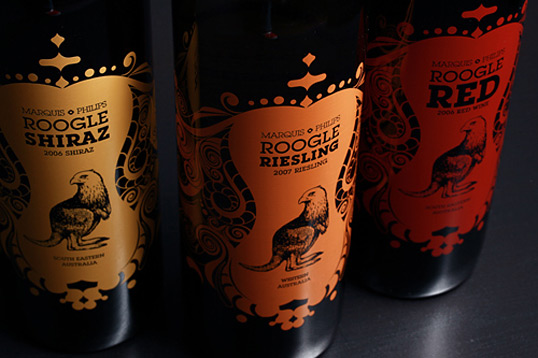 Designed by Adhemas Batista | Country: United States/Australia | Fonts: ITC Lubalin Graph
The Grateful Palate is a unique food brand with creative and tasteful products specialized in the US and Australian markets. With an enormous and very creative wine product line brands such as 'Evil', 'Bitch' and the 'Roogle' a medieval creature half eagle, half kangaroo. Adhemas Batista was invited to create a whole new identity for the new franchise product line named 'Baby Roogle'."
March 29, 2009 | No Comments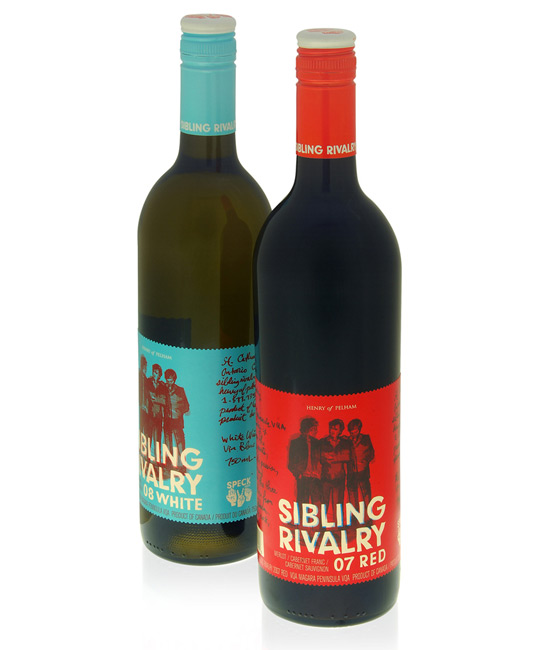 Designed by Insite Design | Country: Canada | Font: Futura
"Sibling Rivalry is a blend of the talent, passion and inspiration of the 3 Speck brothers behind the formidable wine talent of Henry of Pelham, one of Canada's most successful and respected wineries.
Ontario wineries are renowned for making exceptional however classical varietal focused wines. To step outside this constraint, and to showcase the beauty in blending wine from within an estate, the Speck brothers produced Sibling Rivalry.