October 6, 2010 | No Comments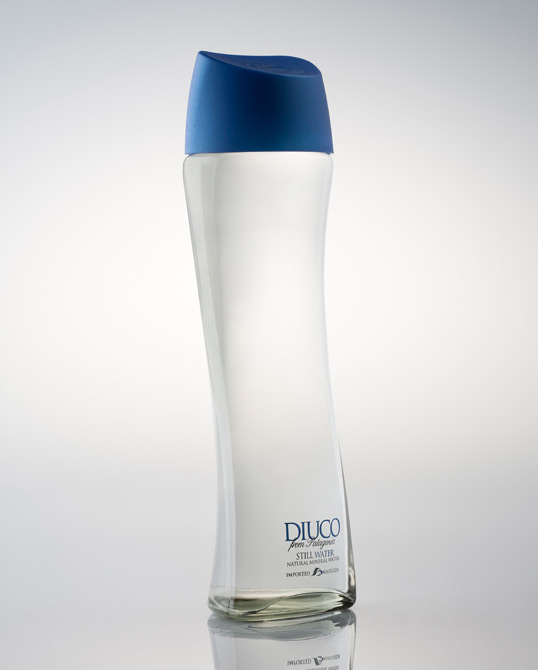 Designed by Plasmica Buro, Snail Studio & Wolk Design | Country:  Argentina
"Diuco from Patagonia is the perfect blend between the highest purity and innovative design. In order to fully represent our statement we needed to create not only a bottle that expresses purity and fluidity but also a mini fridge that would take the concept to the standard we wanted to. Simple lines inspired by nature. Diuco's mini fridge cools the bottle in 15 minutes to tasting temperature, allowing the customer to truly experience Patagonian Purity."
October 6, 2010 | No Comments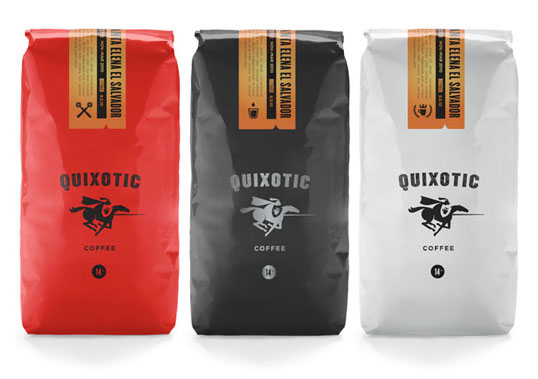 Designed by Studio Minneapolis | Country: United States
Simple type and logo driven packaging concepts using a bold range of colours to differentiate coffee types.
October 6, 2010 | No Comments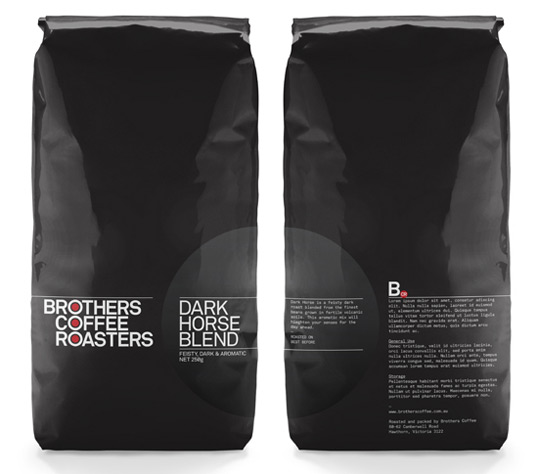 Designed by Verse | Country: Australia
"Coming from a science background, Nathan (the roaster behind Brothers Coffee Roasters) has approached roasting coffee with the same methodical reasoning as science. Using this as inspiration, the marque created for Brothers takes reference from the periodic table while the full logotype is inspired from the process of roasting the coffee. A whole range of 12 blends are in production, all featuring a different coloured circle on the packaging to appropriately represent the blend."
October 5, 2010 | No Comments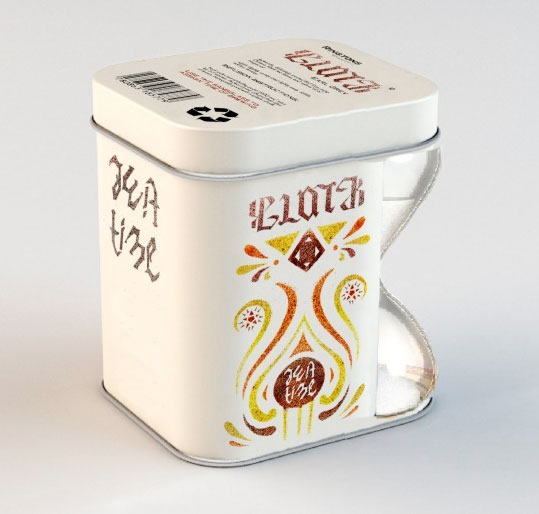 Designed by Darya Aksyuta | Country: Russia
This is the packaging design for Rington's tea range called Tea Time. I used Sand glasses to assign time of brewing for each special sort of tea. In order to make the name of the range and the sort of the tea readable upside down, I worked out special typographical compositions, ambigrams.
October 4, 2010 | 4 Comments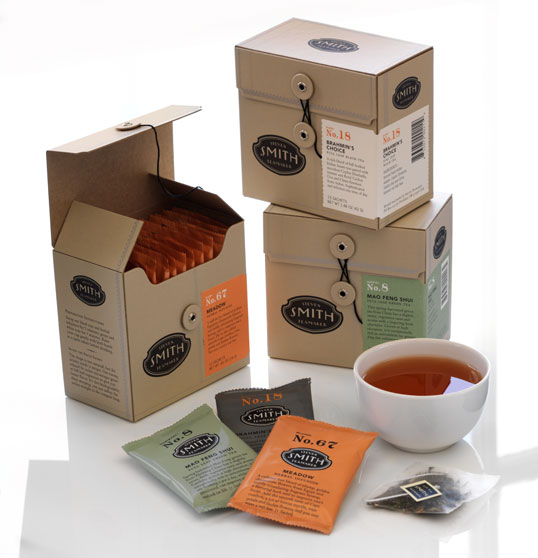 Designed by Sandstrom Partners | Country: United States | Fonts: New Yorker Type, Avenir, Depot
These gorgeous tea boxes, sachets and bags are made to an exceptional level of quality. Beautiful labels wrap around the front and side of the box, and lovely details like die cut box flaps and string tie closures make this packaging extra special.
October 3, 2010 | No Comments
Designed by Platform | Country: United States
"Like Sushi or Acupuncture, Japanese ideas for health and wellness have proven refreshingly wise. Rooted in traditional Kampo technique, arrives then as the revival of bottled tea — offering five formulas that balance ancient wisdom with modern taste.
The most preferred bottled tea brand in the Japanese market, the opportunity then was to develop a new and comprehensive Brand Strategy, Identity, and Packaging System for Sokenbicha to grow into new markets authentically, consistently, and powerfully, without being lost in translation."
September 29, 2010 | No Comments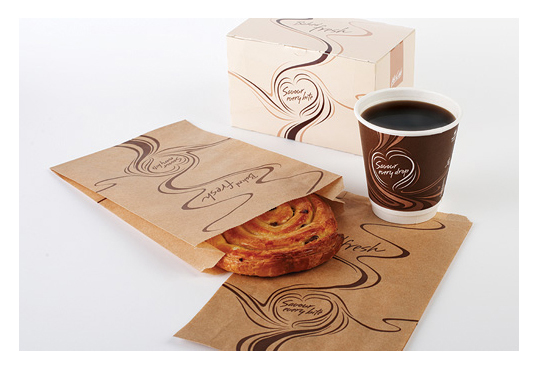 Designed by There | Country: Australia
"After winning a 3-way creative pitch, we recently created a more 'premium yet playful' look for the entire McCafé packing range, extending to various sizes of hot & cold drink cups, wraps, bags and takeaway boxes. The new look and feel captures the emotional benefits from the sensory experience surrounding coffee, whilst giving a reassurance of quality and positioning McCafé as the benchmark for packaging design in the cluttered coffee chain market."
September 25, 2010 | 8 Comments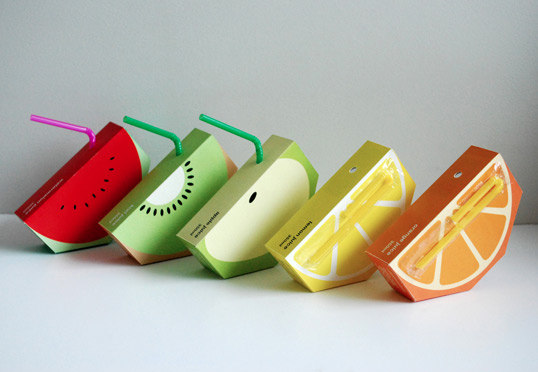 Designed by Yunyeen Yong | Country: Australia
"Jooze is a fictional company that manufactures fresh fruit juices, catered especially to kindergarten and primary school students. It is a company that believes that healthy eating habits should begin at a very young age.
The shape of the logo is inspired by the shape of a sliced fruit, and the handwritten typeface used is to portray a sense of fun, hands-on personality and characteristic that appeals to kids and toddlers. The logo also consists of singular bright colours, which may vary depending on the flavour of the juice. This would hopefully be a recognisable icon whereby children can relate and connect to the brand.
September 24, 2010 | No Comments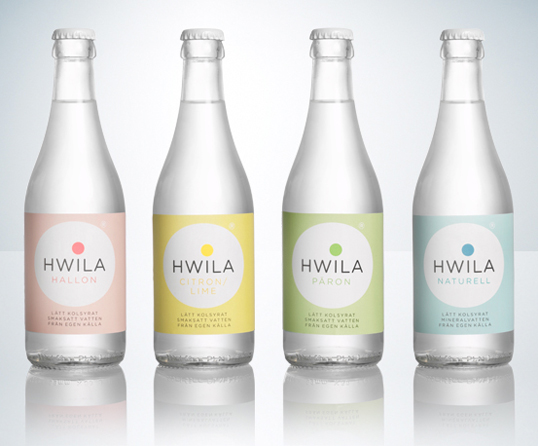 Designed by Neumeister | Country: Sweden
"Input: Hwila is a natural mineral water from Vimmerby, Sweden, a brand owned by one of Sweden's oldest breweries; Åbro. After many years Hwila needed an update — it was time to modernize, for a younger target group, without loosing the positive values connected with the brand.
Output: With this redesign we were concerned to find a formula whereby it was possible to constantly being able to update the design, with out ever loosing contact with its heritage. The simplicity, purity — the restfulness — was the main idea were colours and shapes signal different variations of the mineral water – sparkling, non-sparkling, taste etc. A modern, youthful, design. Easy to apply on either cans, glass or PET-bottles. Large or small.
Outcome: Pure and rigorous, Hwila really makes a point in any store. Creating true shelf impact without screaming. Just released."
September 24, 2010 | No Comments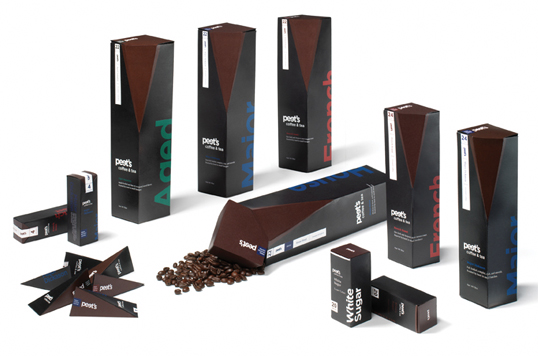 Designed by Chul Lee | Country: United States
"The redesign of Peet's coffee and tea is inspired by the energetic quality of social gatherings. The bold triangles of the package create a focal point redirecting the customers to the type of coffee blend. The elongated packaging stands high from all the competitors keeping the coffee fresh by using a resealable premium grade adhesive that is easy to open and easy to close."