August 23, 2010 | 3 Comments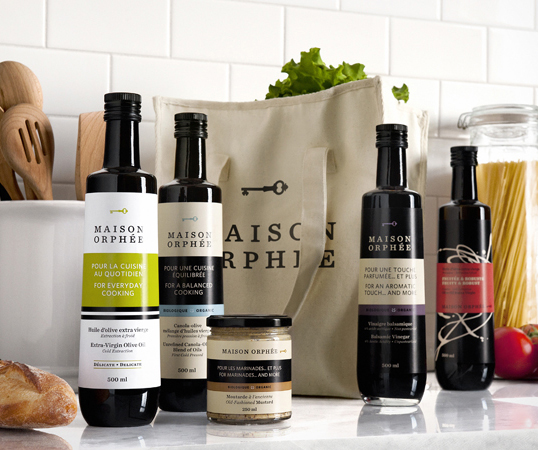 Designed by lg2boutique | Country: Canada
"Innovation on the shelves while quenching a thrist for consumer experimentation.
Plan a brand strategy that rests on the juxtaposition of the tradition of European master oils with the modern, dynamic approach of the company's leaders. The packaging capitalizes on the growing trend amongst consumers to use certain products for cooking and others for tasting. Two very distinct lines were created under the same umbrella brand: one line for daily use in the kitchen (functional) and another for tasting (aspirational).
Create the entire packaging of 24 products from the choice of the bottle to the labels of each line."
August 18, 2010 | 4 Comments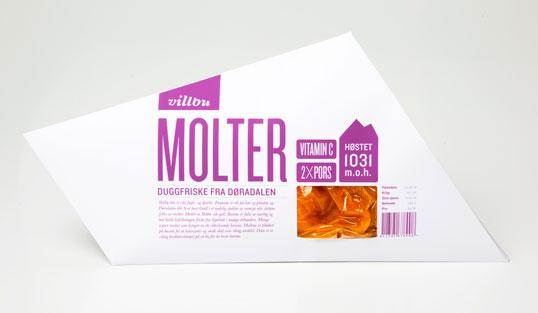 Designed by Kathrine Winther Hansen, Audun Stien & Kristoffer Christiansen | Country: Norway
"Meat producer "Villbu" delivers game meat to the people. The clean design tells us about the pure product, 100% natural without spices or other additives. The shape of the packaging is inspired from the terrain where the animal lives."
Ørret = Brown Trout
Hjort = Deer
Molter = Cloudberries
Rype = Moutain Grouse
August 16, 2010 | 5 Comments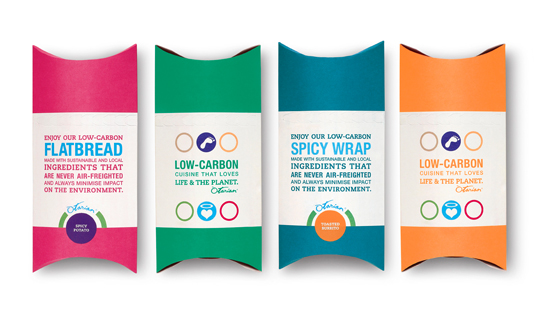 Designed by Pearlfisher | Country: United Kingdom
"Pearlfisher has designed the artwork for food packaging and restaurant menus for new sustainable restaurant chain Otarian – already open in New York and opening in London on 18 August.
Otarian, a new boutique fast-casual restaurant chain, is set to change the face of the London and New York food scenes when it opens this spring, becoming the first global chain to comprehensively carbon footprint every item on its vegetarian menu to internationally recognised standards. The new concept places sustainability at its heart, fusing a passion for the environment with a passion for great food to create a mouth watering dining experience that is also good for the planet.
August 13, 2010 | 2 Comments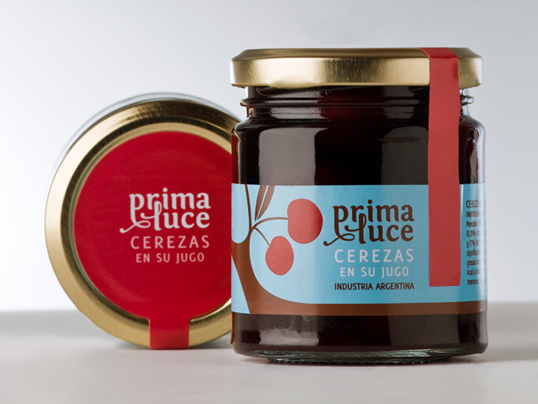 Designed by Campoy Príncipi Domenech | Country: Argentina
Nice clean work from Argentinian design company Campoy Príncipi Domenech. The typography, simple illustration, primary color palette and jar shape, all come together nicely for this cherry jam.
August 10, 2010 | 11 Comments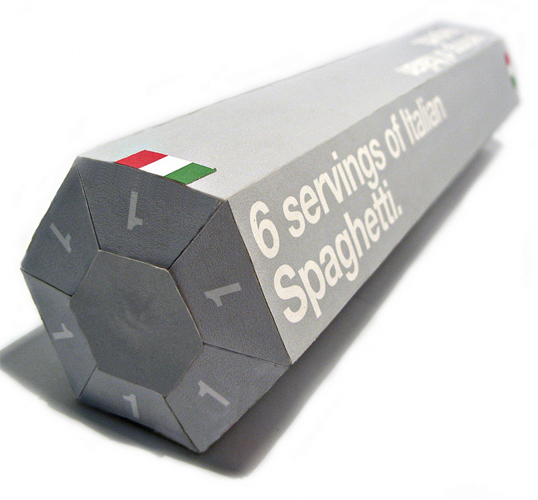 Designed by Neal Fletcher | Country: United Kingdom
"We were asked to choose one of five difficult objects to package, I chose spaghetti. I wanted to address a problem I always have when cooking spaghetti, that problem being that I always use too much. So I somehow wanted to build something into the packaging that aided portion control, so I came up with this Hexagonal Prism, 6 sided; thus there are six servings. It's refillable and reusable and there's also the potential for more shapes, for example triangle: 3 servings, octagon: 8 servings etc."
August 9, 2010 | 9 Comments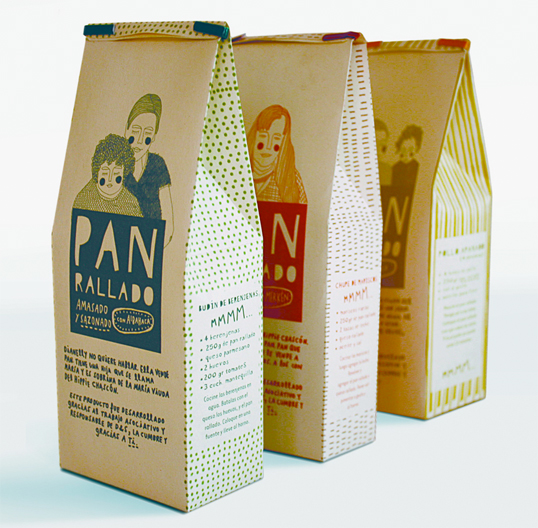 Designed by Fran Aldea | Country: Chile
"The objective is to make design a fundamental link among different disciplines to solve a problem observed in the informal sale of food. I propose the creation of grated bread from the surplus of production in the sale of bread on the highways of my country. These leftovers are currently thrown away. The project is also contributing to the inclusion of a lower income segment of society.
The idea of incorporating flavors to the bread responds to current market needs and to a diversification strategy. The flavors chosen were basil, garlic and merken (a Chilean spice)."
August 3, 2010 | No Comments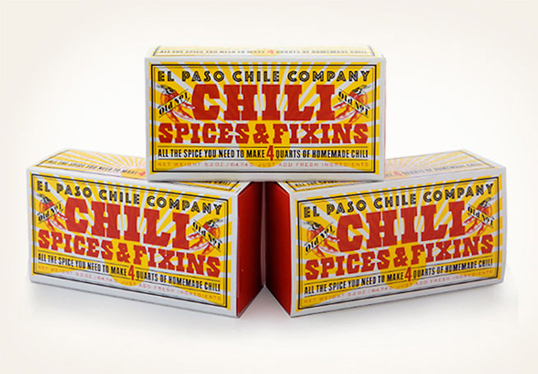 Designed by Louise Fili | Country: United States
"Using wood type faces and bold primary colors gives this chili mix, which comes in a kitchen-match box, its spicy allure. The brand was extended to a lively line of BBQ products."
August 2, 2010 | 5 Comments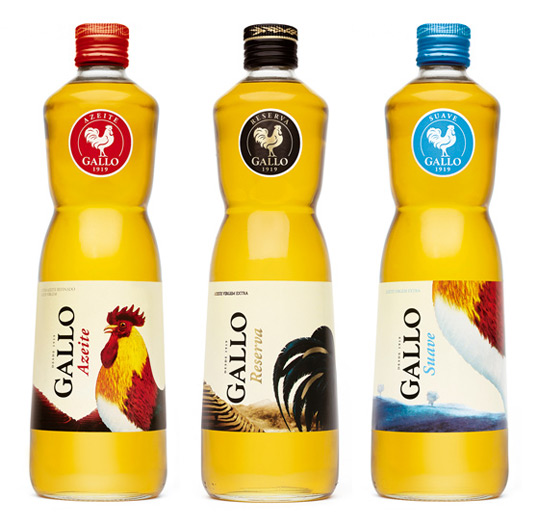 Designed by Pearlfisher | Country: United Kingdom
"Redesign Gallo to restore the brand's position as the undisputed leader in Portuguese olive oil."
July 31, 2010 | 1 Comment
Designed by Phurbu Dolma | Country: United States
"This was a branding and packaging project for a luxury food line which carried exotic extracts. This particular line focused on floral extracts, (Rose and Lavender) which can be used in foods such as baking. Exotiqué emphasizes on quality, style, authenticity and needed a distinctive visual and structural style to evoke the brands personality and tone. The lasting message of the brand is to portray cooking as an art form and the fine ingredients you use to cook as the medium in which you create your artwork."
July 30, 2010 | 5 Comments
Designed by Holmes & Marchant | Country: United Kingdom
"But it's the Copas turkey that is the real hero. A fine product demands fine packaging – highly crafted, authentic & ethical. Telling the true Copas story on the packaging was essential.