June 22, 2010 | 8 Comments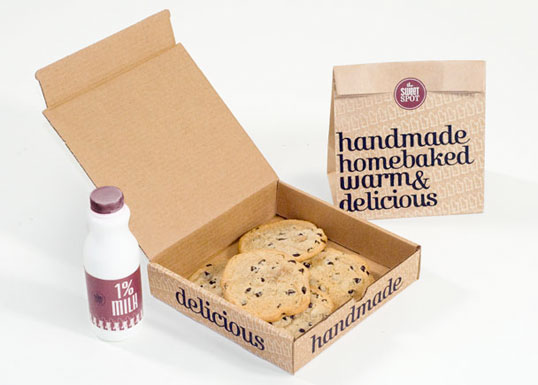 Designed by Kayd Mustonen | Country: United States
"The Sweet Spot is a home-baked cookie delivery service.  Through its use of kraft paper, the packaging is able to convey the handmade aspects of the baking experience.  Warm colors combined with three custom screen-printed patterns further accentuate the handmade, home-baked themes of the product. Overall, the identity for this company is as warm and comforting as the cookies it promises to deliver."
June 19, 2010 | 1 Comment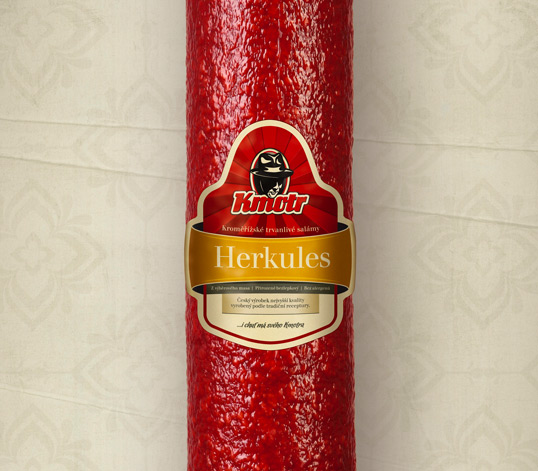 Designed by Toman Design | Country: Czech Republic
"Rebranding of well known Czech salami brand. New packaging with logo facelift and new 'comic' visual communication of the brand. Kmotr means Godfather in Czech"
June 17, 2010 | 7 Comments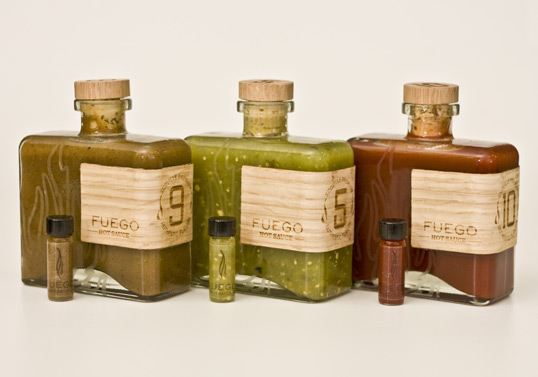 Designed by Stephanie Hughes | Country: United States
"Fuego Hot Sauce is an authentic & engaging way to spice up your dishes. Each blend has a different heat level and flavor that pairs with a variety of food. The Fuego Heat Guide and Recipe book explains the background of each pepper and suggests recipes that correspond with each unique flavor level on the Scoville Heat Scale. I wanted to evoke the authentic feel of the sauces and showcase their natural colors and flavors. By giving the product a sturdy bottle and hearty labeling system, people can feel confident using the product and know exactly what level they use according to their color and scaling system."
June 13, 2010 | 6 Comments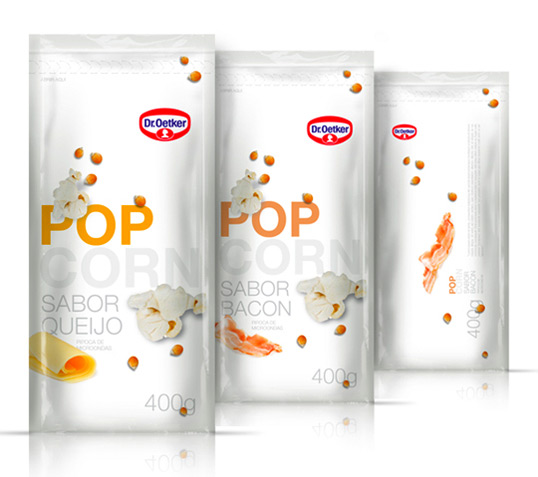 Designed by Diego Aguilar | Country: Brazil
Some more work from Brazilian design student Diego Aguilar. Check out more of his work in our previous post.
"This packaging for microwave popcorn design created by Diego Aguilar, possess a great advantage and market design. Very practical, possessed opening at the top of the pack, and an elegant and sophisticated design, highlighting ingredients attract consumers to the special flavor of popcorn. Unlike all of the packages on the market, has great call quality of igrendientes used in manufacturing, making it a premium product."
June 11, 2010 | 3 Comments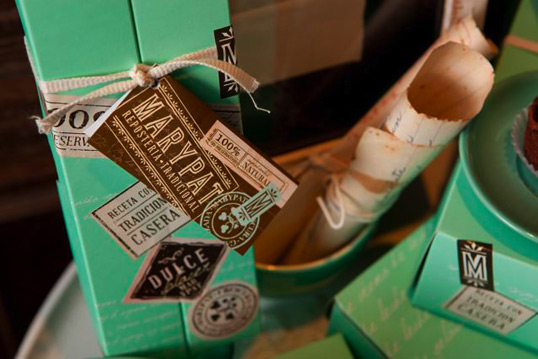 Designed by Walnut Studio | Country: United States
"The product is totally natural and only accesible by delivery… It just made me dream about all the places this products will end up. That took me to remember those vintage french suitcases filled with stamps of interesting, romantic places they went to.
I've designed a set of stamps and stickers that are placed randomly on every box and bag, and then tied in an old fashion way to make it all a unique experience."
June 10, 2010 | 6 Comments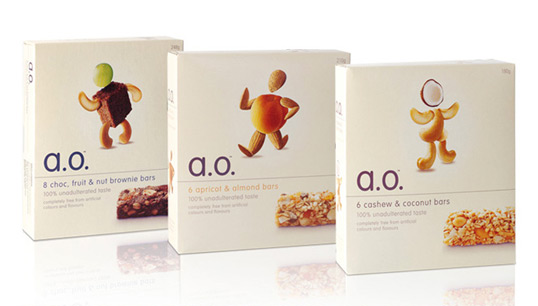 Designed by Cowan | Country: Australia
"Adults Only – Muesli bars have traditionally been perceived by consumers as a kids' snack, finding their way into many school lunchboxes. Whilst there some adult products in the market, no brand offered a 'wholefood' style product with delicious taste. The product offering is best described as 'unadulterated taste' and the brand name A.O. talks directly to the target market.
The introduction of the product characters is a humourous and engaging way of communicating the brand proposition of real, wholefood ingredients. The characters formed the basis of the creative across all communication. Clean, simple typography and layout challenged the 'clutter' of the existing category."
June 8, 2010 | 1 Comment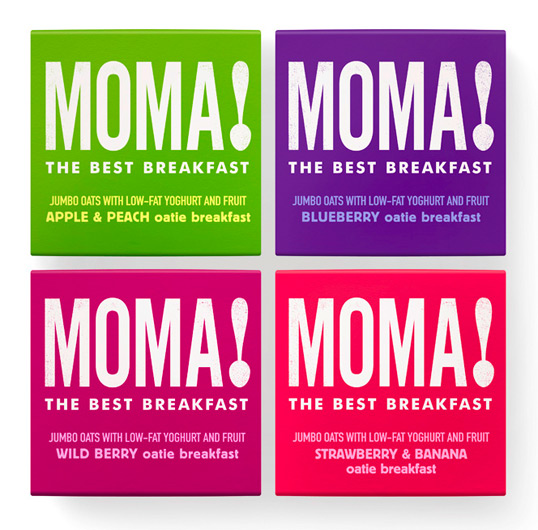 Designed by Pearlfisher | Country: United Kingdom
"Launched in 2006, Moma challenged the 'coffee and croissant' breakfast by producing healthy, energising and delicious take-away breakfast options based on a version of the 'bircher muesli'. From one initial stall at Waterloo station, Moma now has eight custom built stalls in Central London railway stations and also supplies many other outlets, offices and business including Virgin Atlantic, the BBC and Selfridges.
Pearlfisher Creative Director Natalie Chung, said, "The brand has done phenomenally well in a relatively short space of time but needed to create greater stand out and impact. We took the power of the language and robustness of political campaigns as our 'muse' and essentially created a ' call to action' element within the packaging and identity. The new colour palette is natural and foody but the design and typography is deliberately bold, direct and motivational to reflect the single-minded nature of the food offer."
June 7, 2010 | 3 Comments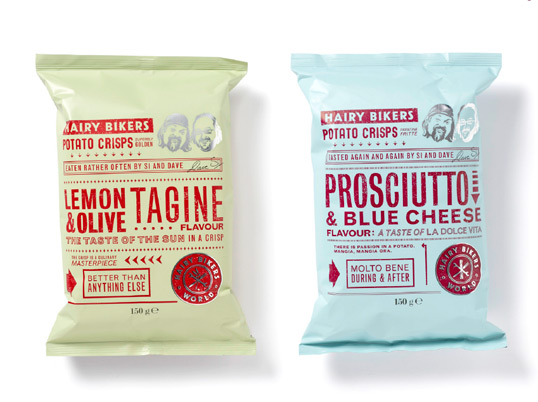 Designed by Here | Country: United Kingdom | Font used: Bureau Grot
Some new work from UK based Here Design. Fun type driven packaging for Hairy Bikers potato crisps. Incorporating the foil substrate into the design is a nice and subtle touch.
June 6, 2010 | 1 Comment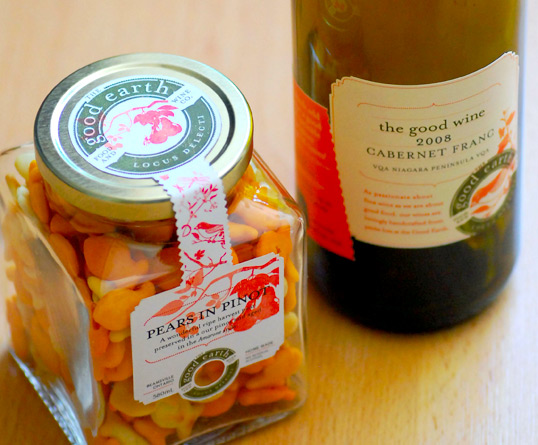 Designed by Insite Design | Country: Canada | Fonts used: Mrs Eaves
"Truly the health of a wine region is measured by what exists in the spaces between the vines. Niagara has a very healthy and quickly growing region thanks to pioneers in food and experience culture like Nicolette Novak of the Good Earth Cooking School located in the Beamsville Ontario tender fruit belt and respected viticultural area.
After a successful 15 or so years of creating and building one of the regions most exciting farm to table cooking experiences, Nicolette was itchy to throw her hat into the wine arena. With the delicate urging of her peers including Ed Madronich of famed Flat Rock Cellars in Jordan, Nicolette was convinced to go for it in a brand perspective and approached us to look at repositioning her well know identity while also coming up with brand extensions for her wine and food packaging.
June 4, 2010 | 8 Comments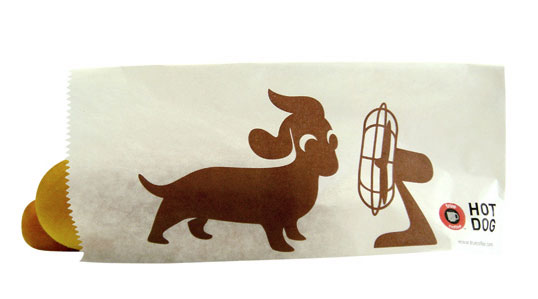 Designed by Subconscious Co. | Country: Thailand
"TrueCoffee, the coffee shop that serves coffee and bakery with high-speed internet in a cozy and modern atmosphere, expanded their food range to a quick bites like hot dogs. They wanted hot dog packaging that would attract teenagers. We reinterpreted the word 'hot dog' and created a lovely dachshund character."