June 4, 2011 | 4 Comments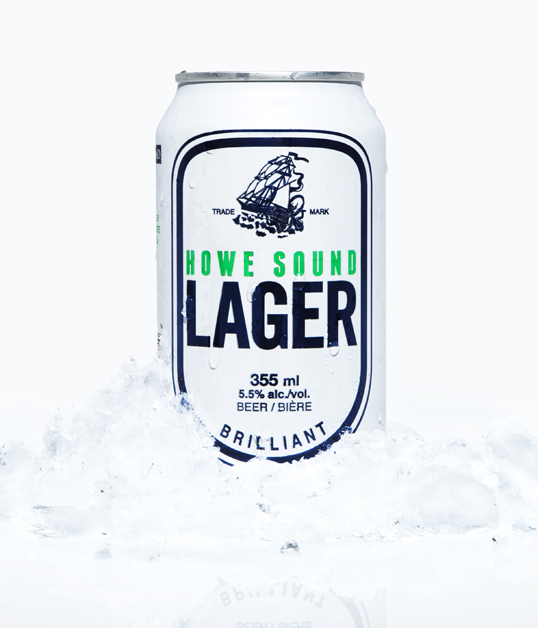 Designed by The Antidote Inc. | Country: Canada
"The packaging was inspired by the geography of the Howe Sound region of coastal British Columbia and the European explorers that first charted these waters.
Being the southernmost fjord in North America, Howe Sound has verdant green mountains with snow-capped peaks rising out of deep blue glacial waters. This is represented in the colour scheme. The design itself honours maritime history, particularly old cartography which knew little of these mysterious waters perched on the edge of the earth and therefore filled them with sea monsters. The goal was to create a simple, bold and timeless looking can that respects and continues over a century of classic North American beer can design.
Artwork and design assistance came from Also Known As in Vancouver, BC and Stacey Rozich in Seattle, WA. The 100% recyclable 6-pack topper was created by PakTech in Eugene, OR to our colour Pantone specifications."
May 28, 2011 | 2 Comments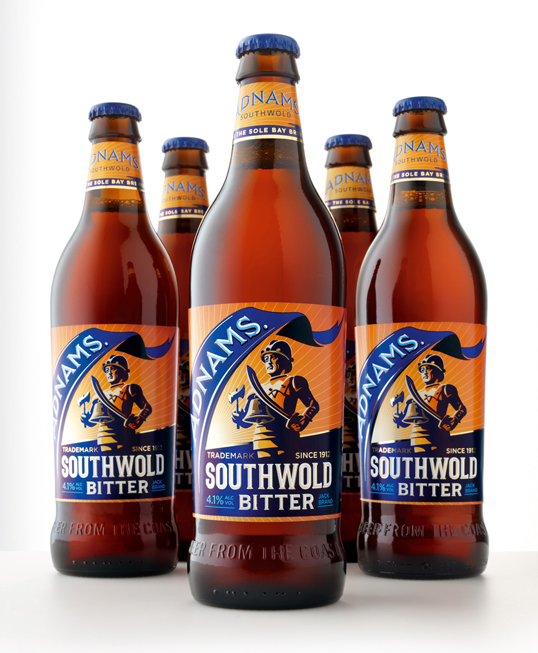 Designed by CookChick Design | Country: United Kingdom
"CookChick Design has re-designed Adnams no.1 real ale brand. The re-design covers pump clips and take home packaging along with other launch & POS items.
Following the succesful re-design of Adnams Broadside last year and as part of an on going programme, CookChick has been tasked with enhancing the unique character and stories behind each of the brands in the Adnams beer portfolio.
The 'Southwold Jack' has been evolved as the brand icon for Southwold Bitter. It is an icon that has been associated with Adnams for almost 100 years. A statue synonymous with the town since 1400 can still be found today in the heart of the town 'protecting' the brewery."
May 26, 2011 | 2 Comments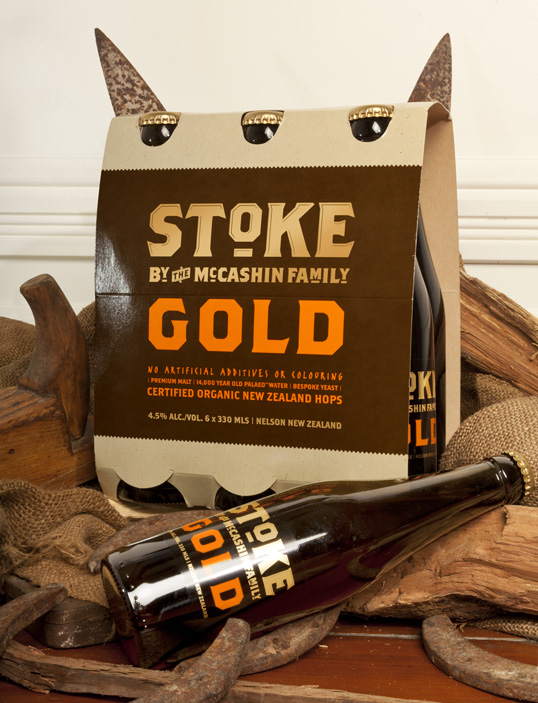 Designed by Supply | Country: New Zealand
"McCashin's Brewery was born in 1980 when hotelier and former All-Black Terry McCashin and his wife, Bev, bought the Rochdale Cider Factory in the small upper-South Island city of Nelson New Zealand. They had a plan to brew a distinctive, high-quality beer, McCashin's Brewery soon became the most successful independent microbrewery in the country.
Its award-winning 100% naturally-brewed beer revolutionised the way beer was produced. and won the hearts and taste buds of the nation.
Now the next generation of McCashin's have carried on the tradition in this historic brewery, and created New Zealand's newest locally produced premium craft beer, Stoke.
This premium beer is batched brewed and tank conditioned for over 3 weeks. Using Nelson's famous organic hops, premium malt, bespoke yeast, contains no artificial additives or coloring, and to top it off 14,000 year old pure Palaeo water. The entire process from brewing to bottling happens on the site at Stoke.
May 23, 2011 | 2 Comments
May 23, 2011 | 1 Comment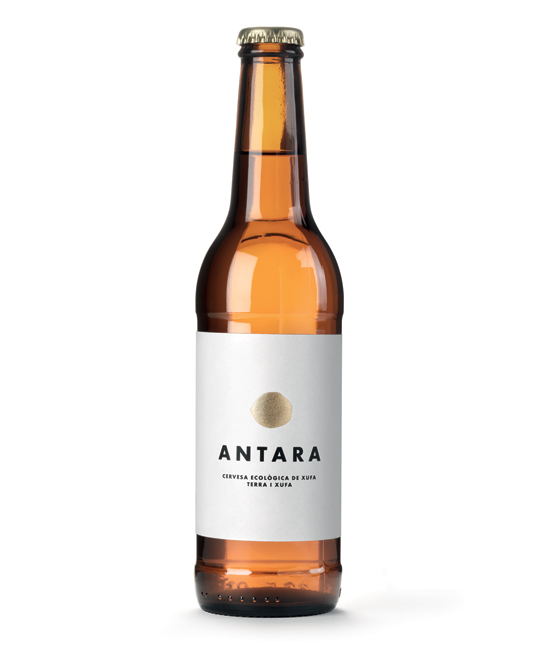 Designed by Dídac Ballester | Country: Spain
Ecological tiger nuts beer label.
May 18, 2011 | 1 Comment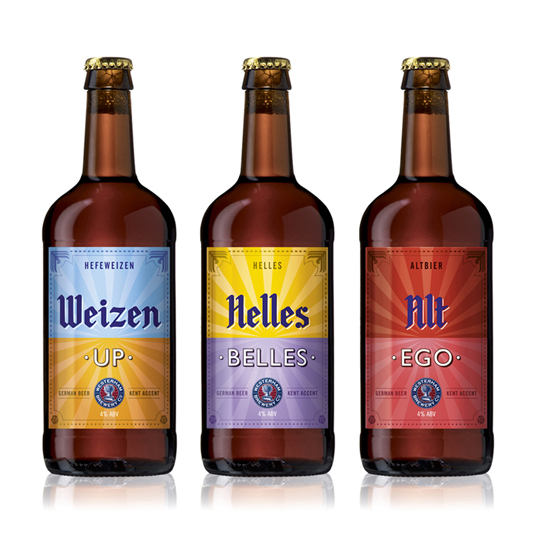 Designed by D. Studio | Country: United Kingdom
"The Westerham Brewery is one of Kent's finest craft brewers, producing exceptional real ales from locally sourced ingredients.
In partnership with their German friend and master brewer Markus Lotz, the Westerham Brewery brought together the best of each country's brewing processes to create a range of German style beers.
D. Studio came up with the strapline 'German beer, Kent accent' to reflect the coming together of the two great brewing nations. This idea was reflected in the label design with the top half featuring hand crafted German blackletter script and border styling whilst the bottom half was a more English affair.
D. Studio also created the names for the beers, which further expressed the idea and communicated the style of each beer with an anglo-German play on words."
April 30, 2011 | 7 Comments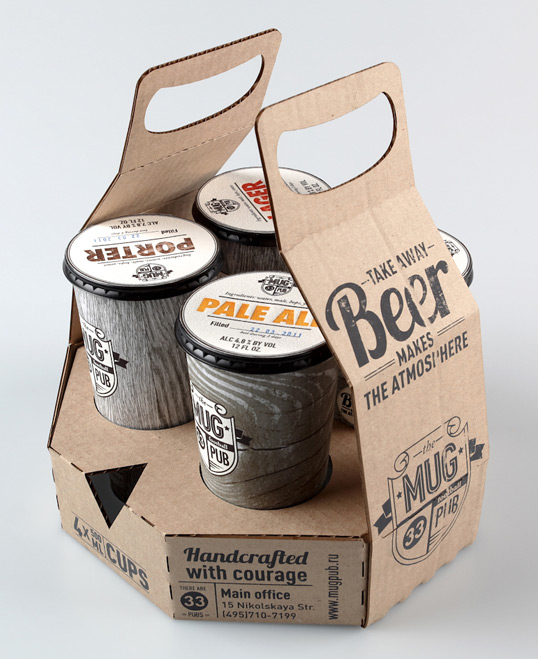 Designed by Ivan Maximov | Country: Russia
"This is the packaging design and re branding for the Mug Pub. Mug is a big chain of football pubs based in Moscow. This pub brews its own beer. It is a new concept for take away beer. Beer is filled into paper cups and a special sticker is put on the top for each to identify the different beers. The new cup combines the form of the traditional beer pint with the sustainability of recyclable paper cups."
April 17, 2011 | 3 Comments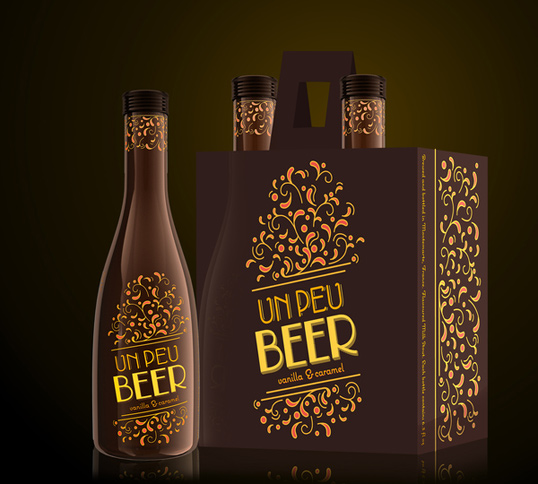 Designed by Sanyukta Kothari | Country: United States
"The dessert beer is called Un Peu, French for 'a little', which is exactly how an indulgence like this should be. It is bottled in small and slender 180 ml (6.3 fl. oz.) bottles, rather than the standard stubby 12 fl. oz. bottles, a size carefully chosen based on the unusual product category. It is also packaged in 2-packs, rather than 6-packs, as it is not boisterous frat-party beer meant to be consumed in giant quantities, but dessert beer, that calls for a more sophisticated and intimate drinking experience. Like a special date, with a close friend, or over fine conversation late into the night.
Drawing from the rich, warm colour palette of the Moulin Rouge and the ostentation, the label graphics depict the heady crescendo of flavours in the beer. The type is inspired by the French Art Nouveau typography of the late nineteenth century, and has been re-drawn and embellished to fit the modern context. The 2-pack has been designed to resemble a bag (similar to wine gift bags), perfect for gifting."
April 15, 2011 | No Comments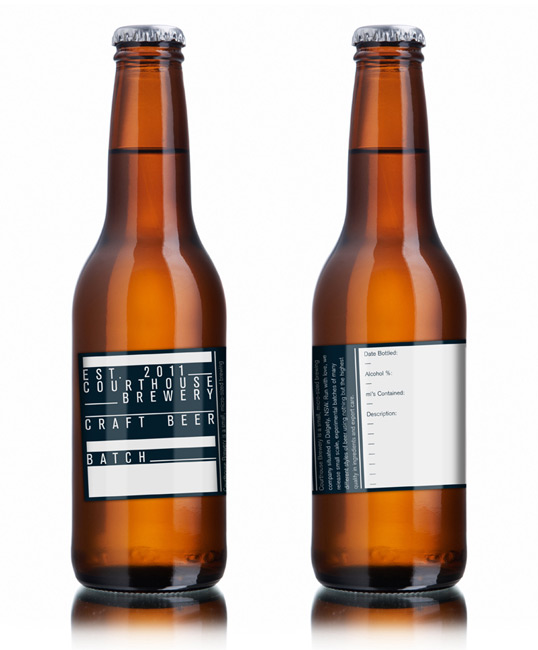 Designed by Timothy Batterham | Country: Australia
"Courthouse Brewery is an extremely small, family run brewery run out of the old Courthouse situated in Dalgety, NSW. While currently only brewing reasonably small batches for distribution amongst family and friends, the brewery has the capabilities of brewing on a far larger scale for commercial sale. The brewery wanted to create branding that could be used across all of their products as a generic label for the beer they brewed.
My solution was some branding that was, for convenience, printed on packaging tape, and could be cut and fitted to the individual bottles or to boxes of the beer for storage or distribution. I designed a generic label that could be used across all of their different brews and filled in individually or with another label in case they ever felt the need for the extra information for sale or storage purposes.
The branding concept was designed to communicate the same "fill in the blanks" idea that the labels were based on. This idea also communicated the kind of personal attention given to each batch of beer they make and shows the personal love and care this family has for their brewing."
April 12, 2011 | 3 Comments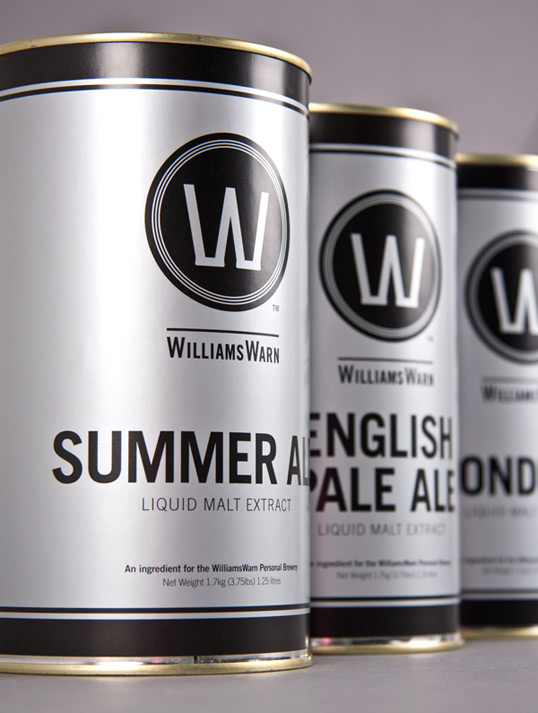 Designed by Studio Alexander | Country: New Zealand
"The WilliamsWarn is the world's first personal brewery. It produces commercial quality beer, chilled and straight from the tap in just 7 days. The packaging images were for the range of Liquid Malt Extract sold in conjunction with the machine. The idea behind the design was to carry through the aesthetics and simplicity of the machine with a premium feel."