May 14, 2009 | No Comments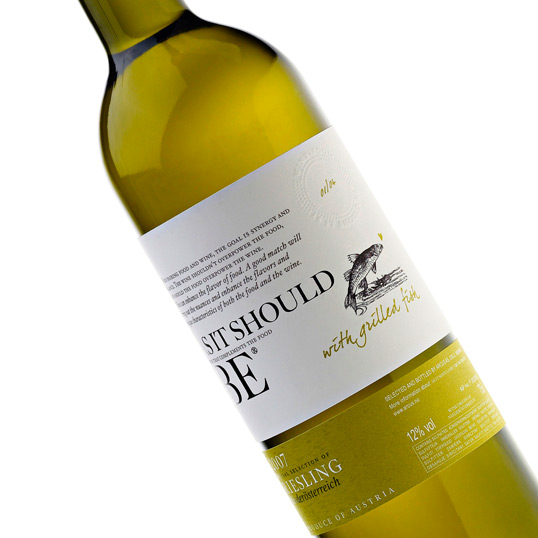 Designed by DesignersJourney | Country: Norway
"Food+Wine Concept. The idea for this wine was aiming to help all that people that dont know which wine to choose for which food. The result is a modern yet trustworthy and tasteful label."
May 14, 2009 | 4 Comments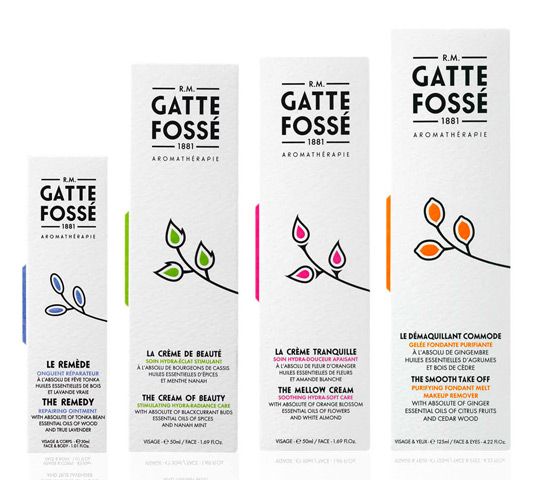 Designed by CA DESIGN | Creative Direction Tommaso Nicolao | Country: France
"The graphic concept behind this new cosmetic line is inspired by the codes of art deco. In the logo, the art deco reference is evident in the typography that conveys the historical savoir-faire of Mr. R.M.Gattefossé, who invented the aromatherapy industry in the 1930's. The pictographic system conveys the art deco codes in a more contemporary manner in order to translate the cutting-edge scientific know-how of the company, while also bringing fun and color to the aesthetic of the packaging.
The right side of the packaging plays a main role in the linear for merchandising presentation, completing the icon and displaying important product details.
The inside of the packaging reveals itself like a secret garden, inviting us to delve into the box and discover the history of the brand. This allowed us to avoid printing an internal leaflet, thereby reducing paper and respecting the ecological goals of the company, also suggested by the highly-textured snow-white Fredrigoni Tintoretto paper."
May 13, 2009 | No Comments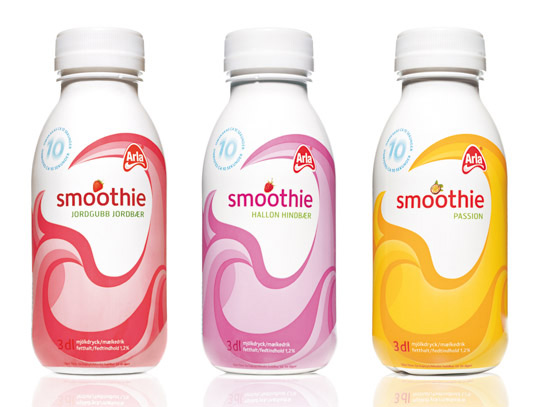 Designed by Happy Forsman & Bodenfors | Country: Sweden
"The word 'smoothie' is a delicious onomatopoeia and Happy's packaging adds to the appeal of the blended fruity yoghurt drink – the swirling movement of the graphic invites us to shake it up."
May 13, 2009 | 2 Comments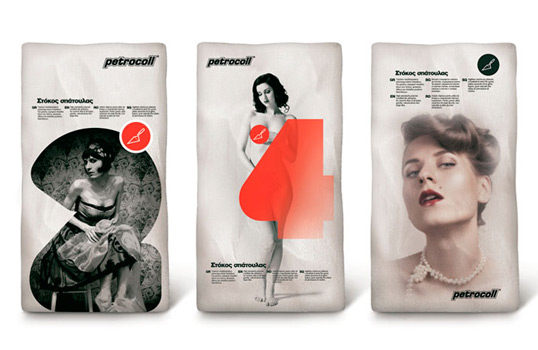 Designed by mousegraphics | Country: Greece
"This is the prettiest packaging of building materials I have ever seen! Normally there is little or nothing inspiring about the big bags of cement, but Mouse Graphics have gone in a new direction with their package design, and I can imagine that construction workers all over the world will thank them for it!"
Via Play Me Design
May 13, 2009 | 2 Comments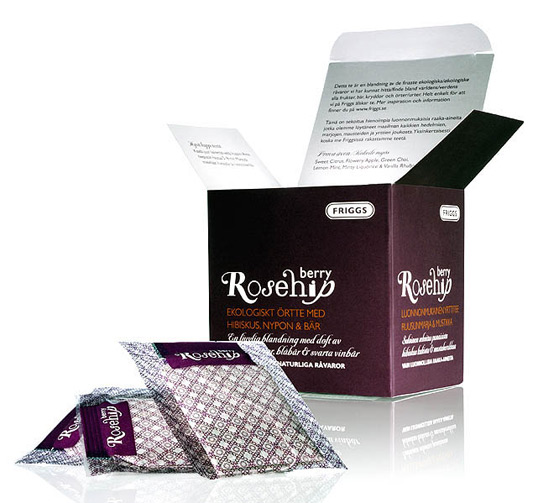 Designed by No Picnic | Country: Sweden
"No Picnic and Nine TPP has designed this Tea Selection for Friggs. The tea bags are made of compostable material, and with a barrier which preserves the taste without the need of any outer plastic packaging. The tea – which is made from 100% ecological and natural ingredients"
May 12, 2009 | 6 Comments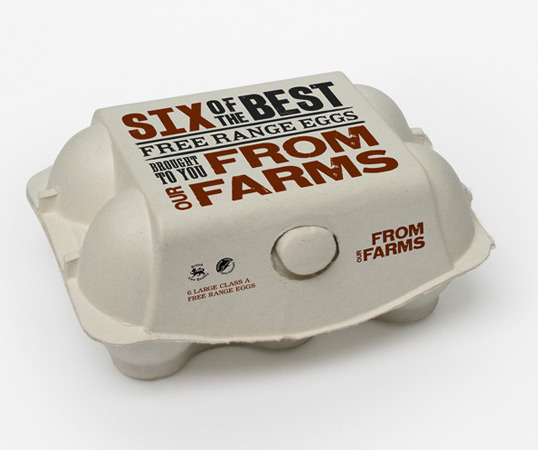 Designed by Si Thorpe | Country: United Kingdom
"Brand packaging for an ethicaly minded egg company, who specialise in organic, free range and traceable eggs."
May 12, 2009 | 1 Comment
Designed by Louise Fili | Country: United States
"A makeover for Irving Farm Coffee required a printed bag that could accommodate color-coded stickers for various flavors. The bag was inspired by 19th-century engravings and typography."
May 11, 2009 | 3 Comments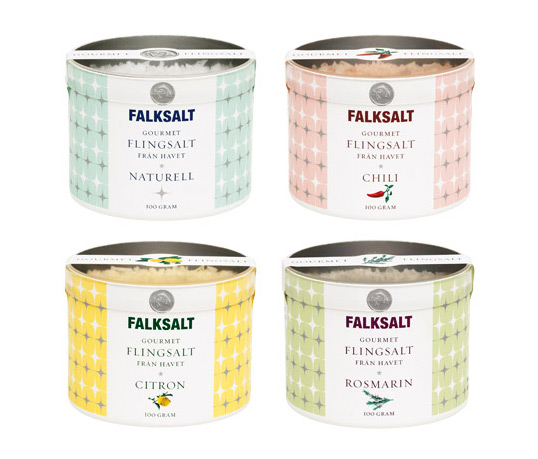 Designed by Happy Forsman & Bodenfors | Country: Sweden
"Salt is such an elemental ingredient – spice, condiment, preservative – we sometimes forget to see it in the grocery aisle. Happy's distinctive clear top on this pretty gourmet salt package makes it highly noticeable."
May 11, 2009 | 2 Comments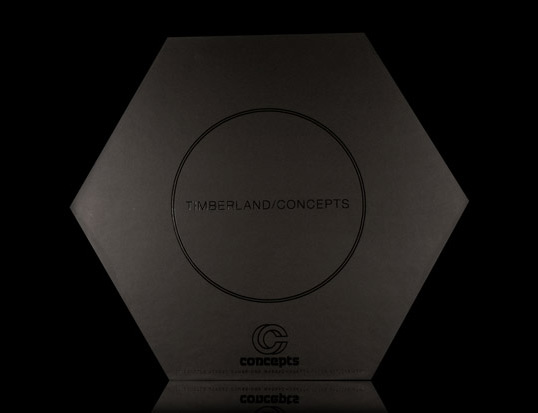 Designed by Creative Pilot | Country: United States
Boston based Creative Pilot just created this special hexagon box for Timberland's collaboration with Concepts for The Black Epi Leather 6″ Premium Boot.
May 10, 2009 | 2 Comments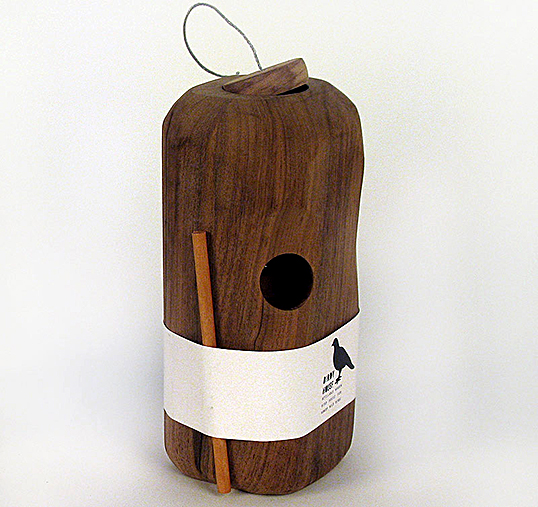 Designed by Azul Amuchastegui Bari | Country: Canada
"Azul's concept turned out to be both an object and a simple packaging to wrap pieces together. The walnut bird perch is separate to the seeds container and wrapped with a simple belt of paper. The food is available in a nice bird shape widowed box."