July 17, 2012 | 1 Comment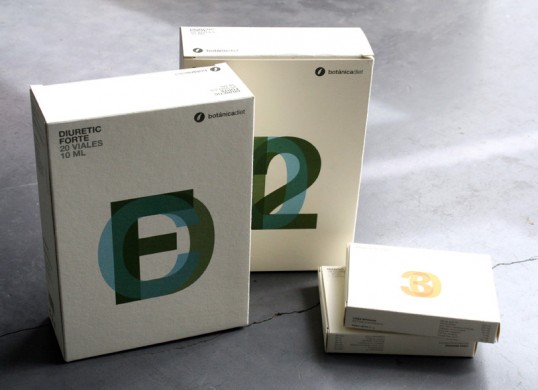 Designed by Grupo Habermas Comunicación | Country: Spain
"Packaging design for natural dietetic line Botanicadiet, from Botanicanutrients brand.
A simple and elegant design, where information, overprint details and the paper used (Antique Vellum Ivory, from Torrspapel brand) determine the final outcome."
July 17, 2012 | 4 Comments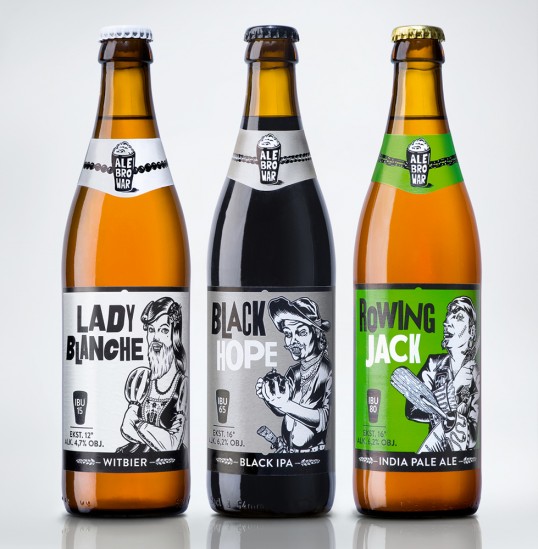 Designed by Ostecx Créative | Country: Poland
"Lady Blanche, Rowing Jack and Black Hope are first three beers brewed by AleBrowar, a new contract initiative from Poland. Brand has made its debut in may 2012 and from the beginning it bet on widening of horizons of Polish consumers. Which applies to both, brewed beer styles and graphic design of the project. That's the reason why we can see characters of bearded woman, oar-handed pirate and crazy prospector of new flavors on the labels of Witbier, India Pale Ale and Black India Pale Ale.
Names, packages and all materials that promote new brand was created by Ostecx Créative, advertising agency, which share beer passion of its clients. An inspiration for creating illustrations and designing of labels was history, origin and ingredients of first three beers. Agency also cared about expressing the character of AleBrowar project, which tries to foment a beer revolution on polish brewery market, started by craft and contracted breweries from the USA."
July 16, 2012 | 1 Comment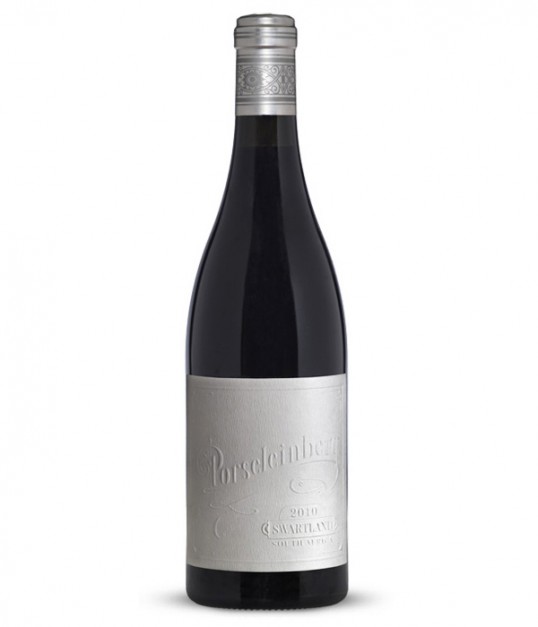 Designed by Fanakalo | Country: South Africa
"Porseleinberg, situated on top of a mountain in the Swartland has just released its first vintage. This wine is one of the most anticipated releases of all the new wine releases in South Africa this year, even though we designed the label two years ago. The aim was to design a premium wine that is both 'green' and unique. We proposed a wine label that that made use of the absolute minimum amount of printing. Letterpress printing has the smallest carbon footprint of all printing methods, so the owners of the farm decided to buy their own 1940's Heidelberg printer, and the winemaker took on the position of printer himself. It took a year to get the letterpress machine restored and up and running on the mountain, and another year for the wine to mature. The name Porseleinberg translates to Porcelain Mountain and the fragile white label draws its inspiration from porcelain, whilst the motifs on the neck and the blue colour on the back is derived from Delft tiles, which were a popular feature in historical Cape Dutch homes."
July 16, 2012 | 1 Comment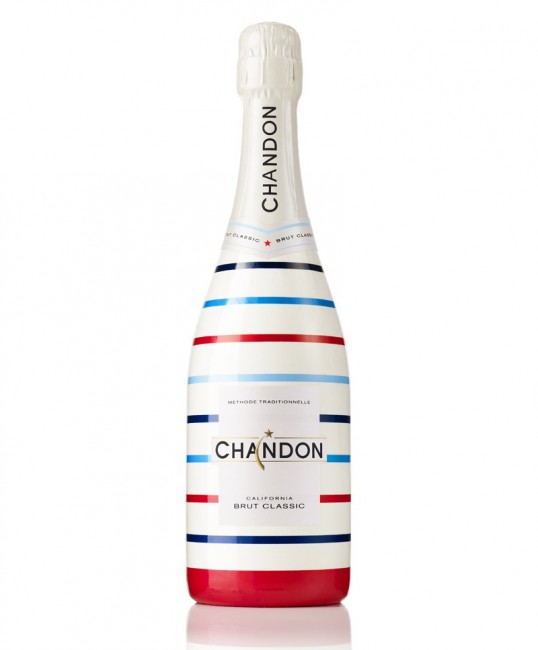 Designed by ButterflyCannon | Country: United Kingdom
"To celebrate Chandon's American Heritage, ButterflyCannon have created a limited edition summer bottle, inspired by the great "All-American Summer".
Wrapped from head to toe in classic red, white and blue stripes, the design for both the standard 750ml and 187ml bottles evoke a classic Hamptons-style yachting theme. ButterflyCannon also designed Chandon's limited edition ice-buckets, towels, tote bags, deck chairs and ice cream carts – all sporting the same American Summer theme.
"ButterflyCannon have managed to perfectly capture the essence of an American Summer for our limited edition bottles and in doing so created the perfect summertime accessory for our consumers" says Chloe Lloyd-Jones, Vice President ~ Wine Portfolio, LVMH."
July 15, 2012 | 2 Comments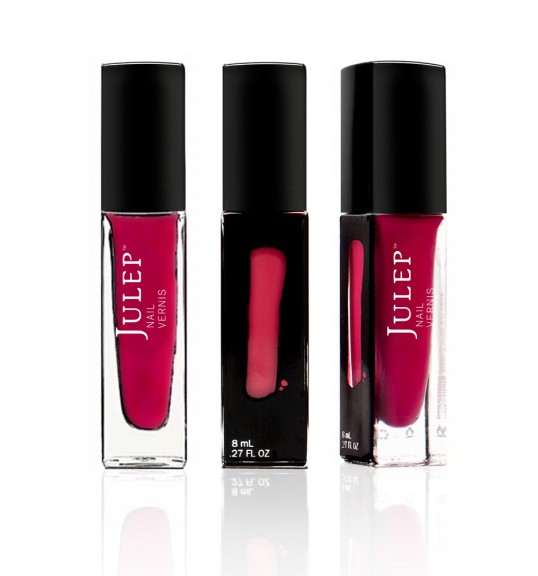 Designed by Turnstyle | Country: United States
"Julep Nail Parlors, with their trend-setting colors and toxin-free products, are cozy yet luxurious salons for healthier manicures and pedicures. For Julep, nail color lies at the intersection of beauty and fashion. It allows grown-up women to play, step out of their comfort zone and experiment with color and style. The company ethos is grounded in the "girlfriend" power of women emboldening each other to be their most vital, beautiful, confident, and happy. Popular with celebrities such as Anne Hathaway and Kate Hudson, Julep names their enamels after the stars they are inspired by. Blake is a sunny yellow, January is that perfect Betty Draper red and Gwyneth is a classic pink."
July 14, 2012 | 1 Comment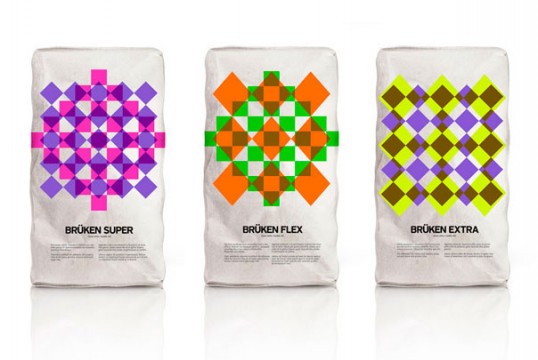 Designed by mousegraphics | Country: Greece
"Brief: it is a new brand name in the market, create a bold packaging that will stand out among its competition.
Audience: construction workers.
Design: on a simple white background -the adhesive base of the product- we placed an iconic tile design. In diamond shapes and remarkable, bold color combinations (variating according to skus), our choice creates an eye-catching vitraille or op-art effect. A real pleaser, without design extravaganzas, it is the discreet reminder of the creative labour of your hands."
July 13, 2012 | 3 Comments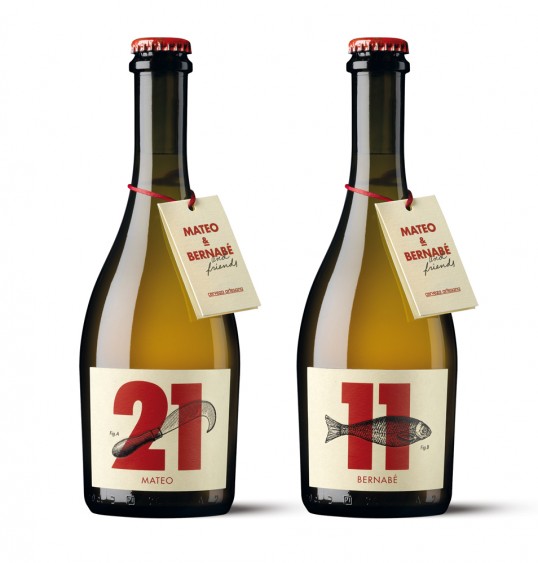 Designed by TSMGO | Country: Spain
"The task provided by the Project Management Team (TSMGO) to the Design Team (Estudio Moruba) was to create a visual poem that would give personality to each of the creations of Mateo & Bernabé with a graphical design both recognisable and full of meaning.
Each of the varieties of beer would have the personality of a saint (without the liturgy or religious components) to make them more personable. The characteristics of each variety would be seen more clearly and would tell the story of each Saint associated with the place of which he is patron, to invite the commemoration of the saint's day."
July 13, 2012 | 1 Comment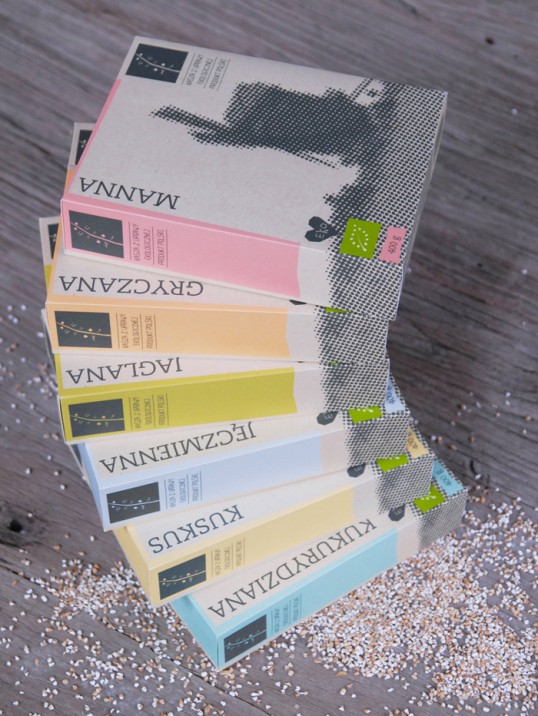 Designed by Kamila Mitka | Country: Poland
"Kasha Kasha is a new Polish brand of carefully selected eco-friendly agricultural products. The brand is targeted at young consumers concerned about healthy eating. The main objective of the project is a display of honesty. The cardboard packaging communicates unambiguously its ecological sourcing, while the subtle colouringis the effect of the application of eco-friendly printing methods. The image on the front of the packaging underlines the tradition associated with the product. Raster used for the image of a mill is intended to reflect the textureof the grains inside the box."
July 12, 2012 | 2 Comments
Designed by Bedow | Country: Sweden
"A collaboration with Danish brewery Mikkeller. This Summer Pilsner is the second in a series of four seasonal beers released during 2012. The label is printed with a heat sensitive color—when the label gets warm the bud turns into a flower. Limited to 3,500 bottles."
July 12, 2012 | 1 Comment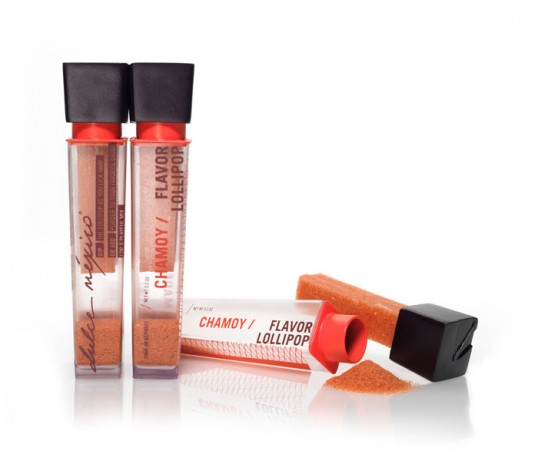 Designed by Olivia Paden | Country: United States
"Brief: Repackage items for the existing online retailer, Dulce Mexico, that provides traditional Mexican candies, fruit snacks, and drinks from a variety of sub-brands. Rethink how Dulce Mexico can introduce themselves to a US market with a stronger brand presence.
Concept: As Dulce Mexico, currently an online candy retailer, is in a unique spot right now as they're basically introducing themself to a US market, they have a unique opportunity and range of what they can do and how far they can push the brand. My solution to Dulce Mexico's branding strategy is to play up the elements that are already unique to their candies, the oral experience and sinful indulgence of the sweet and spicy.
And so, the fun is in the foreplay, as Dulce Mexico's packaging highlights the opening ceremony and sequence of indulging in Mexican candy. Adding intuitive elements such as tequila and tamarind mix further embraces the very experimental nature of these traditional desserts. Whether its girls' night out, or girls' night in, Dulce Mexico's redesigned packaging catches the US market's attention with a more playful, sexy, and contemporary eating experience."