March 18, 2014 | 1 Comment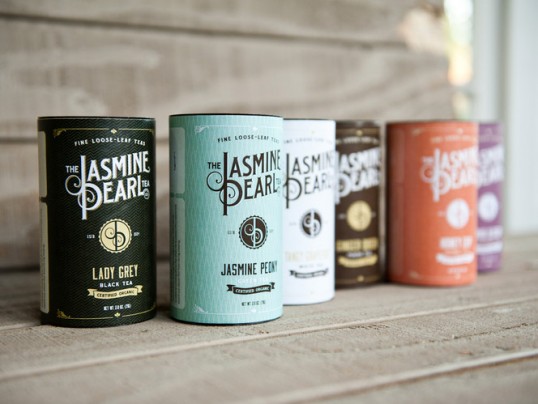 Designed by Relevant Studios | Country: United States
"Jasmine Pearl Tea Co. specializes in importing and handcrafting specialty loose-leaf tea blends in Portland, Oregon. Their re-designed packaging positions them as a premium, yet approachable tea company. The loose-leaf tea packaging utilizes eco-canisters, which are composed of recycled paper bodies, recyclable lids and compostable inner bags manufactured in Portland."
March 17, 2014 | 6 Comments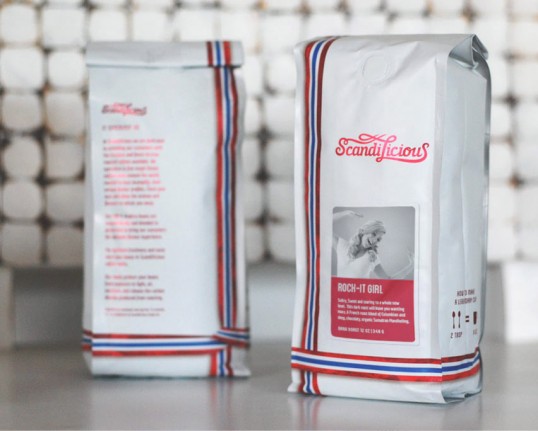 Designed by Paone Creative | Country: Canada
"No bakery experience is complete without wafting aromas of fresh brewed coffee. Paone Creative was happy to create a unique and versatile coffee bag. The bag had to amplify the visuals established for this Vancouver restaurant branding project. A ribbon pattern was made using the colours of the Scandinavian flag. The ribbon wraps around the bag just like a parcel or a gift – it's all wrapped up and ready for you to give. Scandilicious sells specialty blends of coffee in small batches. For economical purposes the bag was designed to be generic and a sticker is used to identify with the different bean types."
March 4, 2014 | 1 Comment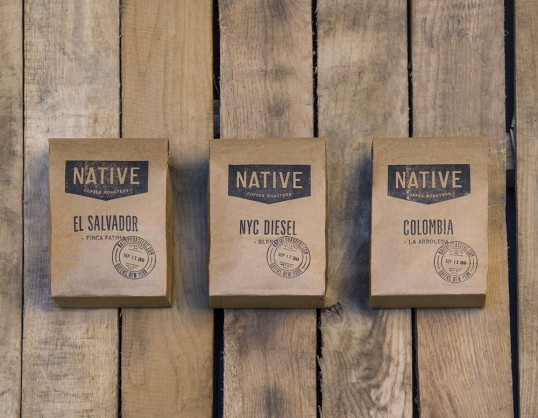 Designed by Naomie Ross & Daniel Renda | Country: United States
"Native Coffee Roasters is an independent roaster located in Queens, NY. Inspired by hand-painted gothic lettering and utilitarian design, we created an overall look which evokes classic New York City with a touch of grit while maintaining a clean and modern feel."
March 4, 2014 | 2 Comments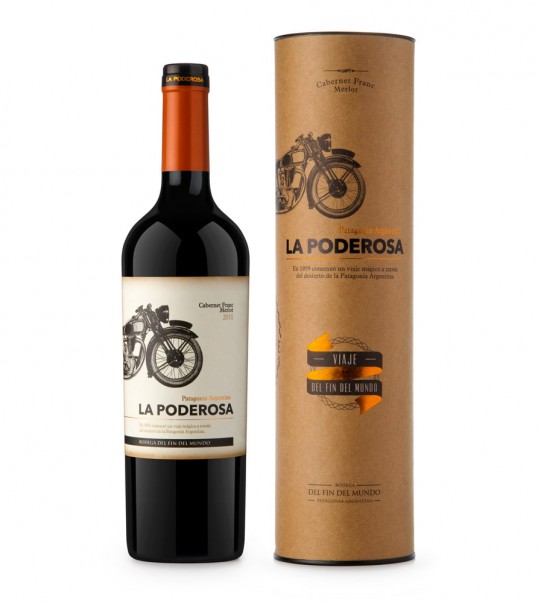 Designed by Kid Gaucho | Country: Argentina
"Bodega del Fin del Mundo tasked us with the development of the product packaging for their wine " La Poderosa". The goal was to design a tube case with the characteristics of a mailing package which can be personalized and given away as a unique product of the Patagonia region of Argentina."
March 3, 2014 | No Comments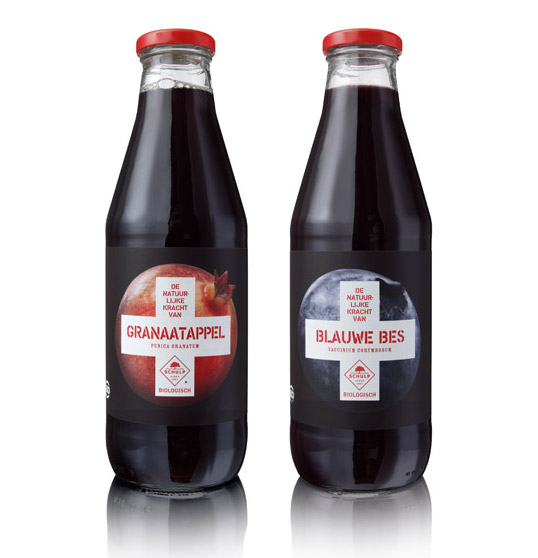 Designed by PROUDdesign | Country: The Netherlands
"Based on the growing interest in healthy foods, Schulp asked PROUDdesign to develop a design concept for their 100% pure and organic fruit and vegetable juices. So far these juices were integrated in the general fruit juice range, and as such not distinctive enough to attract attention.  The design concept should clearly reflect the healing strength of nature thanks to 100% pure, organic juices."
February 28, 2014 | No Comments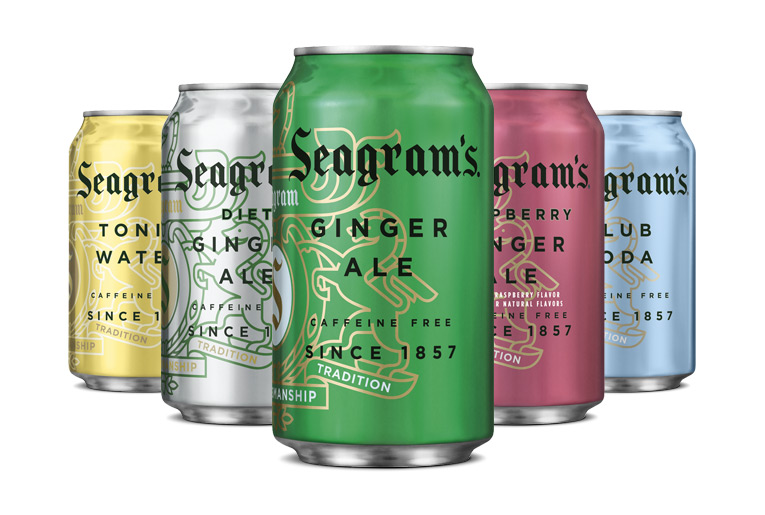 Designed by Hatch | Country: United States
"Seagram's is an iconic, well-respected brand. The Coca-Cola Company asked Hatch to help refresh the Seagram's sparkling line and make it more relevant to the sophisticated adult consumer who is tired of overly sweet beverages. We modernized the brand's crest and then used it in ways that announce that something new is going on. The crest is now more of a friendly element than a crown jewel, with visual treatments such as placing type over it and wrapping it around the corners of cases. And in order to help consumers shop amongst flavors, the cans are flooded with crisp, clean metallic versions of the colors consumers associate with the flavors category-wide."
Continue…
February 25, 2014 | 2 Comments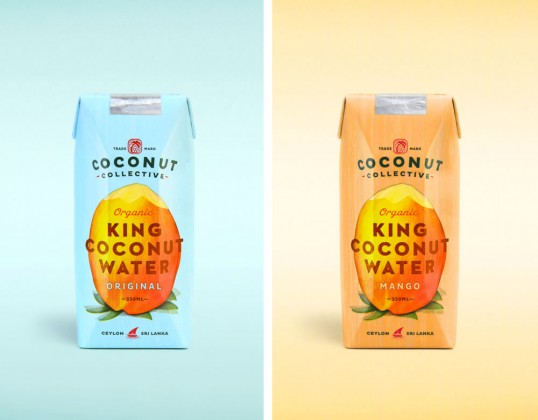 Designed by Marx Design | Country: New Zealand
"Marx Design was asked to create a new Coconut Collective brand that would work across a range of coconut-based products including waters, milks and cooking oils. First up was the organic King Coconut Water, a 330ml Tetra Pak available in original and flavoured variants.
Organic King Coconut Water is sourced from the famed coconut triangle of Sri Lanka, home to the golden thambili (king coconut) – the only coconut harvested specifically for drinking and chosen for its electrolyte content and natural sweetness."
February 20, 2014 | No Comments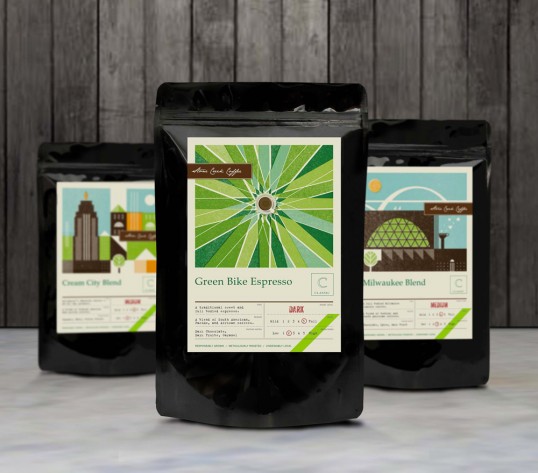 Designed by LP/w Design Studios | Country: United States
"For the past 5 months, LP/w has helped Stone Creek Coffee redefine and reposition their brand. We started with the first manual brew bar in Milwaukee, Wisconsin and now we are releasing all-new packaging. We'd like to introduce our three new series of coffee: Classic, Seasonal and Lab. The Classic series includes all-time favorites like French Roast and Cream City Blend. The Seasonal series is only special selections that will change over the course of the year. The Lab series is for the uber coffee geek, and will be very limited in availability and quantity (often single-sourced from a very small farm that only produces about 20 bags of coffee in total).
We are reorganizing our coffee line better reflects the complex palette of our customers. Often, our loyal customers simply want to wake up and drink a dark roast coffee like our French Roast, and we equate this to comfort food to start off the day. Different customers (or sometimes the same) want to be more experimental and see what is on the cutting edge of coffee. Foodies often discuss a so called "Third-Wave" of coffee and what they are referring to is the both the roast of the coffee and the way in which we serve it (i.e. our manual brew bar)."
February 17, 2014 | 1 Comment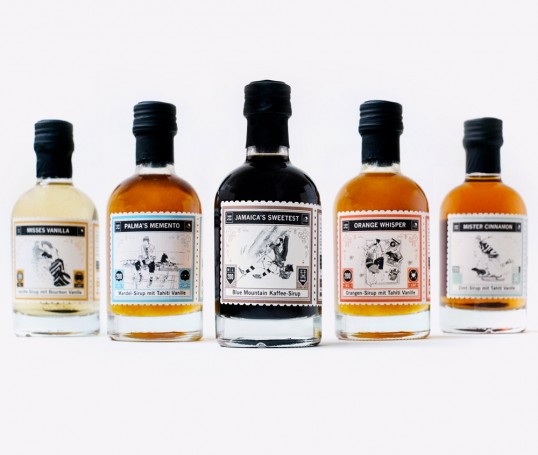 Designed by Studio Chapeaux | Country: Germany
"The story of Linvard Bo Lapp and his traveling companion Ephraim Fao is one of discovery. Scouring the globe to unearth the sweetest delicacies of far-away countries that they can then use for one of their delicious creations.
It's on those travels where they find the inspiration and ingredients for their unique concoctions. This is reflected within the new packaging creative for their syrup range: designed and illustrated to look like different stamps, the visuals show snapshots of those travels and discoveries – just like the Lapp & Fao syrups, each one a delicious souvenir in a bottle."
February 11, 2014 | 1 Comment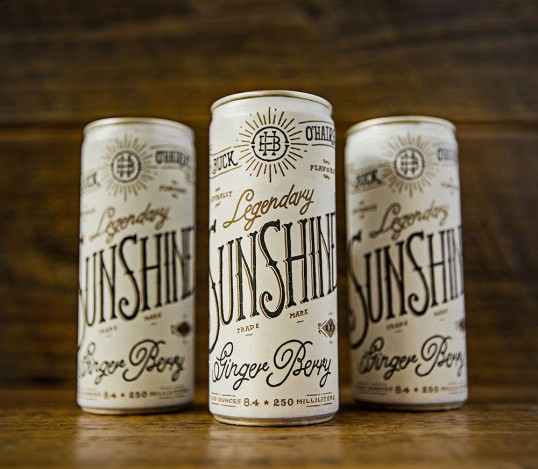 Designed by Device Creative Collaborative | Country: United States
"Inspired by the Appalachian legend of 19th century moonshiner Buck O'Hairen, Sunshine is a delightfully crisp, lightly carbonated pick-me-up with electrolytes, vitamin B12, natural ginger and flavors of blackberry.
The design harkens back to the hand lettering of the late 1800's and the boom of medicine show culture throughout the US."