March 10, 2009 | 3 Comments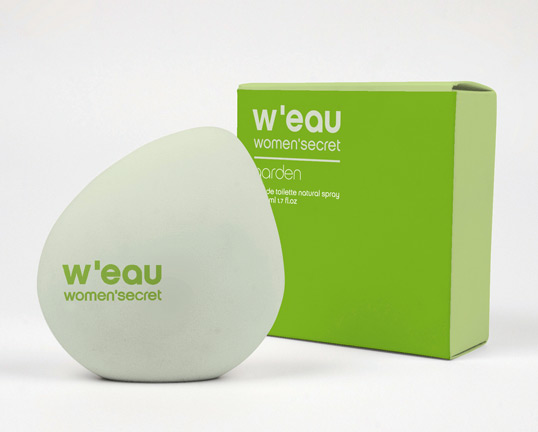 Designed by Base | Country: United States | Fonts used: Chalet
"Women'secret (not to be confused with Victoria's Secret) is an underwear and loungewear company out of Spain. They have over 100 stores worldwide. Target: 20s – 30s somethings. We worked with them on the naming, identity and packaging for their fragrance."
March 5, 2009 | No Comments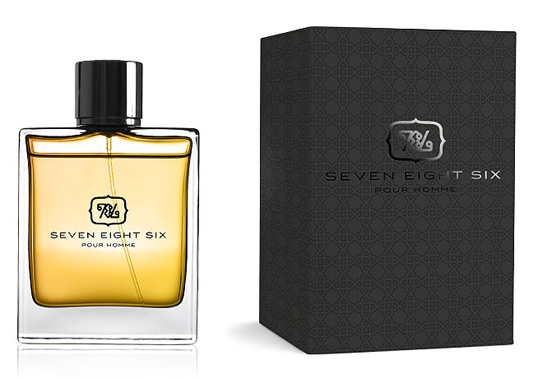 Designed by Hype Type Studio | Country: United Kingdom
"The Brief: To develop an identity for a luxury perfume brand which appeals to both Arabic and Western cultures.
The Response: We captured both influences of the brand by balancing Arabic elements with a classic Western high-end look and feel. The packaging materials help to deliver the message using a varnished Arabic pattern and foil blocked logo application. The Pour Homme and Eau De Parfum fragrance bottles help shape the brand by promoting continuity using a similar shapes and styles. The women's bottle is given a more feminine feel with it's softer edges, colouring and gold cap. The result is a product with a subtle Arabic feel that appeals to consumers in both markets."
March 3, 2009 | 1 Comment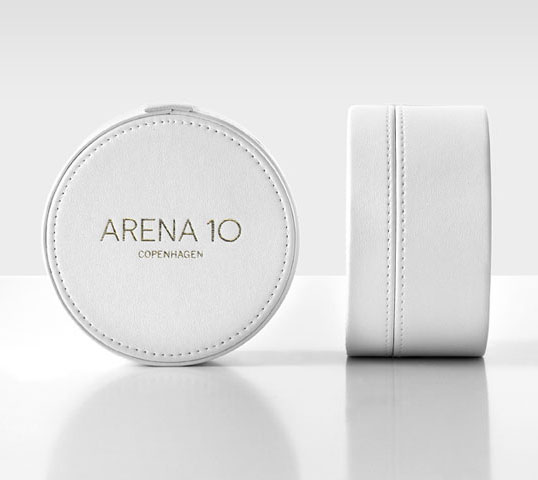 Designed by Dyhr.Hagen | Country: Denmark | Font used: Trade Gothic
Beautiful work from Dyhr.Hagen for Arena 10 Copenhagen jewelery.
March 3, 2009 | 2 Comments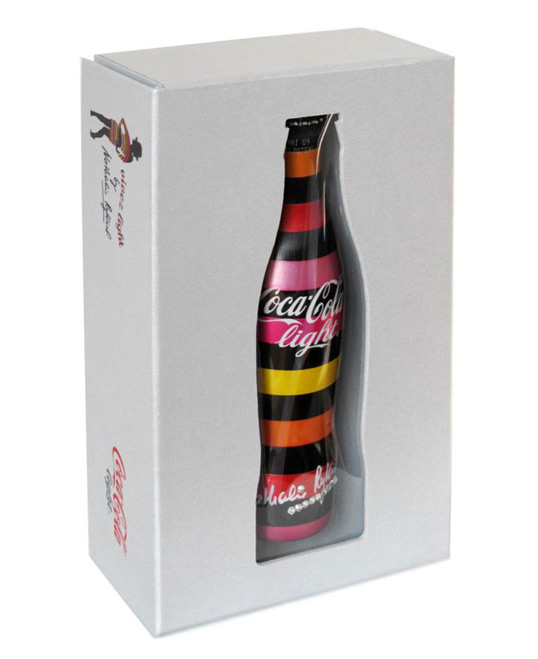 Designed by Nathalie Rykiel | Country: France
"Nathalie Rykiel, daughter of Sonia Rykiel and creative director of the Maison, signed a new version of Coca Cola Light's famous 25cl aluminium bottle. Created in the traditional colors of the brand, closed by a black cap and underlined by a line of strass."
Via Justin Garçon.
March 2, 2009 | No Comments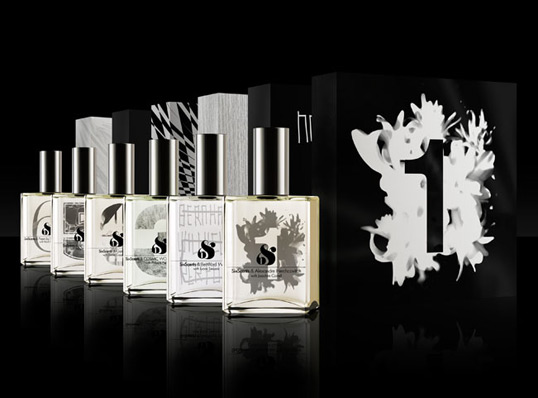 Designed by 3 Deep Design | Country: Australia
"The Six Scents Initiative is an ongoing collaboration between Symrise, Metaproject and Seven New York. Annually, a distinct group of six prominent artists and perfumers are selected to develop a limited edition series of fragrances to help raise money for charity. The collection represents a worldwide spectrum of contemporary perspectives on creativity, culture, consciousness and collectivity.
February 23, 2009 | 3 Comments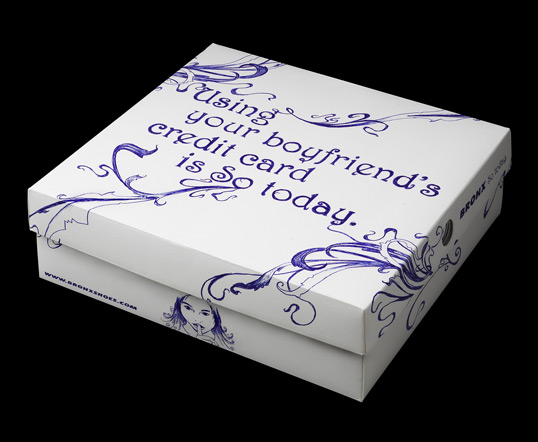 Designed by THEY | Country: The Netherlands
The shoeboxes created by THEY were part of a bigger international re-branding for the trendy Holland-based shoe company Bronx. The claim "So today" comes from the insight that what shoe a woman buys or wears differs from day to day.
For example, high heels if they want to feel sexy. Boots if they need to feel tough. Or sandals if they want to feel free. Or maybe just to make themselves feel good for the rest of the week, like one of the shoebox headlines says. Bronx has hundreds of different designs to fit every mood, no matter how nuanced.
February 23, 2009 | 1 Comment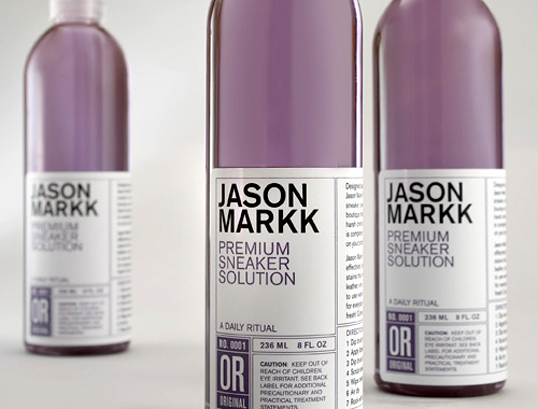 Designed by Jason Markk | Country: United States | Fonts used: Akzidenz Grotesk
"Designed specifically with the sneakerhead in mind, Jason Markk Premium Sneaker Solution is the first sneaker cleaner to cater solely to the sneaker boutique market.  This product does not contain any harsh chemicals or abrasives, is 98.3% natural, and is completely biodegradable. Jason Markk P.S.S. is a gentle, foaming solution that effectively cleans and conditions, removing dirt and stains that inevitably occur during wear. "
February 20, 2009 | No Comments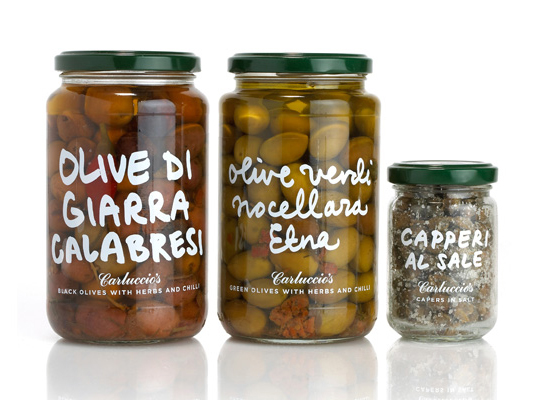 Designed by Irving & Co | Country: United Kingdom
"Carluccio's is a series of modern Italian caffès and food shops with a passion for design. From packaging and print through to web design, Irving has worked closely with the founders to build a brand which over eight years has developed from two stores into a hugely successful AIM listed series of destination caffès that has set a new benchmark on the high street."
February 17, 2009 | 2 Comments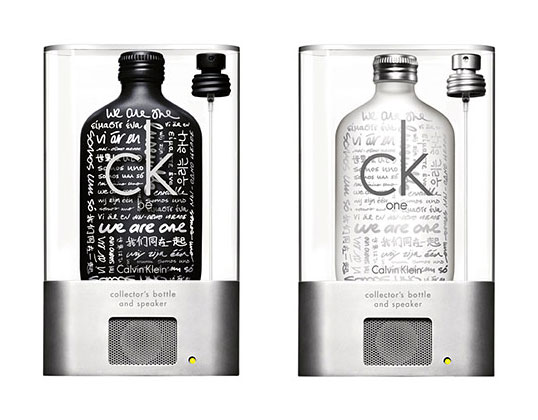 Thanks to Lovely Package® reader Thelma for giving us the heads up on this.
"As a fragrance alone, CK One would probably not be a something we would feature here, but Calvin Klein re-packaged the product into an interesting casement. As part of the CK "We are One" campaign beginning this March, you will be able to purchase CK One or CK Be with an MP3 player and speaker that ties into their idea of 'music as the universal language.' We couldn't agree more."
Via Selectism.
February 14, 2009 | 4 Comments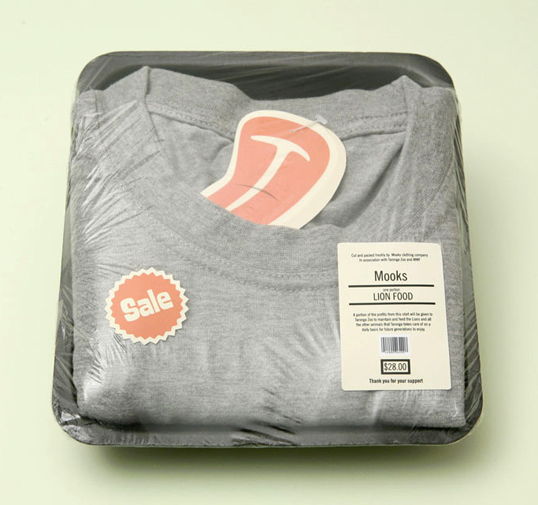 Designed by Salad Design | Country: Australia
"This was a design that was created for the purpose of a collaboration of Mooks and WWF to raise money for local zoo's. The Packaging and design were created to complement each other. The meat tray was chosen to represent the obvious meat styled text as were the labels and other stickers around the package."