October 4, 2010 | No Comments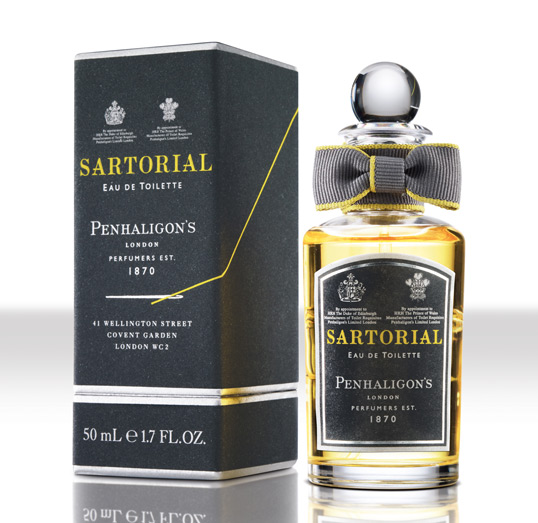 Designed by jkr | Country: United Kingdom
"This month sees the launch of jkr designed Sartorial, a new fragrance from boutique perfumer Penhaligon's. In keeping with the charismatic eccentricity of the brand, Sartorial captures the smell of a Savile Row tailors shop. The scent was brought to life by renowned perfumer Bertrand Duchaufour inside Norton & Sons at 16 Savile Row, London. Duchaufour found himself captivated by the unique smell of the shop and tailor's workroom, and as such, Sartorial evokes the masculine scent of sewing machines, needles, wool and cloth – the ultimate bespoke fragrance.
The packaging gives the Pengaligon's brand (who are renowned for their heritage and history) a clean, elegant and more modern look. "Sartorial is for men of today and Savile Row is very much having a revival among young gents" said Jovan Buac, Senior Account Manager, jkr. "It was a challenging brief. We didn't want to use any tailoring clichés and the design had to fit with the brand's other fragrances, some of which have been around for over 140 years."
September 30, 2010 | No Comments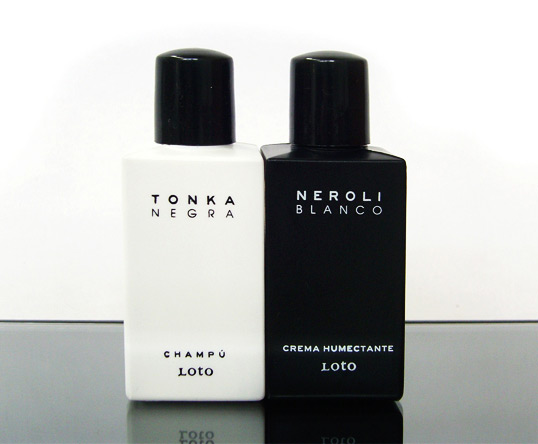 Designed by Cosmetika | Country: Colombia | Fonts: ITC Avant Garde Gothic, Sackers Gothic
"Sophisticated and unique, the Tonka Negro/Neroli Blanco (Black Tonka and White Neroli) collection stands out for its elegance and glamour with its clean and straight shapes. Two fragrances get together to conquer the insatiable taste of the Hotel Avia 93's hosts, located in Bogotá. Tonka Negro represents a intense aroma with sensually savage effects; Neroli Blanco is the royalty's perfume (Azahar flower), which represents the beauty and elegance."
September 19, 2010 | 1 Comment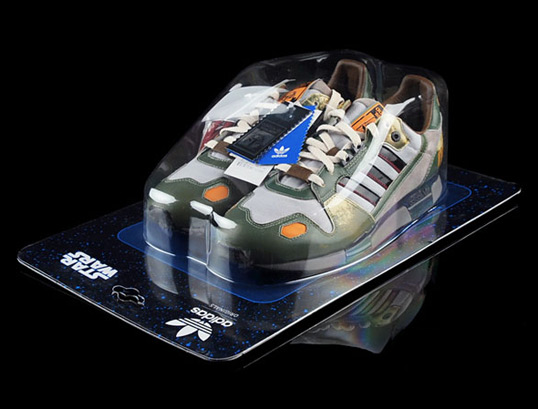 Country: United States
The blister pack for these Boba Fett sneakers which are part of the Star Wars x Adidas collaboration are pure genius. We'd love to know who is responsible for the design of this packaging.
September 12, 2010 | 1 Comment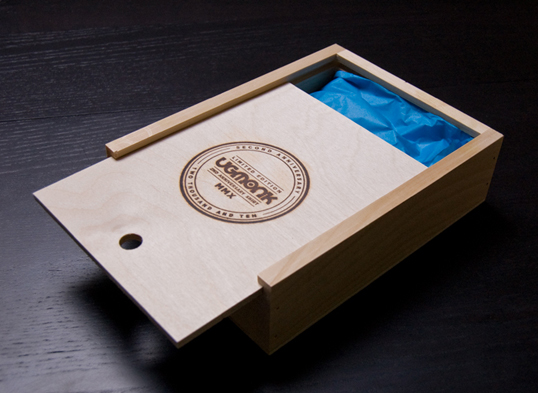 Designed by Jeff Sheldon/Ugmonk | Country: United States
"Each anniversary shirt is packaged in a wooden box (made of solid pine and birch ply) with a wood-burned anniversary logo on the lid. Each set also comes with an Ugmonk laser-engraved wooden coin that have each been individually numbered. Also included is a signed Ugmonk collector's card with the 2nd Anniversary design on one side and the 2nd anniversary logo on the other."
September 6, 2010 | 2 Comments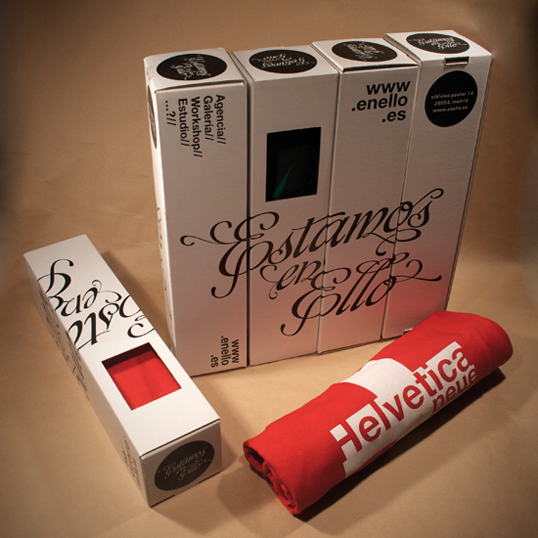 Designed by Estamos en Ello | Country: Spain
Custom packaging for Madrid based design and advertising company Estamos en Ello's T-shirts.
September 1, 2010 | No Comments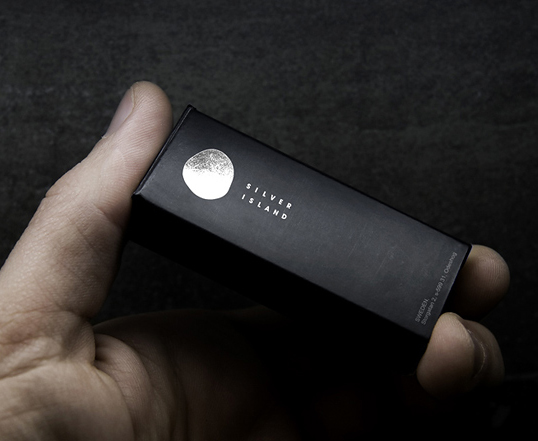 Designed by Creasence | Country: Czech Republic
"Silver Island is a youth fashion, jewelry and accessories brand based in Stockholm. We designed the logo, corporate style and package design for it."
August 25, 2010 | 5 Comments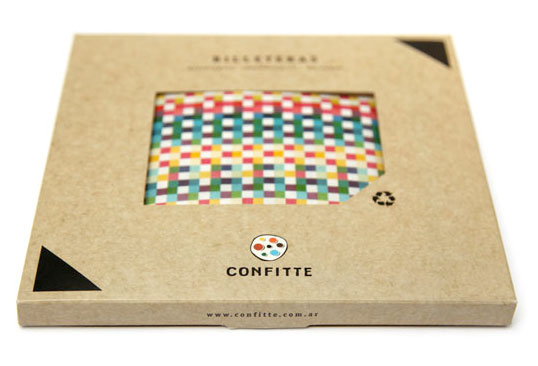 Designed by Follow Us | Country: Argentina
"We designed Confitte's packaging by intertwining their own creative production with the design ideas that their "paper" wallet inspired us. In doing so, we proposed an eco-friendly look, and a square shape with a window exhibiting Confitte's Tyvek wallets and their eye-catching works of recognized Argentinean artists."
August 16, 2010 | 11 Comments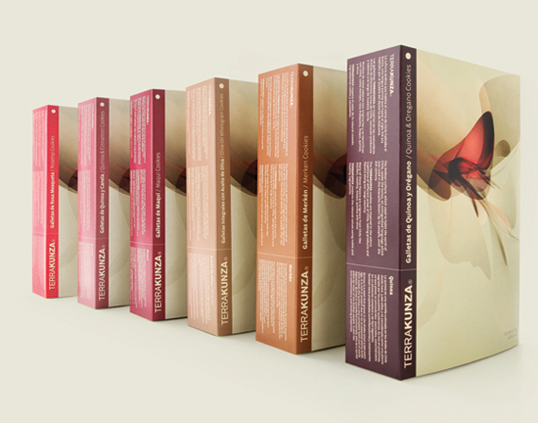 Designed by Porta4 Design Studio | Country: Chile
"Terrakunza is a gourmet cookie project that grabs the original distinctive Chilean ethnic groups' flavors such as merken, rosa mosqueta, maqui, quinoa, oliva. A different package than those in its category shows the gastronomy innovation from its design inspired in an ensemble of sensations that evoke nature's nobility and originality in each flavor."
July 27, 2010 | 2 Comments
Designed by ClapClap Design | Country: Sweden
Colourful garment boxes for this Swedish clothing brand.
July 22, 2010 | 3 Comments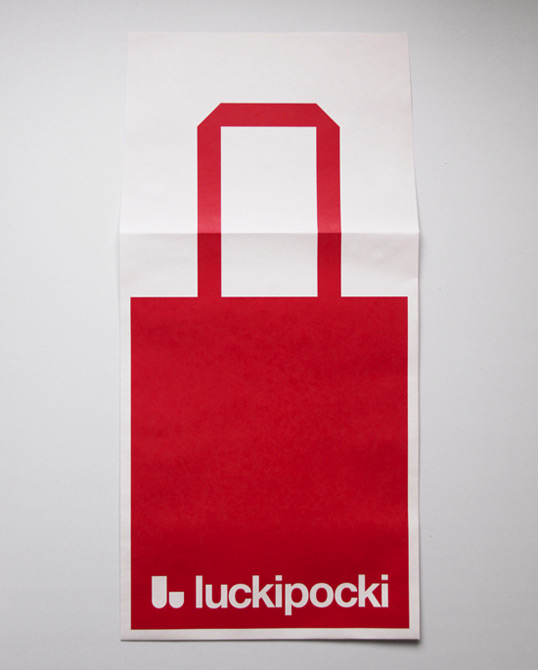 Designed by Blow | Country: Hong Kong
"Luckipocki is a young and fashionable tote bag brand. Their products are sold on-line. Therefore, the products need a package that can be mailed. We have designed an envelope which has a very bold tote bag graphic. The red tote bag graphic is eye-catching and clearly deliver the brand nature. This packaging can be easily recognized in a chaotic mail environment."