October 28, 2015 | 1 Comment
Designed by Anagraphic | Country: Budapest
"We care about bean origins, fair trade, and we care about each process that leads up to placing our chocolates in your hands. Our concierge service will match you with the right combination of chocolate for your unique occasion from a collection that is thoughtfully curated."
July 3, 2015 | No Comments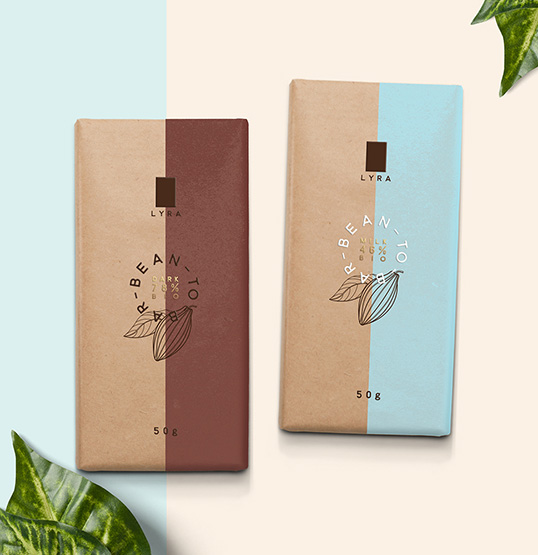 Designed by Michal Slovák | Country: Slovakia
"Since 2012 LYRA has stood for the highest quality handmade chocolate made in Slovakia. Lyra chocolate made of the finest cocoa beans, criollo and trinitario, grown on the plantations in the Middle and South America, was granted an international award Great Taste 2014.
This year they decided to place a new line of their own recipe premium products on the market. The aim was to create new packages for the premium products. Simple, playful and extraordinary just like the products themselves and this way distinguishable from the other chocolate. As a result, there are two new coated products LYRA BEAN-TO-BAR chocolate – 78% DARK BIO and 46% MILK BIO.
The bars feature a small, centered graphic of a cocoa pod, indicative of the pure ingredients used to create it and golden stamping in the middle to distinguish. The new design goes hand in hand with the essence, the taste itself. As the Lyra chocolate flavors are well tuned so do the design of new packages."
April 15, 2015 | No Comments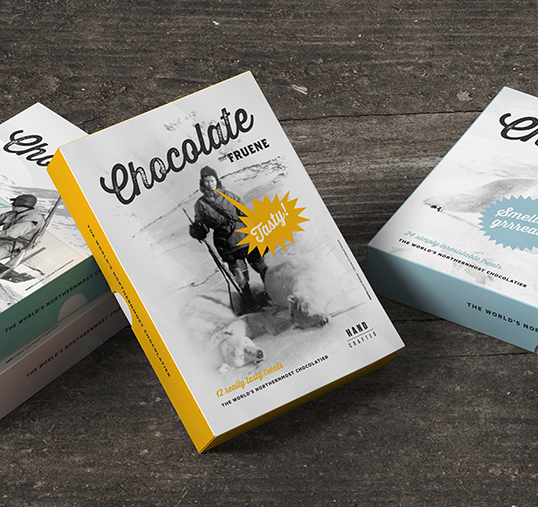 Designed by Tank Design Tromsø | Country: Norway
"The brief was to create a full range identity for a popular café in Longyearbyen on Svalbard. The client had recently started up the world's northernmost chocolaterie, and were producing a wide range of handmade quality chocolate that needed packaging for the tourist market. The clients name Fruene means «The Ladies» and refers to strong female characters who during the last century made their mark in a male dominated and extremely rough hunter and trapper society. The end result is an homage to those women and to the unique stories of both the people and the animals that inhabit Svalbard. We have worked closely with both the client, writers and the Svalbard Museum in order to find the best stories and pictures. Simple color coding and clean typography distinguishes the different boxes from each other and leave the story in focus."
January 18, 2015 | No Comments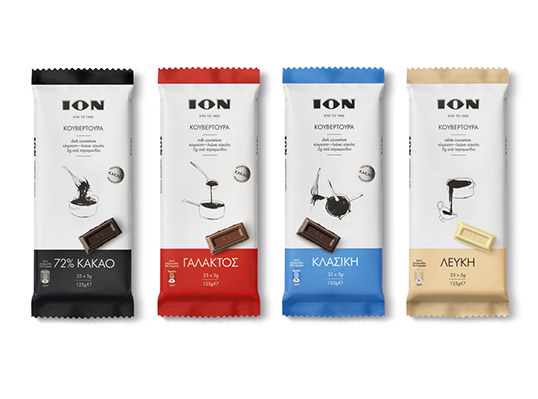 Designed by mousegraphics | Country: Greece
"Τhe briefing (in brief): We would like to renew the image of our line of couverture chocolates. We need a contemporary look for a popular product.
Τhe target consumer: A middle – upper class group of various ages, faithful to the ION quality and also younger generations of prospective clients.
The design: This is a client with whom we have cooperated successfully in other rebranding projects. In this case we had to change the couverture packaging in a way that would update the product identity and pleasantly surprise consumers while strengthening loyalty to the brand. We opted for a design drastically different to the visually overcharged one that already existed: the packaging surface was cleared so that the basic product attributes could emerge in favour of the consumer. Zones of colour were limited to surface edges so as to denote the 4 different chocolate types-flavors (classic, milk, dark cocoa and white chocolate). Emphasis was given to the 5 gr. couverture piece which is the functional basis of the chocolate-cooking process; its sharp 'snap' is actually a sign of quality and the first element that memory recalls in relation to couverture handling. Cooking ritual was further invoked by the hand-drawn designs of pots where chocolate pieces are melted. The selected typography added to an overall feeling of a neat kitchen diary where notes and recipes are kept and valued."
December 26, 2014 | 1 Comment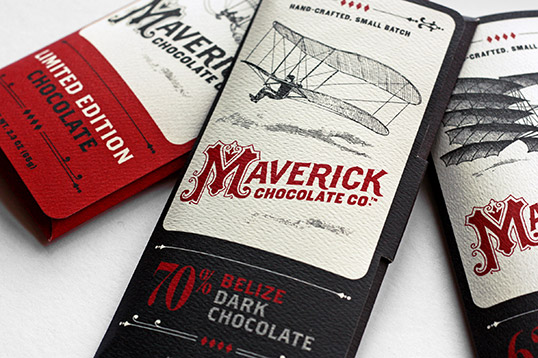 Designed by Jessica Jones | Country: United States
"Maverick Chocolate Co. is a startup company that hand crafts finished bar in their shop at historic Findlay Market in Cincinnati, Ohio chocolate in small batches from the bean to the.Beans are ethically sourced from smallholder farmers; ingredients are organic.
Maverick's brand salutes gentleman adventurers of yesteryear — those who did things a little differently, just like the company itself. Packages feature vintage engravings of "mavericks" and their whimsical flying machines, a nod to the company owner's prior career in the aviation industry. The wine-bottle inspired color palette is dramatic and bold. A different flying contraption is pictured on each flavor of bar along with the tagline, "Bean-to-bar chocolate for the adventurous palate."
Packages for Maverick chocolate bars are die-cut recloseable wallets, printed in 2 colors on textured paper."
July 23, 2014 | No Comments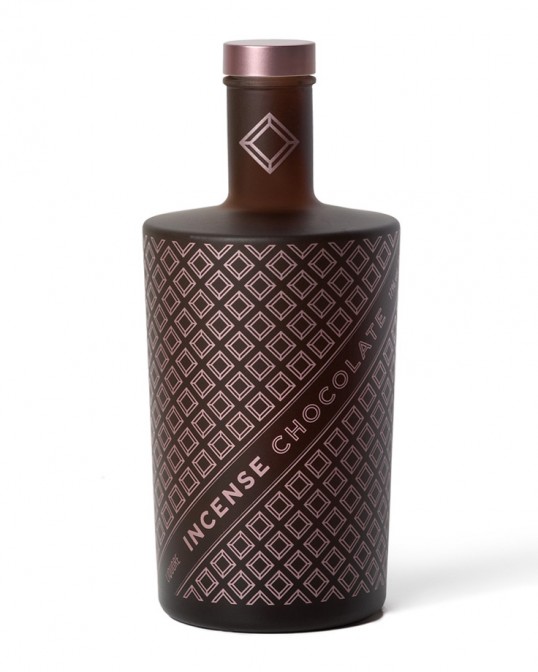 Designed by Puigdemont Roca | Country: Spain
"We used the concept of a chocolate bar to design the packaging for this liquor. Screen-printing was used  to get a great visual impact on shelves."
June 12, 2014 | No Comments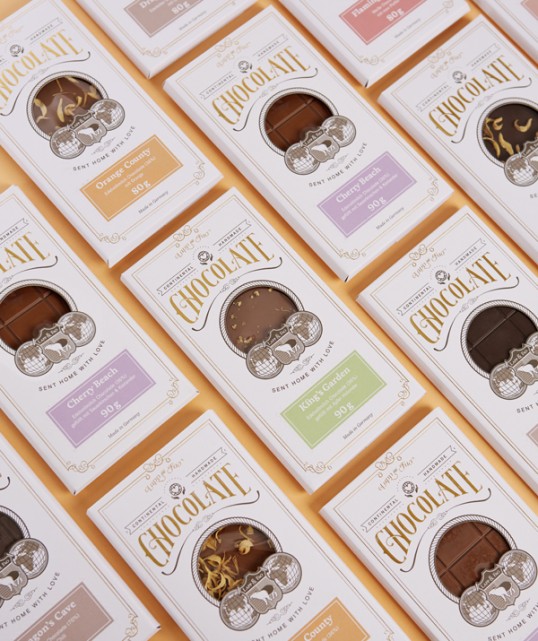 Designed by Studio Chapeaux | Country: Germany
"The two gourmet cosmopolitans Lapp & Fao send home sweet chocolate greetings from the most far away places you could possibly imagine. Taking you on a journey of chocolate discoveries. Pure and totally handmade. They are crafted from the finest chocolate filled with a selection of the freshest ingredients. Lapp & Fao Chocolate Postcards are an ode to high quality, attention to detail and the love for adventures."
April 23, 2013 | No Comments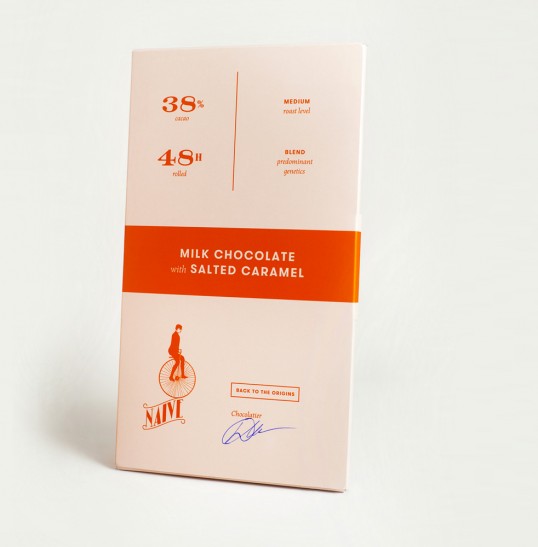 Designed by Chocolate Naive | Country: Lithuania
"In a little town named Giedraičiai by the beautiful lake Kiementas on the Eastern side of Lithuania, Chocolate Naive make their bean-to-bar chocolate.
Each and every morning, the chocolate master carefully roasts fresh cacao beans whose delicious aroma gently awakens the residents of the town. Just as they were hundreds of years ago, cacao beans are slowly rolled and conched to release their extraordinary bouquet of fruits, nuts and flowers in a delicately finished chocolate bar. These hand crafted bars are later stored to mature and form a complicated array of tastes and seasonings.
Chocolate Naive has great pleasure in introducing the "Back to the Origins" collection. With every piece of chocolate made, we try to give away a piece of our philosophy, our land and our fresh countryside air. We take great pride in informing eaters not only where we source our cacao beans from, but who actually produces our honey or which farmer supplies the butter for making the caramel. We are pleased to cooperate with growers from around the world, but we also celebrate local heritage."
January 14, 2013 | 6 Comments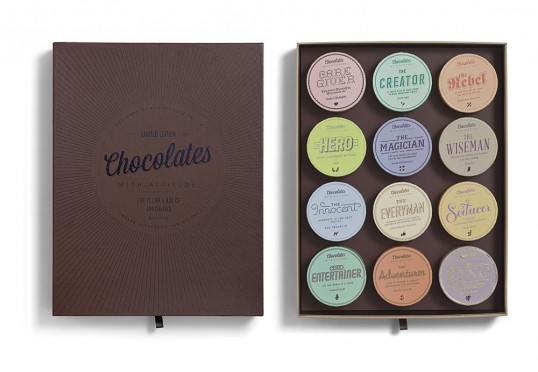 Designed by Bessermachen | Country: Denmark
"One big and beautiful box contains 12 smaller boxes and each box represents an archetype/a personality. The personality is expressed through a unique quote, a unique design and a unique type of chocolate.
The design differentiate the 12 personalities with a diverse and colorful use of typography and the small boxes are round like tiny hat boxes.
The chocolate is created by Coca Luxery Chocolates from unique recipes.
Everything was developed from the ground. The design and the packaging were created by  Bessermachen DesignStudio, and the archetypes and the idea were created by Stiig Helgens Binggeli / Brandhouse."
November 28, 2012 | 1 Comment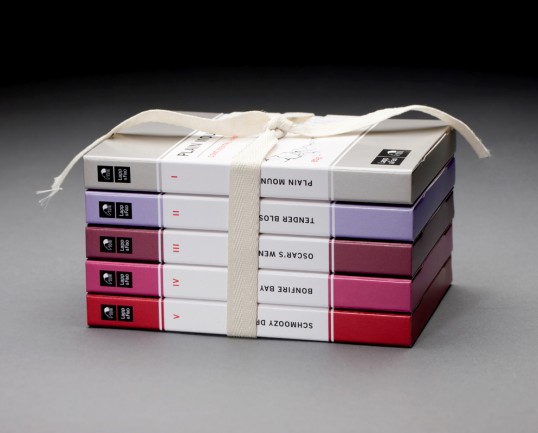 Designed by ONLYFORTHEFUTURE | Country: Germany
"The story behind Linvard Bo Lapp and his partner Ephraim Fao is full of discoveries. When they are off travelling the globe curious to discover sweet delicacies from far-away places, they like to sit down at the end of a long and eventful day and record their thoughts and experiences in a diary – it is these pages that later provide them with valuable inspiration for their unusual chocolate creations.
These records are now available in the form of the Lapp&Fao Chocolate Books. This process is visualised strikingly by the new look of the chocolate packaging. Each bar is designed to look like a diary and contains the essence of Lapp&Fao's travels – each bar is a delicious souvenir."