February 1, 2016 | No Comments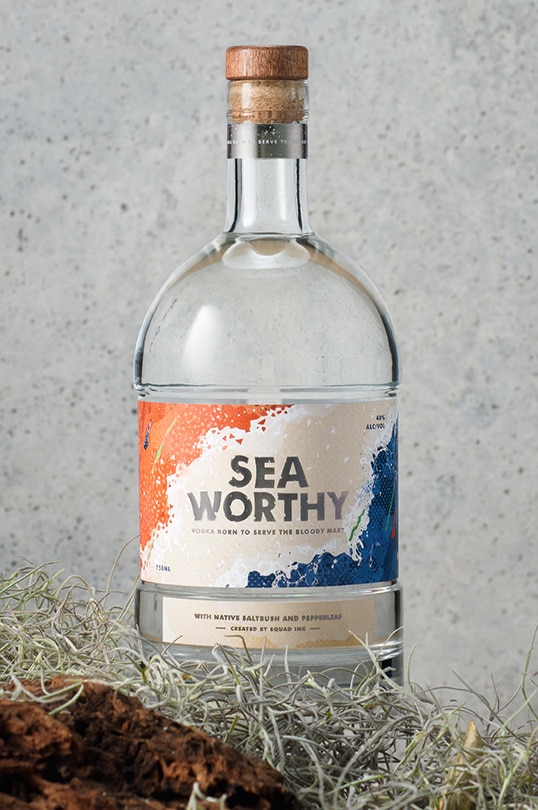 Designed by Squad Ink | Country: Australia
"We constantly find ourselves dreaming up product ideas that bridge the gap between design and product development. Seaworthy Vodka is one of those ideas that we're proud has made it off the pages in our scrapbook and into production!
Inspired by the Australian seaside and the glorious Bloody Mary cocktail –Seaworthy's unique taste profile is navigated by the native Australian botanicals of Saltbush (recalling sea-like flavours), Dorrigo Pepperleaf, Lemon Myrtle and Coriander seed.
Seaworthy explores the relationship between land and sea: Two powerful forces coming together to represent the creation of something intriguing and exciting through the complex profile of earthy spice and salty, sweet sea flavour notes. We captured the energy and drama of land and sea colliding through a striking illustration applied to a full circumference bottle label that draws in consumers from all angles."
January 27, 2016 | No Comments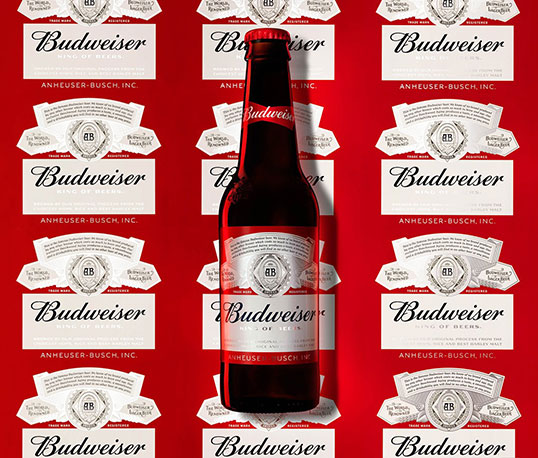 Designed by jkr | Country: United States
"People gravitate towards brands that have a unique story to tell, and few have as rich a history as Budweiser. Since 1876, the brand has represented uncompromising quality and relentless ambition, reflected through the craft and care that goes into brewing every beer. Our task was to capture this spirit through design.
Recognising that it was time to align the brand identity with the beer itself, Budweiser partnered with our NYC team to refresh their packaging and visual identity. Starting with an exploration of the brand's history, we uncovered the depth of Budweiser's rich iconography. We then sweated the details, working alongside the world's best to craft each element by hand.
From there, we created two bespoke typefaces to communicate the brand's principles and a simplified bow tie icon to deliver a more contemporary identity for today's audience."
January 18, 2016 | No Comments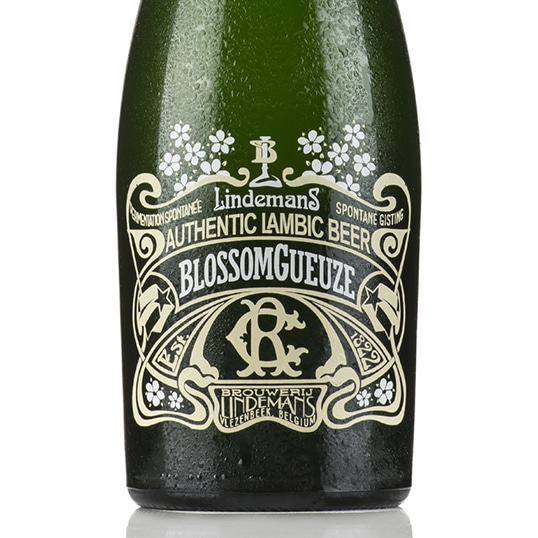 Designed Thirst | Country: United Kingdom
"BlossomGueuze is the latest edition to Lindemans Botanical range.
BlossomGueuze is 2 to 3 year old lambic aged in wood, blended with 12 month old lambic and elderflower. After refermentation in the bottle this gueuze has a golden colour and combines the sour taste of lambic with the natural and fresh aromas of elderflower.
"It's an ideal aperitif and also combines well with various ingredients such as oysters, fish, pheasant or spring chicken." Thomas Locus, chef-owner of the excellent Michelin-starred restaurant Bistro Margaux.
The design is screen printed directly to the glass of the champagne style bottle."
January 7, 2016 | No Comments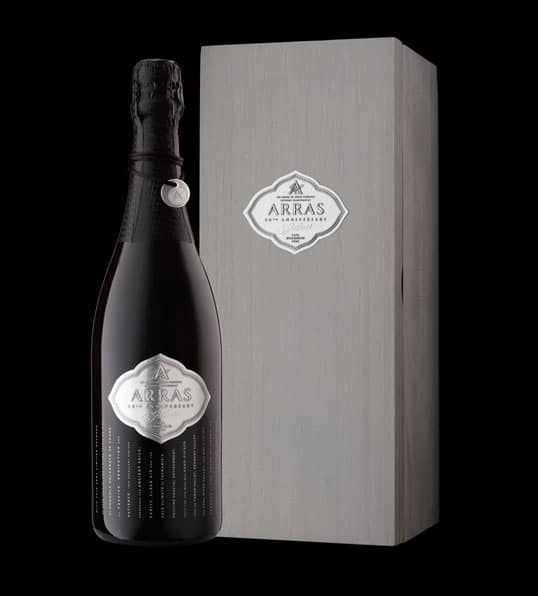 Designed by Stranger & Stranger | Country: United Kingdom
"1998 House of Arras 20th Anniversary Late Disgorged, an extremely rare and coveted limited edition – to drive awareness for the House of Arras and celebrate 20 years of passion, dedication and patience. 300 bottles and a price tag of  $350 AUS each."
January 5, 2016 | 1 Comment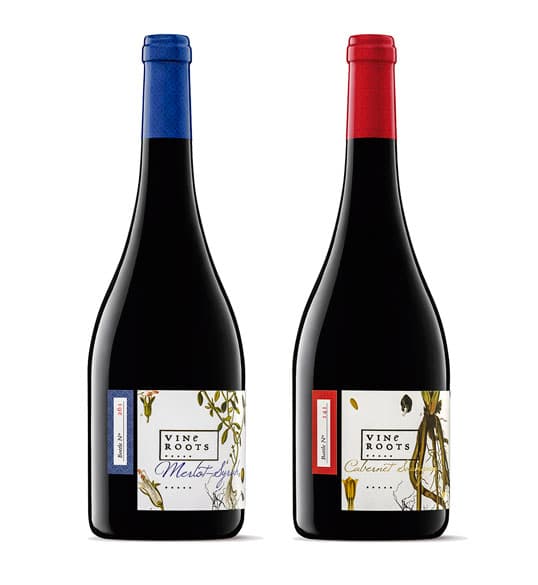 Designed by TSMGO | Country: Spain
"Vine Roots commemorates the artisan aesthetics of traditional botanical notebooks used by the vigneron (winemaker) in their search to find and restore the memory of the terroir. An iconic design which uses handwritten notes and stamped motifs which capture the care and detail of its creator. A limited edition wine, of powerful character and exclusivity (premium), which aims to reach an experienced public on an international level. Our packaging proposal focuses on the profile of international consumers, capturing the essence of personality and memory of the estate in its visual aspect."
January 1, 2016 | No Comments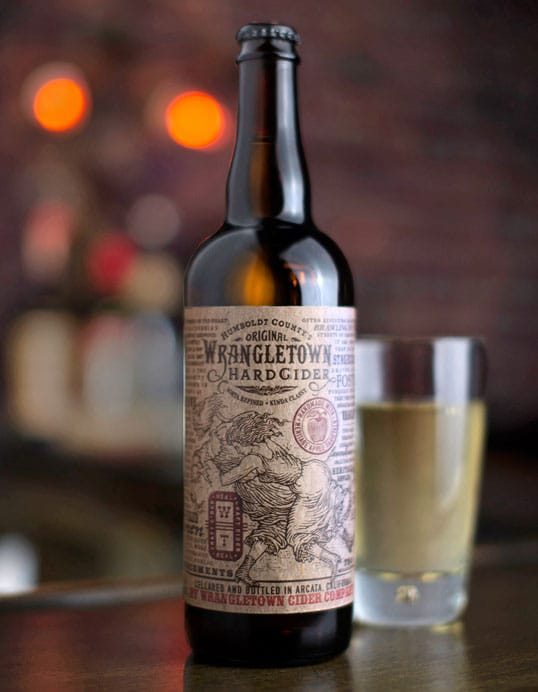 Designed by Auston Design Group | Country: United States
"Today, it's a small quiet Humboldt County community named Freshwater, but around the turn of the century it was better known as Wrangletown. And while Wrangletown was small, it was anything but quiet — miners, loggers, and seven saloons, were the perfect formula to breed public disagreements.
Two of Wrangletown's most notoriously disagreeable women provide the focal point for this package. The unique town history not only provided the inspiration for the old-west look, it became a prominent element of the packaging.
The proprietary, hand-lettered brandmark and the custom woodcut style illustrations were created to roughly reflect the old west look and feel of print design in the late 1800's. The use of multiple typefaces also evokes the era, and gives the sense that the printer used every piece of wood-type in his drawer ­— not an uncommon practice back when printers doubled as designers. We think it all adds up to a "sorta refined, kinda classy" package."
December 25, 2015 | No Comments
Designed by Estudio Trip | Country: Argentina
"Black Bird beer is brewed for the consumer tired boring beers created for the mass market. Black Bird is handcrafted by a small group of people in limited quantity which assures that the right care and attention to detail is given to every bottle. The idea was to design a label that displays the handcrafted, delicate work of this beer production along with a classical german label style. The lettering design of the brand was completely handmade to match the handcraft ideal of the product."
December 23, 2015 | No Comments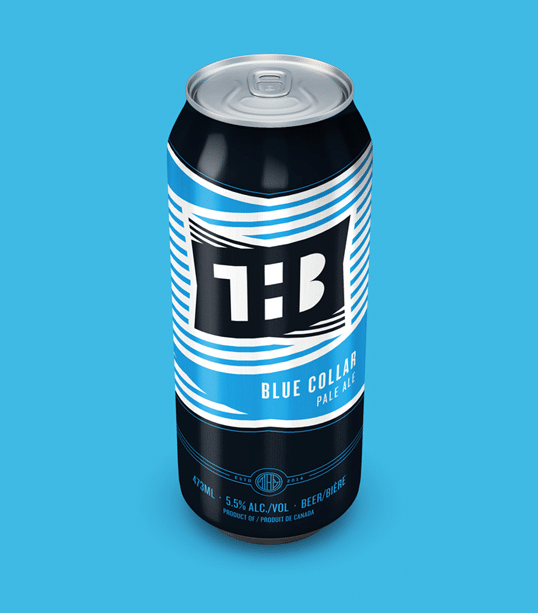 Designed by Poly Studio | Country: Canada
"With the THB cans, we wanted to create a bold, poppy, eye-catching package that referenced both the heritage of the THB name (the Toronto, Hamilton & Buffalo railway line, or THB, active from the late 1800's – the 1980's) and the prominent industrial and art deco architecture in our native Hamilton (home to both THB and Poly), while also conveying the enthusiasm and verve of this contemporary craft brewery."
December 23, 2015 | No Comments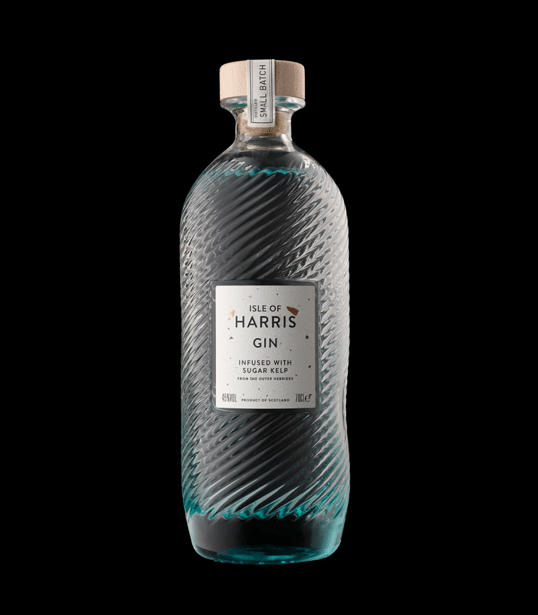 Designed by Stranger & Stranger | Country: United Kingdom
"The first offering from the first community distillery on the Isle of Harris – influenced by the people, the place (quite rugged, dramatic), the tweed and reflecting the subtle colours of the landscape. Gin with Harris botanicals!"
December 15, 2015 | 1 Comment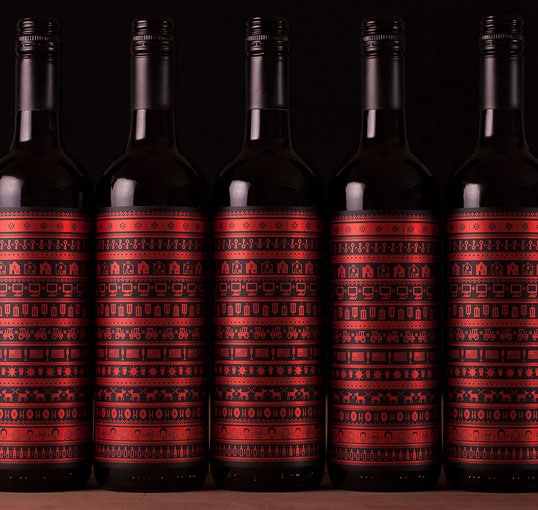 Designed by Buddy | Country: United Kingdom
"Our Mulled Wine design this year is a Buddy-take on traditional Nordic Christmas patterns. Every row of the pattern represents an anecdote from each month of the year, accompanied by a warming narrative on the reverse."As we mull-over another great year, we'd like to thank you for being a part of it, Merry Christmas from all at Buddy and we hope you enjoy a warming end to the year, we certainly will." The label is printed red and black on a silver substrate with a subtle metallic finish and matt varnish for a premium festive feel."