August 19, 2014 | No Comments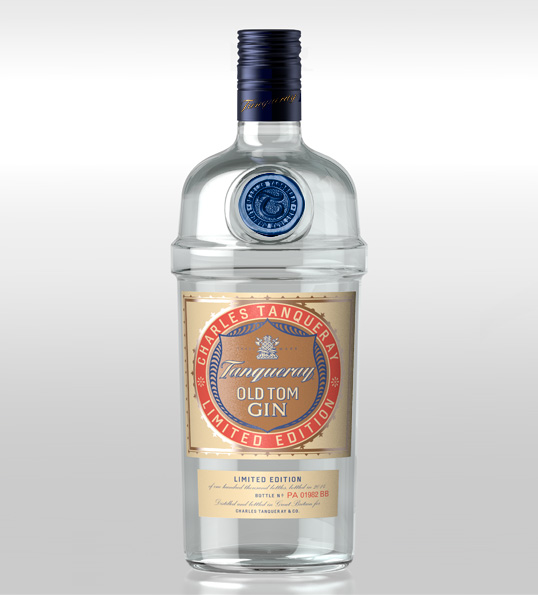 Designed by Sedley Place | Country: United Kingdom
"Diageo is introducing a limited edition of its Tanqueray Old Tom gin with a revitalised label and pack designed by Sedley Place. The creative concept sees the reintroduction of Old Tom gin as a 1litre clear bottle for the bar trade, with a limited run of 100,000 bottles available for purchase. The Old Tom limited edition follows Diageo's successful reintroduction of Tanqueray Malacca gin in 2013″
August 18, 2014 | No Comments
Designed by Cornershop | Country: Australia
"Moolanda is an Aboriginal word meaning "on the far side." The Moolanda vineyards are located on the far side of Barossa Valley. Aboriginal tribes roamed the valley for thousands of years and understood its unique qualities. Several rock art sites found in the region contain ancient drawings created using red, yellow and white ochre; rocks which can be found on Moolanda vineyards this very day. The way the soil interacts with these rocks affects how the vines grow. They are an invaluable part of the grape growing process for Moolanda."
August 6, 2014 | 3 Comments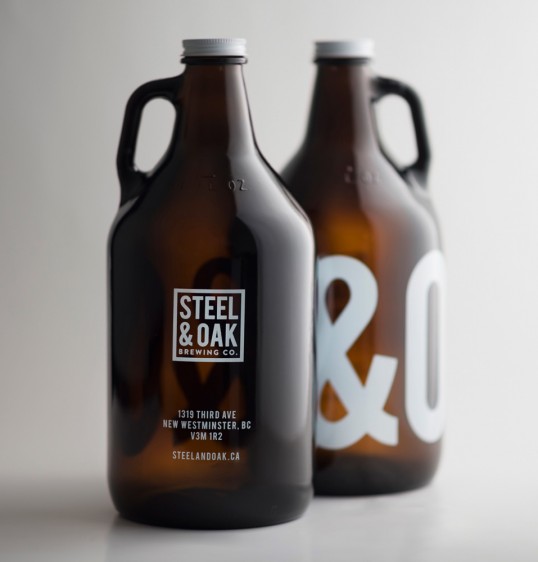 Designed by Also Known As | Country: Canada
"Project overview: Steel and Oak Brewing Co symbolizes the modernness of today while paying homage to the craftsmanship of years long past. A bright young voice in New Westminster's storied past, Steel and Oak is bringing a refreshed perspective and vibrant energy to the craft beer scene.
Supportive, open minded and encouraging clients like this remind us why we opened our doors in the first place. Champions of the process, Steel & Oak embraced the opportunity to get involved and realize their visions through our creative lens. The perspective and insights we gained through working closely and personably with the client helped us create design solutions that resonated early and easily."
July 30, 2014 | 1 Comment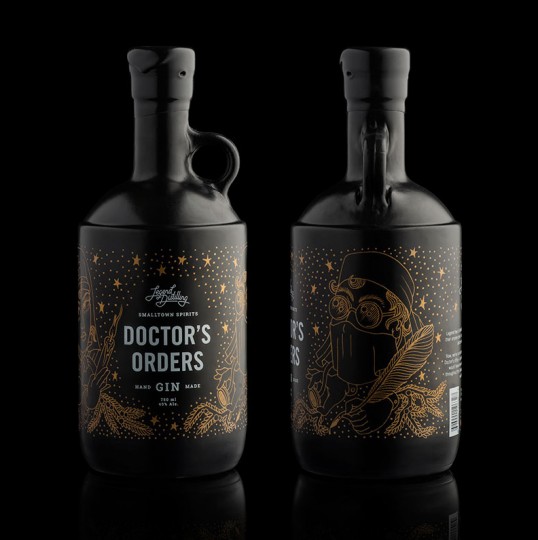 Designed by Also Known As | Country: Canada
"The client and project overview: Legend Distilling came to us with a fresh idea to open a craft-based distillery in the heart of Naramata wine country in BC. They wanted to offer something different to the wine tour market and believed that the BC distillery industry needed something new and fresh. We worked with them to create a strategy for their initial product releases and a framework for future additions to the Legend family. We also focussed on taking strong product and lifestyle photos and created supporting print and website design to drive sales in the tasting room and distribution channels.
The design and creative solution: The strategy was simple, we can't design another 'me too' product, Legend was sick of seeing the same traditional designs on the shelves – they wanted something that offered the market something new and unexpected. With 'Stories worth Sharing' as our central creative concept, AKA developed the overall brand as well as product names and packaging that leveraged local BC legends and worked with a local tattoo artist to create custom illustrations to bring the legends to life on the bottles. We wanted every detail to be considered, from container selection, non-traditional colour selections and print finishings to create something that stands out from the crowd."
July 28, 2014 | 2 Comments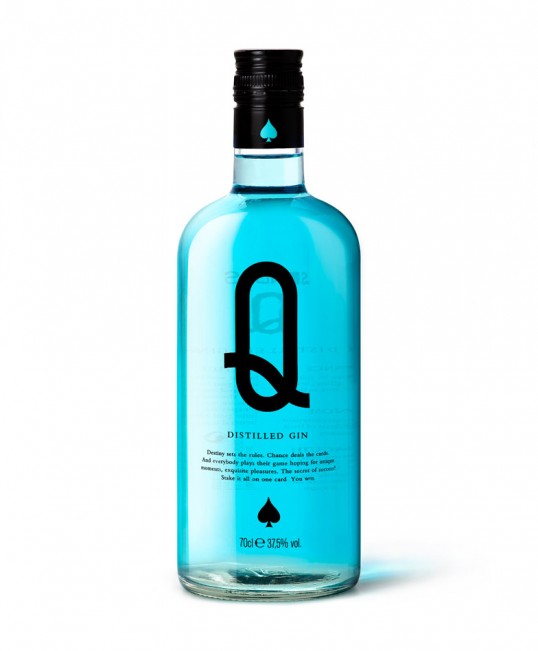 Designed by Puigdemont Roca | Country: Spain
"Our client wanted a Gin to sell in night clubs. We proposed them the naming of Q in accordance to Poker Cards, in allusion to a night icon. We created a clean and impacting design giving importance to the lettering, completely personalized."
July 23, 2014 | 8 Comments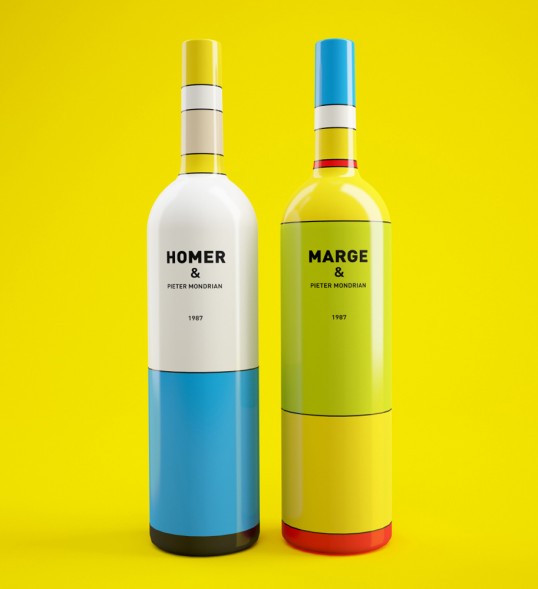 Designed by Constantin Bolimond | Country: Belarus
"The drink was brought to life together with the cartoon characters in 1987. Maybe it's wine, may be not. We are inviting you to find out yourselves. The contents have been kept secret for 26 years now. While the ingredients remain the same, their proportions differ from time to time. That is why you will never get bored from this drink! We can assure you that you will not be left disappointed.
The design is inspired by the works of Pieter Mondrian."
July 23, 2014 | No Comments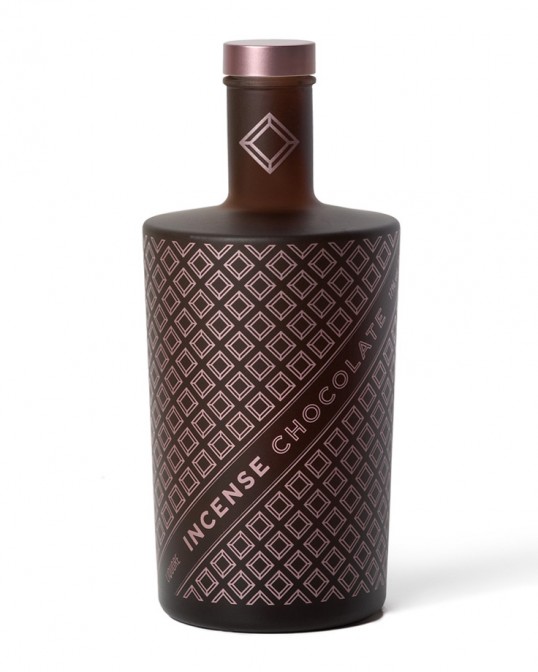 Designed by Puigdemont Roca | Country: Spain
"We used the concept of a chocolate bar to design the packaging for this liquor. Screen-printing was used  to get a great visual impact on shelves."
June 24, 2014 | No Comments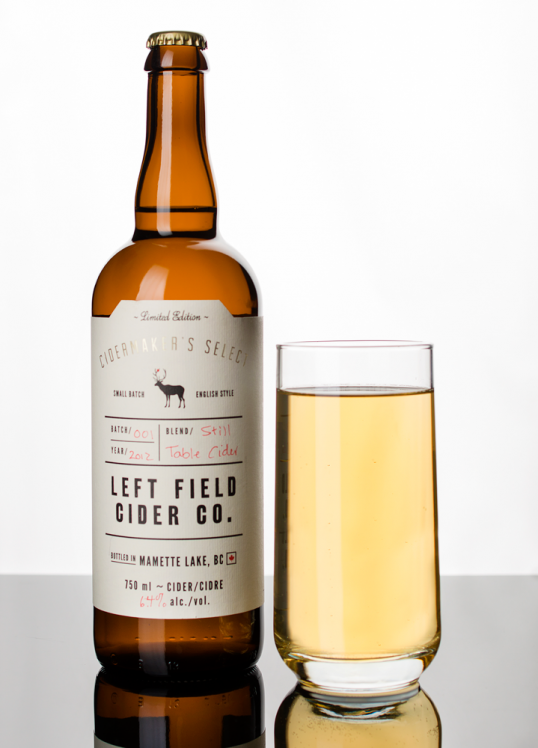 Designed by Also Known As | Country: Canada
"Left Field Cider Co. is a handcrafted english style cider, founded by two sisters and supported by awesome family and friends. The cider is brewed and bottled at the family ranch in Mamette Lake, BC, a place that you have to visit to get the full experience. This is not your average sugar-y, cooler style cider – it's all natural, super dry and refreshing as hell – seriously, there's nothing like it on the market. For the new cider packaging, we took a new approach from their core packaging – focusing on the craftsman approach to creating a premium cider. We created an adaptable label that each year could be used with new variations of cider batches from year to year."
June 19, 2014 | No Comments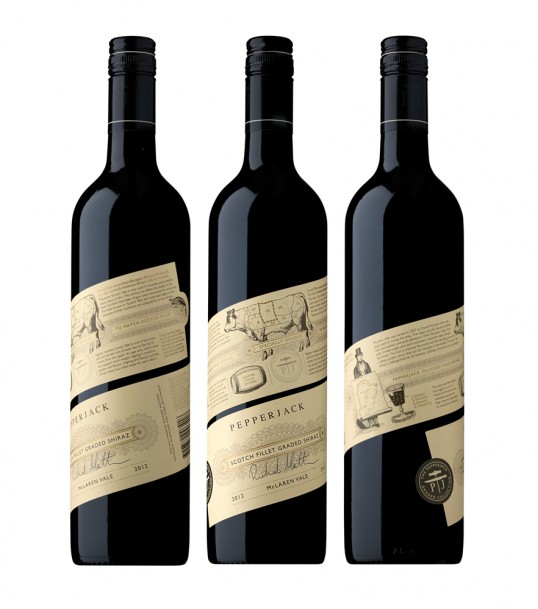 Designed by The Collective | Country: Australia
"Brief: The new Pepperjack "Graded" tier consists of two wines, each specially created to drink with specific cuts of steak, and the client wanted this message to come across strongly. Our challenge was to ensure that the new wine looked like an integral part of the Pepperjack brand, which is largely identified through its cream label applied at an angle on the bottle, but with a completely individual personality. The brief was to come up with a solution that was as distinctive as – and complemented – the core tier's highly recognizable cream label."
June 18, 2014 | No Comments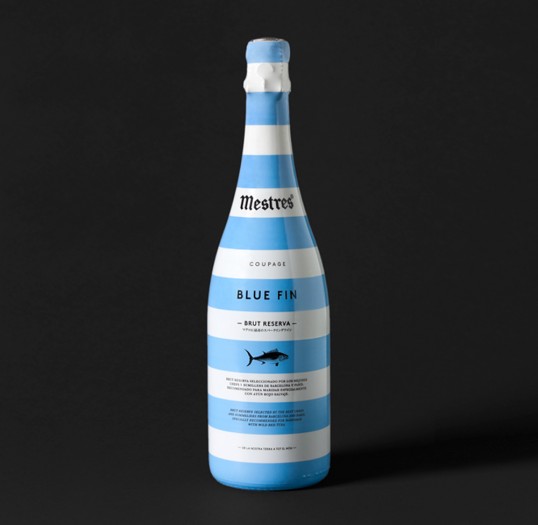 Designed by Clase BCN | Country: Spain
"The blue fin is a kind of tuna. Mestres Coupage Blue Fin is a cava that has been specially created to go with this superb fish and also to raise a toast to all the fishermen, chefs and salespeople whose work is based around it.
The commission came with an explicit request by the client to use a plastic sleeve as the label for a bottle of premium cava—not an easy starting point given that this material is usually linked to mass consumer goods.
However, we embraced this request as a positive challenge to fill the bottle with a graphic design that would make it highly visible and easily recognisable on a sales display.
The artwork reflects its seafaring spirit, wrapping the bottle with a direct, easily recognisable graphic design. The typeface strikes a contrast with the pop pattern, giving the final result a serious, elegant touch in keeping with a premium product."