October 10, 2009 | 4 Comments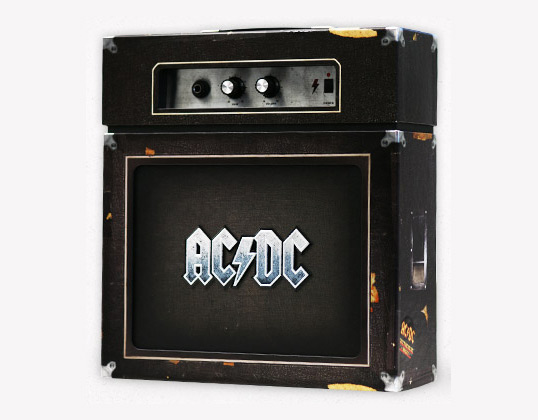 Designed by Smay Design | Country: United States | Buy it
"The exterior box is designed to resemble a vintage AC/DC guitar amp – complete with the original logo that was spray-painted onto the rear of Angus and Malcolm's speaker cabinets in 1975. The "head" of the amp has a handle that lifts the top off to reveal the contents housed within. Oh yeah, the head is also a working guitar amplifier! That's right, one watt of pure AC/DC makes this box a truly unique collector's item. You can play the box set while listening to the box set! Check out the videos of Angus using the amp.
October 7, 2009 | 7 Comments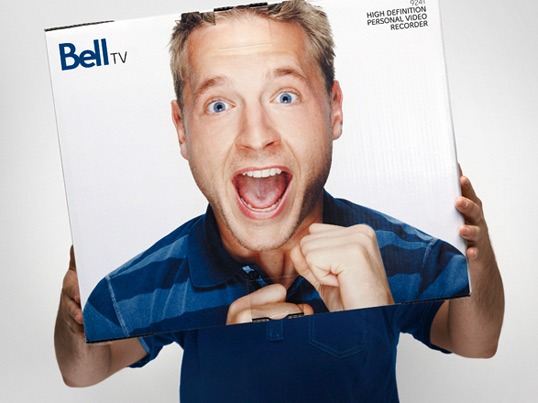 Designed by lg2boutique | Country: Canada
"Packaging that brings out a full range of emotions.
Planning a creative strategy based on the concrete advantages Bell TV brings to consumers every day through its varied, entertaining offer. People were chosen to illustrate the range of emotions : surprise, enthusiasm, fear, pleasure, amazement etc.
Creating the new packaging for Bell's television products, inspired by the completely new Bell brand platform, which takes its tone from simplicity, optimism and a friendly attitude toward clients."
October 3, 2009 | 43 Comments
The international jury of Pentawards, the first world competition devoted exclusively to Packaging Design, chaired by Grard Caron, announced its winners for 2009.
August 14, 2009 | No Comments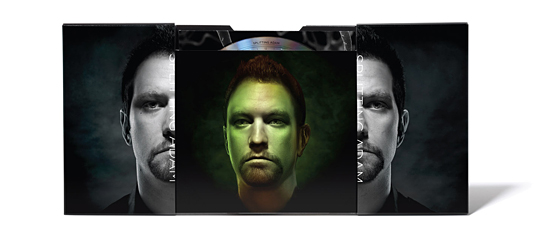 Designed by Rethink | Country: Canada | Font: Gotham
CD packaging for the band "Splitting Adam". The concept surrounds a fictitious character named Adam and his internal struggle with an audio triggered bipolar disorder. The cover splits Adam to reveal inside his head, a 3D animated hologram which morphs from a passive lamb into an agressive ape. The CD and insert artwork documents Adam's mental state along with vital statistics and final prognosis.
The photo of Adam was created using a combination of all 5 band members photos. Each band member needed to be photographed in rotation which was used as the basis to create the smooth animated sequence. The packaging dieline was developed custom for this project and the hologram manufactured in Russia.
July 4, 2009 | 1 Comment
Designed by Theory11 | Country: United States | Buy it
"Stinger borders were originally developed by the US Playing Card Company as a countermeasure against card cheating. The fade to white border looks ultra-smooth, elegant, and simple. The creative team at theory11 recognized the potential for Bee® Stingers and decided to pursue the printing of the classic design in their original format.
Historically reserved only for the world's finest casinos, the Bee® Stinger playing cards are now available to the public for the first time in history – printed on the finest Aristocrat stock."
April 30, 2009 | 7 Comments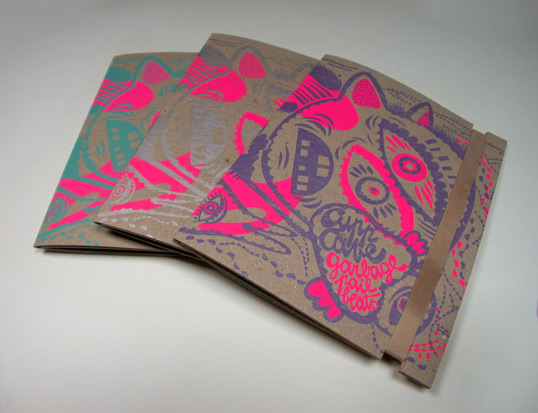 Designed by ThinConsolation | Country: Belgium
Garbage Pail Beats is an instrumental Hip-Hop, Off-beat to be precise, album. If you read the Cupp Cave bio or listen to his music, here it what you should think about: His Garbage Pail Beats are a rump-shaking, head-nodding, feet-shuffling slap in the face, one for the crate-diggers and glitch-lovers. Think nice crunchy gravel. Think big, red, 8-bit family sedan. Think wearing sunglasses sitting in the passenger seat with the window open. Think sunshine. Thump, thump, clap; Cupp Cave is guaranteed Hennessy-free.
April 23, 2009 | 7 Comments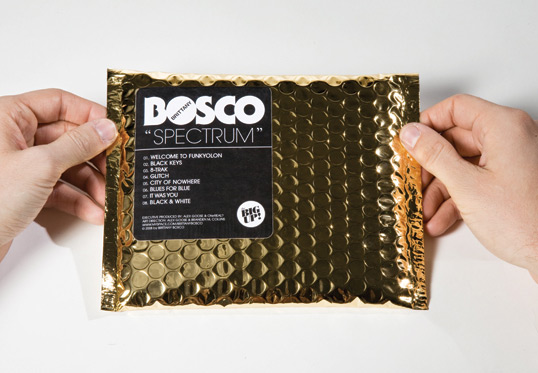 Designed by Alex Goose & Branden M. Collins | Country: US | Fonts: ITC Serif Gothic, ITC Avant Garde Gothic
"Designed as a promotional EP with little to no budget, Branden and I had to come up with a package design that would immediately catch anybody's eye. As part  of The Big Up!, we not only want to create great music, but also great design and packaging to go with it."
April 21, 2009 | 4 Comments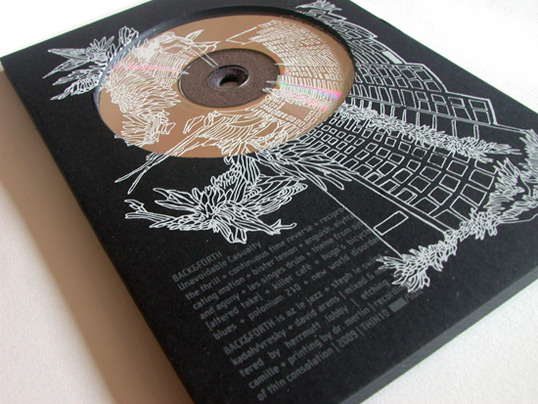 Designed by ThinConsolation | Country: Belgium
"We decided to have a sleeve close to the DVD format. After some tests, we agreed on 3 layers of cardboard with a big hole to see the CD, an opening on right side where you drag the CD and a small hole on the back side (this hole matches perfect with center of the CD, but is just for aesthetics). We added some felt where you put the CD which comes in red or grey.
For the graphics, the musicians wanted something without 90º angles and we (at the label) wanted something with a lot of detail, a reminder of their music. A friend – Camille, makes etchings and was working on feathers… We decided to work with her. It was going to be a bit too though to make 500 + promos copies only by etching, so we decided to screen print her work instead. We used white and red or grey for the front (it depend of the felt) and black + silver for the back."
April 16, 2009 | 4 Comments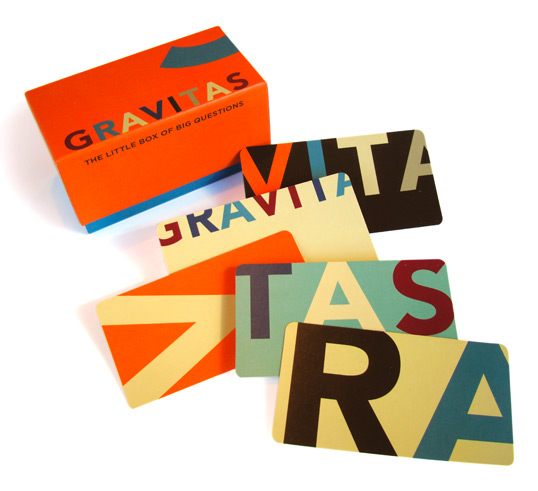 Designed by Hambly & Woolley | Country: Canada
"GRAVITAS is a game of discovery – of who we are and how we have lived. There is no right or wrong answer. Although the questions call for reflection, they can be dealt with in a thoughtful manner or a more light hearted one. A certain savoir faire is accumulated in life that reflects our individual stories and experiences. Everyone can offer some GRAVITAS on life's big questions. The game consists of 143 cards (three questions per card) totalling 429 questions."
April 9, 2009 | 4 Comments
Designed by Jeffery Docherty | Country: United States
"Japan released EP due out for release later this month. EWH is a trio based in New Zealand and are well worth a listen."