October 2, 2009 | 3 Comments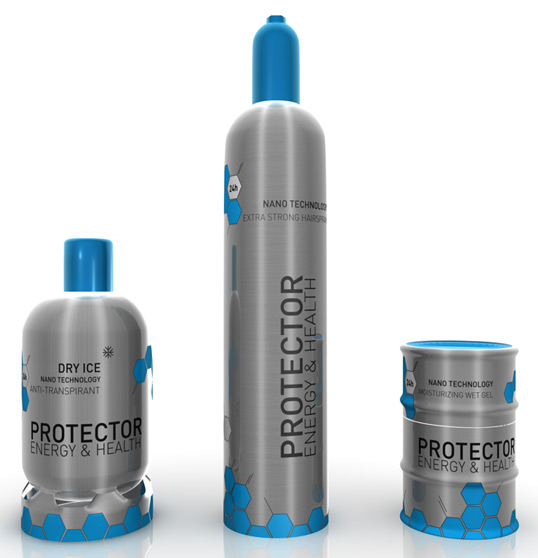 Designed by David Baertz | Country: Germany
"The Protector product line is based on the idea of creating beauty products for men, who don't want to be metrosexual. A few years ago, the media started to proclaim the "new masculinity", for example Burger King (e.g. the "men's academy"). Regarding this fact, is designed the "protector series".
September 27, 2009 | 14 Comments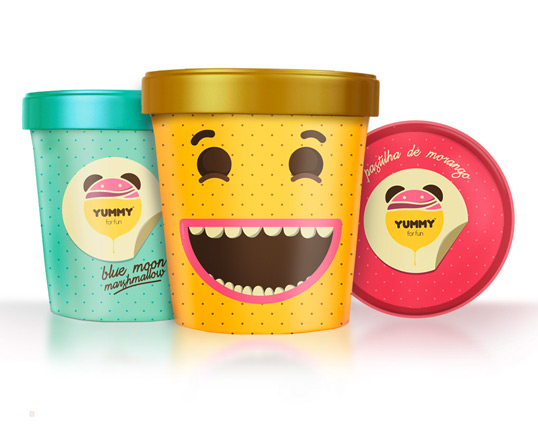 Designed by Joao Ricardo Machado | Country: Portugal
"This is a project for a ice cream identity and package family for kids. It was a final college project created for the Graphic Design Project class in the College of Arts and Design Caldas da Rainha (ESAD.CR), Portugal. The faces and expressions interact with the kids by showing how fun and delicious it is to eat ice cream and turn the package into a collectible and reusable fun object for kids. Particularly, I always feel like laughing when i look at theses happy faces."
August 23, 2009 | 3 Comments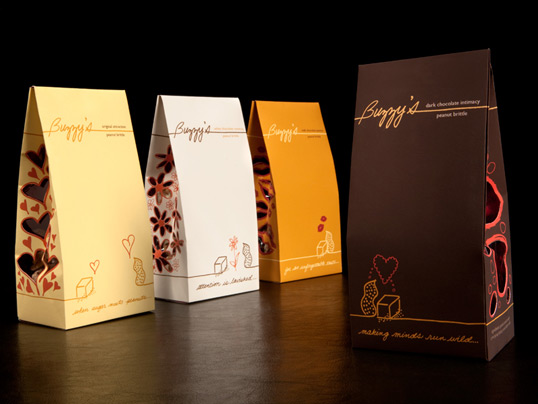 Designed by Aileen Barrameda | Country: United States
"The packaging is for Buzzy's, a boutique gourmet candy shop that targets women. They wanted a feminine approach in selling their best selling line of peanut brittle, which includes original, white chocolate dipped, milk chocolate dipped, and dark chocolate dipped.  Buzzy's uses 7 ingredients to make their original peanut brittle recipe.
I approached the design with the idea of "simple ingredients made with love," using romance to woo women. The line of packaging tells a story of peanut meeting sugar and how their relationship develops into the 4 stages of love: attraction (original), romance (white chocolate), passion (milk chocolate), and intimacy (dark chocolate). Since the packaging is about a story unfolding, the packaging has a preforrated tab to reveal the bright red lining–a color associated with love, passion, and romance. The die cuts give a glimps of the product and are associated with the line graphics per assortment."
August 17, 2009 | No Comments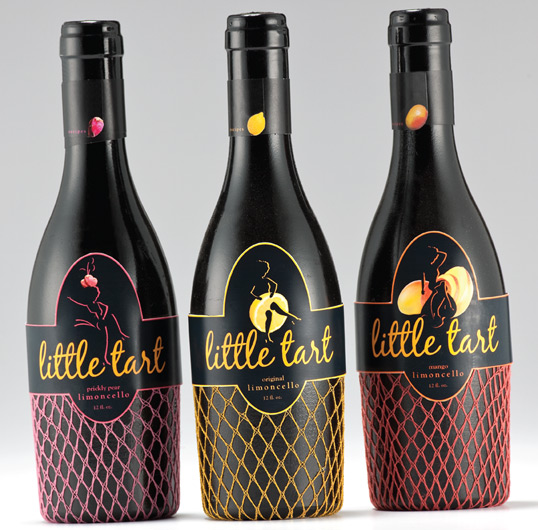 Designed by Stephanie Rachmeler | Country: United States
"Little Tart is flavored limoncello with a little sass; the tagline is "Not all girls are made of sugar and spice. Some are a little tart." It comes in 3 flavors: Original (Cancan dancer), Mango (Jazz lounge singer) and Prickly Pear (Vegas showgirl). Peel the label off the neck to reveal cocktail recipes."
August 16, 2009 | 5 Comments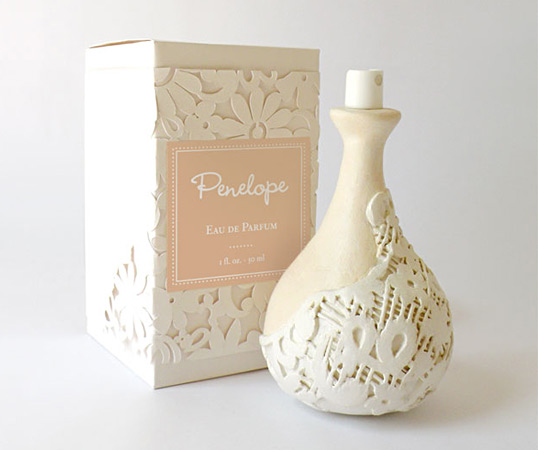 Designed by Erin Dameron | Country: United States
"The goal of this project was to create, brand and design packaging for a five piece cosmetic line. The students were allowed to choose the brands' name, direction and price point.
Penelope is a skin care line that was inspired by the retail store Anthropologie and is targeted towards women who shop there. Penelope's unique bottle designs and intricate 3-D floral detailing, created to mimic lace, merge vintage aesthetics with modern form."
July 30, 2009 | 3 Comments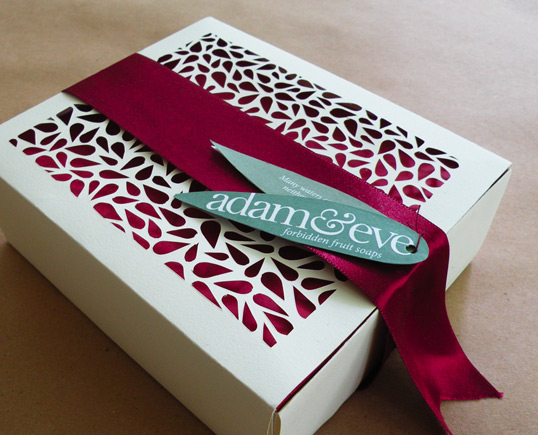 Designed by Rachel Dangerfield | Country: United States
"I saw this project from beginning to end. From carving molds for the soap shape to choosing the perfect scents, Adam & Eve Soap was born. When my professor jokingly mentioned creating a his and hers soap for some sexy bath time fun, the idea was planted. This soap would be sold near Valentine's Day and would be promoted as a gift soap. The man buys it for his leading lady, and both of them get a little something out of it (if you catch my drift). I even went as far as to choose scents that are known to be aphrodisiacs. It's a soft approach into the intimate world."
July 17, 2009 | 2 Comments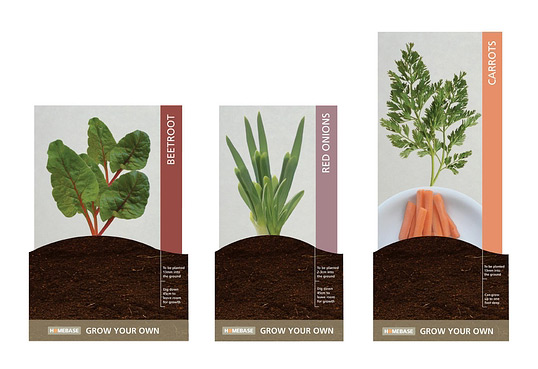 This year Turner Duckworth was the client for D&AD's Student Awards with their creative brief for Homebase. Students had to create packaging and point of sale for Homebase's 'Grow Your Own' fruit and vegetable range targeted towards novice gardeners.
July 14, 2009 | 7 Comments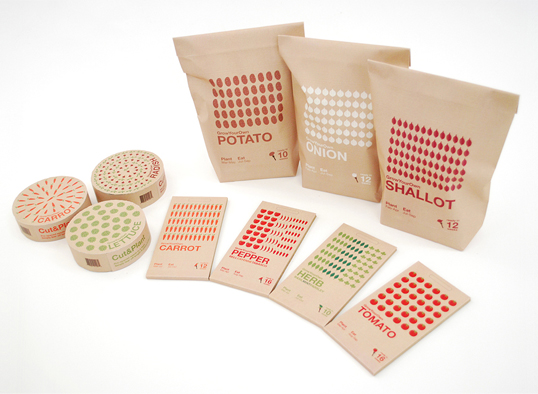 Designed by Adam Paterson and Santi Tonsukha | Country: United Kingdom
 Adam Paterson and Santi Tonsukha, students from the Royal College of Art have sent us in some images of their latest project 'GrowYourOwn', packaging for fruit and vegetable seeds for novice gardeners. This range of packaging works extremely well, the combination of clean attractive graphics with simple sustainable materials compliment how well each individual piece fulfils its purpose perfectly. Having won the 'In-Book' award for the D&AD student Awards 2009 we are eagerly awaiting their forthcoming projects.
July 11, 2009 | 1 Comment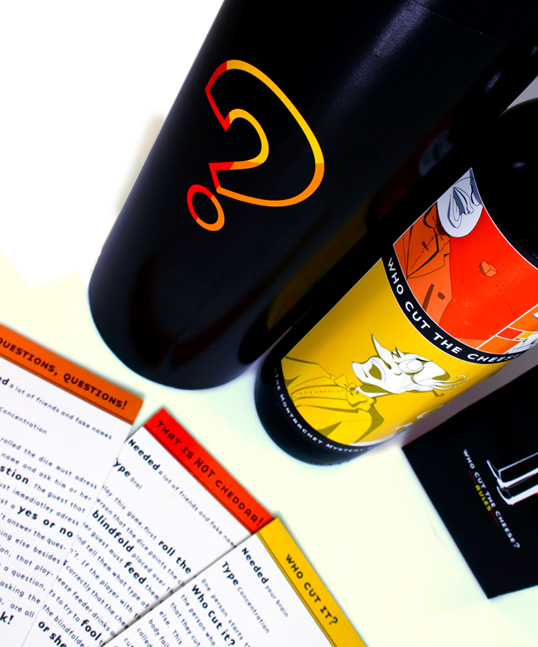 Designed by Jason Lorne Giles | Country: United States
Jason is a recent graduate of the Pennsylvania State University graphic design program.
"Who Cut The Cheese?: The Montrachet Mystery Game" is a self-promotional wine game that offers a new perspective to the wine drinking experience. The wine would be sent out to clients on Blame Someone Else Day, which is the first Friday the 13th of the year. Players would spin the wheel and choose the character card's rules that accompany each color. All characters were named after stinky cheeses and each has his/her own back story. The rules revolve around accusing people of various things or cheese/wine tasting."
July 9, 2009 | 4 Comments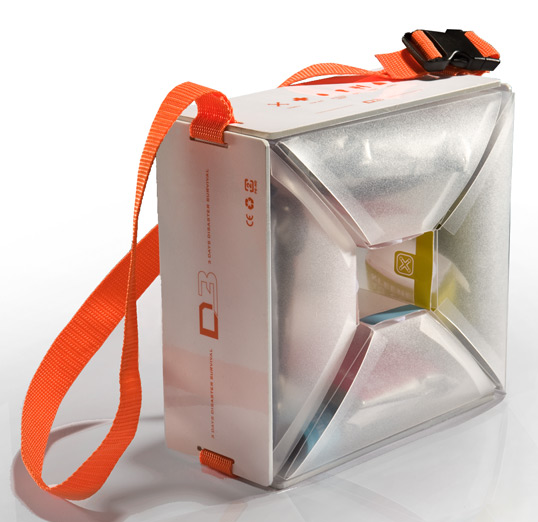 Designed by Angela Wang | Country: United States
Great work from graphic design major Angela Wang who is currently studying at Art Center College of Design.