December 15, 2010 | 6 Comments
Designed by Krisna MacDonald | Country: United States
"Humphrey Bow Ties was a project for my production class where we had to package an everyday item (I created the brand myself). The box is constructed out of chipboard with gold paper on the outside and velour paper on the interior to mimic velvet. There are four different styles of bow ties and endless amounts of pattern options. Each bow tie also comes with a tag which describes what you can wear with each style of bow tie (for the bow tie newbies)."
December 15, 2010 | No Comments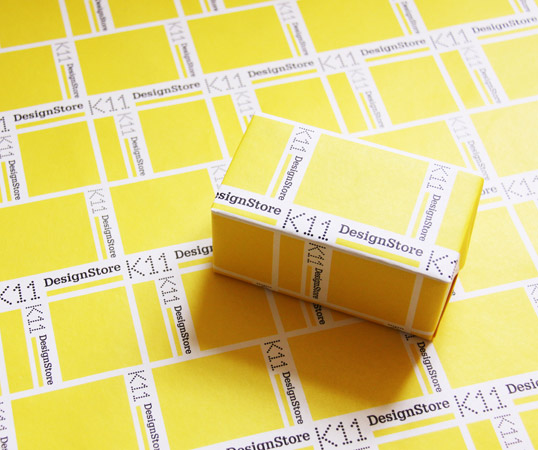 Designed by Blow | Country: Hong Kong
"K11 Design Store is a new young and inspiring retail store by K11 Art Mall. The products are selected from outstanding designers' brands all over the world. We were asked to create a brand new look from the identity, packagings, website, environmental graphics to advertising. The packaging design is simple, modern and stylish which reflects the brand personality and suggest a taste of art and design."
December 14, 2010 | 3 Comments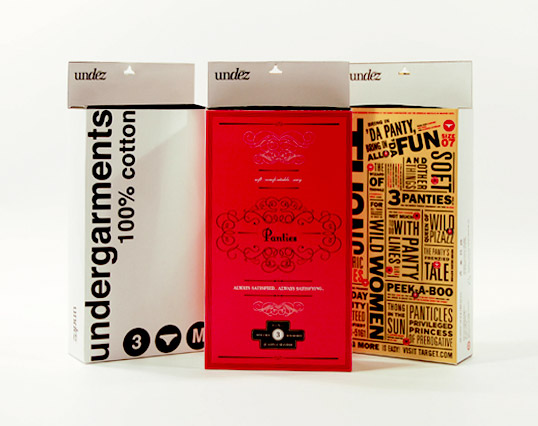 Designed by Ashley Gaffney | Country: United States
"I created a non-existing brand of women's underwear that could be adopted as an in-house brand for Target. Hypothetically, this Target brand, 'Undez' would collaborate with AIGA to promote female designers in the industry and inform consumers of their impact on society through the design field. Each designer was matched to a personality, which also spoke to the style of the packaging. Conceptually, this simple store brand embodies a woman's "underwear buying experience," while pinpointing the main attractions of it from both a high and low end purchasing level."
December 14, 2010 | No Comments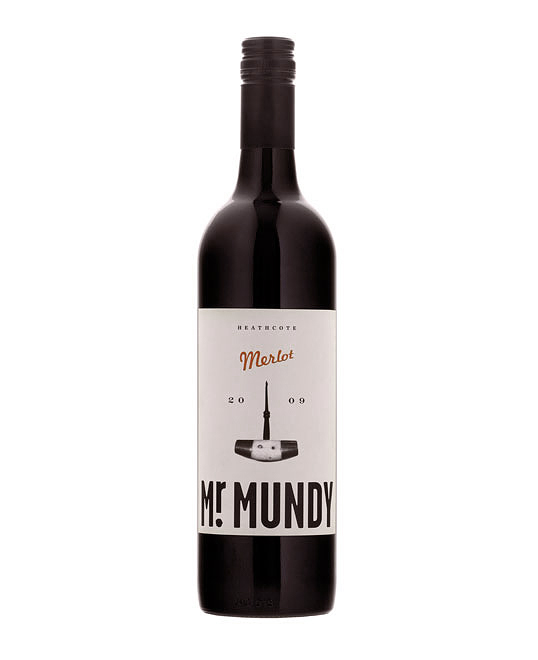 Designed by Swear Words | Country: Australia
"Not too far from Tooborac village (across the gully and beyond the ridge), a Mr Mundy had a plan: a quest for gold to feed his clan. But one fateful day there was a terrible brawl, that challenged the propriety of his sparkling haul. For Mr Mundy there was no doubt, that golden bounty was his to tout. So amongst the scuffle and vicious dissent, he unloaded a weapon that made clear his intent. He put it to use and maimed his foe, then plunged it in the cork of a delicious merlot. Vibrant fruit, chocolate, spice, and a wonderful hue, it enveloped his palate as he savoured his coup."
December 14, 2010 | 1 Comment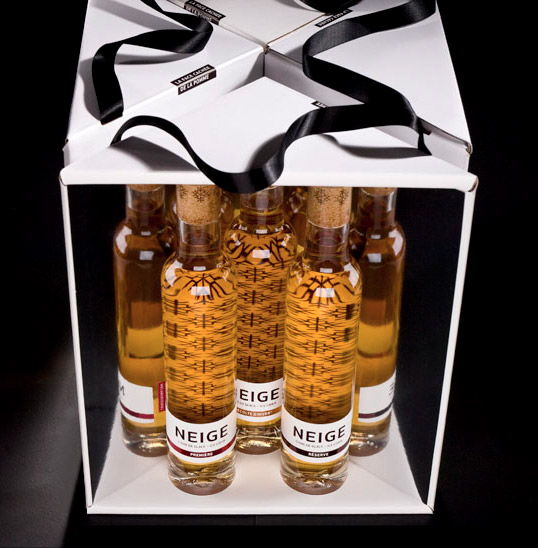 Designed by Chez Valois, Branding & Design | Country: Canada
"Chez Valois, Montreal based branding & design agency, created special edition discovery gift set packaging for Neige Ice Ciders. With it's mirror-like backing, the set attracts the consumers attention. This one piece packaging, made with no glue has a complementary tasting note form slided in the back.
The cidery La Face Cachée de la Pomme is inspired by the technique used to make ice wine, and by Québec's very particular climate. Neige (meaning snow in English) ice ciders were born out of this Canadian province's terroir which has the extreme cold winter temperatures needed to produce the concentration of sugars for its creation."
December 13, 2010 | No Comments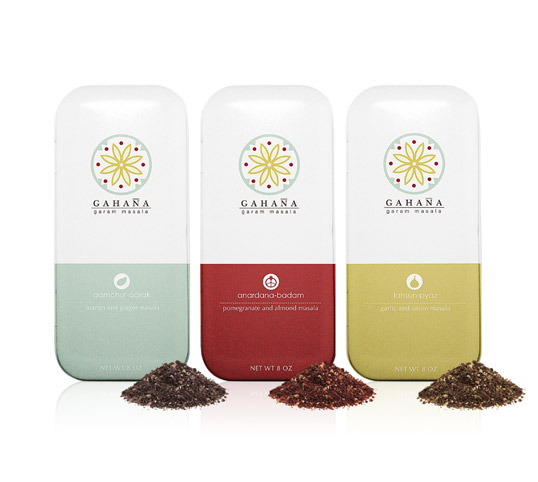 Designed by Christopher Vicente | Country: United States
"Gahaña is a line of Indian spice mixtures (masala) created for a branding and packaging project. This lines of spices consist of three mixed flavors: mango/ginger, pomegranate/almond and garlic/onion. In this project I tried to focus on designing something that's normally very traditional looking and giving it a more contemporary feel. Flavor identification was also very important when it came to the branding of this product. The colors as well as the flavor symbols were the two main things that I used to set the three flavors apart while making sure that there's continuity within the line of products."
December 13, 2010 | 2 Comments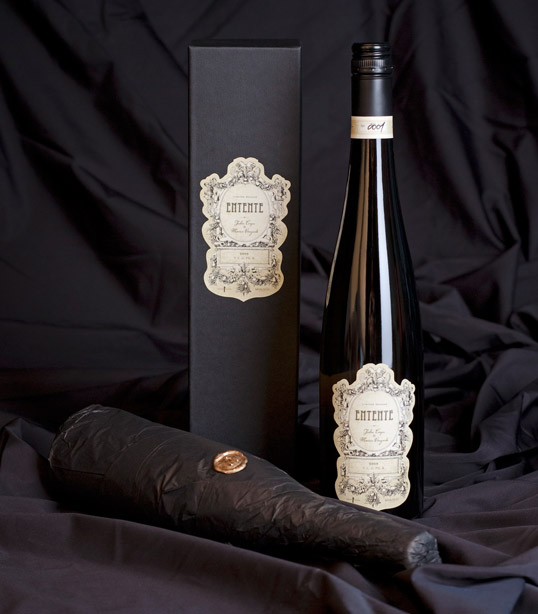 Designed by Christopher David Thompson & Trelise Cooper | Country: New Zealand
"Marisco Vineyards have had a long-standing relationship with international fashion designer Trelise Cooper, sponsoring many of her fashion shows etc. As a result of that friendship and business partnership an opportunity came up to involve Trelise in the design for a limited release wine. I was engaged to create the design and artwork for the brand, being briefed by Trelise, who offered her ideas and inspirations. With her strong affinity for all things French and antique, the brand needed to represent Trelise in its style and elegance. Using the concept of 'Harmony' as a base, in terms of the harmonious combination of wine varieties (Viognier, Chardonnay, Pinot Gris, Gewürztraminer and Riesling), and the harmonious relationship between the two company brands, its French synonym 'Entente' was chosen – symbolising the coming together – or accord between the two parties. Growing on the concept of 'harmony' I  found some antique sheet music which became the basis for the label design,  elements of which were totally reworked in pen and ink – creating a beautifully elegant, timeless and delicate design."
December 12, 2010 | No Comments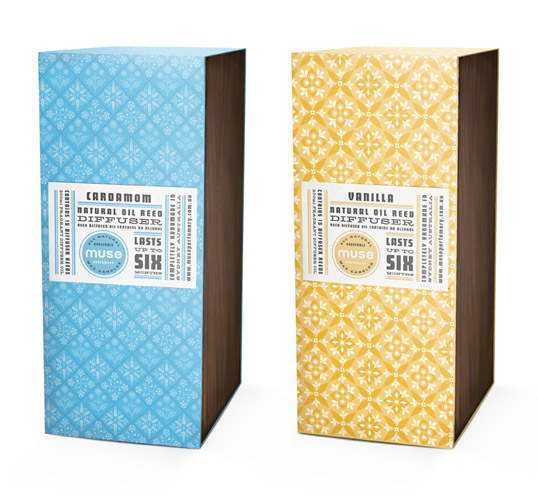 Designed by Wink | Country: United States
"Entrepreneurs from Australia decided to start a candle company. They approached Wink to develop  branding and packaging for Muse Perfumery for 8 fragrances for their diffuser reeds & oils and candles. All of their candles are hand made and all natural. Therefore, we created the patterns for each fragrance to reflect the floral & fruit scent of each candle. We recommended that each candle be housed within a wood based package. A hand applied letter press label added to the uniqueness and hand made nature of the candles."
December 11, 2010 | No Comments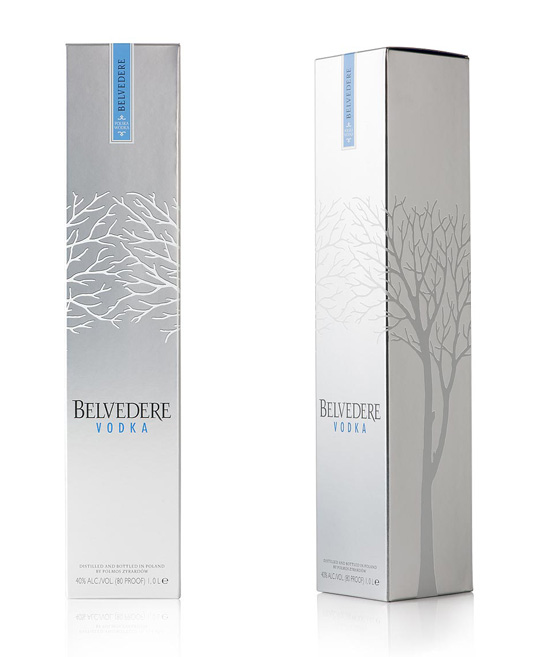 Designed by Aloof | Country: United Kingdom
"Packaging design for global luxury spirits brand, Belvedere Vodka.
In addition to developing highly innovative concepts for gift packaging (for future release), Aloof were also briefed to refine the existing standard gift box.
We conceived a way of making the tree design appear more 3-dimensional and tactile, and sourced a more premium metallic carton board. To make production more accurate and efficient, we replaced the existing caselined box with a sleek carton and made the signature blue seal an integral part of the design."
December 10, 2010 | No Comments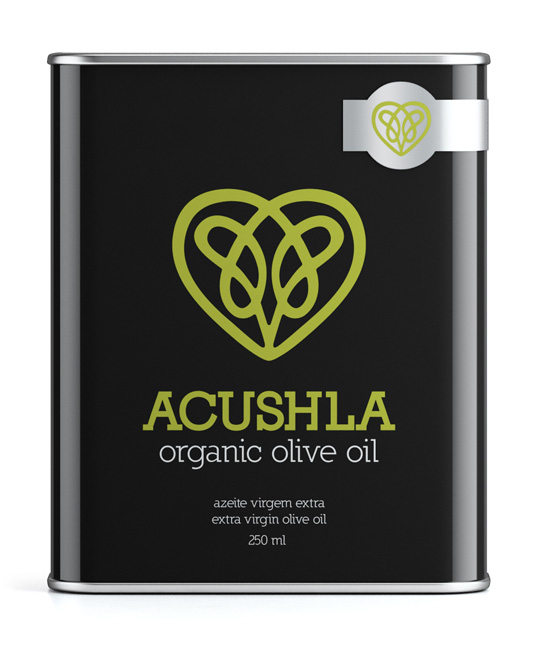 Designed by NTGJ | Country: Portugal
"Acushla is a premium portuguese extra virgin olive oil , from the Protected Designation of Origin (PDO) of Trás-os-Montes, ACUSHLA is a high quality product.
ACUSHLA is dedicated to a contemporary consumer, who searches for excellence standards at the table.
The deign is simple and elegant. Here the details make the design. The bottle is a normal bottle but with a black matte surface treatment. The graphics are simple and not noisy and it allows the bottle to be on the top of the table without being decanted.
ACUSHLA means "beat of my heart", it represents how passionate about olive oil the company is."