April 22, 2013 | 3 Comments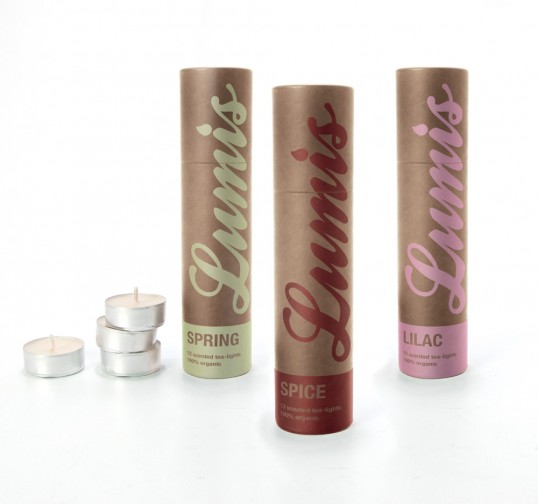 Designed by Megan Sarah | Country: Canada
"Lumis is an environmentally conscious candle company. I designed packaging for their tea-lights to honour this commitment to sustainability. A recycled cardboard container with a lid will protect the candles better during transport and also be re-sealable after opening. Once the candles are gone the consumer can re-purpose this container to store something else, or easily recycle it. Allowing the natural cardboard to show, and using simple graphics and a single colour makes it instantly apparent that the minimum amount of materials and resources were used for the package. The tactile qualities of the cardboard and natural inks convey quality while also providing effective and attractive storage."
March 8, 2013 | 3 Comments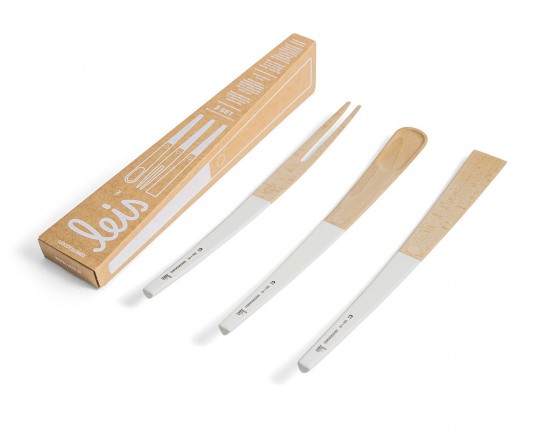 Designed by Giodesign | Country: Slovenia
"Leis aims to revive the centuries' old woodcraft tradition called 'suha roba', born in Slovenia amidst one of Europe's most forested areas. Combining contemporary design and long-established hand-crafting skills, the brand's purpose is to manufacture appealing, user-friendly and well-designed products made strictly using locally sourced beech.
The first product is a three-piece kitchenware set consisting of a fork, spoon and spatula. They feature an integrated magnet for easy storage, lifted ends to prevent smearing and a curved shape ensuring an easy and secure hold. Future products will include nature-friendly Christmas ornaments and office accessories.
Designed, developed, sourced and handcrafted within a 30 km radius, Leis promotes a sustainable, fair-trade business model. Leis is the result of a partnership between the companies Rimarket, which oversees product development and manufacture, and Gigodesign, for design and branding."
March 5, 2013 | 6 Comments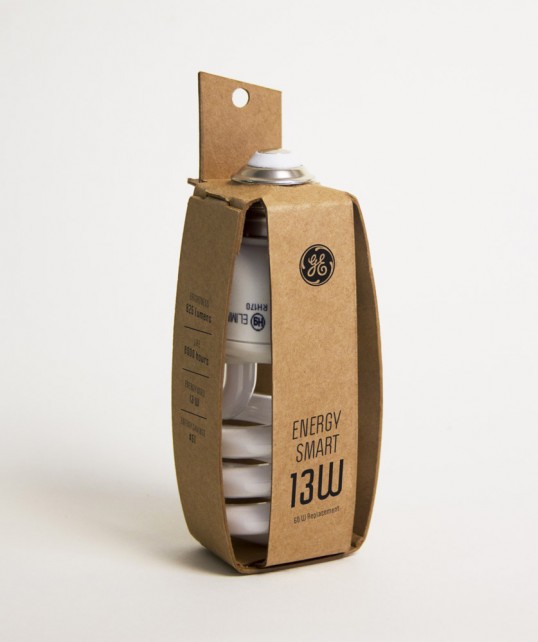 Designed by Michelle Wang  | Country: United States
"This is an eco-friendly light bulb packaging for a single GE Energy Smart light bulb. It is constructed from a single sheet of recycled chipboard using no glue and minimal ink. The idea was to find a way to use the least amount of material while still offering protection."
March 1, 2013 | 1 Comment
Designed by Nomon Design | Country: Spain
"Project for a writing set line by the fashion designer David Delfín. Graphic design applied to the product. Creation of the structural packaging and POP display."
February 26, 2013 | 1 Comment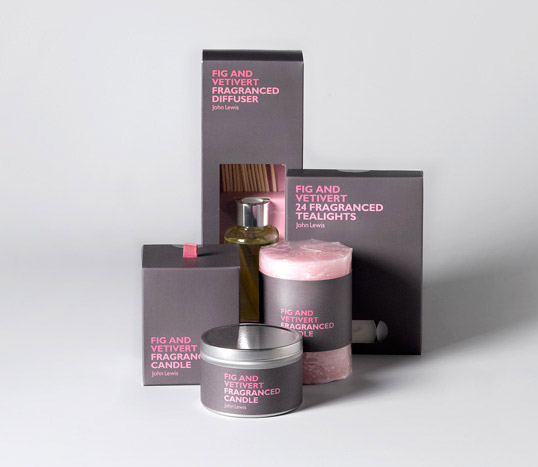 Designed by Charlie Smith Design | Country: United Kingdom
"We designed the packaging to have a neutral background with a highlight colour for the text which changed to reflect each fragrance."
February 15, 2013 | 1 Comment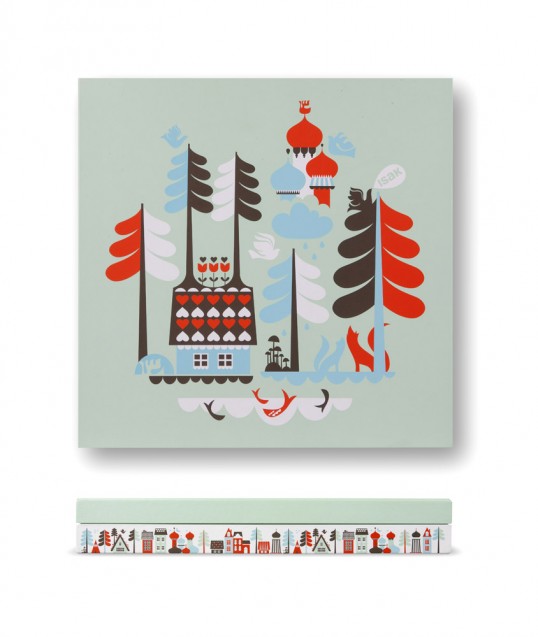 Designed by Sandra Isaksson | Country: Sweden
"We have just brought out a new range of cups and plates that come packed in reusable packaging. The idea was to make the packaging so pretty and in such good quality that not only does it protect the product, an not only is it so pretty that you don't have to wrap it to give it as a gift – but you also want to keep it for storing other things! The insert can be removed and the box is there for you to store whatever you have that needs storing, paper, pens, toys or any little bits that you have lying around.
There are 3 ranges; Tingleby, Harvest and Familjen. I will send you the ranges separately. In this e-mail I will attached Familjen. I hope you like! Please let me know should you want any more information!"
February 12, 2013 | 5 Comments
Designed by Nudge | Country: United States
"Circle 21 Candles produces all natural soy candles in a line of location-themed scents. The candles are hand-poured into recycled wine bottle containers and topped with "branded" corks to keep the candles smelling fresh. For the labels, we created a blank letterpress label template and used custom rubber stamps for each scent.  This not only allowed the client to easily and economically add new scents but also gave each candle a unique, one-of-a-kind feel."
February 9, 2013 | No Comments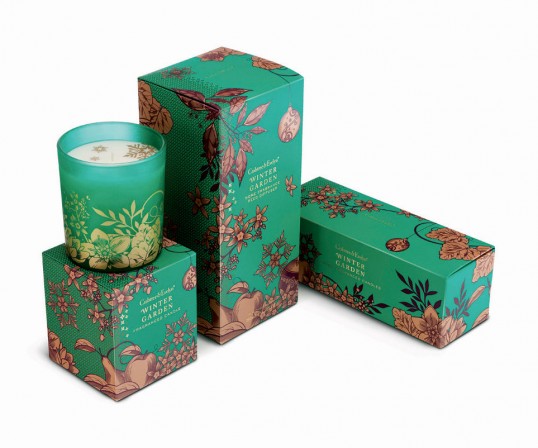 Designed by Pearlfisher | Country: United Kingdom
"Pearlfisher has created the packaging design and fragrance stories for Crabtree & Evelyn's new 2012 Christmas Gift collection.
The Christmas Gift Collection comprises of both a Home Fragrance range in two scents: Noel®  and Winter Garden™ (including candle, diffuser and room spray) and a Personal Care range (including shimmering body mist and shimmer lip gloss).
The designs move away from the traditional to offer a new and original take on festive fragrance, telling stories through illustration that bring each fragrance to life – "weaving around fresh balsams and rich persimmons, the arctic fox and nimble deer breathes life into sleeping citrus trees awakening a heady burst of sharp scent".
Sarah Butler, Deputy Creative Director at Pearlfisher said, "We devised a story for each fragrance and used bespoke illustrations, rich, contrasting colours and nature motifs to bring it to life and take the consumer into a magical and festive world, moving from the traditional and coded to a more contemporary, imaginative and inspirational expression of Christmas."
January 28, 2013 | 5 Comments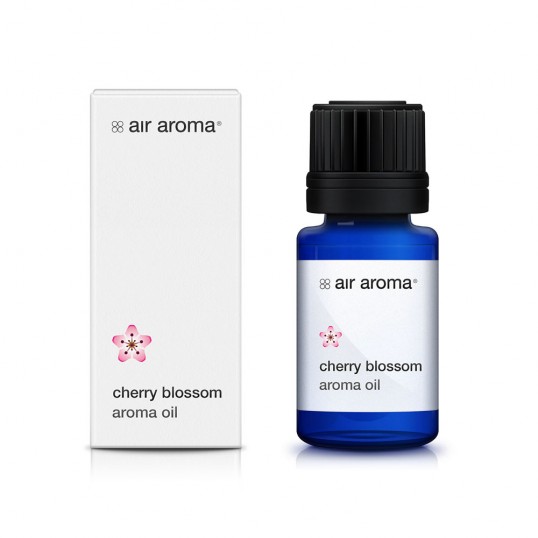 Designed by The Graphic Order | Country: Australia
"Consisting of 38 different fragrances, this packing design is for scent branding company Air Aroma.
Each fragrance was given it's own unique icon, combined with simple clean type this allows customers to easily identify each scent at a glance while standing out on the shelf from other brands."
January 7, 2013 | 4 Comments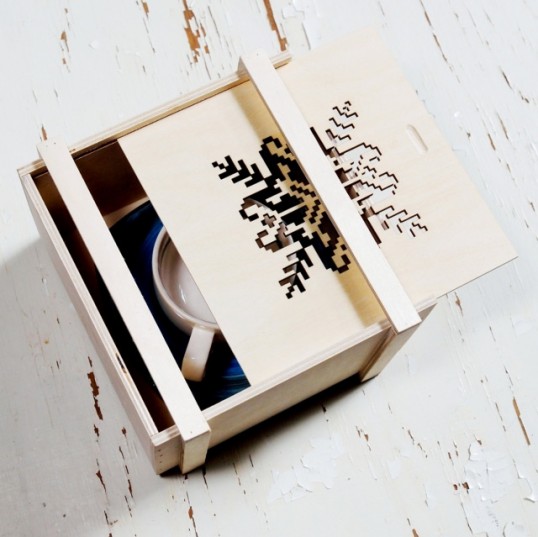 Designed by YouArtMe | Country: Poland
"This wooden box is designed by Ewa Dagny and is inspired by artworks of a Norwich artist Randi Antonsen, who also colaborates with YouArtMe.
They are produced hand-made and according to the fair trade principles by a local, native and family owned company from a little village called Górsk (Gorsk) near Toruń (Torun) in Poland.
The star themed boxes are a great idea to crown the Christmas gift. They can also be reused afterwards for example as an pencil case and in many other ways."