February 28, 2010 | 3 Comments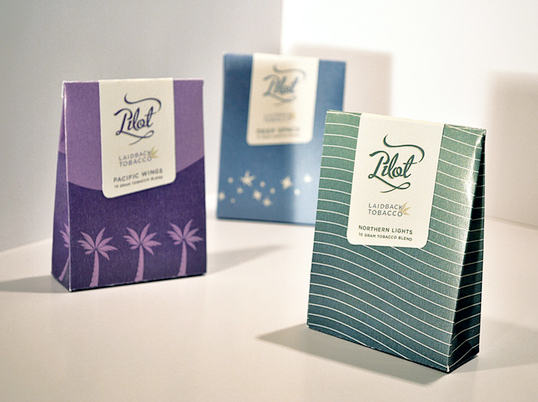 Designed by Andreas Fossheim | Country: Norway | Font: Metroscript (modified)
"Last year I finished my graphic design studies at Westerdals School of Communication (Norway). For my diploma assignement, I decided to ask the question «What would a brand of legal cannabis cigarettes look like?»  Wanting to distance the brand from regular cigarettes and the established design-language of coffeeshops, I opted for a fun, fifties-inspired identity.  The «Northern Lights», «Pacific Wings» and «Deep Space» product names serve as an indication of product strength, as well as emphasizing the travel imagery in the Pilot name."
February 27, 2010 | No Comments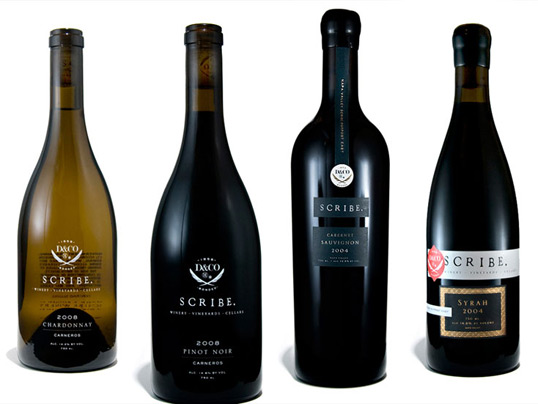 Designed by Nothing: Something: | Country: United States | Fonts used: Bracketed Modern Display, Sackers Gothic
"At the epicenter of California winemaking, perched on a hillside overlooking the bay, this Sonoma winery occupies the very first parcel of land ever to produce wine in California. Emil Dresel, a German immigrant with only a vine in his rucksack, built the Dresel & Co. name into the most celebrated vineyard of its time , only to be felled 60 years later by prohibition.
February 27, 2010 | 15 Comments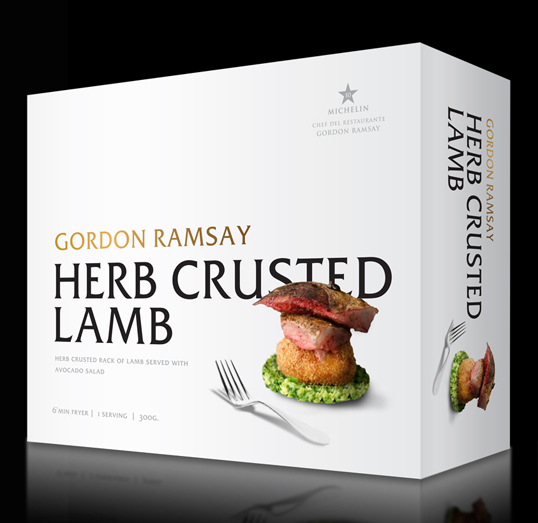 Designed by José Luis García Eguiguren | Country: Spain | Fonts used: ITC Friz Quadrata
"Our assignment was to create an elegant product-line for a famous chef. I chose Gordon Ramsay, a renowned UK chef who has received 10 Michelin stars. For this, I utilized a clean and simple design that emphasized the typography as a differentiating element to accompany the photography.  Instead of laying out the food as it would appear on a plate, it is placed in a more artistic manner as if it was a sculpture. I used photographs on the  lateral panels of the boxes in order to create a more dynamic brand (example: escargots and marmalades). As you can see, it's a very clean, elegant and simple way to create a brand that is unified by a typographic style."
February 27, 2010 | 1 Comment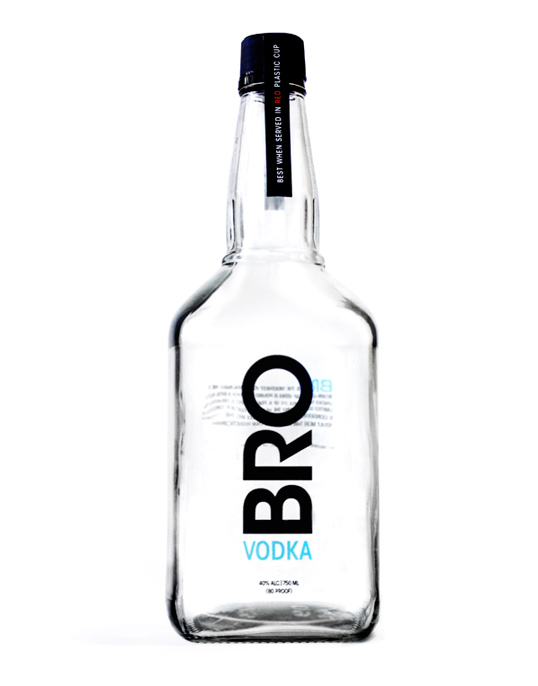 Designed by Melissa Nemec | Country: United States | Fonts used: Modified ITC Avant Garde Gothic
"Bro is the smoothest vodka imaginable and is born when cheap vodka is poured through a Brita filter under the watchful eye of a frat boy. Serve properly in novelty shot glass, or as a mixed drink in a red plastic cup."
February 26, 2010 | 2 Comments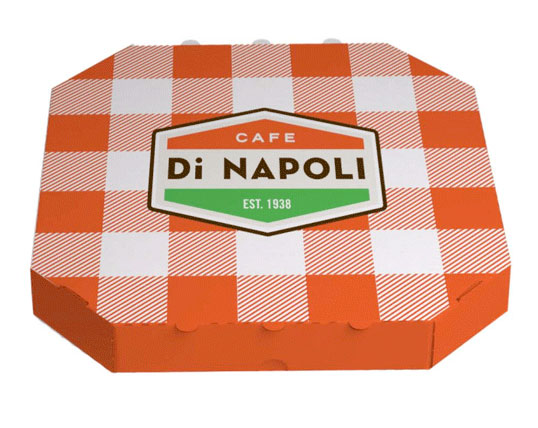 Designed by Gregory Hubacek | Country: United States | Fonts: Trade Gothic, Neutra Display Titling
"Serving traditional pizza, pasta, salads and other options, Cafe Di Napoli is the oldest Italian restaurant in the twin cities. After moving from its original location, the restaurant wanted to rebrand themselves as more of a quick lunch option for skyway travellers rather than a full service sit-down experience."
February 26, 2010 | 1 Comment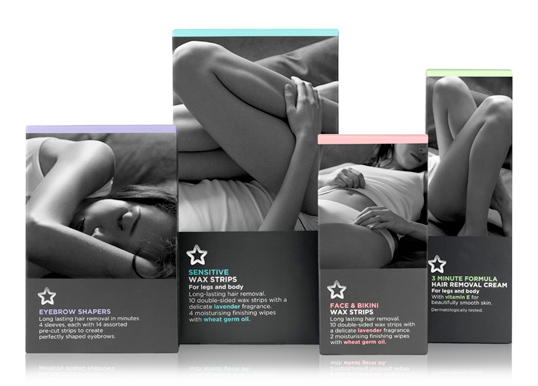 Designed by Burst | Country: United Kingdom
"We wanted to take away the embarrassment factor of the whole depils sector, which seems to be generally treated the same as SanPro in its styling. We have focused on the beautiful natural body, using high contrast black and white photography that has a sheen effect, emphasising the smooth skin and evoking the emotion of someone being at one and relaxed with the whole situation. The close up black and white editorial photographic style to empower and inspire the purchaser, not make her feel like a 'bloke' that needs a shave or a 'hairy old witch'. The high contrast images use relevant parts of the body to help communicate which product to use and the coloured band at the top helps differentiate further."
February 26, 2010 | 1 Comment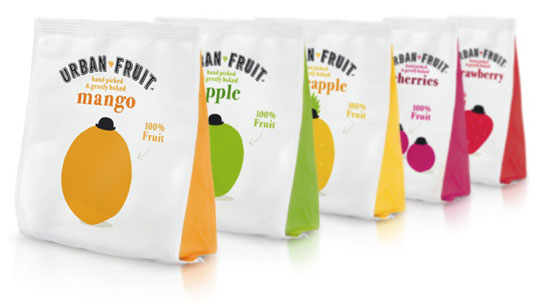 Designed by B&B Studio | Country: United Kingdom
Coloured gussets deliver a bright splash of colour while allowing the front of the package to stay very minimal in nature.
February 25, 2010 | 2 Comments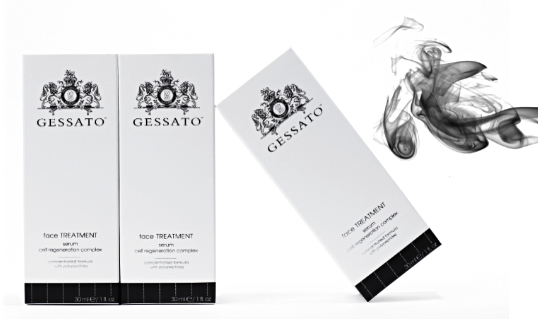 Designed by Gessato | Photography: Christian Garibaldi | Country: United States | Buy it
"The name Gessato describes the chalk-stripe suiting fabric that sets the tone for the products and packaging inside and out, and refers to the traditional elegance of contemporary Italian aesthetics and culture.
The noble lions af Italian royalty, a symbol of richness and strength, the naturally stark silver and white palette, symbols of peace, serenity and well being; and the Latin motto, "providentiae memor" (with gratitude for divine guidance) converge to outwardly represent the essence of Gessato's products."
February 25, 2010 | 1 Comment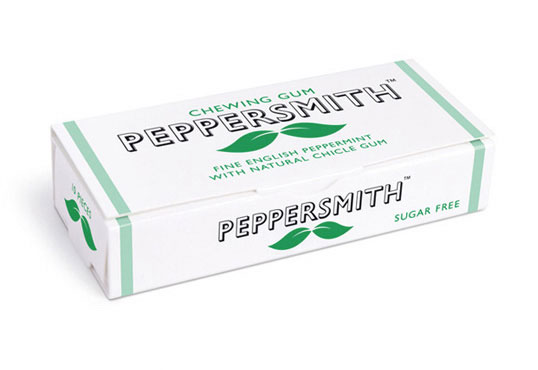 Designed by B&B Studio | Country: United Kingdom | Font: Gill Sans Shadowed | Buy It
"The Peppersmith name reflects both the Englishness of the mint and the artisan feel of the product," says B&B Creative Partner Shaun Bowen. "The design has a similar feel, but we've had great fun disrupting its seriousness with our moustache icon, which carries across into broader brand communications.
The pack also contains tiny papers for throwing gum away – a reflection of Peppersmith's mission to overcome the age old problem of gum ending up stuck to pavements."
February 25, 2010 | 3 Comments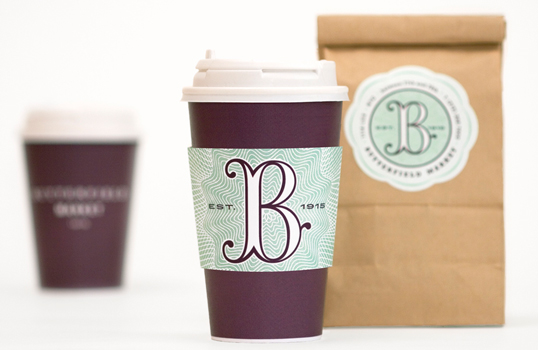 Designed by Christine Celic Strohl at Mucca Design | Country: United States
"An Upper East Side temple to luxury foods since 1915, Butterfield Market is a family-owned retail grocery famous for its superior quality food and outstanding customer service. With the addition of a new catering division, they needed guidance in creating a scalable, cohesive identity to facilitate the projected growth of the enterprise from a localized phenomenon to a widely recognized brand, with the potential to go national.