May 31, 2010 | 3 Comments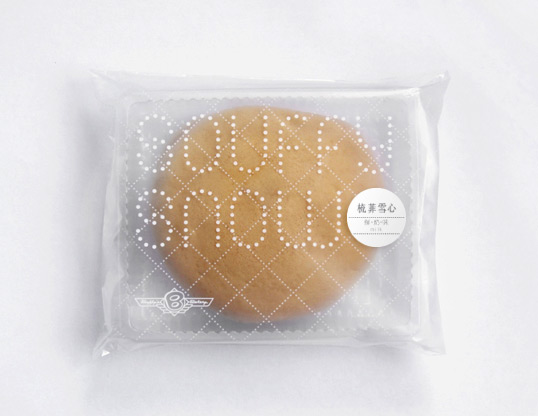 Designed by BLOW | Country: Hong Kong
"We have created the name and packaging design for a new product of Buffy's Bakery. Souffy Snow is a souffle-like cake that needs to be kept in the fridge. Different labels will be used for different flavors.
The simple and modern packaging design effectively delivers the feeling of the product – Souffy Snow."
May 31, 2010 | 3 Comments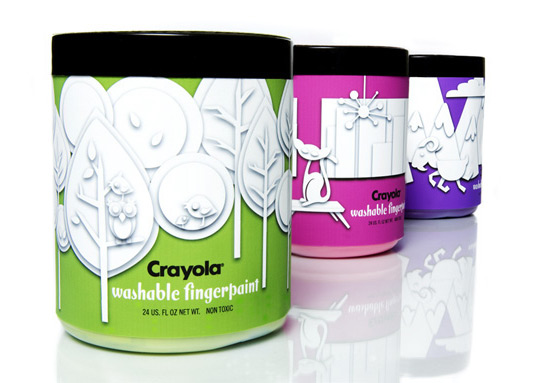 Designed by Christine Clayton | Country: United States
"Crayola has a lot of brand equity in their color names. I wanted to create a series of packaging (here: forest green, mod magenta, and purple mountain magesty) which playfully accents these color names."
May 30, 2010 | 3 Comments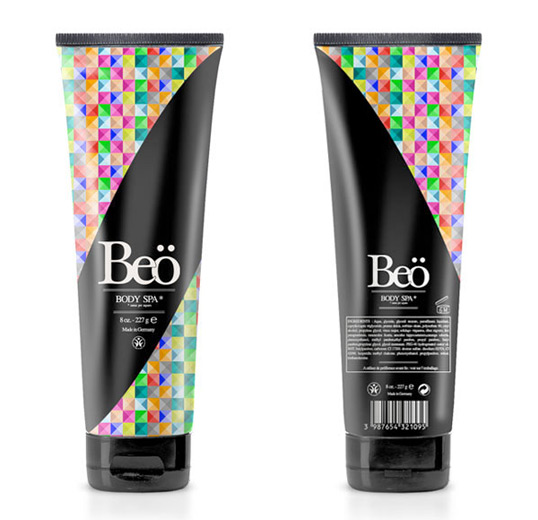 Designed by PikARTZö | Country: France
French designer PikARTZö pairs colourful geometric patterns with rich black for Beö body lotion.
May 29, 2010 | 2 Comments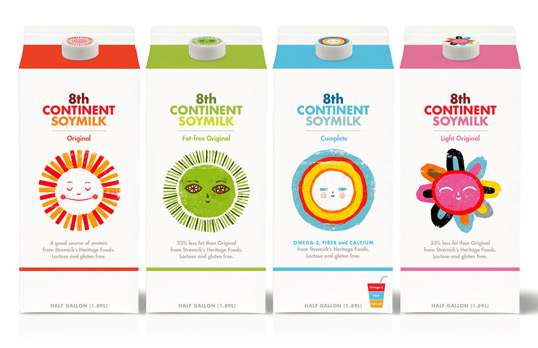 Designed by BBDO West | Illustration: Ben Javens | Country: United States
"8th Continent is a family-owned dairy in California that sources its beans domestically and makes it's milk in small batches. There are other flavours available, each one represented by a colour variation. If you're based in America and of school age then head over to 8th Continent for your chance to have your work featured on a carton and your school could receive $1000 for its arts dept."
May 28, 2010 | 4 Comments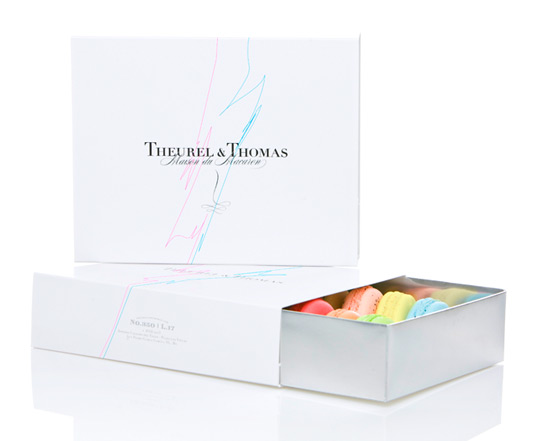 Designed by Anagram | Country: Mexico
"Theurel & Thomas is the first pâtisserie in Mexico specialized in French macarons, the most popular dessert of the French pastries.
For this project it was very important to create an imposing brand that would emphasize the unique value, elegance and detail of this delicate dessert.
White was our primary tool for design. As a result of this the attention was fully oriented to the colorful macarons. We placed two lines in our design in cyan and magenta, as a relation with a modern French flag to inject a vanguard vision to the identity. We selected Didot (created by Firmin and Pierre Didot), a French typography that would present the brand with sophistication."
May 28, 2010 | 8 Comments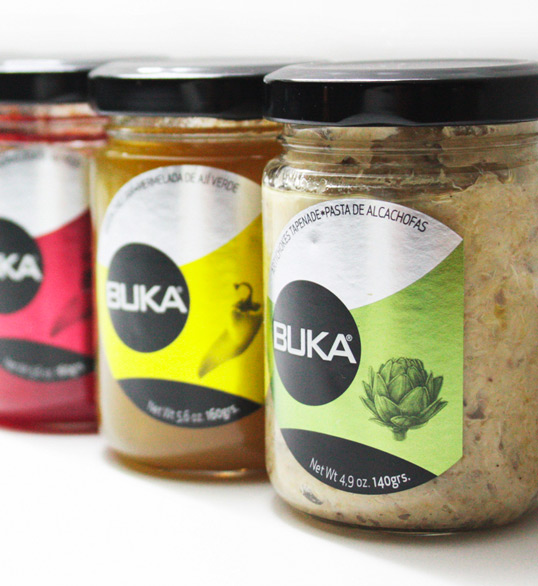 Designed by Mónica Yrarrázaval | Country: Chile
"Buka is a line of antipasto gourmet created to enjoy at every hour, with more than 8 different flavors."
May 28, 2010 | 9 Comments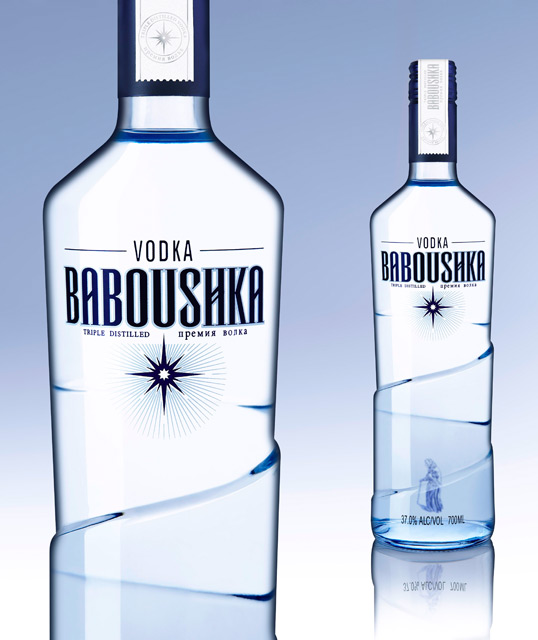 Designed by Webb deVlam | Country: Australia
"Webb Scarlett deVlam Australia were commissioned by Alexanders Wines & Spirits to redesign Baboushka. Alexanders identified a space within the spirit market to 'bridge the gap' in price point between budget and premium Vodka.  The bottom shelf, mid priced Baboushka brand was mediocre in both design and packaging. The product was far more superior than its branding and packaging. WSdV built an emotional brand story around the existing 'Baboushka' name avoiding Russian vodka inspired cliches.
May 27, 2010 | 6 Comments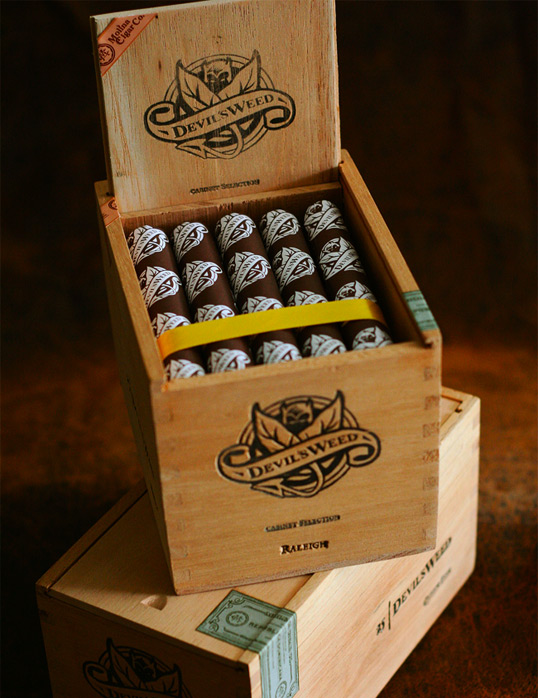 Designed by Rockit Science Agency | Country: United States
"The term "Devil's Weed" was used by the Spanish Inquisition to discourage  the use of tobacco.  Based on this rich history, Rockit Science Agency took an old world approach to the design and development of this new cigar line.
The idea came from brainstorming the idea of what mephistopheles or "the devil" would package a cigar into in order to pursued the consumer to smoke his cigars. We realized he would want it to be subtle and not flashy, therefore the idea behind the look of the brand, using basic materials to create a unique and cohesive brand. Specially designed cedar boxes, handmade in the Dominican Republic, would double as packaging and point of sale display units.
Special cigar bands utilizing authentic gold powder and special printing processes were also used."
May 27, 2010 | 4 Comments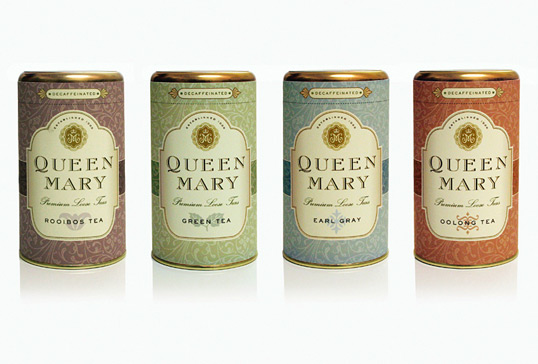 Designed by Niedermeier Design | Country: United States "Queen Mary Tea began as an upscale boutique cafe where patrons could enjoy full leaf teas from around the world while being immersed in a Victorian-style ambiance. Now they were looking to expand their customer base by selling premium tea products in high-end spas, hotels, and restaurants. As the name suggests, celebrating England's rich tradition of midday tea is what first inspired the creation of this gourmet brand.
Carrying this original vision through to their packaging would be essential to achieving consistent brand representation. New flavor-based iconography and a distinct color palette were used to distinguish the various tea groups and helped clarify customer choice. A revised logo designed specifically for use with embossing and foil-stamping would allow for that extra special touch on thank you cards, invitations and other brand correspondence."
May 27, 2010 | 2 Comments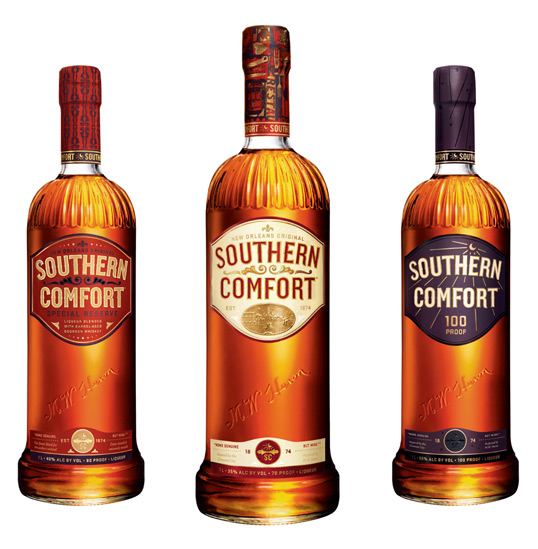 Designed by Cue Inc. | Country: United States
"Southern Comfort is a liqueur that was originally created by a bartender in New Orleans in 1874. Unfortunately, the brand had lost that genuine connection to it's origin, but we've used the city as inspiration for our work.
From imagery to iconography to typography, Southern Comfort is rooted in the culture of New Orleans. Little discoveries and idiosyncrasies of the place show up in the design details. Juxtapositions of new and old, bold and refined, familiar and unexpected, all contribute to delivering a sense true to New Orleans, where something surprising and new might be around the next corner."