April 30, 2011 | 7 Comments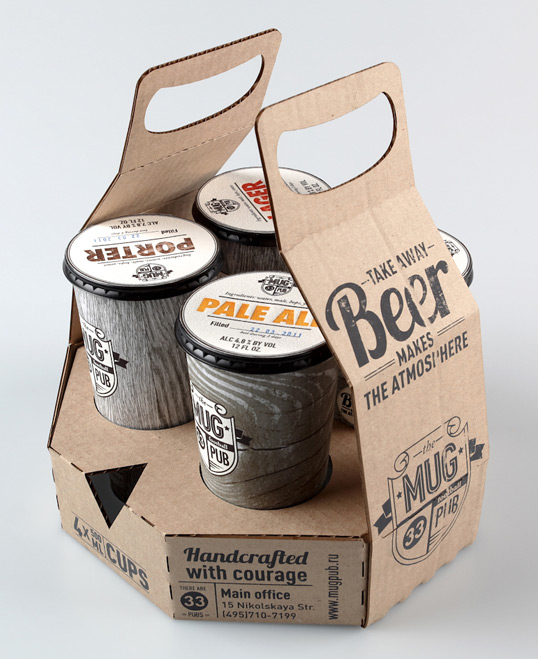 Designed by Ivan Maximov | Country: Russia
"This is the packaging design and re branding for the Mug Pub. Mug is a big chain of football pubs based in Moscow. This pub brews its own beer. It is a new concept for take away beer. Beer is filled into paper cups and a special sticker is put on the top for each to identify the different beers. The new cup combines the form of the traditional beer pint with the sustainability of recyclable paper cups."
April 29, 2011 | 4 Comments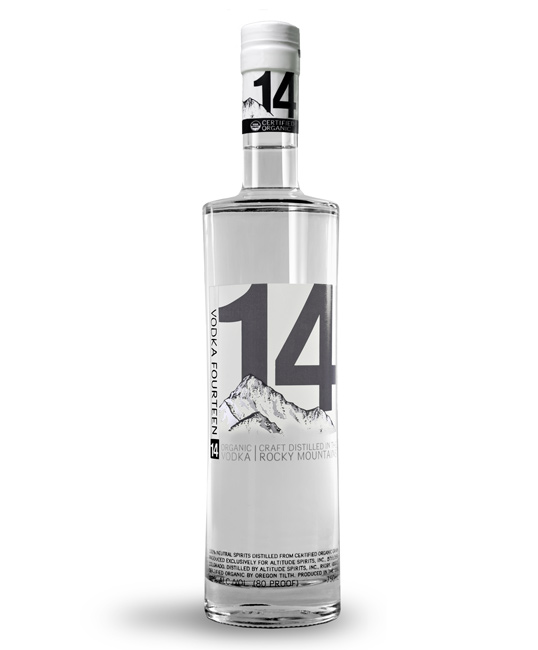 Designed by Jonathan Weiss | Country: United States
"Altitude Spirits tasked me with creating a consumer package for Vodka 14, their organic craft-distilled vodka, that reflected the qualities of the product itself: exceptional quality, purity, and sustainability. The bottle this design process yielded is a tall, elegant  and simple form, decorated with just black, white, and grey pigments. Lots of undecorated space on the bottle highlights the exceptional clarity of the product. The artwork itself is strong but understated, big bold type in a face cut just for this package alongside the hand-drawn mountain motif. Best of all the entire package is recyclable in most municipal recycling programs here in the United States. The closure is aluminum and recyclable synthetic rubber, the safety seal is recyclable PETG instead of the usual non-recyclable PVC, and the bottle is glass decorated with nontoxic ceramic pigments silkscreened on."
April 29, 2011 | No Comments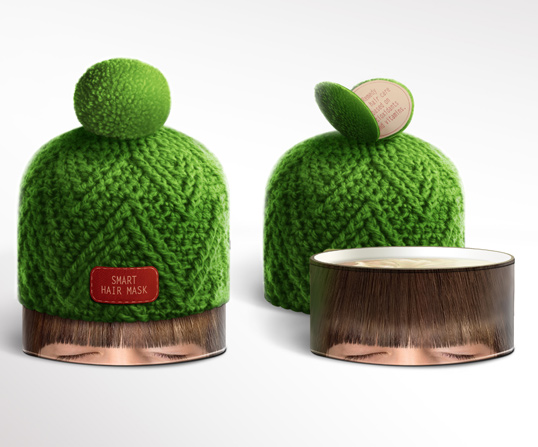 Designed by Kudryavtseva Oksana | Country: Russian
"This is my student design concept for Remendy, a hair care product based on antioxidants and vitamins called Smart Hair Mask. The idea behind this concept is that the product protects your hair like a cap."
April 28, 2011 | 5 Comments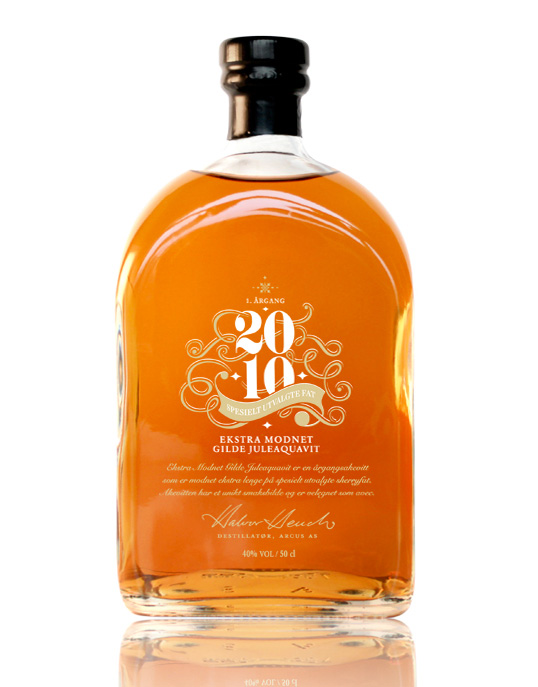 Designed by Brandlab | Country: Norway
"Arcus and Brandlab worked closely on a concept of finding new areas of use for aquavit. By building on the traditional and well known Gilde Juleaquavit series we created a new vintage series. It was developed as an option for after-the-meal situations around Christmas time when Cognac and liqueur traditionally dominate.
This is the first version of Ekstra Modnet Gilde Juleaquavit, a vintage aquavit that has been allowed to stray extra long in sherry casks. This gives the aquavit a unique taste and makes it a perfect ending to any Christmas meal.
To distinguish Ekstra Modnet from the traditional Gilde Juleaquavit and to give it a premium feel, we created a unique bottle and gift box. The year is still the main focus to keep it in line with the Gilde Juleaquavit series."
April 28, 2011 | No Comments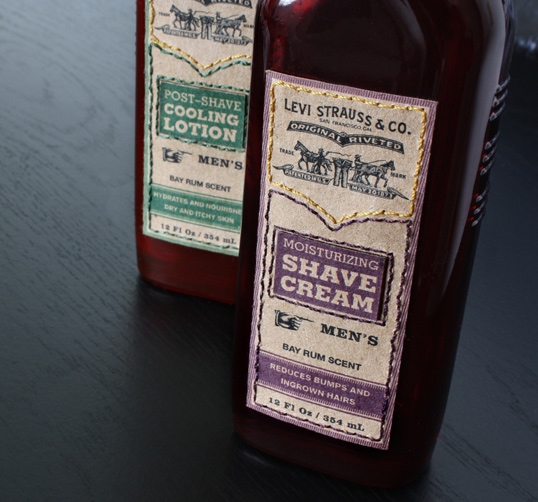 Designed by Lama Khayyat | Country: United States
"We were asked to create men's healthcare packaging for a well-known company for our choice, that didn't have one. I chose Levi's & Strauss.
My focus was on their iconic jean tag. I also used the stitching to my advantage by color coding different bottle products."
April 27, 2011 | 4 Comments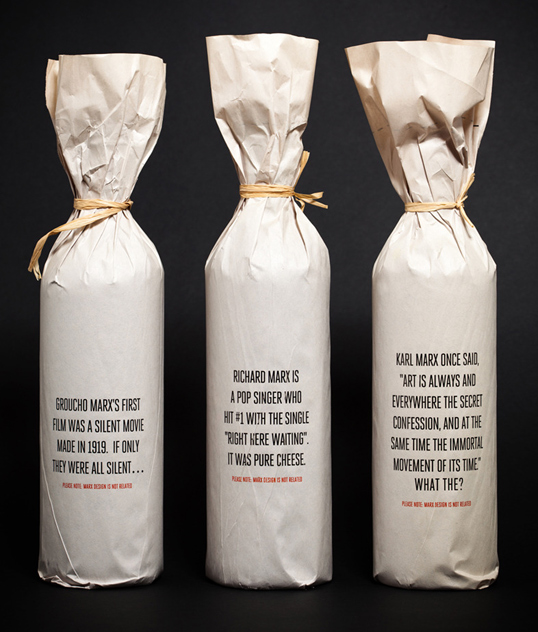 Designed by Marx Design | Country: New Zealand
"Marx is such an unusual name that new clients tend to get us confused with the other lot – Richard (pop singer), Groucho (the comedian) and Karl (the communist). We wanted to clear the confusion once and for all with these light-hearted promotional pieces that establish (Ryan) Marx design as a unique identity (and go down well!)."
April 27, 2011 | 5 Comments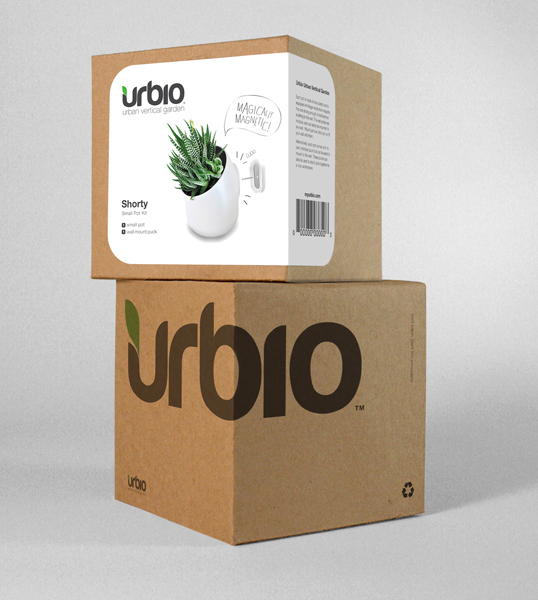 Designed by Christina Rotundo | Country: United States
"We needed to create a strong identity and packaging system for this product along side the actual product design, so we developed approachable, eco-friendly packaging that we feel fits the ease and style of this product and the culture it speaks to.
Urbio is an urban vertical garden that is booming on Kickstarter. We're very excited about the concept and the trend it will lead. Urban gardens are super hot right now and Urbio is the newest and best solution we've seen yet.
We feel that this concept resonates so well with the general design population and are exited that we've funded 3 times our asking on Kickstarter!"
April 26, 2011 | 3 Comments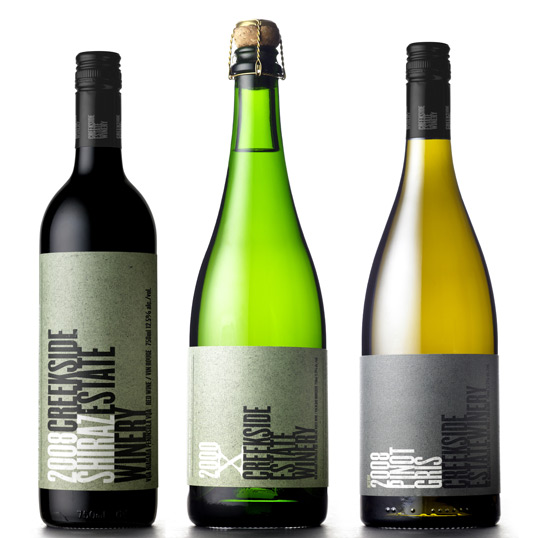 Designed by Dynamo | Country: Canada
"The textured, principal poster-esque woodtype captures a raw, farming spirit that is inherent to winemaking, but it's vertical application creates a bit of irreverence that is also part of Creekside's innovative DNA. This vertical treatment also alludes to a notion of quality, and reads easily when placed in a "cellared" position lying on it's side, and grabs important shelf attention at retail."
April 26, 2011 | 1 Comment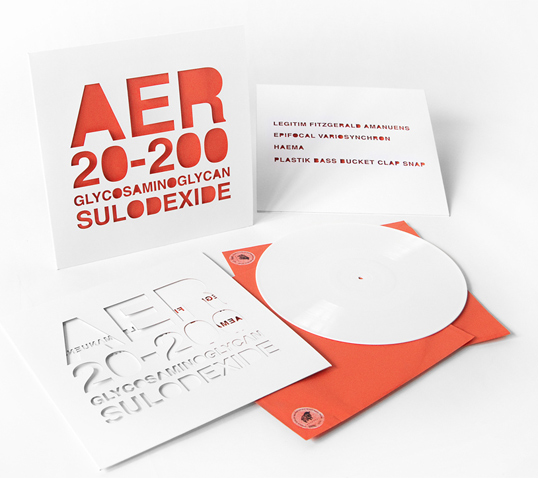 Designed by Antti Kangas | Country: Finland
"Record cover for the debut 12" vinyl EP of my personal electronic music project, AER20-200. The aim was to create an interesting, unique and catchy package, which would also be in line with the style of the music.
In this design, the cover consists of an outer sleeve made of white cardboard and an inner sleeve made of red paper. On the outer sleeve, all of the text, such as the names of the artist and the tracks is written by cutting out letter with a laser allowing the red inner sleeve to show through. There's nothing printed on the outer cover itself – it's pure white. As is the actual record. Only small engravings near the blank white center label tell which side of the record is which. The music itself is electronic and falls between styles such as glitch, idm, noise and techno. The machine made nature of the album is represented in the simplistic and almost mathematically precise form of the cover."
April 25, 2011 | 4 Comments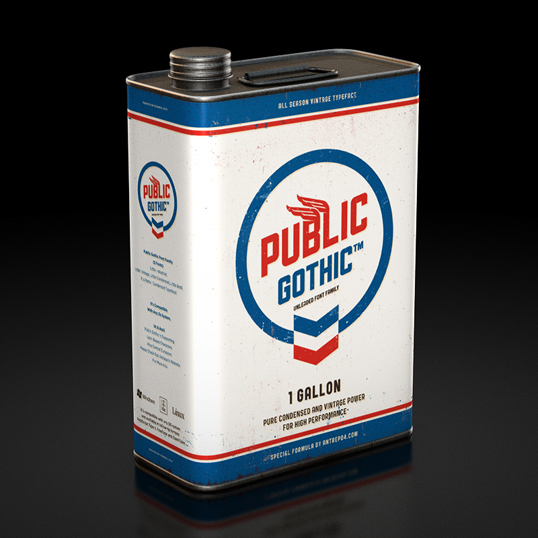 Designed by Antrepo | Country: Turkey
"Vintage metal oil cans are much better than today's plastic oil cans like many other old things! They are more powerful, more impressive and more iconic. These days, the relatively few metal oil cans that survived that familiar pattern have become collectibles. These cans not only served as containers, they also gave oil companies one more opportunity to advertise their brand name and logo. These vintage cans are also really good source for reflecting power of Public Gothic, Antrepo's condensed, vintage and industrial font family."