June 30, 2011 | 1 Comment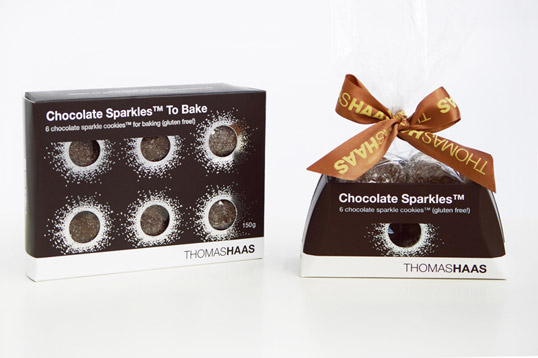 Designed by Cameron Snelgar | Country: Canada
"What started as a label replacement project, gained momentum and we soon found ourselves responsible for delivering two packages for the "The World's Best Cookie" (Vancouver Sun, Feb 2003).
Initially, Thomas Haas' freshly baked Chocolate Sparkle Cookies were presented in a cellophane wrapping with a sticky label attached. The refrigerated home bake cookies were in stock paper with a sticky label attached.
I knew that the Chocolate Sparkle Cookies as with most of Thomas' creations were innovative and unique. The challenge was to communicate the "Sparkle" within, while simultaneously preserving the carefully crafted Thomas Haas brand.
The package for the home bake set of six Chocolate Sparkle Cookies came first. Wrapped in Thomas' signature ribbon branding and logo, it includes angled sides. Earlier in the design process all of the sides were angled, naturally conforming to the spacer tray within. However, the option for additional front display and stacking was needed, hence the flat top and bottom.
June 29, 2011 | 6 Comments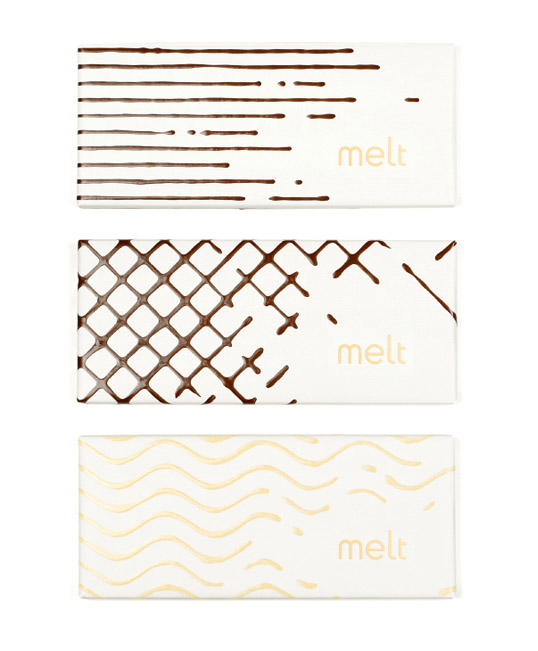 Designed by JJAAKK Design | Country: United States
"Packaging and logo design for a gourmet chocolate shop. The classic characteristics of melted chocolate are used throughout, providing a tantalizing glimpse at the wonderfulness contained within."
June 29, 2011 | 3 Comments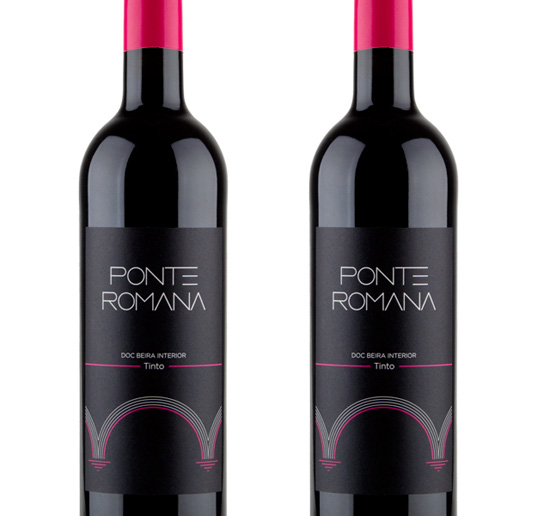 Designed by Play Me | Country: Portugal
"This project was inspired in the Romam Bridges that we have in Beira Baixa – Portugal. Enjoy the result of Ponte Romana wine label (Roman Bridge)"
June 28, 2011 | 7 Comments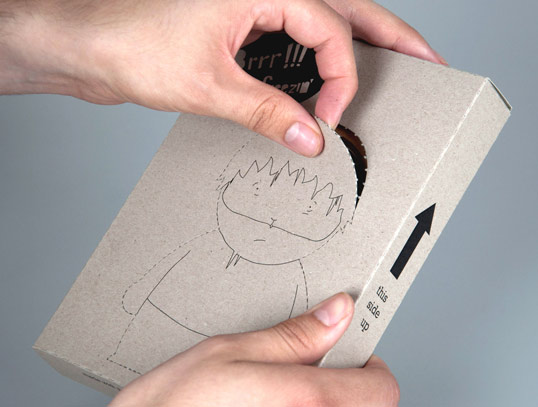 Designed by Markus Ölhafen | Country: Austria
"This is a personal project I realised for my girlfriends birthday. It is a magnetic dress-up puppet, made out of printable magnetic foil and cardboard. For the packaging I tried to use materials with a natural feeling to create a handmade-touch. As an inspiration I thought back to primary school when we made small cardboard puppets that could be dressed with paper clothes."
June 28, 2011 | 2 Comments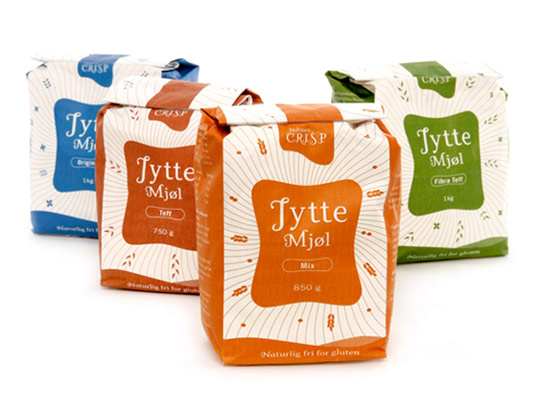 Designed by M8 Design | Country: Norway
"Jytte flour is a new line of gluten free flour. Being a small business the marketing budget was limited so we had to create a design with real stopping effect. This colourful range of flour bags was awarded Silver in the European Design Awards."
June 27, 2011 | 6 Comments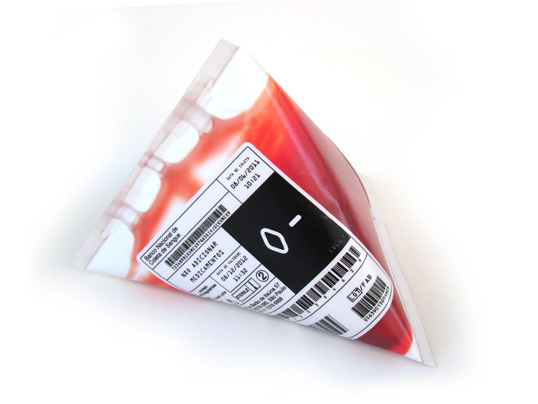 Designed by Vitor Lopes Leite | Country: Brazil
"This college work is absolutely conceptual. It was submitted by me as a simple proposal: To pack a feeling. I chose "Anguish", and solved the challenge through the representation of a blood bag.
This package is the first model developed by Tetra Pak, in tetrahedral shape."
June 27, 2011 | 2 Comments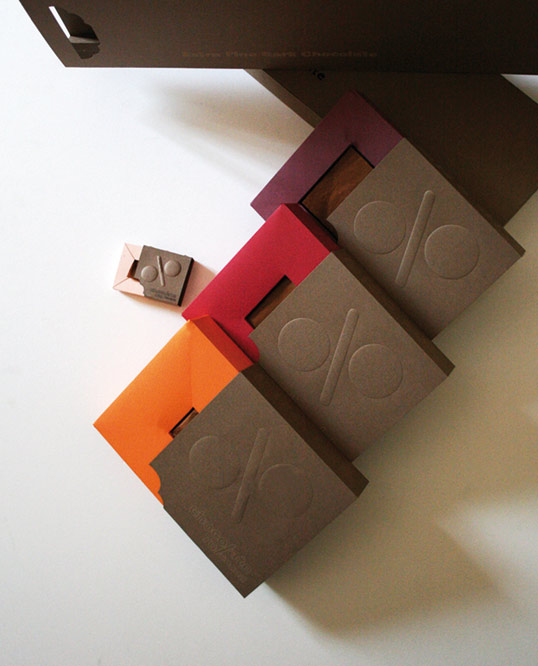 Designed by Vasily Kassab| Country: Italy
"The Bite Me brand was developed based on the concept of healthy life with correct portions. Now we can have a correct portion of chocolate since the new packaging is taking into consideration the percentage of cocoa. The more the percentage of cocoa to milk and other ingredients the bigger the chocolate size and vise versa, the less cocoa the smaller the chocolate becomes. Packaging took into consideration distinguishing colors according to different percentages as well, 70%, 80% and 90% as well as small gift chocolate. Shopping bags were customized to suit the boxes. The technique used is 100% ink free, its a play on the sense of touch, embossing, die cutting and laser engraving was used."
June 26, 2011 | 1 Comment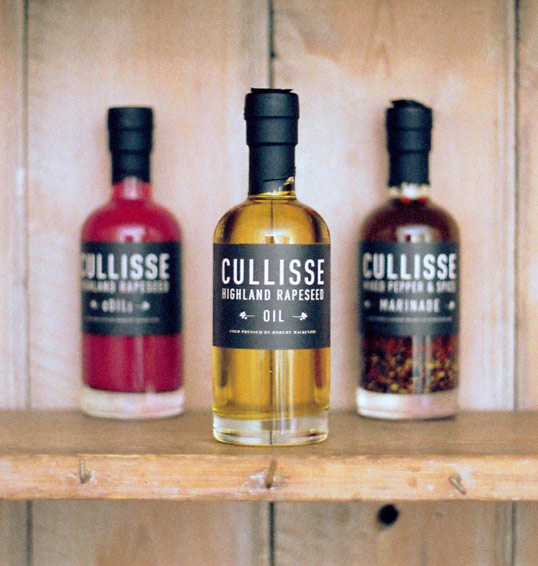 Designed by Freddy Taylor | Country: United Kingdom
"Cullisse (meaning nook of the garden) is a brand new rapeseed oil from the highlands of Scotland. Gently cold pressed from seed grown by the Mackenzies of Cullisse on their farm, the rapeseed is then hand-bottled by Robert MacKenzie, one of the fourth generation to produce food at Cullisse.
Concept: Whilst avoiding Scottish clichés, try to create a contemporary brand that reflects the tradition and quality of Cullisse rapeseed oil, through hand-blown, glass bottles and unembellished typography."
June 25, 2011 | 3 Comments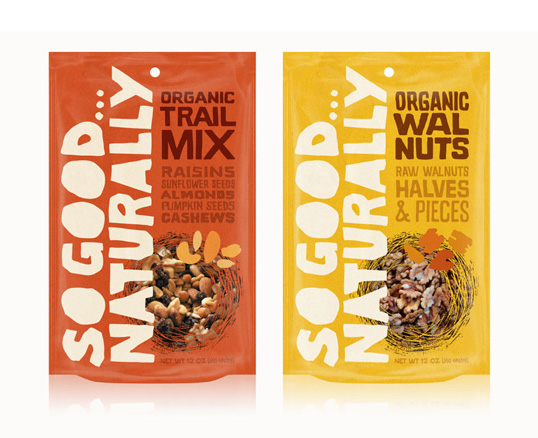 Designed by JJAAKK Design | Country: United States
"Design concepts for a line of organic nuts and trail mixes. Hand-drawn type, patterns and a natural color palette make this packaging feel right at home on your next hike."
June 25, 2011 | 2 Comments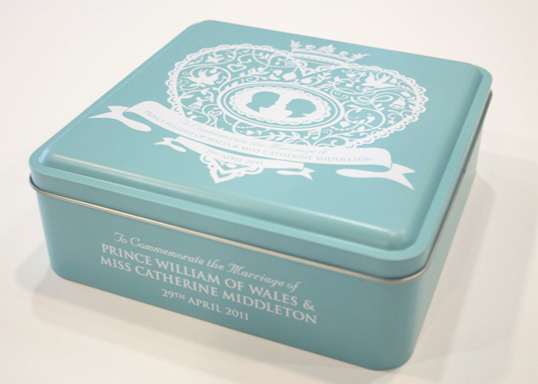 Designed by Kate Forrester | Country: United Kingdom
This vintage-inspired commemorative biscuit tin was created to mark April's wedding of Prince William and Kate Middleton.