November 30, 2011 | No Comments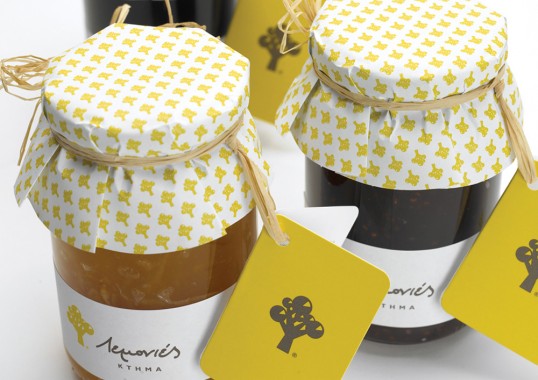 Designed by Chris Trivizas | Country: Greece
"Lemonies estate is an agrotourism unit which is located in the traditional village of Lamyra in Andros island. Its luscious gardens include more than 50 lemon trees, under the shade of which, guests may enjoy their breakfast.
The source of inspiration for the design of the logo which resembles a lemon tree was the ground plan of the estate. The shape of the tree was inspired by the boundaries of the estate, while its fruits correspond to the buildings and facilities of the estate.
The symbol is completed with the addition of a quadrant of the slice of a lemon in each fruit. The handwritten style of the title suggests the anthropocentic character of the project."
November 30, 2011 | 1 Comment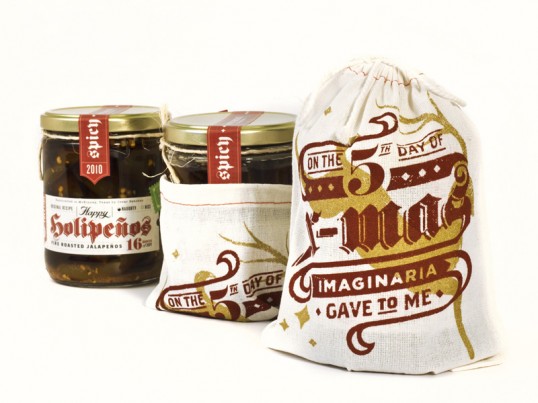 Designed by Imaginaria Creative | Country: United States
"For the 2010/2011 holiday season, Imaginaria Creative sent out a quirky little gift to their clients to help "spice up" their holiday parties. Creative director, Cesar Sanchez, jarred a batch of his own secret creation, Fire Roasted Jalapeños in a blend of Soy Sauce, Lime Juice and a mix of spices. The batch was appropriately named "Happy Holipeños.
The packaging consisted of a die-cut main label, top label, and quality stamp. Also, attached to each jar was a unique holiday recipe and suggestions for adding some kick to every day dishes. To top it off, each jar was slipped into a silk screened canvas bag to finish off the hand-crafted touch."
November 29, 2011 | 4 Comments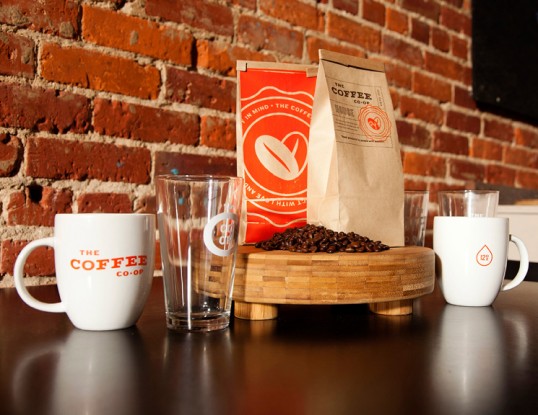 Designed by by Jake Dugard | Country: United States
"The Coffee Co•Op is a coffee shop devoted to bringing people quality products and a unique environment. The class assignment was to create a branding campaign and the collateral includes a menu, coffee bags, glasses, and cups."
November 28, 2011 | 4 Comments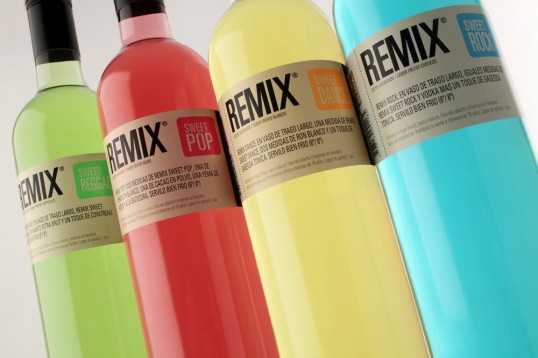 Designed by Guillo Milia | Country: Argentina
The label design for Remix is inspired by an entry ticket to a concert or music festival. Both the target and the end consumers are closely related to this world, for this reason we named each flavour based on a particular musical style.
November 28, 2011 | 9 Comments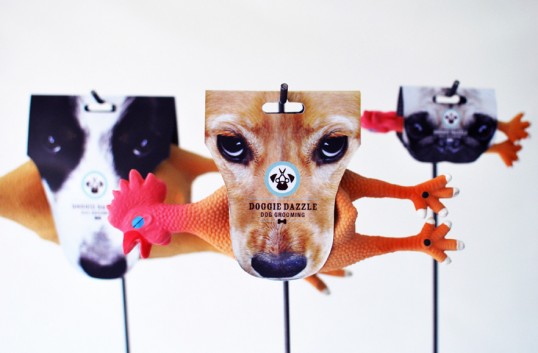 Designed by Mathilde Solanet | Country: Belgium
"This is my Final Major Project. Each students had to choose their subject and I chose a dog grooming. I did the whole identity of the brand. The logo is a dog with a pair of scissors instead of the eyes and the doggie bow in its hair. The pattern and the colors I used helps to provide a consistent and an unified look in the Doggie Dazzle brand."
November 28, 2011 | 4 Comments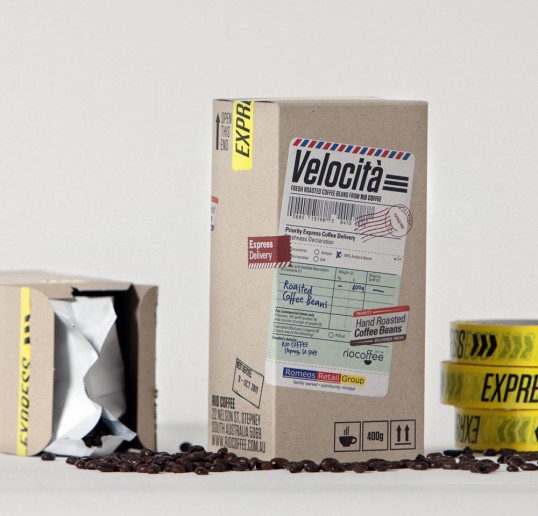 Designed by Voice | Country: Australia
"Velocità is all about fresh and locally roasted coffee that is delivered direct to the shelf. Velocità (Italian for 'speed') takes the form of an express courier parcel. To emphasise the freshness of the coffee, each pack is labeled with bespoke hand-applied stamps that display the date of roasting and best before dates, and sealed with a custom-made 'express' adhesive tape."
November 27, 2011 | 1 Comment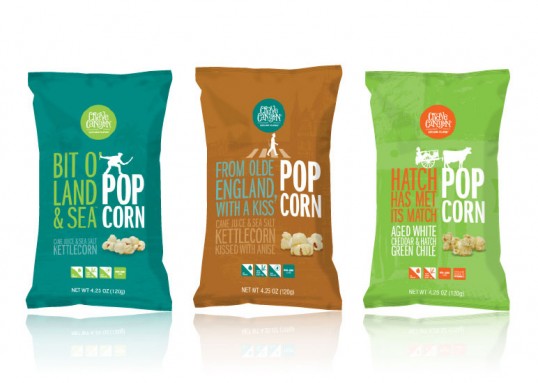 Designed by Lehi Valley Trading Company | Country: United States
"Lehi Valley Trading Company's in-house creative team has created a new brand of "everyday gourmet" popcorn: Crave Canyon. This fun, bold brand is driven by Chef G.,  the adventuristic, but elusive, creator of each flavor. He combs the globe for new ingredients and flavor profiles.
Made with all natural ingredients. The nutrition program, "Chew on This," gives people an easy way to see health benefits on the front and back of the package."
November 25, 2011 | 2 Comments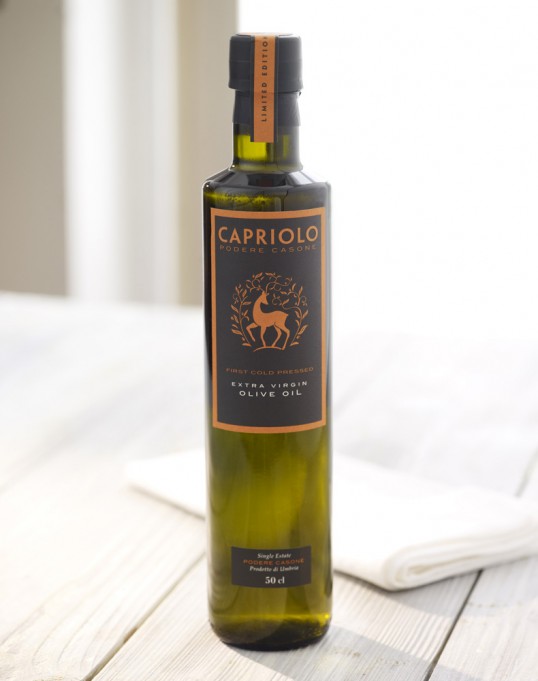 Designed by Family(and friends) | Country: United Kingdom
In 2009 Family (and friends) created the Capriolo Extra Virgin Olive Oil brand and packaging for the Italian Podere Casone Estate owners in Umbria, primarily to attract UK deli and food store shoppers.
As a result of strong interest in the product from mediterranean coastal restaurants and luxury yacht owners, it was decided to create a special 'table edition' packaging alternative – with more traditional looks and hi end fashion styling. Inspired by Roman antique pottery, the label features the iconic capriolo, or roe deer, enveloped in ripe vines in a classical equine pose.
November 25, 2011 | 2 Comments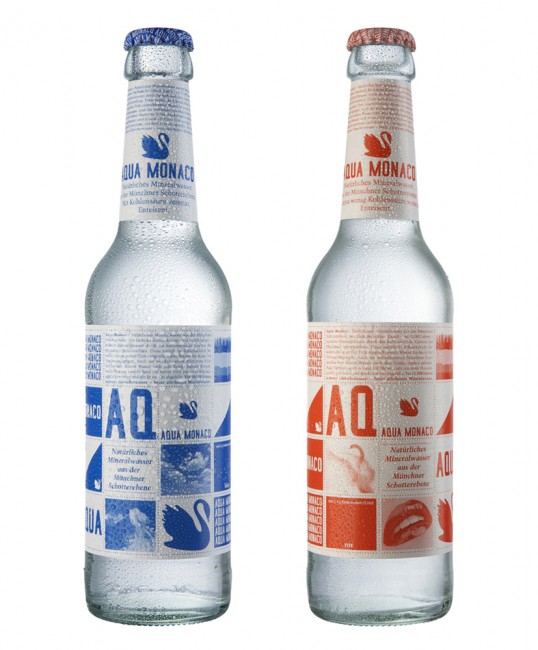 Designed by Schmidt/Thurner/von Keisenberg | Country: Germany
Natural Mineral Water Aqua Monaco is not only of special origin but also shows a challenging branding.
The glacier water's source is situated in the "Münchner Schotterebene" which makes it a real Munich product. The world famous Munich beers use the same water which is more than 10.000 years old and a left over from the last huge glaciers. Aqua Monaco is captured pure and clean in over 150 meters under ground.
November 24, 2011 | 4 Comments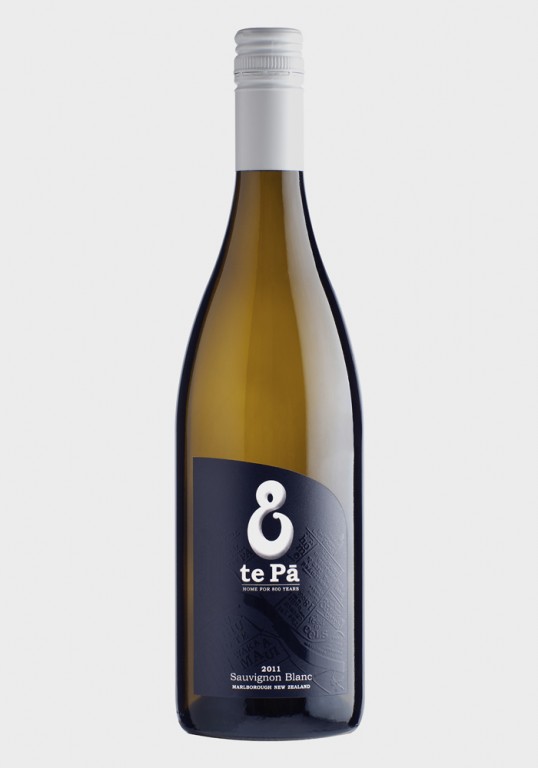 Designed by Neogine Design | Country: New Zealand
"Our latest wine branding project, Te Pa for Montford wines. A Blenheim winemaker with a rich history. Based at the Wairau Bar, the oldest inhabited piece of land in Aotearoa, the ancestors of the McDonald family have lived on this land since 1350. The branding captures this rich history a well as their love of the land and the life it provides. The first piece of material to be rolled out are the wine labels, with website and photography to come. If you look closely you can see the stories from the land captured in the typographic map, which is overglossed on the label."