September 10, 2013 | 8 Comments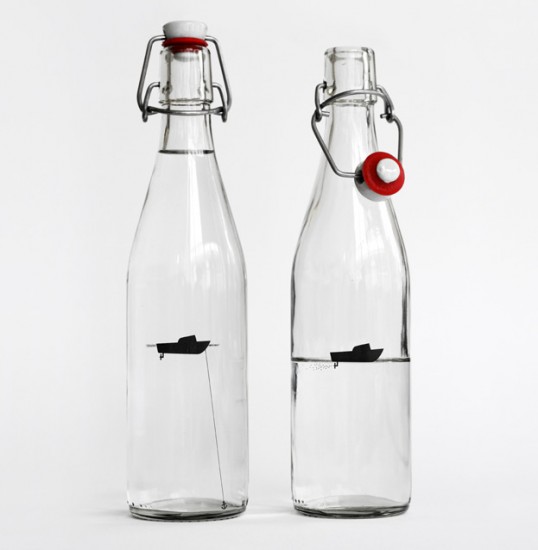 Designed by Designers Anonymous | Country: United Kingdom
"We designed refillable water bottles for use during meetings held in our studio. Our bottles feature a simple silhouette of a boat (in-keeping with our brand styling) the boat was a natural fit for a water bottle. On the still water bottle It's anchored and stationary; for sparkling water, the propeller creates bubbles."
September 8, 2013 | No Comments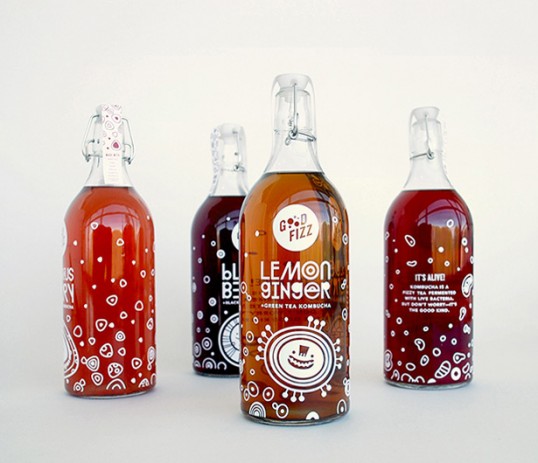 Designed by Lydia Nichols | Country: United States
"Good Fizz is an MFA project conceived to explore both branding and packaging for an invented kombucha company. Embracing the fact that kombucha is comprised of tiny living organisms, each bottle features happy illustrations of floating bacteria as well as custom type that wraps the entire bottle. The paper seal on top lists ingredients along with the warning, "Don't Shake! It's Fizzy Enough Already." 
September 5, 2013 | 4 Comments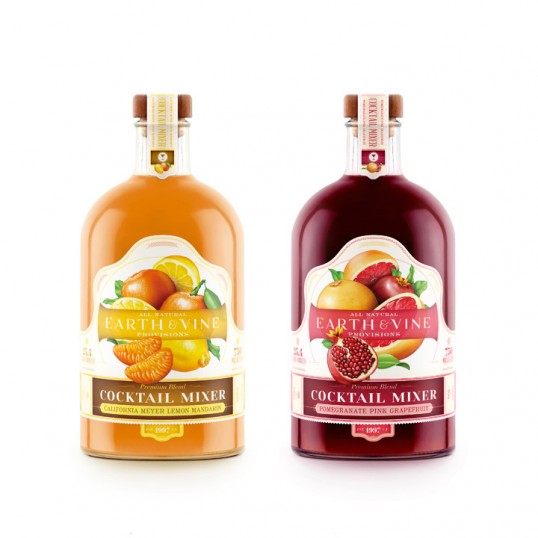 Designed by Moxie Sozo | Country: United States
"Earth & Vine Provisions offers more than 60 different jams, sauces, dressings and beverage elixirs for the gourmet market. Whether someone is a beginner cook or an advanced chef, the California-based company offers something for everyone. Earth and Vine's dedication to crafting the finest products on the market has garnered them numerous international awards, but also means the products are priced at a premium. Unfortunately, the branding and packaging did not reflect the quality of the food itself. Moxie Sozo was hired to rebrand, reposition and repackage Earth and Vine's entire lineup. Beginning with the beverage elixirs, the agency examined every aspect of Earth and Vine's offerings, including the pricing strategy. Since relaunch, Earth and Vine's sales have increased over 450%. The company is now positioned for strong growth and is reaching a far greater audience than ever before."
September 1, 2013 | 1 Comment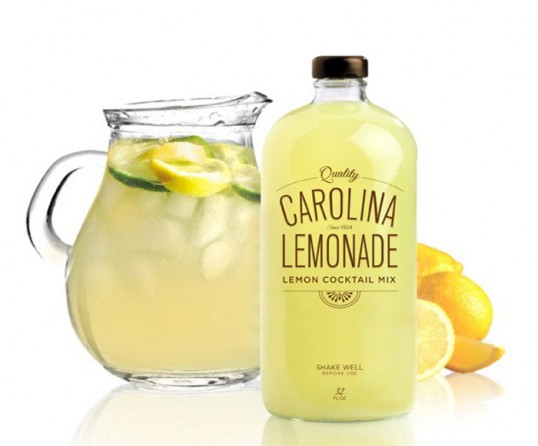 Designed by Jessica Haas | Country: United States
"This was a school assignment in Packaging 101. The project was to design a beverage of your choice and the challenge was hat you're limited to only one color. We the lack of 4 color imagery I was forced to utilize the color of the beverage itself. A few people in my class were doing juice so I moved to a more fun option, a cocktail mix which allowed me to experiment with different bottle shapes. The Boston round had a great feel to it and was calling out for typography. I decided to keep it simple and just use type but my professor felt it needed some sort of appetite appeal. I finished the assignment off with a small illustration of a lemon slice which I think really makes the piece eye catching."
August 5, 2013 | 2 Comments
Designed by Cultivator Advertising & Design | Country: United States
"This month, Dust Cutter Beverage Co., Jackson Hole, Wy., launches its first product line, three varieties of all-natural, western-style lemonade, available in western state test markets and online. Package design (as well as the branding and advertising) is by Cultivator Advertising & Design, Denver, their first work for the new client.
Dust Cutter  is packaged in fast-cooling, 16 oz., reclosable aluminum ("Alumi-Tek") bottles, and comes in Original, Huckleberry, and Iced Tea varieties, retailing online for $20 per 12-pack. Its all-natural ingredients include ginseng and Vitamin B. Dust Cutter is made from the company founder, Eric Green's family recipe, served up for generations to parched guests at the Warm Springs Ranch in Jackson Hole, Wyoming."
July 25, 2013 | 3 Comments
Designed by Cartils | Country: United Kingdom
"Unique in the world as a premium alcoholic ice tea, Harry Brompton's was launched this month with success. In a matter of weeks demand has soared, and it seems that Harry Brompton's ice tea is not only here to stay, but it's here to conquer the world. In the traditional tea-loving country of Britain the brand was finally launched after years of perfecting the 'secret' hand-crafted recipe.
CARTILS Branding & Packaging Design Consultants were responsible for the design, reaffirming their expertise in the area of 'New Product Developments'."
July 25, 2013 | No Comments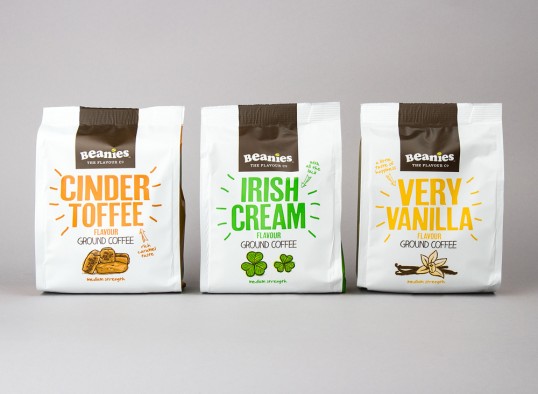 Designed by Robot Food | Country: United Kingdom
"Beanies The Flavour Co. has launched a range of flavour coffee exclusively for Sainsbury's, with a new design created by specialist branding partner Robot Food. The creative team worked in close collaboration with Sainsbury's to deliver exactly what it felt was missing from the shelves. Beanies' commitment to satisfy the retailer was rewarded in volume orders, which are hitting the shelves by mid July.
The range includes three instant flavours and three roast ground flavours. Flavours include Amaretto, Irish Cream, Cinder Toffee and Very Vanilla."
June 12, 2013 | 1 Comment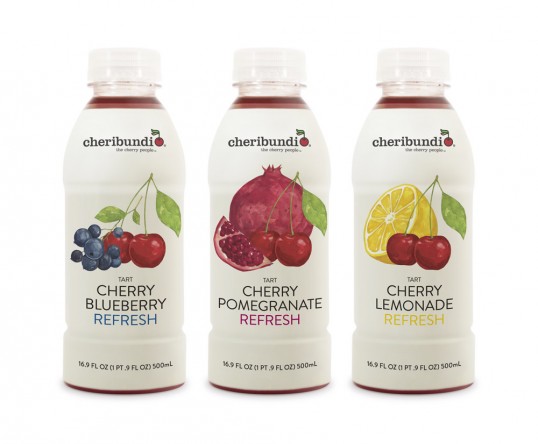 Designed by TDA | Country: United States
"We recently rebranded Cheribundi, an all-natural tart cherry juice drink. Cheribundi is not the artificial flavor-filled red sugar water labeled as "cherry juice" that you drank as a kid. Cheribundi is made from orchard-fresh, tart cherries which are full of phytonutrients and anthocyanins.
The design was inspired by Eric Carle's The Very Hungry Caterpillar. We brought this concept up-to-date by pairing textural watercolor illustrations with clean type and a modern wordmark. All of these elements work together, distinguishing Cheribundi as a sophisticated beverage offering.
This is the first line in a series of rebranding efforts for Cheribundi. In the coming months we will be releasing the Functional line of Cheribundi as well as a Tea Refresh line."
June 11, 2013 | 3 Comments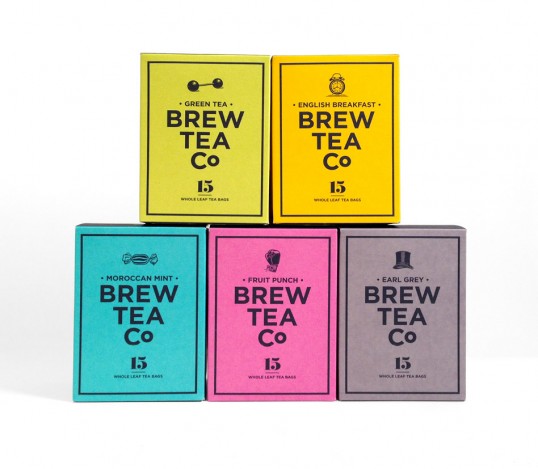 Designed by Interabang | Country: United Kingdom
"Brew were looking to expand into the retail sector, having firmly established themselves supplying tea wholesale to independent shops, museums, galleries and boutique hotels. The rebrand was needed to coincide with this new direction, and also to clarify their offer: not complicated tea or weird tea, but better tea –  both whole leaf tea bags and loose leaf.
We wanted to express this no-nonsense approach, but also covey their enthusiasm and passion for brewing the perfect cup of tea that quickly became apparent during the familiarisation process. Bold, confident typography is offset by a vibrant palette and playful, unexpected icons to denote the seven flavours. The carefully selected contents were brought to the fore on the back of the pack along with the method for brewing the perfect cuppa."
May 27, 2013 | 2 Comments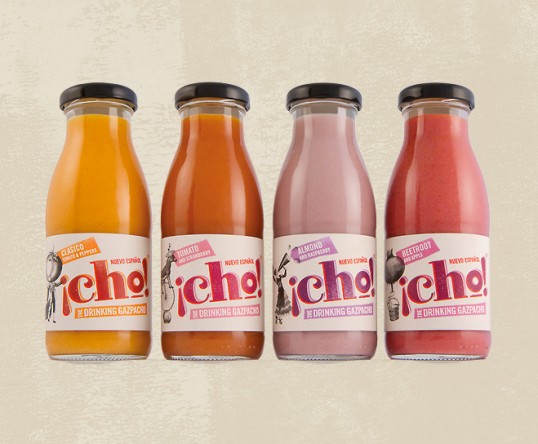 Designed by Blast | Country: United Kingdom
"¡Cho! is a completely unique range of on-the-go drinking Gazpacho recently launched to the UK market. Created by English entrepreneurs and a Michelin starred Spanish chef ¡Cho! is made from organic fruit and vegetables sourced and bottled in Adalucia.
¡Cho! needed to be positioned as a completely different product, and in doing so create its own place in the market. It required a brand identity that communicated a uniquely daring and different gourmet product with real provenance and exquisite taste."