April 14, 2010 | 7 Comments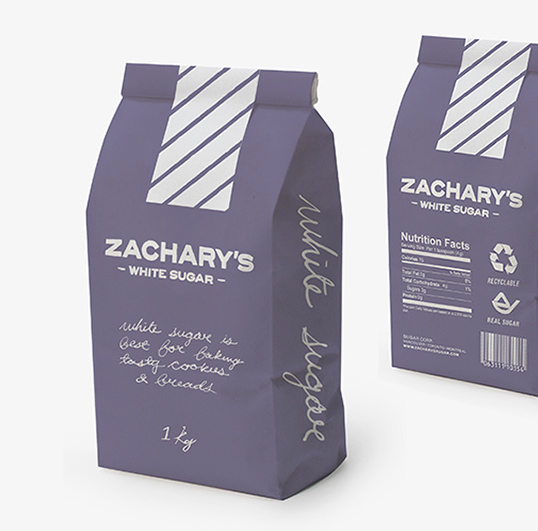 Designed by Pamela Rounis | Country: Canada
Capilano Universtiy graduating student Pamela Rounis sent us some of her great package design work.
April 11, 2010 | 5 Comments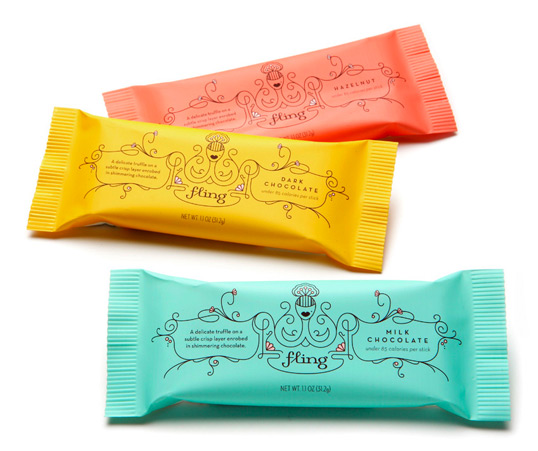 Designed by Anchalee Chambundabongse | Country: United States
"While at BBDO DesignWorks, I had the opportunity to design identity and packaging concepts for Fling, a new chocolate bar for the calorie-conscious, chocolate-loving fashionista."
April 4, 2010 | 5 Comments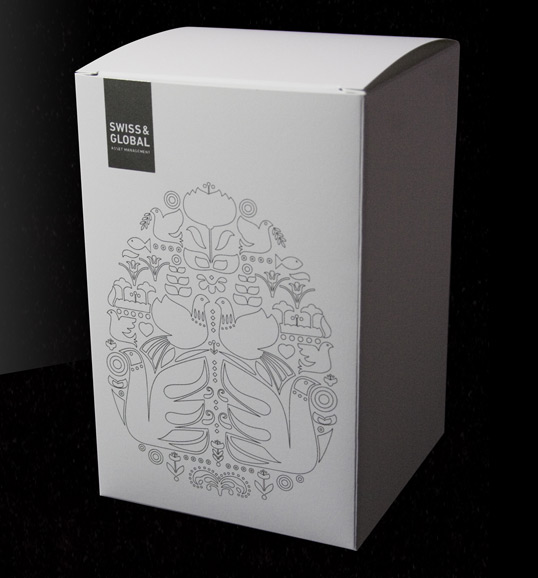 Designed by f-o-r-m-e | Country: Italy
"We designed this package for our client Swiss & Global Asset Management. They are dedicated asset managers in Switzerland and worldwide and every year they make a little Easter present for their clients. They usually send some particular sweets from Sicily and we usually create a very simple package for them. On October 2009 they changed their company name – formerly Julius Baer Asset Management – so they decided to use the gift to communicate to their clients that the company name changed, but not the quality of their service. We decided to change the package to support this really important concept. We used a very beautiful kind of paper, Arjowiggins Skin, and a very refined illustration. All printed in Pantone Silver. We also used a "more vertical" form so that you think – also because of the illustration – that you'll can find a chocolate egg inside. But when you open the package you find a card saying you 'E' cambiata la forma, non la sostanza' (The form has changed, not the substance)."
April 2, 2010 | 7 Comments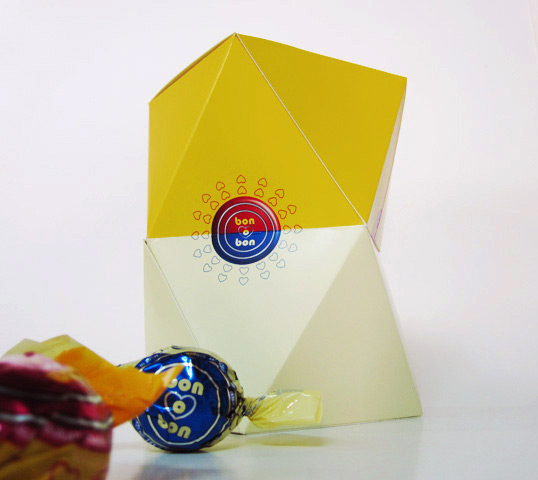 Designed by Diego Hodgson | Country: Chile
"The idea of the product is the Bon o Bon chocolates (classic and white chocolate) are given as a gift or present, packaging both varieties in one."
March 18, 2010 | 8 Comments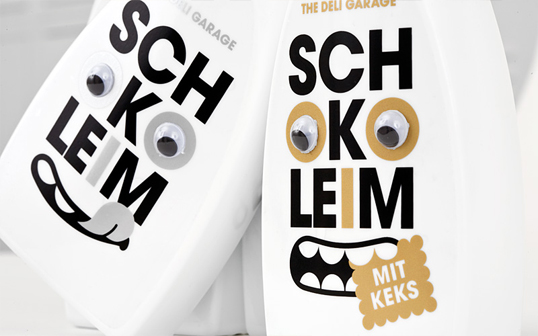 Designed by KOREFE | Country: Germany
"Schokoleim is a chocolate paste, packaged in the classic wood glue bottle. The Food Label The Deli garage offers "artisanal" delicacies made with high quality design and functionality of tools from the garage."
March 10, 2010 | 1 Comment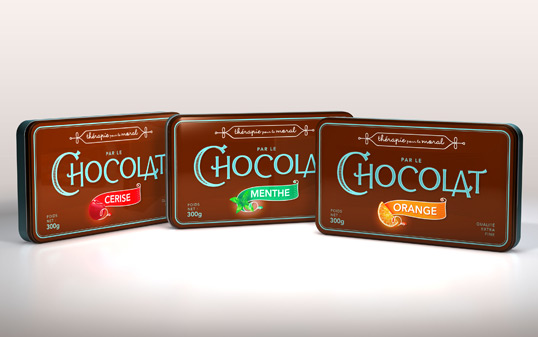 Designed by Samy Halim | Country: France
Concept work from designer Samy Halim.
"Thérapie pour le moral is a little joke, that means this brand can buck up the moral of the person if she was in a sad mood. I was inspired by the packaging design of the last century, but I wanted to keep in mind some modern and actual codes."
February 25, 2010 | 1 Comment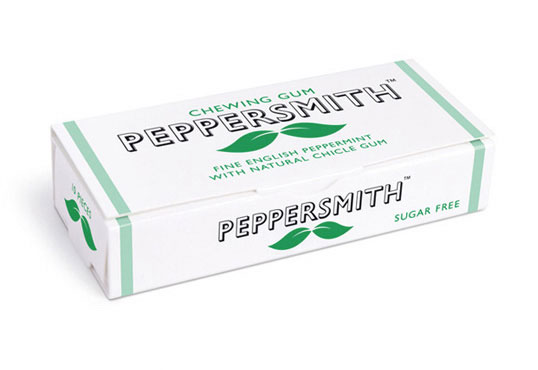 Designed by B&B Studio | Country: United Kingdom | Font: Gill Sans Shadowed | Buy It
"The Peppersmith name reflects both the Englishness of the mint and the artisan feel of the product," says B&B Creative Partner Shaun Bowen. "The design has a similar feel, but we've had great fun disrupting its seriousness with our moustache icon, which carries across into broader brand communications.
The pack also contains tiny papers for throwing gum away – a reflection of Peppersmith's mission to overcome the age old problem of gum ending up stuck to pavements."
February 11, 2010 | 4 Comments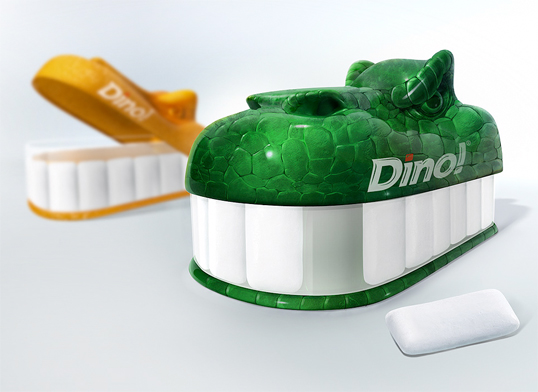 Designed by BQB | Country: Russia
"Have you ever thought how strong the dinosaur's bite was? At BQB we're sure their bite was very strong, thus dinosaurs must have had very strong teeth. As a result of our conceptual training BQB's designer Galima Akhmetzyanova came up with a great idea – to create a gum package shaped like dino's jaws."
February 7, 2010 | Comments Off on TCHO Artist Series – LOVE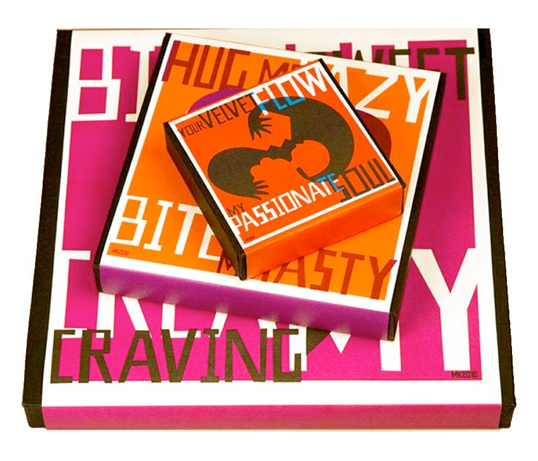 Designed by Max Kisman | Country: The Netherlands | Buy It
"Holidays are about sharing unique experienc
es with loved ones. So we're proud to launch TCHO's "Artist Series" highlighting the work of different artists in our limited editions of our luxury gift collections. We begin the series with the Love Collection by Max Kisman, an award-winning Dutch graphic artist and designer. His iconic, bold designs are modern, provocative, and sexy—lending a fun new accent to our chocolate."
zp8497586rq
February 4, 2010 | 4 Comments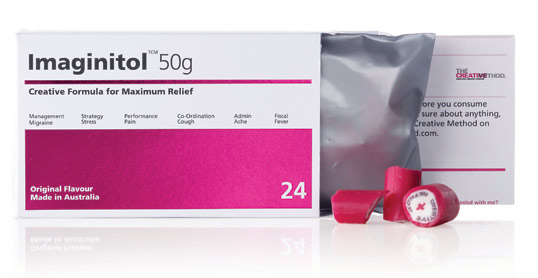 Designed by The Creative Method | Country: Australia
"To create an interesting and engaging invitation to The Creative Method Xmas party. It needed to illustrate what we do but also create a high level of interest and anticipation for the party. It needed to be humorous and memorable. It was also required to work as a new business piece outside of the Christmas invitation. We based the idea on an imaginary pharmaceutical tablet that would solve their creative issues. Initially they were emailed a doctors prescription, followed by the package in a discrete paper bag. The invitation and the tablets were loca
ted inside. The party included staff dressed as doctors & medicinal shots administered by transvestites. The box and invitation are used as a new business teaser."