January 5, 2010 | 3 Comments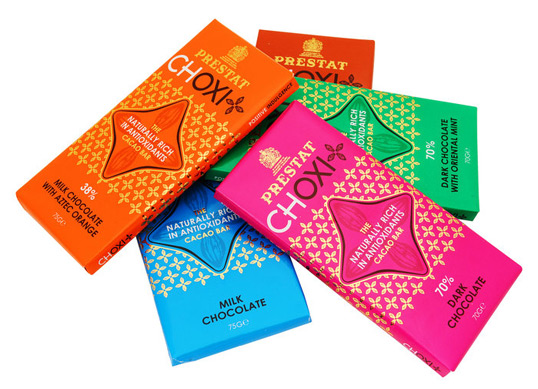 Country: United Kingdom
"CHOXI+ is the new antioxidant-rich chocolate. Only two squares provide all the antioxidants you need for a whole day. Weight for weight, it naturally contains more flavanol antioxidants than any other food."
January 3, 2010 | 4 Comments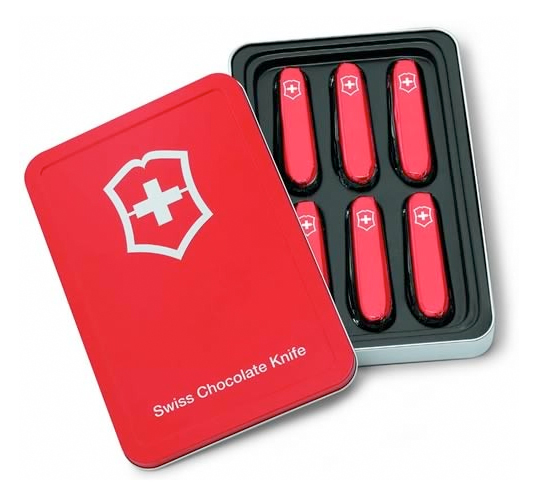 Designed/Licensed by Victorinox | Country: Switzerland
To the best of our knowledge these chocolates are a product o
f Victorinox, the Swiss Army knife maker, although we're open to correction on this. Moulded chocolates accurately wrapped in printed foil are available alone or in tins of 6.
January 2, 2010 | 2 Comments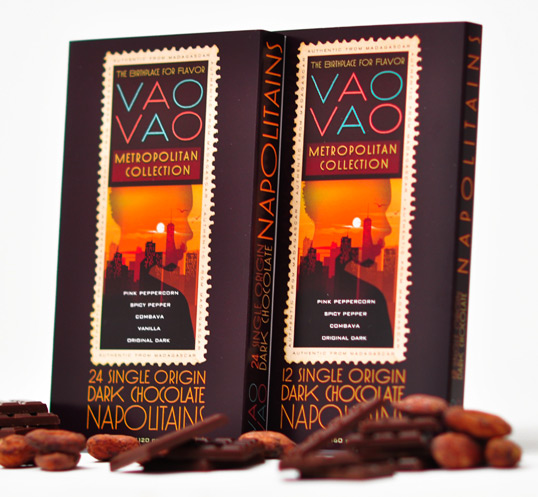 Designed by DBD International | Country: United States
New work from New York based DBD International. These very illustrative designs capture the Madagascan origin of the product.
January 1, 2010 | 5 Comments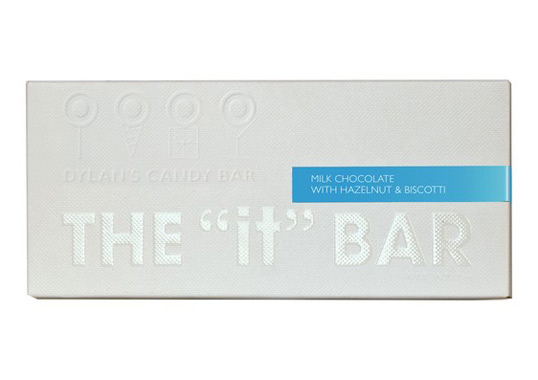 Country: United States | Font: ITC Avant Garde Gothic
The "it Bar from Dylan's Candy Bar comes beautifully packaged in a white textured box with blind embossing, foil stamp and tip-on label.
December 28, 2009 | No Comments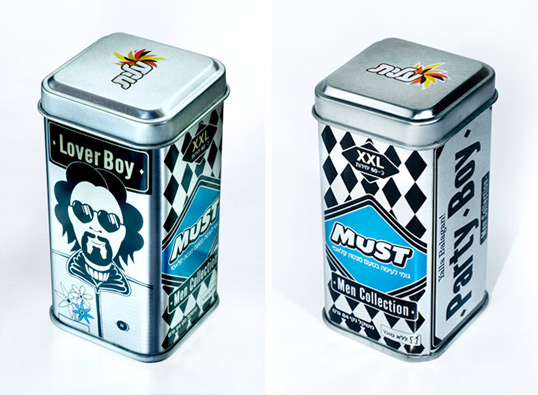 Designed by Oi Design Studio | Country: Israel
"The Brief: When The Strauss group fixed the intention of launching a  series of consumer products aimed at men, they requested that we devise a marketing concept for the new products  of 'MUST', starting with the packaging that will project a strong difference from competitors products on the shelf.
The Solution: 'Must – Men Collection' – chewing gum for men only. We chose a collection of illustrated Presenters:  male types that we all know and admire – go-getters, women love these men and boys copy them. We put them on metal containers which are especially masculine and gave to each presenter a stage for his male life philosophies."
December 6, 2009 | 5 Comments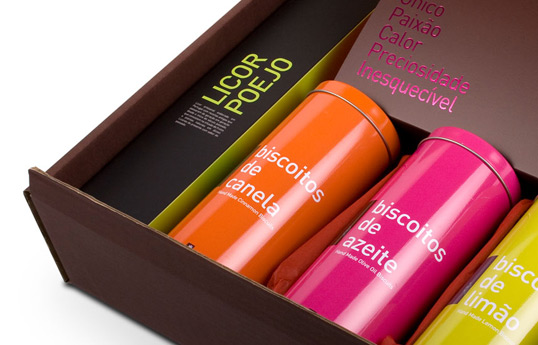 Designed by António Policarpo | Country: Portugal
"The Boa Boca Gourmet  project was born in Évora in 2004, is a small company which currently employs five people. Began with the opening of a gourmet shop with a strong component of design. Since 2006 the company's members António João Policarpo (Designer degree in advertising communication and a master degree in graphic design by Alquimia da Cor) and Inês Varejao (Eng Agricultural and postgraduate in wines in Bordeaux – France) joined efforts and created the brand "FEITOÀMÃO®" and in partnership with small producers selected and moved forward with the creation and development of traditional Portuguese food products of high quality, handmade with care and wisdom, and packed with an image carefully and packaging excellence.
November 28, 2009 | No Comments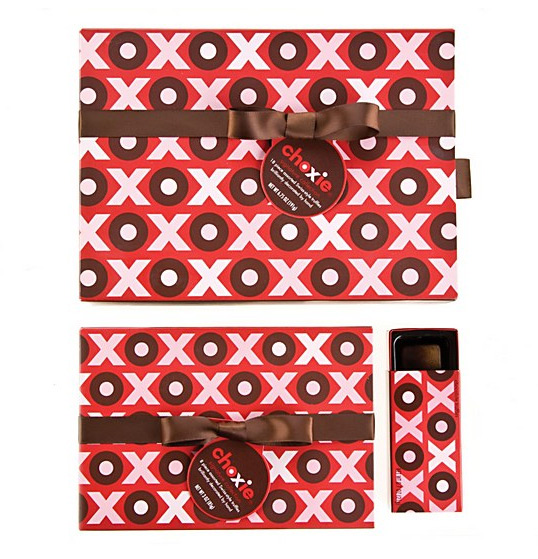 Designed by Target | Country: United States
"In order to create a signature packaging system for Target's private label premium chocolate line, Choxie, we developed a signature line look based on the proprietary 'OX' in the existing logotype. The patterning underscores the playful brand look through colors and repeat pattern that was translated to Valentines Day and Winter Holiday signature boxes. Photography emphasizes the richness of the product and unique shape and color of the chocolates."
November 26, 2009 | 2 Comments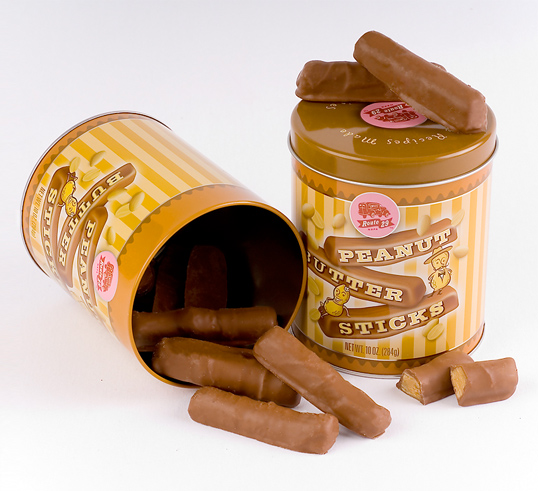 Designed by Barbara Vick Design | Country: United States
Does anybody know who designed this retro-inspired packaging?
October 22, 2009 | 4 Comments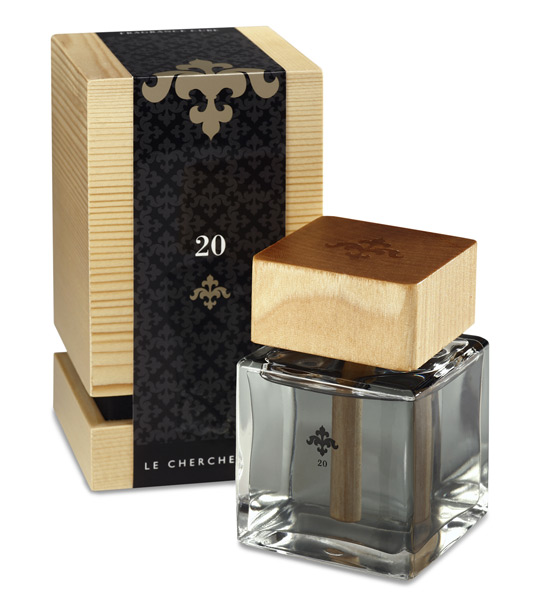 Country: France | Buy it
Le Cherche Midi has been kind enough to offer Lovely Package® readers 30% off the purchase of their products. Just head over to their online store and enter the promo code: LOVELY30. The promo is valid until Nov. 15th. Thanks Nathan!
"The fragrance industry spends a lot of money creating beautiful trash in the form of cardboard boxes that look great on a shelf, but are discarded after purchase.  So when we developed the packaging for our artisanal fragrances, we sought to combine beauty, function, sustainability and reusability.  The result was our signature wooden box with silk lining.
October 14, 2009 | 33 Comments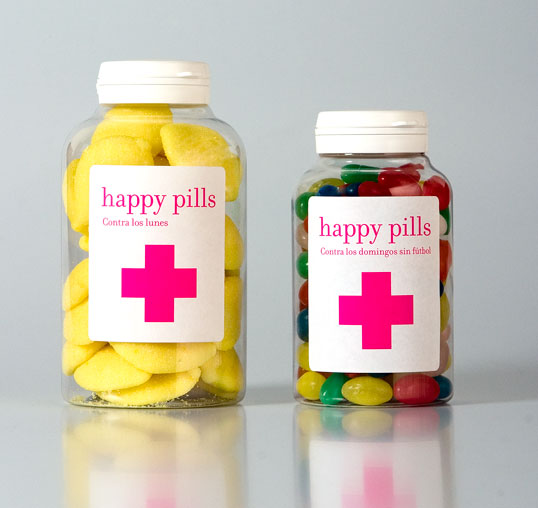 Designed by Marion Donneweg | Country: Spain | Font: Filosofia
Thanks to Marion for sending us her design firm's first project: packaging design for a candy shop in Barcelona called Happy Pills. Rather than using bags, customers use jars and pill cases to store their candy purchases.