September 4, 2009 | 10 Comments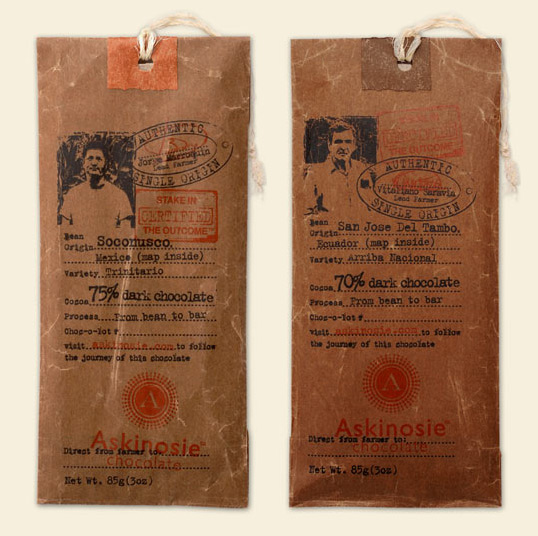 Designed by Element Eleven & Kristina Sacci | Country: United States | Buy it
Askinosie Chocolate has some beautiful packaging in their product line. Does anyone know who is responsible for these designs?
September 1, 2009 | 3 Comments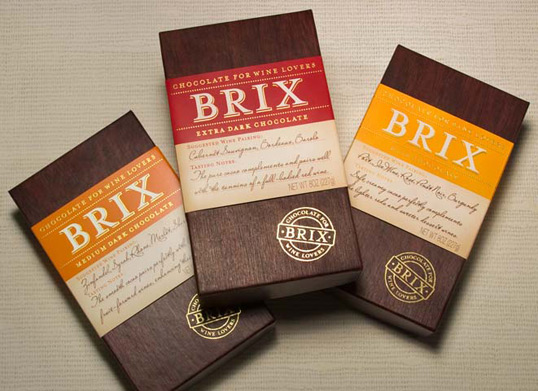 Designed by Michael Osborne Design | Country: United States | Buy it
"Brix is the first line of chocolates specifically blended to compliment wine. Based on the finest single origin chocolate from Ghana, Brix masterfully combines the outspoken character of the single origin chocolate with the smoothness of the highest quality confectionary chocolate.
The result is a blend so pure in flavor that it actually enhances those nuances found in great wines, without confusing the palate. It is sold in eight ounce bricks, meant to be fractured like a hard cheese, "Brix" is also roughly defined as the sugar content of a grape before it is harvested for wine. Thus a little play on words"
August 26, 2009 | 1 Comment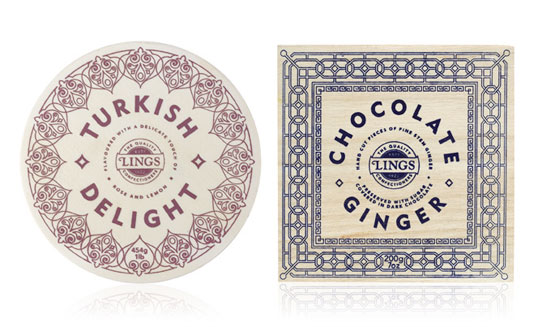 Designed by Acrobat | Country: United Kingdom
"We were briefed to revitalize the much loved 'Lings' brand. Respectful of the company's heritage our new designs draw on the exotic origins of each product and use pattern in a rich contemporary way."
August 23, 2009 | 3 Comments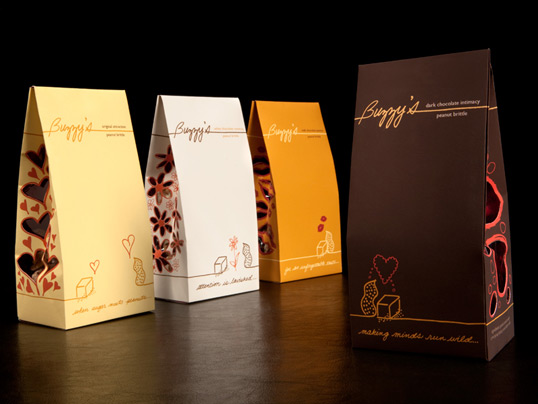 Designed by Aileen Barrameda | Country: United States
"The packaging is for Buzzy's, a boutique gourmet candy shop that targets women. They wanted a feminine approach in selling their best selling line of peanut brittle, which includes original, white chocolate dipped, milk chocolate dipped, and dark chocolate dipped.  Buzzy's uses 7 ingredients to make their original peanut brittle recipe.
I approached the design with the idea of "simple ingredients made with love," using romance to woo women. The line of packaging tells a story of peanut meeting sugar and how their relationship develops into the 4 stages of love: attraction (original), romance (white chocolate), passion (milk chocolate), and intimacy (dark chocolate). Since the packaging is about a story unfolding, the packaging has a preforrated tab to reveal the bright red lining–a color associated with love, passion, and romance. The die cuts give a glimps of the product and are associated with the line graphics per assortment."
August 20, 2009 | No Comments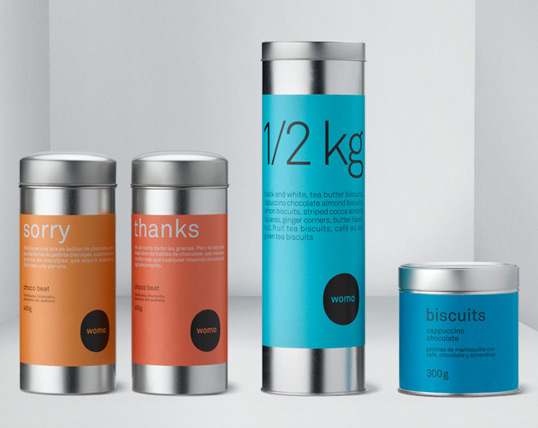 Designed by Ruiz+Company | Country: Spain
Beautiful and simple copy driven package design by Spain's Ruiz+Company for Womo.
August 14, 2009 | 8 Comments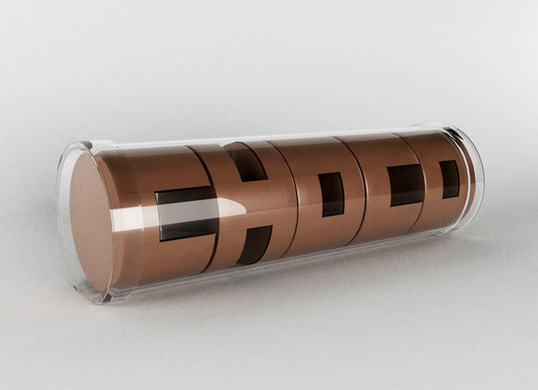 Designed by Petar Pavlov | Country: Macedonia
Although just a prototype at this stage, the concept definitely gives pause for thought. There would be some obvious hurdles to overcome to make this design commercially viable, such as the issue of mandatory labeling, but there's no reason why clever and creative solutions couldn't be found to these problems.
"The idea behind this concept was to make packaging where the name of the product is written by the product itself instead of using any kind of printing techniques. Considering the future of technology and the endless possibilities to shape your product, it's definitely a subject that deserves attention."
August 12, 2009 | 10 Comments
Designed by Lip. Ltda. | Country: Colombia
"Brown is a small confectioner's shop in Bogotá that's always used kraft board boxes to pack their products. They wanted a new corporate image and a simple and low budget solution to identify what's inside them. Bogotá, Colombia design firm Lip Ltda came up with a series of cards and stamps that carry the information simply and succinctly."
August 10, 2009 | 2 Comments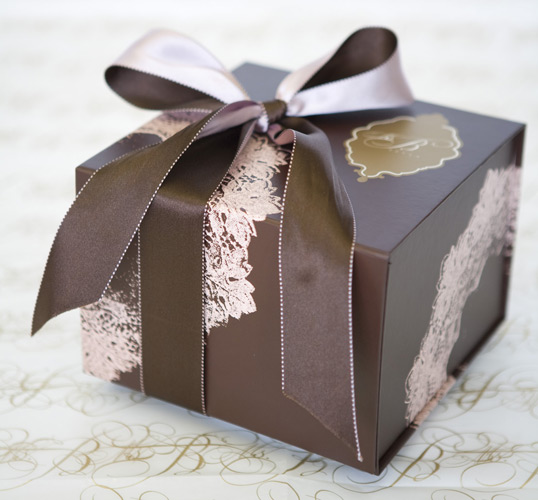 Designed by Ikon | Country: Australia
"Style icon Bonnie Gokson is renowned for her image creation and product design. So when she embarked on an new exciting project overseeing and conceptualising Sevva, Ikon was thrilled to be involved. Taking up the penthouse floor of Hong Kong's Prince's Building, Sevva (pronounced "savour") is a unique destination offering two restaurants, a lounge area and taste bar as well as Ms B, a decadent cake shop.
August 8, 2009 | 4 Comments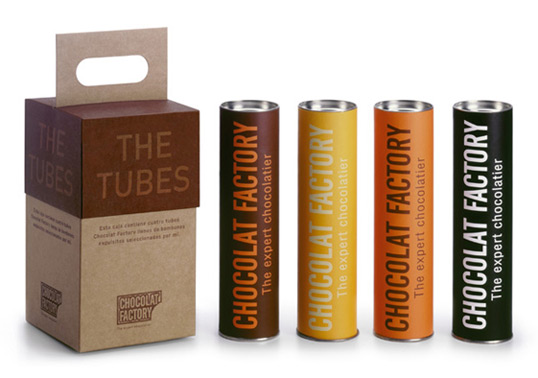 Designed by Ruiz+Company | Country: Spain
"The fact that the company's founding partners are, respectively, an architect and an interior decorator, has probably exercised a decisive influence in this sensitive approach to design. As Michel Laline himself explains: "When we first launched the company, we realised that no one had used design in the sector as yet, so that formed the base of the business: chocolate and design." And according to Titus Ruiz: "The concept of the brand was very clear from the start: design with content."
August 4, 2009 | 4 Comments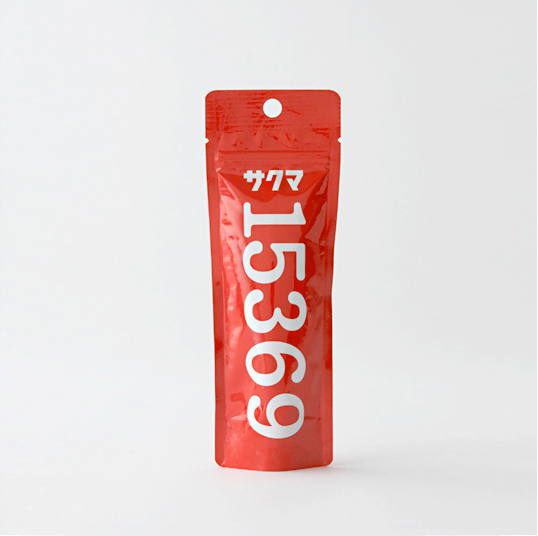 Designed by Taku Satoh Design Office | Country: Japan
Über-simple candy packaging.