March 12, 2010 | 7 Comments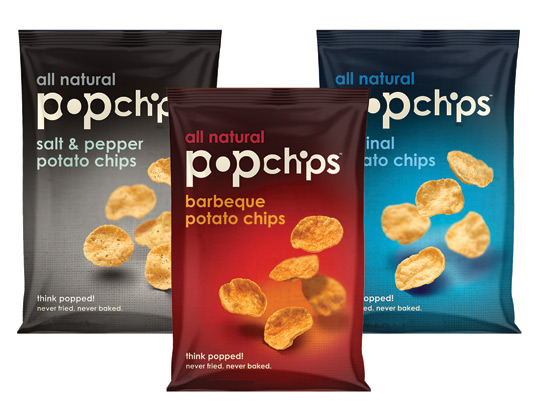 Designed by Turner Duckworth | Country: United States | Buy it
"Keith Belling, CEO of popchips, worked with Turner Duckworth, a London-based, international brand design agency with an office in San Francisco, to create the bold popchips packaging. Designed to be uncluttered and simplistic, the packaging incorporates a sans-serif typeface with the letters "o" and "i" highlighted in negative space. The packaging was originally inspired by the design of Britain's private label packages from Marks & Spencer. Further, the popchips bags are offered in assortment of bright colors that correspond with each flavor and give the product extra pop."
March 12, 2010 | 4 Comments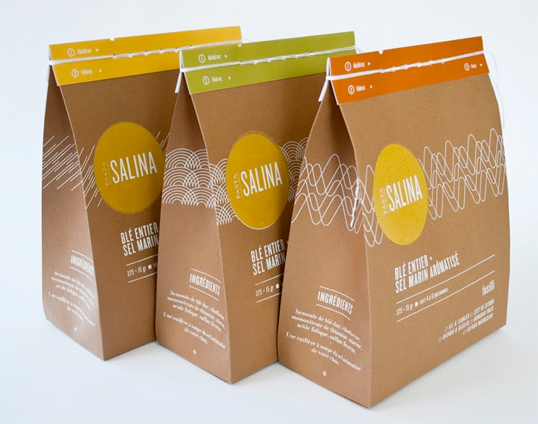 Designed by Emanuel Cohen | Country: Canada
Lovely student work with a clever opening system, which you can see in action here.
March 11, 2010 | 7 Comments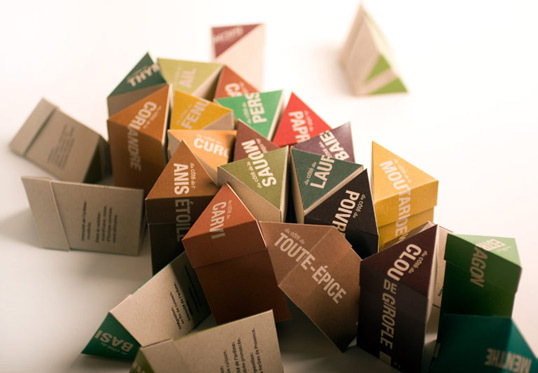 Designed by Geneviève Côté | Country: Canada
"If it is indirectly the quest of spices that led to the discovery of the Americas by Europeans, the passion has definitely not had much influence on American cuisine and, in fact, except salt, pepper marginal and some spices, we are collectively ignorant regarding all these subtleties that distinguish the food of men from that of animals.
March 11, 2010 | 5 Comments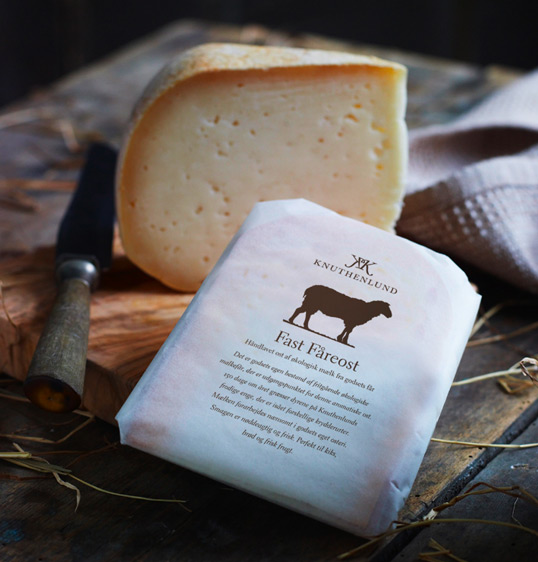 Designed by envision:design | Country: Denmark
"Knuthenlund Estate in Lolland has operated an organic farm since 2007, striving to offer high quality organic foods and at the same time taking care of the unique nature, that is characteristic for the Danish island of Lolland. In the Easter of 2009, Knuthenlund opened a whole new dairy farm in one of the former barns on the estate. The dairy farm is based on milk from the estate's own organic milking sheep and goats. The fresh milk is handled very carefully to preserve its taste and structure.
March 9, 2010 | 1 Comment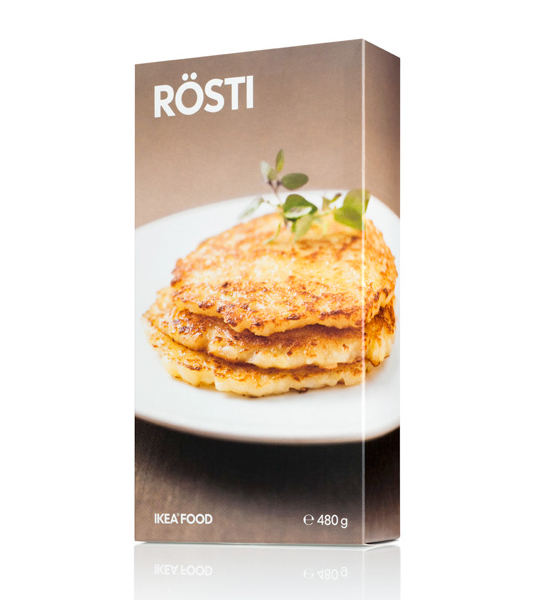 Designed by Stockholm Design Lab | Country: Sweden
"Stockholm Design Lab created a design and packaging concept for IKEA when the company combined its various food and catering units under the joint name IKEA FOOD. The packaging concept is for a range of food products sold under the IKEA FOOD label, expressing the key values: reliable, good quality and Swedish. The package design is based on three approaches – photographic, graphic and transparent."
March 9, 2010 | 3 Comments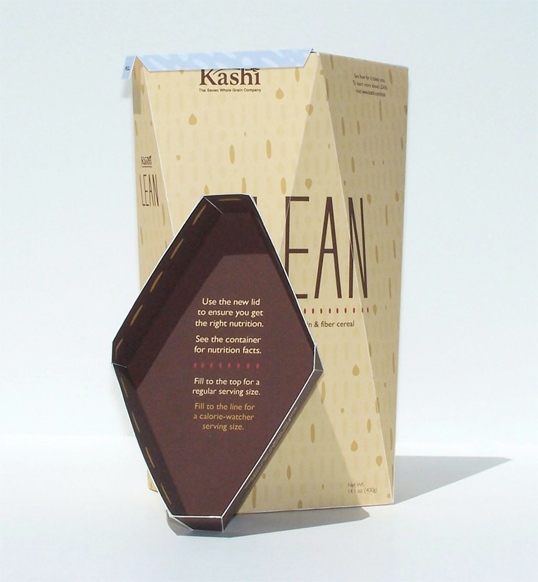 Designed by Patrick McKeever | Country: United States
A concept to replace the standard cereal box with a lid which doubles as a portion control device.
March 3, 2010 | 1 Comment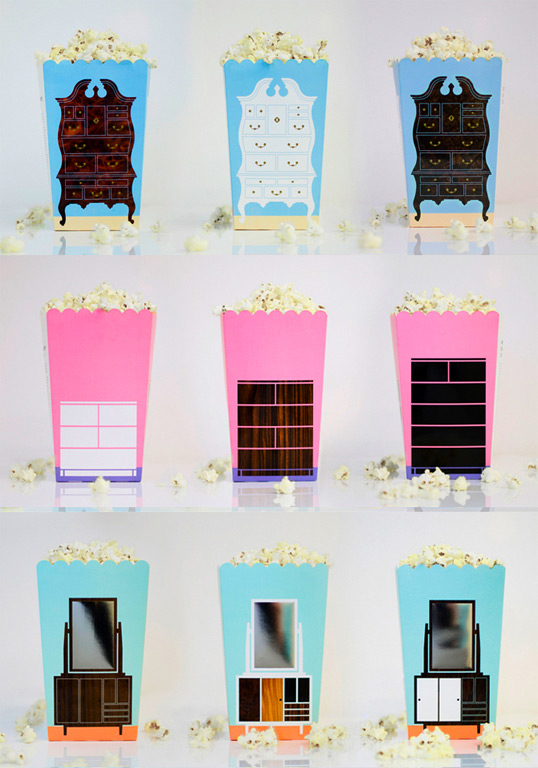 Designed by Milk | Country: Sweden
"Packaging design for  "Bureau of the Year 2010″ in Sweden. A competition where advertising-, media and design bureaus compete against each other based on clients' evaluations.
The event is sponsored by a printing company called Elanders. That allowed us to be more creative when it came to printing techniques. This series has partial gloss, 400 dpi raster on wood textures, silver foil and high quality paper to represent some of Elanders printing possibilities."
March 2, 2010 | 1 Comment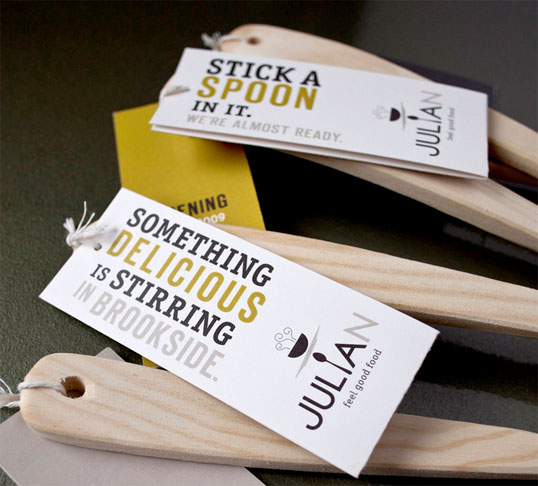 Designed by Jordan Gray Creative | Country: United States | Fonts: ITC Officina Serif
Part of a complete branding project for a new restaurant in Kansas City, this packaging uses a lovely simple colour palette and includes beautiful take-out boxes and bags.
March 2, 2010 | No Comments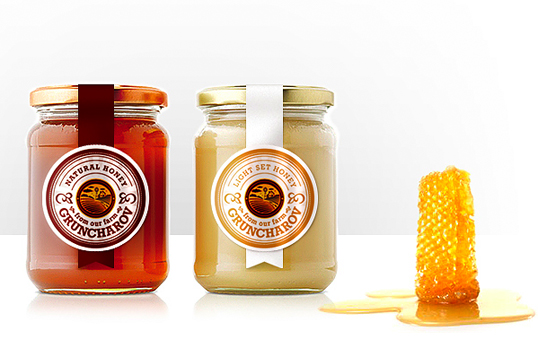 Designed by Dreamworx | Country: Bulgaria | Fonts: Rockwell
"The client wanted a very stylish retro-looking design, but with a modern appeal. So in the end it came down to a not so regular round shape, avoiding all the usuall bees, sunflower stuff."
March 1, 2010 | 3 Comments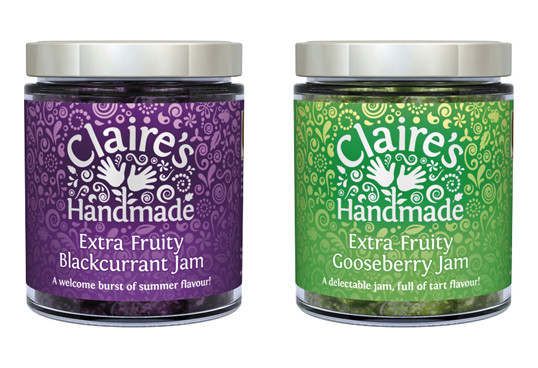 Designed by Simmer | Country: United Kingdom | Fonts: Fontin
"Specialist food and drink branding consultancy Simmer has just launched a new brand identity for artisan preserver Claire's Handmade.
Claire's Handmade makes delicious award-winning Preserves, Chutney, Piccalilli, Ketchup, Jam, Marmalade and Lemon Curd. Recipes are created by Claire Kent and her chef husband, ingredients are locally-sourced where possible and products hand-made in Cumbria. The range is sold in retailers around the North-West and further afield and are also served extensively in fine restaurants, tea rooms and foodservice outlets.