March 18, 2010 | 8 Comments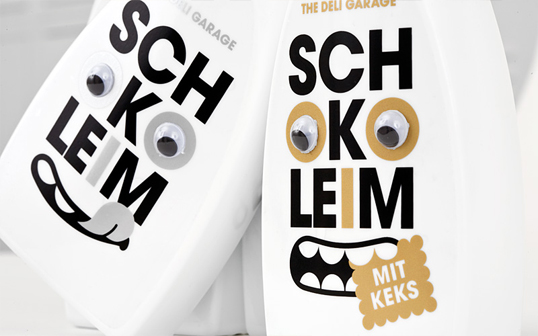 Designed by KOREFE | Country: Germany
"Schokoleim is a chocolate paste, packaged in the classic wood glue bottle. The Food Label The Deli garage offers "artisanal" delicacies made with high quality design and functionality of tools from the garage."
March 17, 2010 | 4 Comments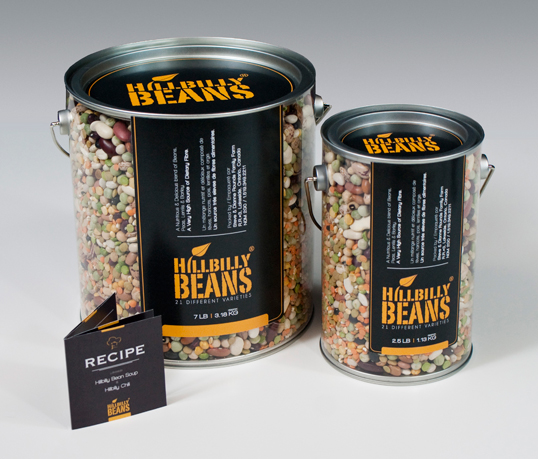 Designed by Andrew Matveev | Country: Canada
"The purpose of the project is to redesign the packaging and identity for this brand, in order to advance into a larger market, and compete with eye catching supermarket product designs. The product is currently being sold locally by vendors, and markets, and in order to begin its sales in a larger retail outlet, the product needed a face lift. We needed to create a design which would bring the product into the future. It would also need to be portable, flexible in sizes, stackable on shelves and able to ship in large quantities. The idea was not to just sell beans, but to sell it as a mix, which would include a recipe book with 2 recipes (Hillbilly Chilli, and Hillbilly Bean Soup) and promotional information. The idea is to revamp the companies look to prepare it for a larger market, while keeping in mind the details of product management."
March 15, 2010 | 2 Comments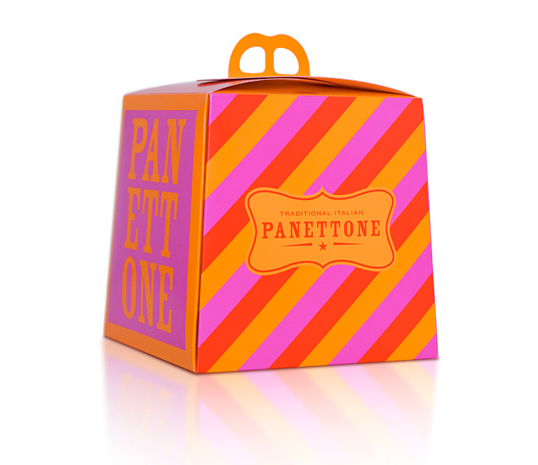 Designed by Pearlfisher | Country: United Kingdom
Pearlfisher have done it again, producing more beautiful and varied packaging work for Jamie Oliver. Check out our previous post on Jamie Oliver packaging here.
March 14, 2010 | 1 Comment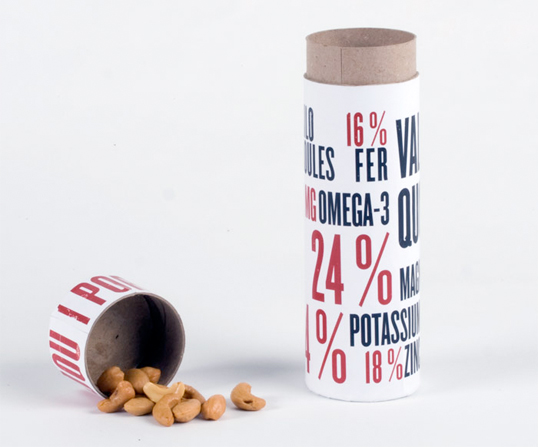 Designed by Jolin Masson-St-Onge | Country: Canada
A packaging concept for cashew nuts where the portion size is measured by the lid and the nutritional information of the product is presented in a large, typographic format.
March 12, 2010 | 7 Comments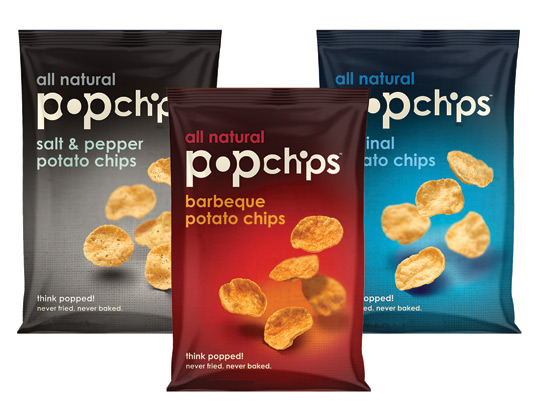 Designed by Turner Duckworth | Country: United States | Buy it
"Keith Belling, CEO of popchips, worked with Turner Duckworth, a London-based, international brand design agency with an office in San Francisco, to create the bold popchips packaging. Designed to be uncluttered and simplistic, the packaging incorporates a sans-serif typeface with the letters "o" and "i" highlighted in negative space. The packaging was originally inspired by the design of Britain's private label packages from Marks & Spencer. Further, the popchips bags are offered in assortment of bright colors that correspond with each flavor and give the product extra pop."
March 12, 2010 | 4 Comments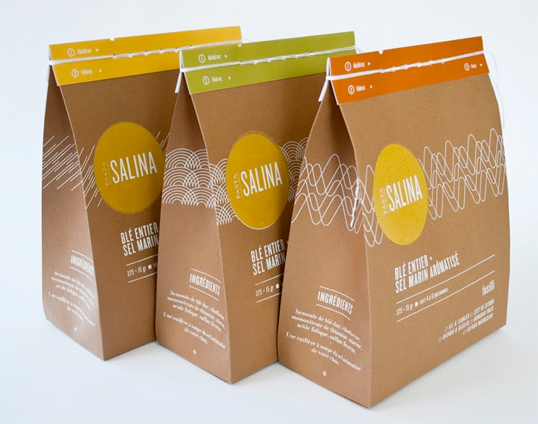 Designed by Emanuel Cohen | Country: Canada
Lovely student work with a clever opening system, which you can see in action here.
March 11, 2010 | 7 Comments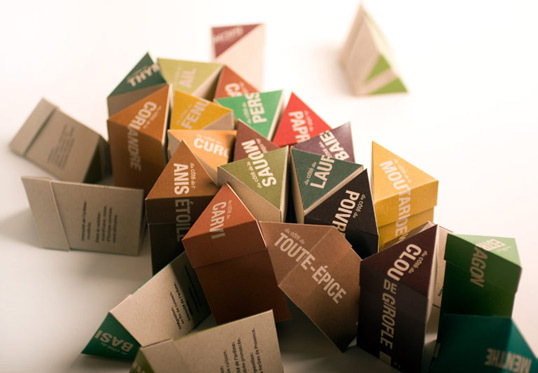 Designed by Geneviève Côté | Country: Canada
"If it is indirectly the quest of spices that led to the discovery of the Americas by Europeans, the passion has definitely not had much influence on American cuisine and, in fact, except salt, pepper marginal and some spices, we are collectively ignorant regarding all these subtleties that distinguish the food of men from that of animals.
March 11, 2010 | 5 Comments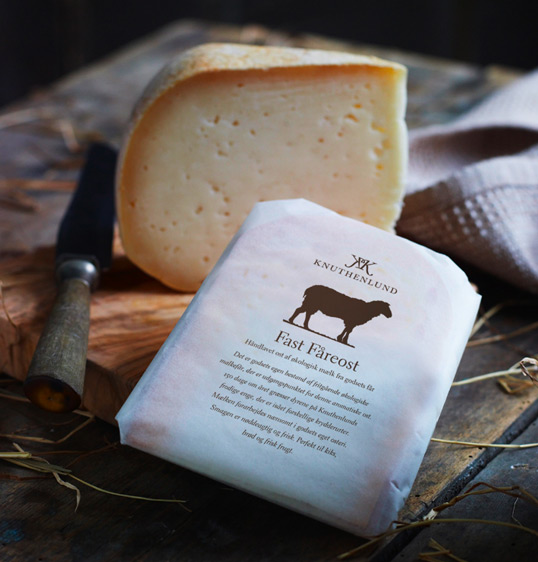 Designed by envision:design | Country: Denmark
"Knuthenlund Estate in Lolland has operated an organic farm since 2007, striving to offer high quality organic foods and at the same time taking care of the unique nature, that is characteristic for the Danish island of Lolland. In the Easter of 2009, Knuthenlund opened a whole new dairy farm in one of the former barns on the estate. The dairy farm is based on milk from the estate's own organic milking sheep and goats. The fresh milk is handled very carefully to preserve its taste and structure.
March 9, 2010 | 1 Comment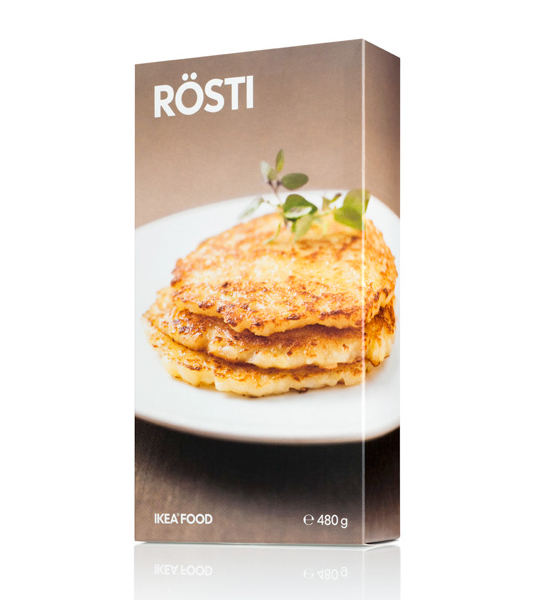 Designed by Stockholm Design Lab | Country: Sweden
"Stockholm Design Lab created a design and packaging concept for IKEA when the company combined its various food and catering units under the joint name IKEA FOOD. The packaging concept is for a range of food products sold under the IKEA FOOD label, expressing the key values: reliable, good quality and Swedish. The package design is based on three approaches – photographic, graphic and transparent."
March 9, 2010 | 3 Comments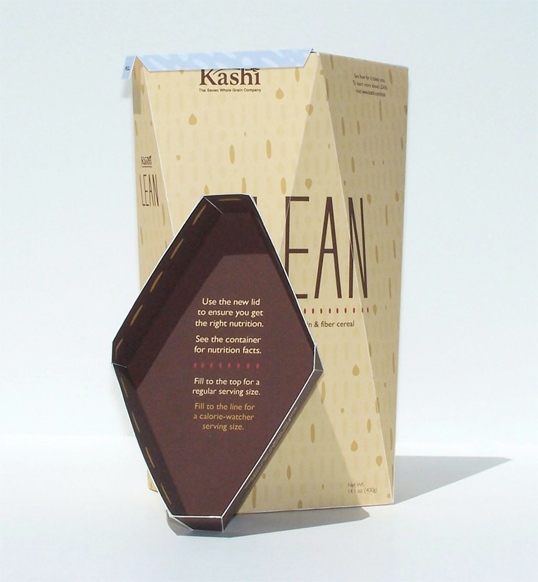 Designed by Patrick McKeever | Country: United States
A concept to replace the standard cereal box with a lid which doubles as a portion control device.