May 4, 2015 | 3 Comments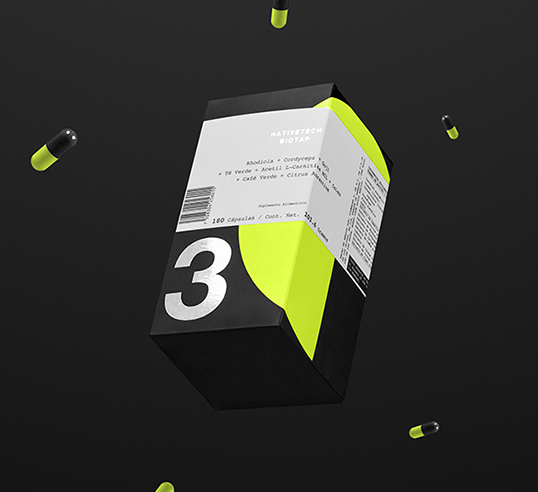 Designed by Anagrama | Country: Mexico
"Nativetech is a new brand specialized in sports nutrition supplements that help improve athletes' performance by boosting energy, providing muscle growth potential, and supporting recovery after intense training sessions. The products are highly functional and have been developed with innovative formulas that integrate the newest nutritional components derived from the application of the latest bioengineering technologies.
Our brand proposal aims at breaking away from the generic solutions that are typical of this product segment by taking a direction that is inspired by bright, neon colors that are related to the world of optimal sport performance, including the attire, footwear, and accessories associated with these athletes."
April 27, 2015 | No Comments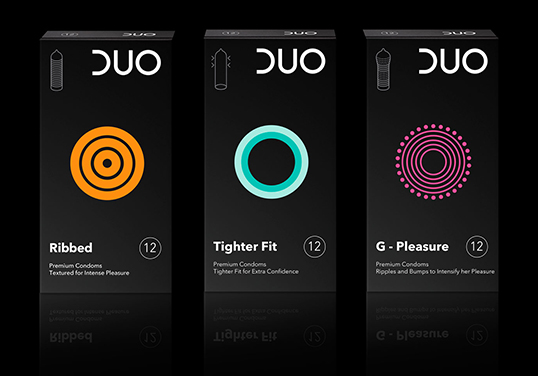 Designed by mousegraphics | Country: Greece
"The briefing: DUO brand identity needs to be revised in order to update its worldwide look for new target audiences, better codify relevant communication and refresh its market presence.
The target consumer: Existing consumers of all ages and sexes as well as new audiences of younger people, web natives and design conscious buyers.
The design: To respond to our clients request we had to review the new languages of communication based on emoticons, shortcuts, symbols and condensed messages and imagine an original, codified, contemporary idiom legible by all and adaptable to all national markets, respective cultures and particular religious or social sensitivities. The DUO logo has been cleared from the oblong form around it so that the logo is better integrated within the packaging surface, and emphasis is redirected on the circle, one of the most essential, primordial forms, and also the characteristic plan – view of a condom. To address the multiple variations of DUO condoms, mousegraphics developed the playful, sensual lexicon of a "DUO – coded" language. This DUO vernacular emerges, color-coded in vibrant tones on stark black surfaces. Circle based, symbolically abstracted design and outlines reference fruits (as in the flavoured variety), languid time (as in the retarding variety), machine joints (as in G-pleasure) etc."
March 15, 2015 | No Comments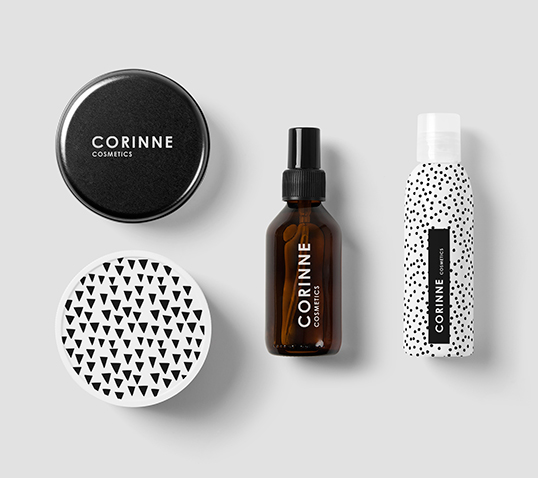 Designed by Anna Trympali | Country: Greece
"Corinne is a lyric poet from Tanagra in Beotia, modern in appearance and perceptions, independent, liberal, social, deep thinking. She loved reading, occultism and astrology.
Corinne's mission is to create the most effective and high quality skin care, hand and naturally made, products using the most efficacious active ingredients around the world. Our inspiration is the nature and its precious treasures, which combined with passion, love, knowledge and responsibility, create natural, effective and innovative beauty and wellness products."
February 17, 2015 | 1 Comment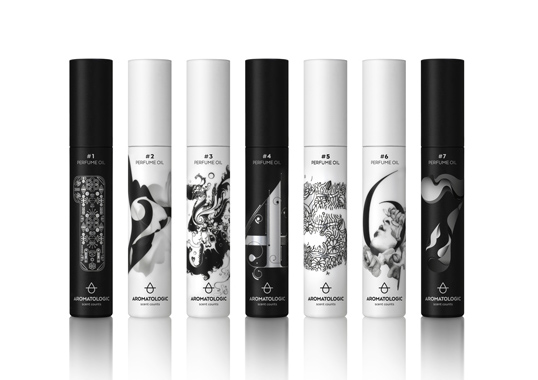 Designed by mousegraphics | Country: Greece
"Τhe briefing (in brief): We introduce in Greece and abroad a new line of cosmetics based on components extracted from the legendary area of the Dead Sea. We start with a line of unique perfume oils. We want the logo and the whole identity design for our project.
Τhe target consumer: Sophisticated women and men who care for the provenance and materials of beauty products while also appreciating design and packaging care.
The design: We worked with our client to build the brand image and product story, starting from the given brand name (Aromatologic) and the high-value provenance of the products. Aromatologic project is conceived as one that studies the most primal of senses, Smell, and traces the archetypal but personal "logic of the aromas" in ancient philosophy, the science of numbers and the field of personal memories. Thanks to their pure oil basis, these aromas can blend with each body smell, and create a long lasting, unique, aromatic experience. Based on this, we developed a quite iconic logo as the metamorphosis of a vital and precious perfume (or essence) drop to letter A and vice versa. As the Aromatologic project is also a naming game, where the experience and memory of fragrances is suggested by numbers rather than described by words, we devised a similar and quite original packaging design process: Every scent, corresponds to a number and every number has its own distinct image created by a different artist. We commissioned graphic designers in Greece and abroad to imagine and design the different packages making this the first 'collective packaging design project'. If "scent counts" (as the brand tag line claims), we aimed for "power in numbers" as well. This sense of something unique but also available to all, guided our choice of a book-like case for each of the aromas."
November 24, 2014 | No Comments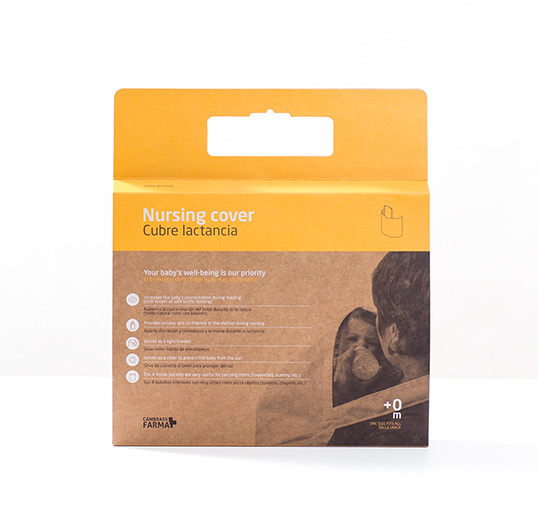 Designed by Quevieneelcoco | Country: Spain
"The series contains seven items produced  in a range of pastel colors and using ecologically friendly materials. It pulls away from the common design  aesthetics, principally sold in pharmacies."
November 23, 2014 | 1 Comment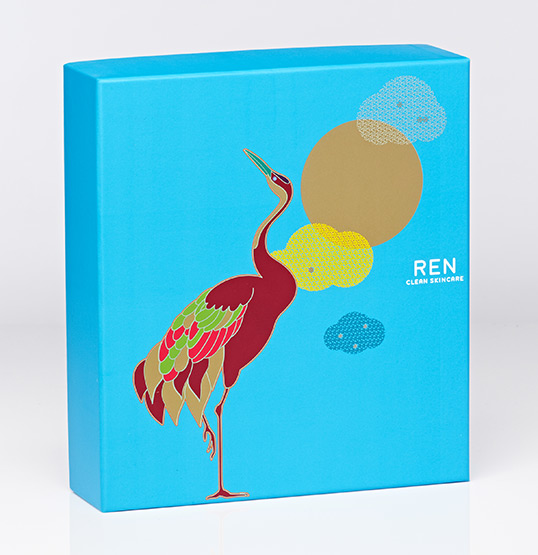 Designed by Hart D'Lacey | Country: United Kingdom
"Hart D'Lacey have designed REN Skincare's 2014 Christmas Gift Packaging using vibrant illustrations of cranes, a symbol of longevity and good fortune throughout Asia.
Hart D'Lacey realised the symbolism of the Crane would provide a strong concept for this range of skincare Christmas gifts, representing happiness and good luck in the coming year for the gift recipient.
The imagery utilises REN's established bold colour palette to give the gift boxes an increased prominence in a retail environment.
REN skincare are best known for their natural, innovative skincare products. Hart D'Lacey's ongoing involvement with REN has helped build and elevate the brand through consistently and effectively connecting with their loyal worldwide customer base."
October 20, 2014 | 24 Comments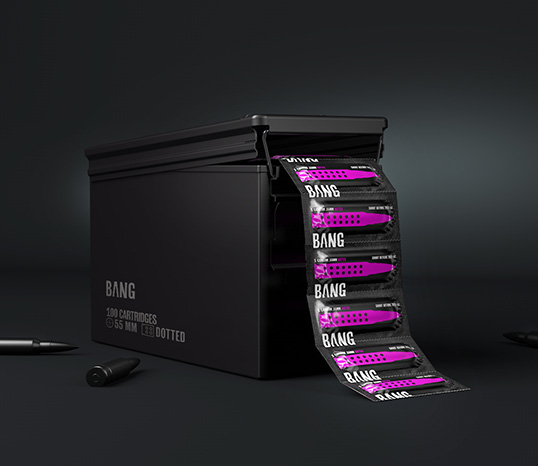 Designed by Wunderbar | Country: Russia
"We created a condom brand BANG and a package design for it. Our challenge was to create the true men's condoms. We wanted men to feel like real warriors when they buy them. Condoms are their bullets, packages are their clips and sex is their battlefield."
October 19, 2014 | No Comments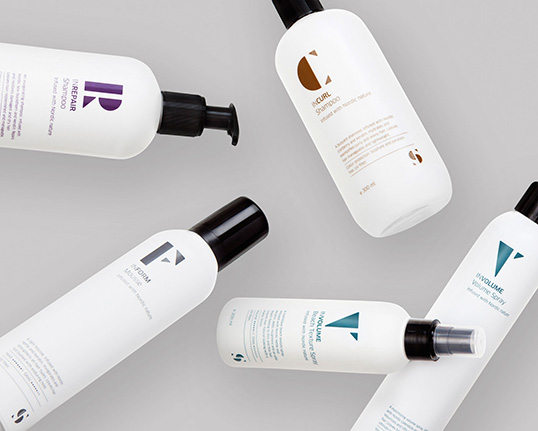 Designed by AplusM | Country: Sweden
"INSHAPE is a professional hair care label that infuses the very best ingredients that the Nordic nature has to offer. The brief was to create a visual identity for INSHAPE and a packaging design concept for the product series: INCURL, INFORM, INREPAIR and INVOLUME. The main elements of the identity are letterforms created from simple shapes. The idea is to help the customer easily identify the product suited to their individual need. The overall impression is confident, clean and timeless."
September 9, 2014 | 3 Comments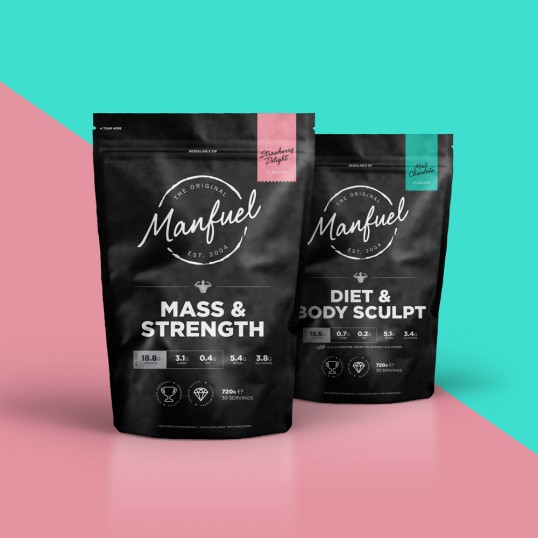 Designed by fifty3 | Country: United States
"Packaging for Manfuel, an ROI based 'Performance Powder' manufacturer. Repositioning the Manfuel brand with key focus on strength products, combining their experience in the powders market with their development of award winning flavour production."
September 7, 2014 | 1 Comment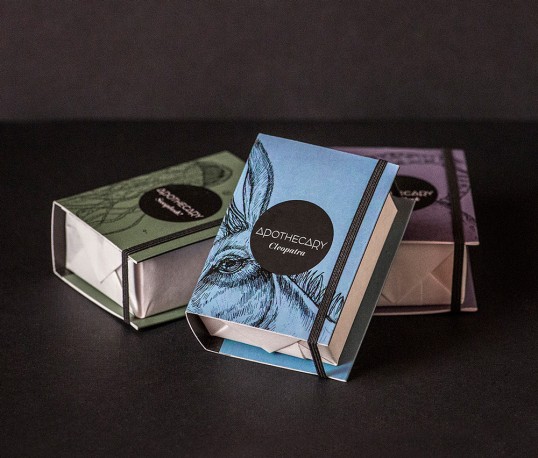 Designed by The6th Creative Studio | Country: Italy
"Apothecary is a brand of beauty products that are 100% organic. The main products are soaps which are all top quality and made only with Italian ingredients. We created a logo and sophisticated packaging for 12 soaps (split into 3 lines: women, men and top). The packaging has the shape of as a small book, with a hard cover and a string to lock it."