October 20, 2015 | No Comments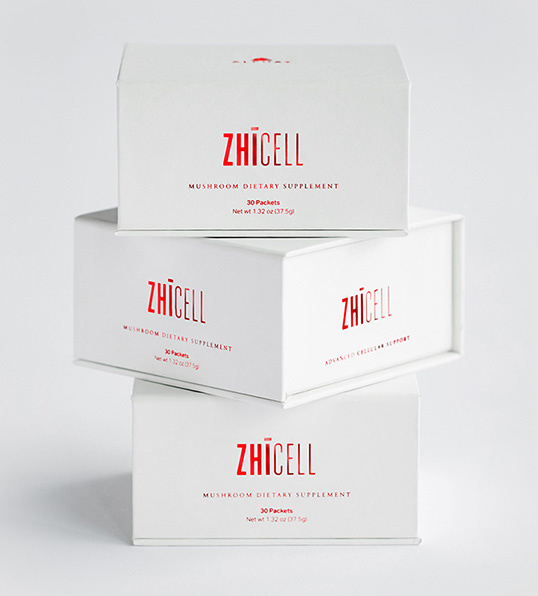 Designed by Shaun Steele | Country: United States
"Premium packaging design for Alphay's Zhi Cell, a nutritional mushroom powder blend that provides enhanced energy, cellular strength, mental focus and physical well-being. This custom clamshell box with a magnet closure has a soft touch white exterior with red foil stamping, a red interior which houses 30, pearl stick packs with gold foil lettering."
October 11, 2015 | No Comments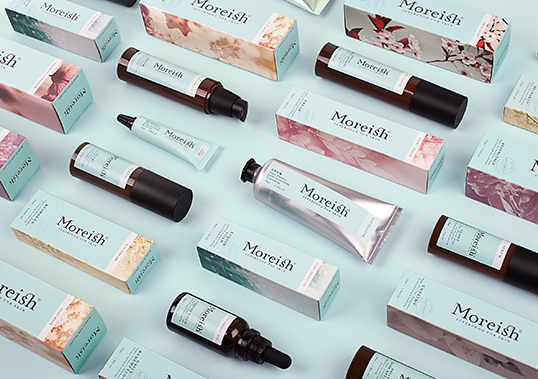 Designed by Milk | Country: New Zealand
"The luxury segment is experiencing the strongest growth in skincare. Moreish was an existing, but underperforming range in pharmacy. The existing brand was centred purely around argan oil and its Moroccan provenance, but the visual architecture was very pharmaceutical in aesthetic and not embraced by consumers. While the already effective formulas have only been slightly altered, the brand positioning, language and design were completely up for grabs.
The new differentiated Moreish proposition is now more relevant to our target audience, we brought this new positioning alive through a more sophisticated pack language. The new positioning needed to work harder than focusing solely on a key ingredient, as these are subject to fads and potentially negative media. The skin is the body's largest organ, and whatever goes on the skin is 'consumed' by the body, so therefore anything applied to the skin should truly nourish like nutrient-rich food does. Leveraging this simple insight, we repositioned the brand as 'Superfood for Skin'."
October 9, 2015 | No Comments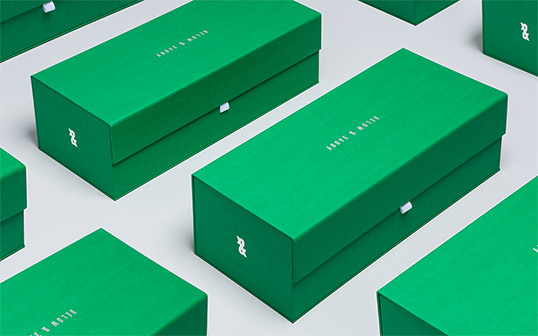 Designed by Butcher & Butcher | Country: New Zealand
"Above & Below by Gbenda-Charles is a single-source, organic skincare solution for men.
The task set to Butcher & Butcher was in positioning Above & Below as a unique challenger brand within the existing—and rapidly growing—men's skincare category.
The key to achieving this was in calling back to the Gbenda-Charles master brand in endorsing and informing product development. The core vision of Gbenda-Charles is one of quality and extraordinary simplicity, and this is echoed by the Above & Below product itself: one ingredient, from one sustainable source, creating a single solution for men's skin care and grooming."
September 21, 2015 | 2 Comments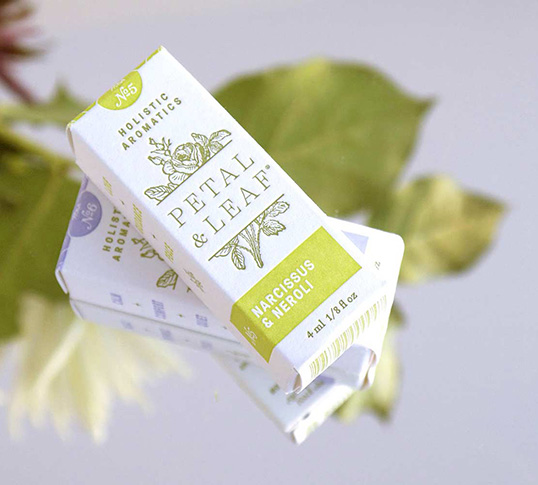 Designed by Officina | Country: Canada
"Petal & Leaf Holistic Aromatics — is a natural line of perfumes formulated by french perfumers, each natural scent beautifully and carefully crafted. Inspired by the line, we created an identity and packaging to reflect the organic nature and intricacies of the product. Each box was custom designed and letterpress printed by Genghis Kern in Colorado for a perfect, polished finish. Designed in collaboration with Petra Cuschieri."
August 17, 2015 | 1 Comment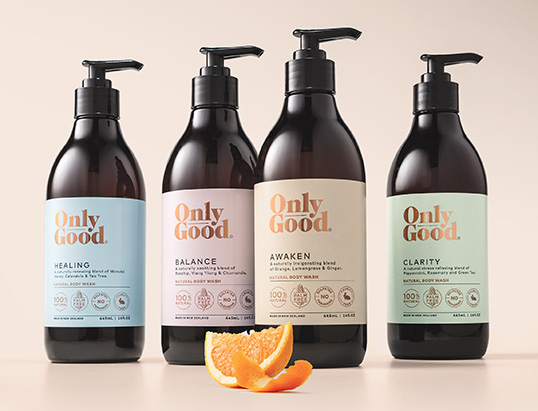 Designed by Milk | Country: New Zealand
"Our brief from long-term personal care client API was to deliver an eco-friendly, 'department-store-type' brand into supermarkets at an affordable price. Making an uncompromising, design-led range accessible, at an affordable price point.
As natural and gentle as it gets the product needs to sell based on more than simply its ethical credentials – it's got to feel desirable and an everyday indulgence.
As always in the FMCG space, quick, clear communication is key – so the name Only Good was key to representing the 'all or nothing', no compromises range. 'Decor appeal' is important – sleek amber bottle, simple design, and strong use of typography make this a pack that can be proudly displayed in the bathroom. A more natural high-end aesthetic."
August 11, 2015 | No Comments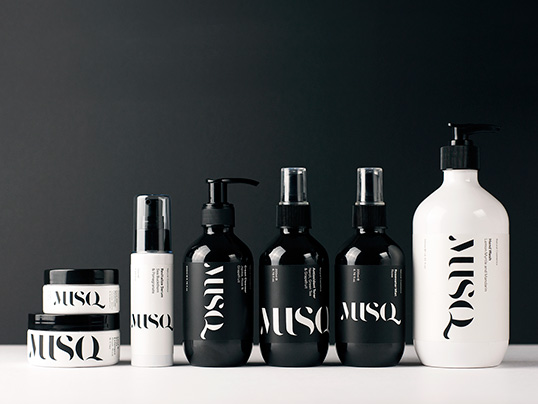 Designed by Black Squid Design | Country: Australia
"MUSQ is an Australian made, natural make up and skin care range. Musq uses real ingredients for real results with no hidden ingredients or hidden agenda. Black Squid Design have created a sleek and upmarket brand for MUSQ Natural Cosmetics, using black and white and creating a strong unified look applied to all products."
July 15, 2015 | No Comments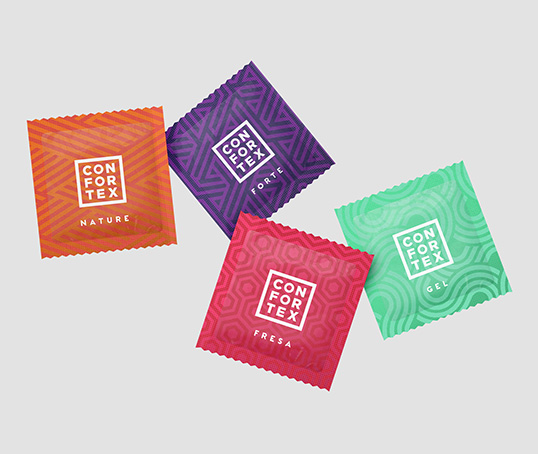 Designed by The Wook Co. | Country: Spain
"When Confortex's project arrived to our door we thought that there couldn't be a more self-rewarding branding project than redesigning a condom's brand. Confortex is a strong established brand of condoms that have always sold their products via third party distributors. Following a new business objective, they suddenly had the urge to sell directly to final consumer, and for that reason they also needed a brand new image, final consumer-oriented and of course differentiation from their competence. As part of our work method when modifying an existing brand, we usually love finding "that something" that was there all the time, making the brand special from their early beginnings and transform "that something" as a fortitude of the new brand. Confortex was the very first brand to include instructions within their foil unitary packaging, and we thought that was a very cool differentiation to use as a base for the new brand.
The logotype symbol is framed as that foil unitary condom package that made them different. For the packaging system we established a reduced color gamma, two base colors and one accent, and we created pattern based designs for each variety box to make them totally unique and memorable, to assure a wide variety of possibilities for the brand's future products and of course to differentiate from their competitors on the store display."
May 4, 2015 | 3 Comments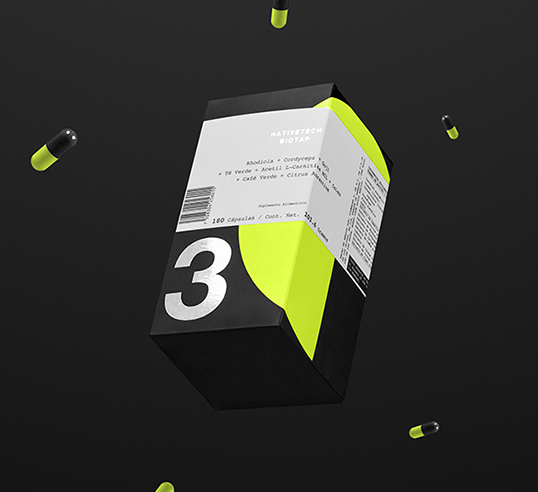 Designed by Anagrama | Country: Mexico
"Nativetech is a new brand specialized in sports nutrition supplements that help improve athletes' performance by boosting energy, providing muscle growth potential, and supporting recovery after intense training sessions. The products are highly functional and have been developed with innovative formulas that integrate the newest nutritional components derived from the application of the latest bioengineering technologies.
Our brand proposal aims at breaking away from the generic solutions that are typical of this product segment by taking a direction that is inspired by bright, neon colors that are related to the world of optimal sport performance, including the attire, footwear, and accessories associated with these athletes."
April 27, 2015 | No Comments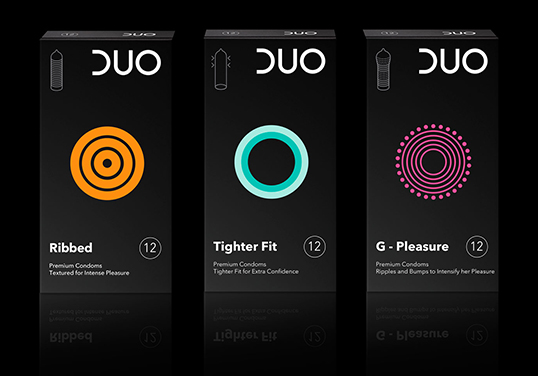 Designed by mousegraphics | Country: Greece
"The briefing: DUO brand identity needs to be revised in order to update its worldwide look for new target audiences, better codify relevant communication and refresh its market presence.
The target consumer: Existing consumers of all ages and sexes as well as new audiences of younger people, web natives and design conscious buyers.
The design: To respond to our clients request we had to review the new languages of communication based on emoticons, shortcuts, symbols and condensed messages and imagine an original, codified, contemporary idiom legible by all and adaptable to all national markets, respective cultures and particular religious or social sensitivities. The DUO logo has been cleared from the oblong form around it so that the logo is better integrated within the packaging surface, and emphasis is redirected on the circle, one of the most essential, primordial forms, and also the characteristic plan – view of a condom. To address the multiple variations of DUO condoms, mousegraphics developed the playful, sensual lexicon of a "DUO – coded" language. This DUO vernacular emerges, color-coded in vibrant tones on stark black surfaces. Circle based, symbolically abstracted design and outlines reference fruits (as in the flavoured variety), languid time (as in the retarding variety), machine joints (as in G-pleasure) etc."
March 15, 2015 | No Comments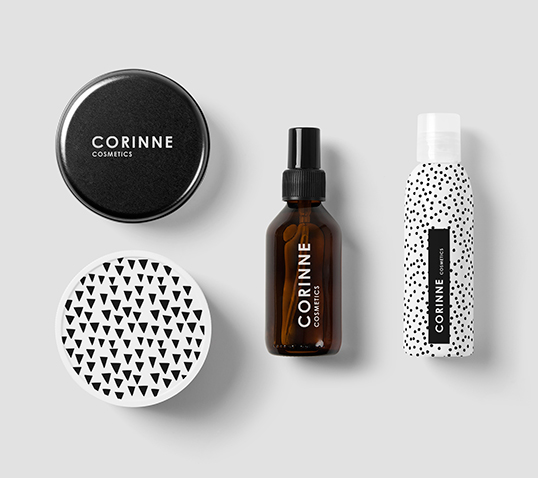 Designed by Anna Trympali | Country: Greece
"Corinne is a lyric poet from Tanagra in Beotia, modern in appearance and perceptions, independent, liberal, social, deep thinking. She loved reading, occultism and astrology.
Corinne's mission is to create the most effective and high quality skin care, hand and naturally made, products using the most efficacious active ingredients around the world. Our inspiration is the nature and its precious treasures, which combined with passion, love, knowledge and responsibility, create natural, effective and innovative beauty and wellness products."