November 2, 2010 | No Comments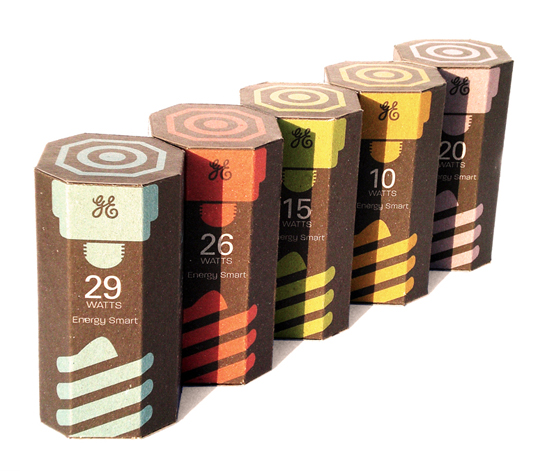 Designed by Kevin Kwok | Country: United States
"The redesign of General Electric CFL light bulbs is aimed to bring a friendlier shelf presence through the use of basic informative graphics. An advantage of the redesign is the ability to stack the packages together to complete the graphical form of a CFL light bulb. The top and bottom of each package might look familiar, they graphically resemble what the top and bottom of a CFL light bulb. Also something to note is each wattage has it's own color identity.
The redesign also considered the environment, the new design is packaged with post consumer cardboard rather than calm shell plastic. This ensures the use of less natural resources and therefore less impact on the environment. GE would also allow consumers to put old CFL light bulbs back in these packages and mail them back to be recycled."
October 30, 2010 | No Comments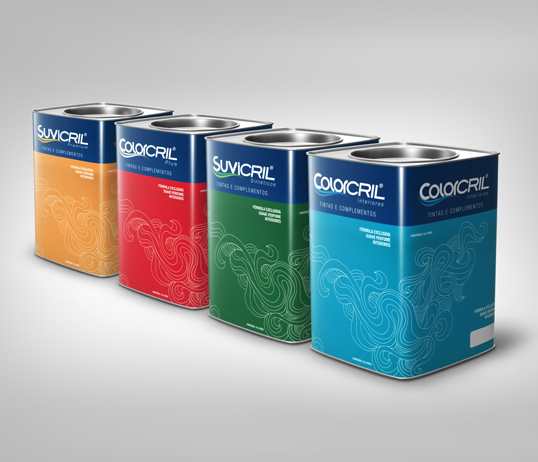 Designed by Mariella Leal | Country: Brazil
"Minimalist paint can designs for Colorcril. The idea is to categorize the product by color. The color of the can is the same color as the paint inside."
October 28, 2010 | No Comments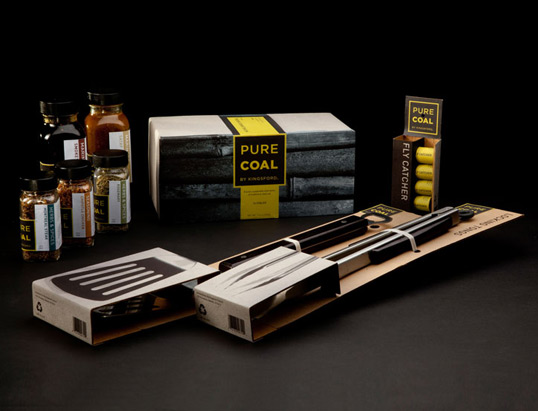 Designed by Winnie Yuen | Country: United States | Fonts: Gotham, FF DIN
"Pure Coal®, a 100% natural bamboo charcoal, is a sustainable alternative to traditional charcoal. The product offers consumers a delicious and playful barbecue experience, while maintaining the Kingsford's guarantee of quality."
October 15, 2010 | No Comments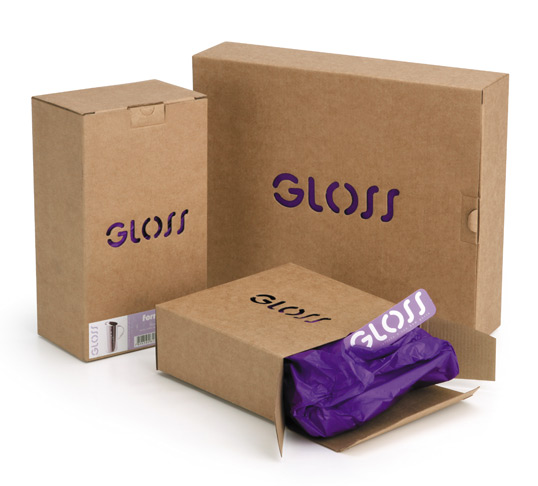 Designed by DG+Design | Country: Brazil
"Gloss is a mirror polished stainless steel housewares collection. The packaging range includes brown kraft paper boxes with no printed information. It's designed this way to allow using the boxes like a modular system (to fit different items into each box). Info about the contents is displayed by the off-set printed label. The stencil type lettering is cut through the carton showing the inside violet silk wrapping paper. A paper tag completes the entire packaging."
October 13, 2010 | 1 Comment
Designed by Nicole Berman, Cristina Rotundo, Maya Ostrader, Juancarlos Henriquez & Woorim Choi | Fonts: Verlag, MT Script
"Objective: Kmart needs to connect with its demographic on a psychological and emotional level to communicate quality and sophistication through strong product design and establish a deep brand loyalty throughout its many locations. Kmart also needs to focus on their customers needs as apposed to just their wants. The objective of this project was to redesign Kmart's packaging by developing a revitalized and refocused branding system. This was a collaborative project with four other students to create a house of brands for a new Kmart that will bring it above and beyond its competition, Target.
Continue…
October 11, 2010 | No Comments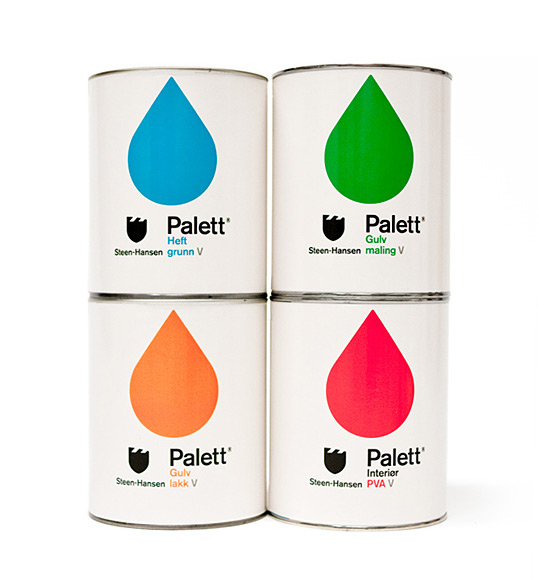 Designed by Kleivan Schnitler | Country: Norway
"As far as paint packaging goes, this example is by far the most attractive. The simple typesetting and vibrant use of colour certainly make it jump off the shelves at the hardware store. Isn't that the objective of good retail packaging? Mission accomplished."
Steen-Hansen is a one of the oldest paint factories in Norway (since 1932), based in Bergen.
September 30, 2010 | No Comments
Designed by José Luis García Eguiguren | Country: Spain
"Armormount  its a client based on New York  – USA.  With such a small budget Gworkshop had to redesign the brand and the packages.  For this project there were a few limitations such as using the images that the client had. The idea was to let the product be the protagonist of the box by its form and boldness. The color is represented by the main lines of armormount – premium TV mount products."
September 27, 2010 | No Comments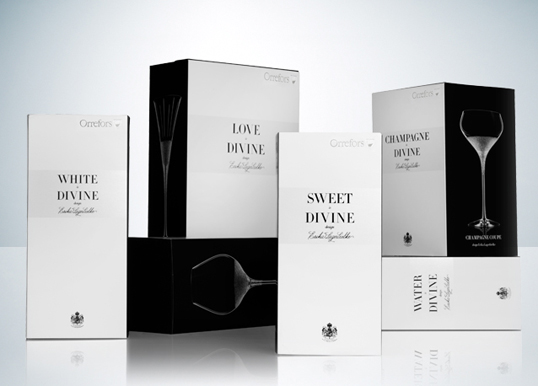 Designed by Neumeister | Country: Sweden
"Input: It was Orrefors, and designer Erika Lagerbielke, who were given the great pleasure of producing the official gift from the people to the Swedish Royal Wedding couple. This exclusive royal set of glasses is not available for the public, but a very similar "retail version" was created and named "Divine". How could this set of glasses benefit from the Royal one, without being too ingratiating and finally get a life of its own?
Output: With the design- and communication concept "Love is Divine" the parallel to the royal set of glasses is rather obvious, as long as the Royal Wedding is on the agenda. When, however, all memories of the wedding have declined, the concept lives on and could easily be transformed in to almost anything; Dining is Divine, December is Divine…  Always with an appropriate illustration. Neumeister delivered the main concept, packaging design, ads, sales material ; brochure, point of sale material, etc.
Outcome: Huge media attention. Just released."
September 27, 2010 | No Comments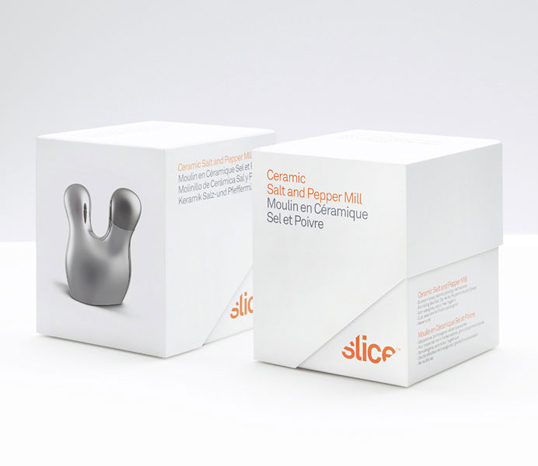 Designed by Manual | Country: United States
"Slice collaborates with world-renowned designers such as Yves Behar and Karim Rashid, to create award-winning ceramic cutting tools for the home and office. Manual created an iconic brand identity to illustrate this cutting edge product. We articulated the brand identity across a packaging system, print literature and exhibition graphics to showcase the angular nature of the logo."
September 23, 2010 | No Comments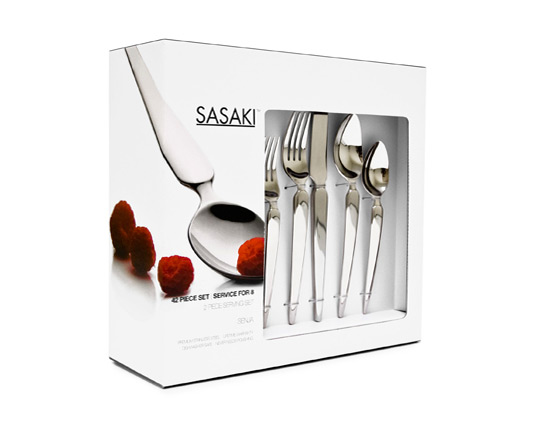 Designed by Rice Malarney | Country: United States
"Sophisticated simplicity in design, Sasaki flatware defines refined contemporary living. With Asian inspiration, the flatware is designed to almost become art, very simple and organic in both shape and style.
In coming up with the design of the packaging I felt that it was important to focus on the shape and style of the flatware and to try and celebrate the designers craft. The packaging is minimal and straight forward while at the same time showcasing a beautiful product. The overall box is black and white with a peppering of a bold colored fruit which enhances the focus onto the product. This becomes important so that the packaging is able to separate the product from all others and put it on a different, more sophisticated level."